Lifted Lexus GX470 – Overland Off-road Project For Trails & Camping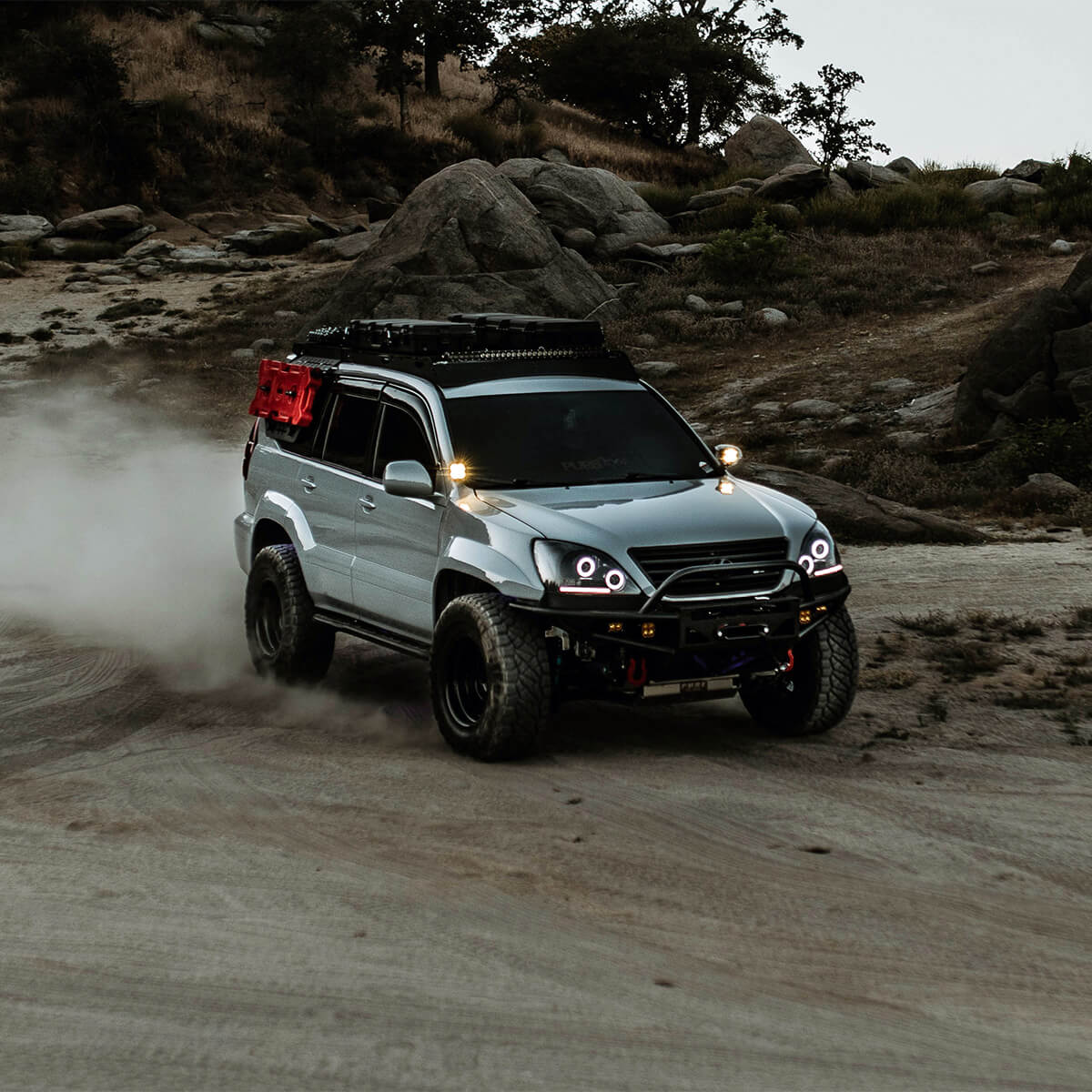 Outdoor camping and exploration are, hands down, some of the most refreshing and inspiring activities, available to anyone regardless of their social status or physical shape. All you need is an off-road vehicle capable of tackling unpaved roads and bringing along gear and people you love because the company of family and friends makes this experience much more enjoyable.
The owner of this lifted Lexus GX470 Tommy Tang, from Sacramento, CA needed just that. Coming from the street scene, he was looking for an off-road capable rig to camp with his growing family and have some fun times exploring more technical trails with his friends. The GX ticked all the boxes and finally became his new project vehicle.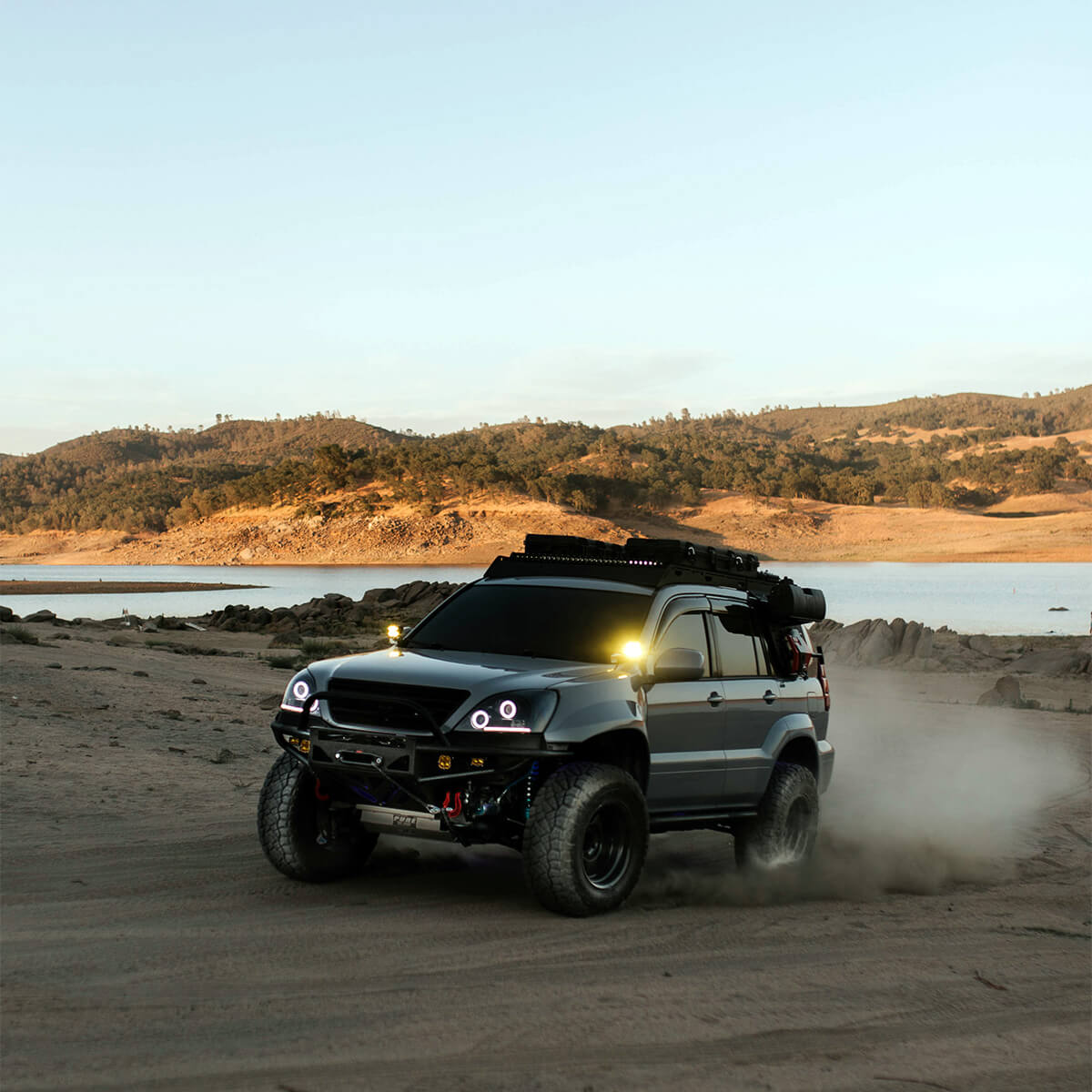 Sharing the same platform with the 4Runner and being equipped with Toyota's famous V8 engine, Lexus GX470 features remarkable off-road capability, decent performance, spacious interior, and luxurious comfort. But as we all know, there's always room for improvement, and the modification process has begun.
"The GX was equipped with a 3″ lift with extended 2.5 King Shocks and other suspension upgrades to accommodate large 33″ off-road tires. The body armor includes a winch bumper, rock sliders, wide fenders, and many other enhancements to improve the clearance and off-road capabilities on the trails."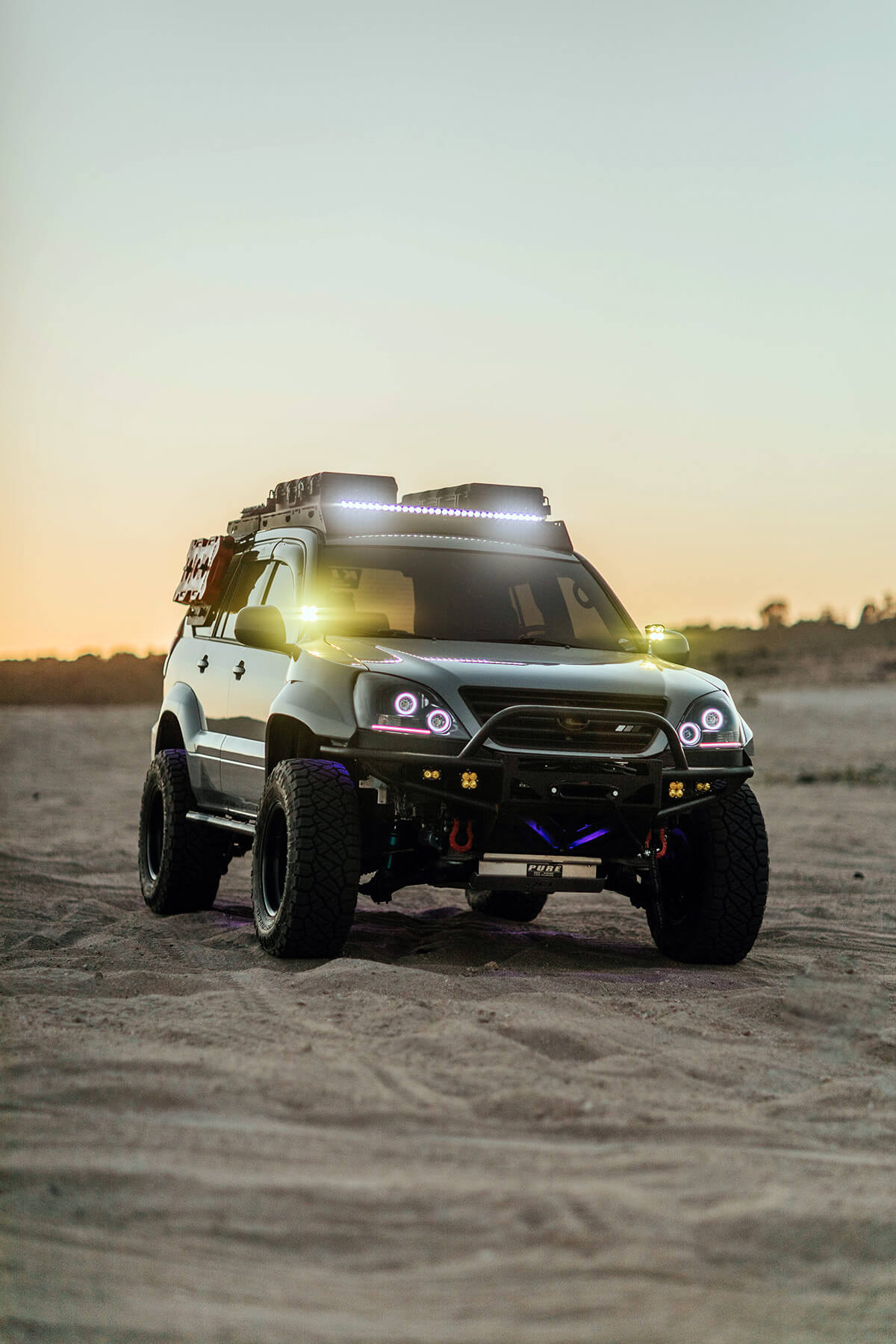 How did you become interested in off-roading?
– I've always been into modding any car that I own. Once my second son was born, I knew it was time to upgrade from small cars to something bigger. I enjoy taking my family outdoors so I knew that building an off-road truck would get us to more remote locations which I wanted my kids to experience. Once I finally got the GX and took it on the trails, it was history from there.
Why did you choose a Lexus GX?
– I was originally looking at 4Runners and somehow stumbled upon the GX platform. After doing research, I learned that they are built on the same frame and share a lot of parts. Once I test drove a GX it was easy for me to choose it over the 4Runner because it came with a v8, was more spacious on the inside, nicer interior materials, and wasn't as common which I liked.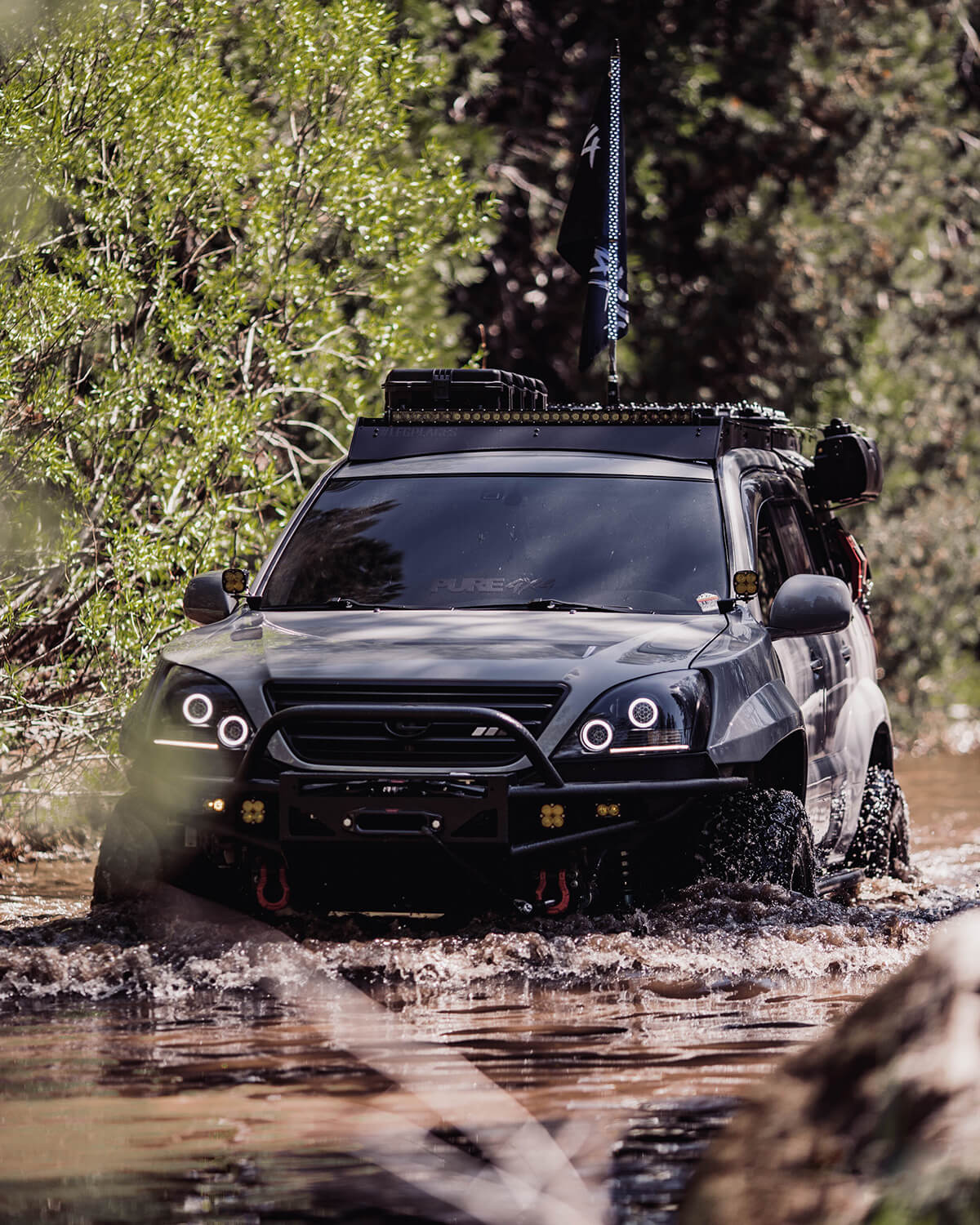 What inspired you to choose this modification style?
– I wanted to build an overland rig to camp with my family, but also be able to hit trails with my friends.
What challenges did you face while putting it together?
– Cost! Building off-road/overland trucks is a lot more expensive than building race or VIP cars. There's also a lot more fabrication involved vs bolt-ons.
What do you love about your GX?
– I love that it's been able to get me out on the trails and has been really reliable.
Is it your daily or a weekend ride?
– Right now, it's my weekend warrior.
Do you take it off road? If so, where and how often?
– My friends and I like to explore new trails as much as possible. I would say we usually get out 2-3 times a month but has slowed down a bit with the crazy gas prices. I've done most of the trails nearby to sac except rubicon which I'm hoping to do one day(when the truck's ready).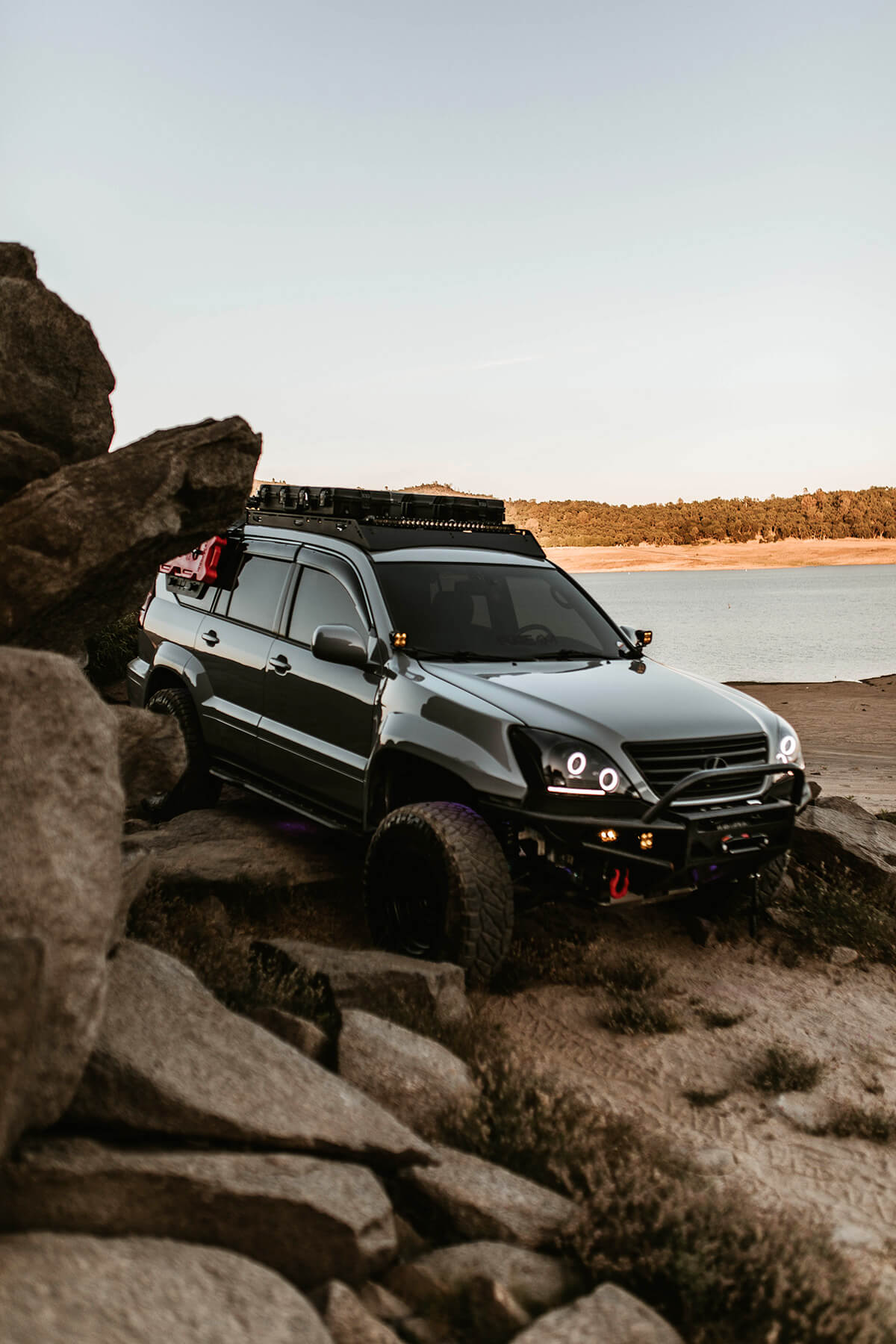 Specs – 2005 Lexus Gx470
Engine
– Group 31 Battery upgrade
– Running4Tacos battery terminals
– Rago battery box
Lift height and suspension modifications
– 3 inch lift
– Kings 2.5 extended coils/shocks with reservoirs and adjusters
– SPC UCA
– Superpro offset LCA bushings
– Stellarbuilt body mount relocation
– Durobump bump stops front and rear
– Treaty Oak KDSS spacers
Wheels
– Rims: Stealth Custom Series F5 17×9 -39
– Tires: Nitto Ridge Grapplers 295/70/17
Exterior mods
– Painted Toyota Cement Gray
– BX Built custom headlights
– Lil B's Fabrication front bumper
– Mcqueen front fenders
– White Knuckle Offroad sliders
– Sherpa Equipment roof rack
– Joes Original Equipment side molle panel
– CBI Offroad ditch light bracket
– JW Offroad chase light bracket
– Baja Designs auxiliary lights
– ExtremeLED x6s light bar
– MIC Tuning C2 rock lights
– RCI front skid
Interior mods
– RRW trunk molle
– Rago rear door molle
– Orangeboxx Fabrication center console molle
– Switchpro sp-9100
– SSA Icon 12″ subwoofer
– JVC headunit
– Kicker zx1000.1 amplifier
– Midland MXT275 radio
All other mods
– Pelican roof top boxes
– DMOS shovel
– Rotopax 4 gallon container
– Waterport 5 gallon tank
– Powertrays accessory tray
– Gear America Uber shackles
– Agency 6 recovery hitch
– Warn vr-evo 12s winch
– Shibui 10lb c02 tank
– KC Action Trax recovery boards
– 5150whips led whip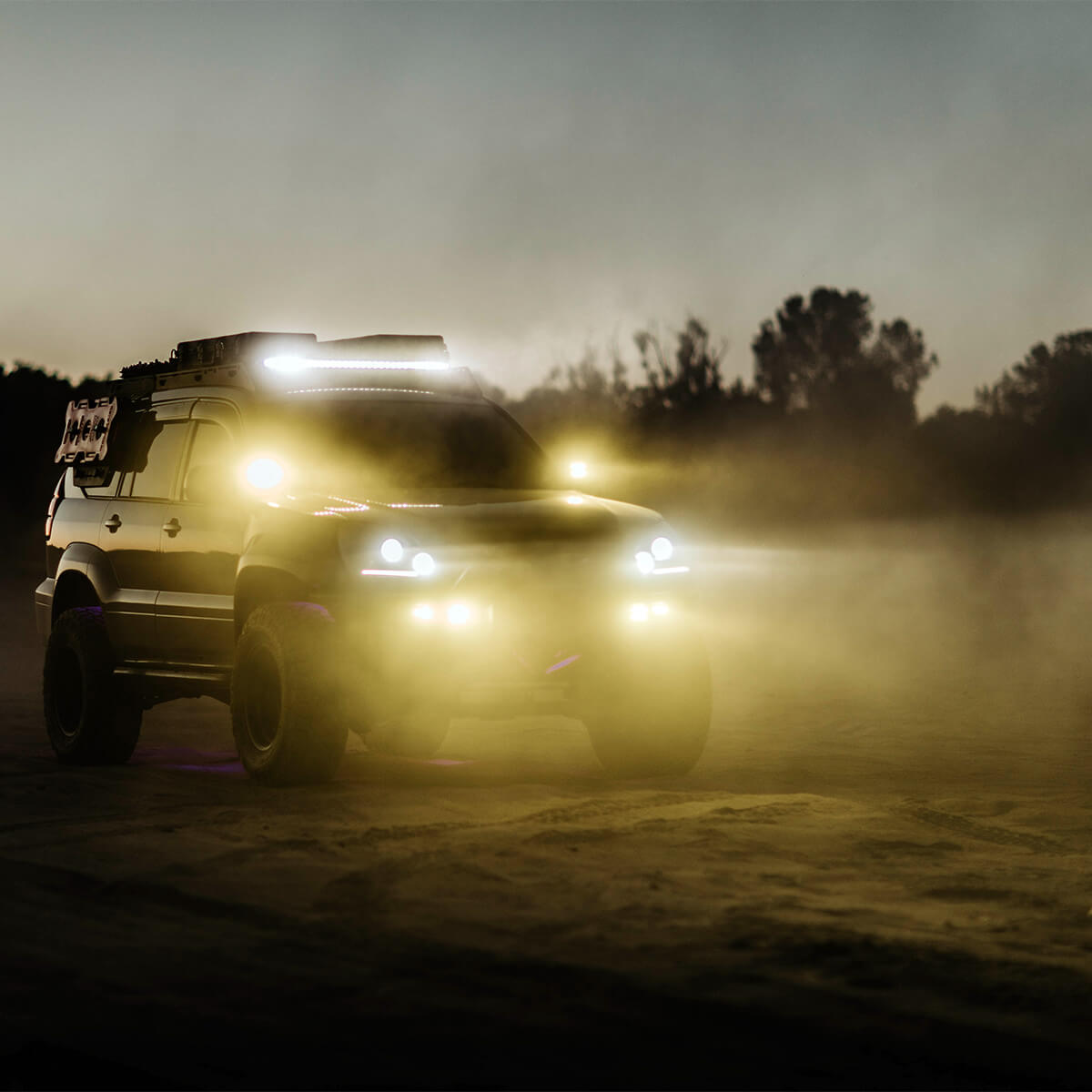 What are your future plans for your GX?
– Right now, I'm just enjoying the car but I do want to get a spare carrier in the near future.
Anything else you would like to share about your vehicle or about the off-roading in general?
– I like how the off-roading community has been welcoming and helpful. It's allowed me to make a lot of new friends to trail with or to work on cars with.
Watch the progress and find out more about this Lexus GX470 off-road project by visiting the Instagram profile of the owner: @2_tangz !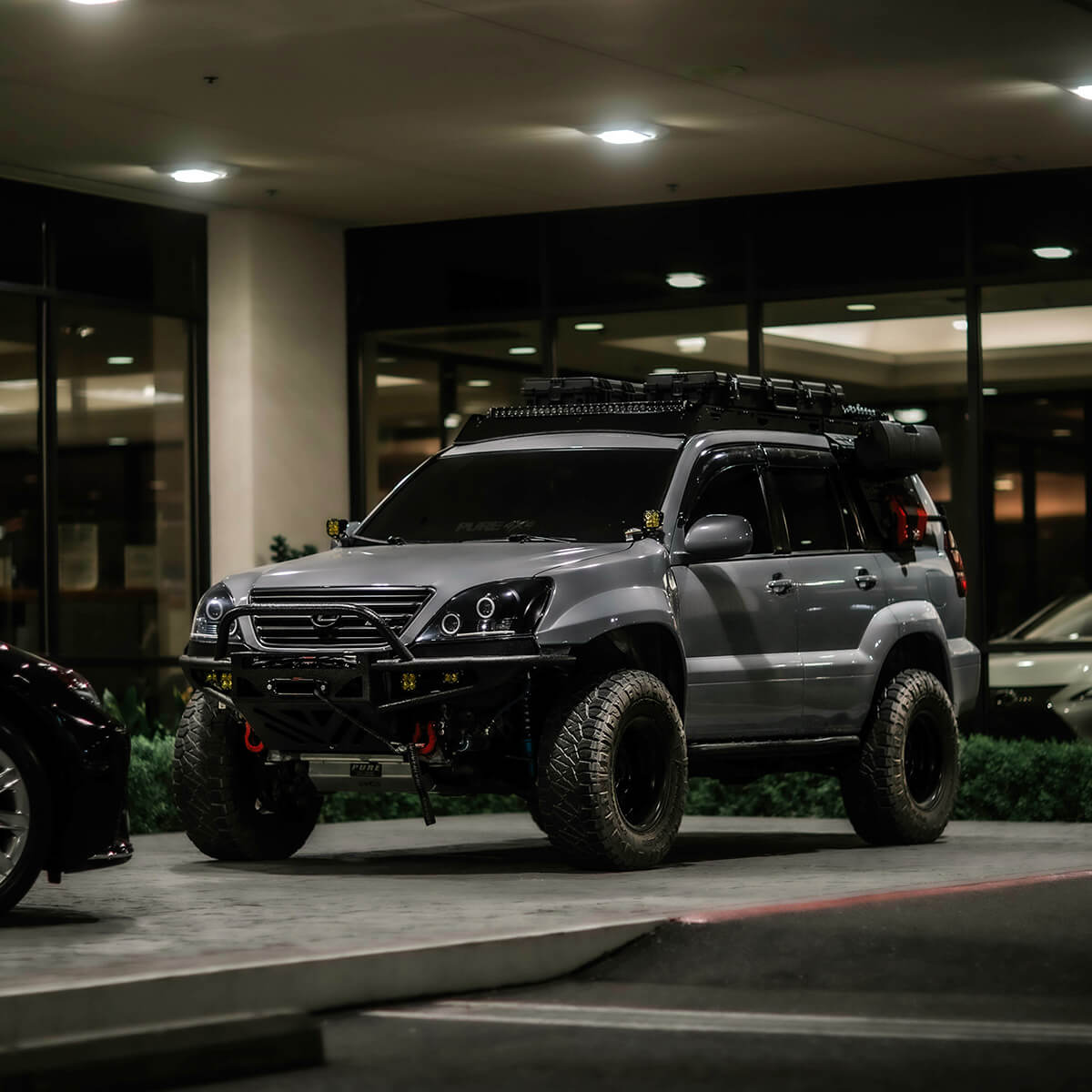 Related Parts & Mods
– Inspired by this Lexus GX470 build and looking to prepare your own SUV for off-road adventures? Some parts used in this build were sourced from custom shops or custom made, but our team has put together a list of similar products and accessories available online that may help you to achieve similar results:
Lift Kit
Roof Rack
Roof Top Tent
Awning
LED Lights
Storage
*Before ordering any part or accessory, it is recommended that you verify its fitment with a qualified professional and/or seller. We are not responsible for fitment or other issues that may arise from using the products featured on our website.
Stay tuned for more project reviews on Offroadium.com – Follow us on social media, and share this write-up if you enjoyed reading it!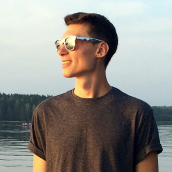 Matt Grabli
Matt brings over a decade of automotive expertise to his role as staff writer and editor at Offroadium.com. With an enduring passion for the off-road vehicles and adventures, he is devoted to creating interesting content that equips 4x4 enthusiasts with the knowledge to improve their rigs.