Taco's Brother: Lifted Toyota Hilux On 35" Off-Road Wheels from Japan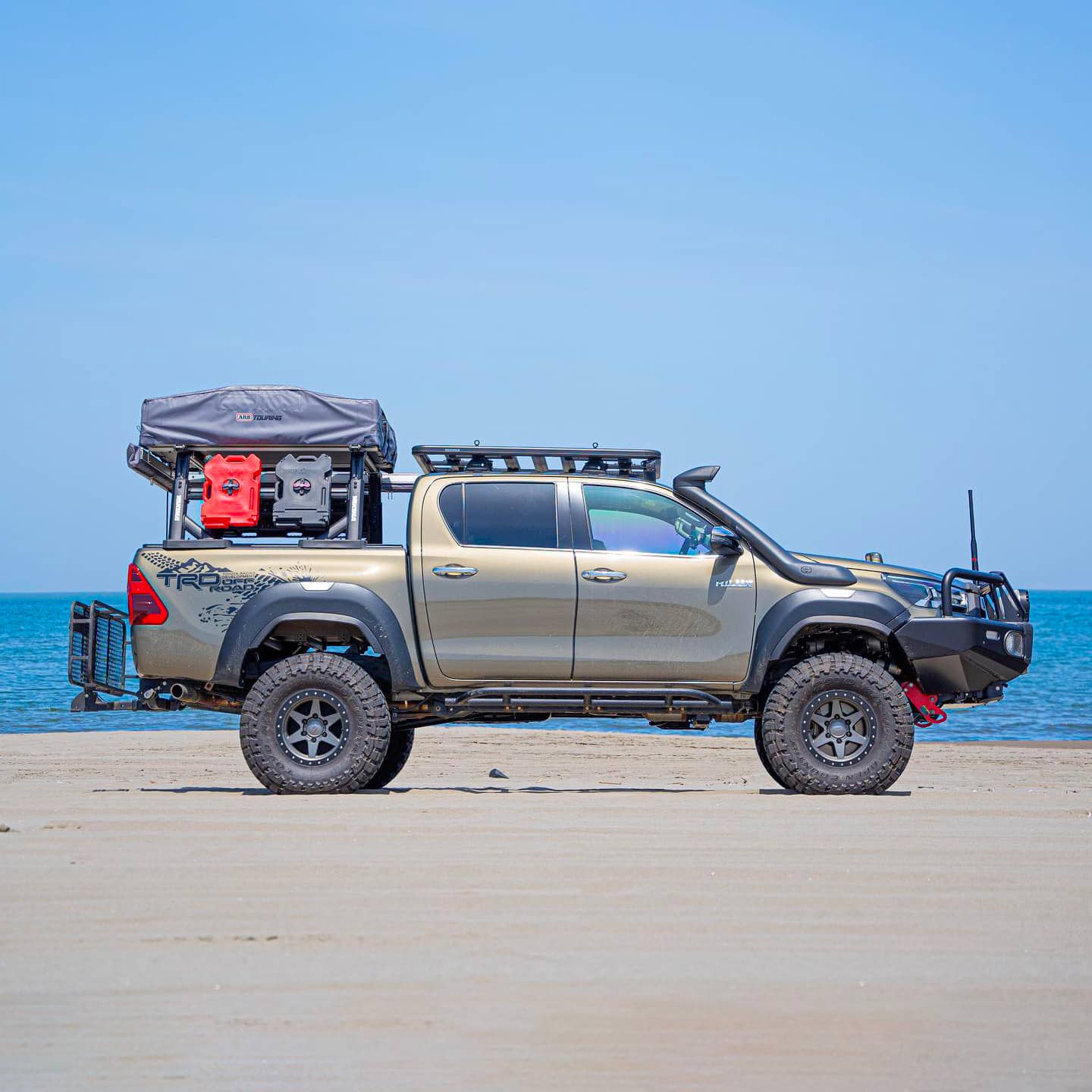 For those in the know, the Toyota Hilux has always been a nameplate synonymous with rugged reliability and an almost unstoppable ability to conquer any terrain put before it. Since its introduction in 1968, the Hilux has proved its worth on every continent across the globe.
It has plowed through mud-laden rainforests, traversed arid deserts, and made light work of some of the world's most formidable mountain ranges. No surprise then, that it's become one of the most popular trucks for off-roading globally, embraced by enthusiasts from Japan and Australia to Europe and Africa.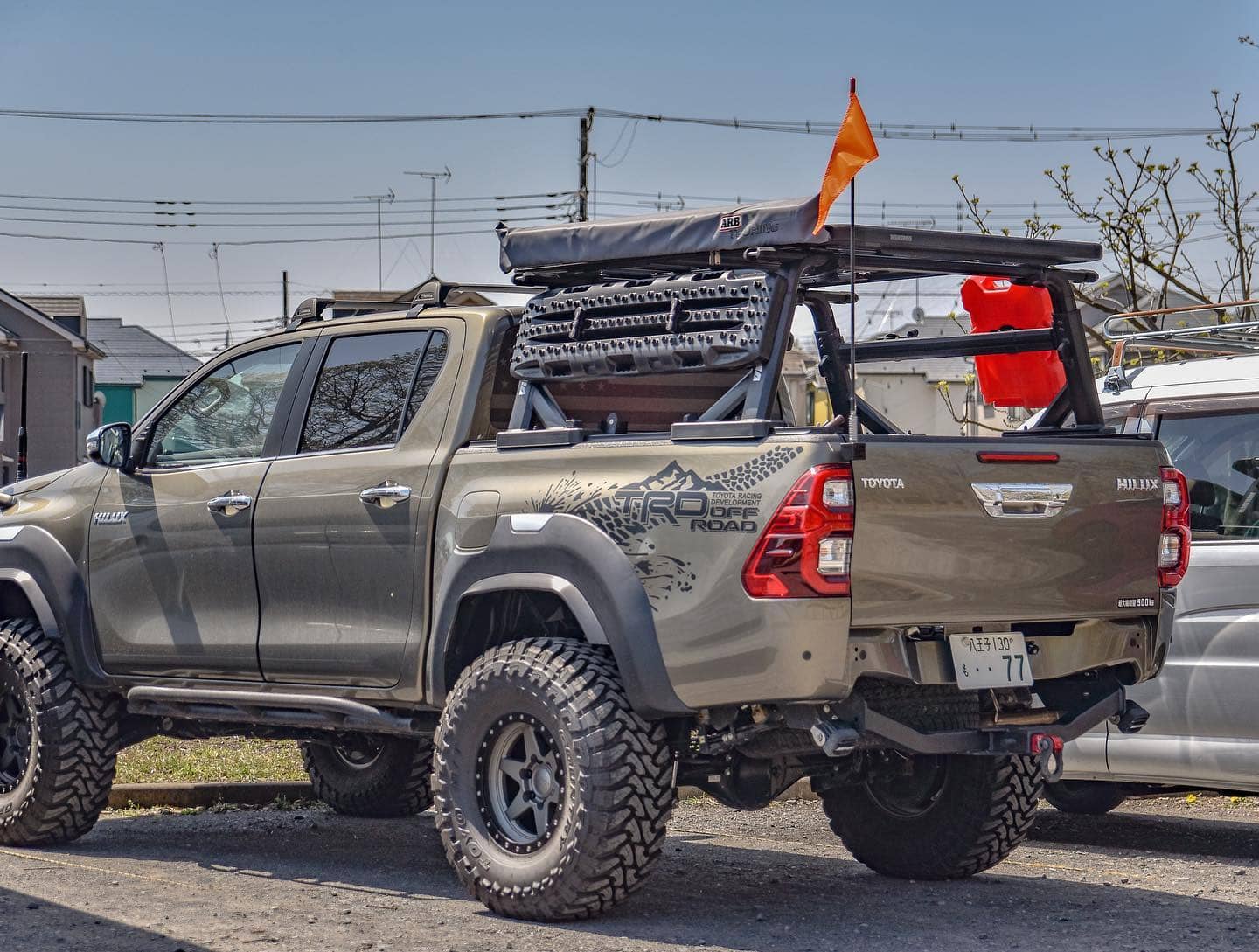 The American market, however, has been a different story. Despite its well-earned reputation, the Hilux has never officially made its way across the Pacific to the U.S. mainland. The reason for that is quite simple – Toyota has its domestic workhorse, the Tacoma.
"Tacoma and Hilux, though similar in purpose, are distinctly different in both design and mechanical underpinnings".
But what makes the Hilux so special? Let's delve deeper into its off-road prowess, towing capabilities, suspension set up, and overall performance, all while getting an exclusive look at a uniquely modified Japanese example.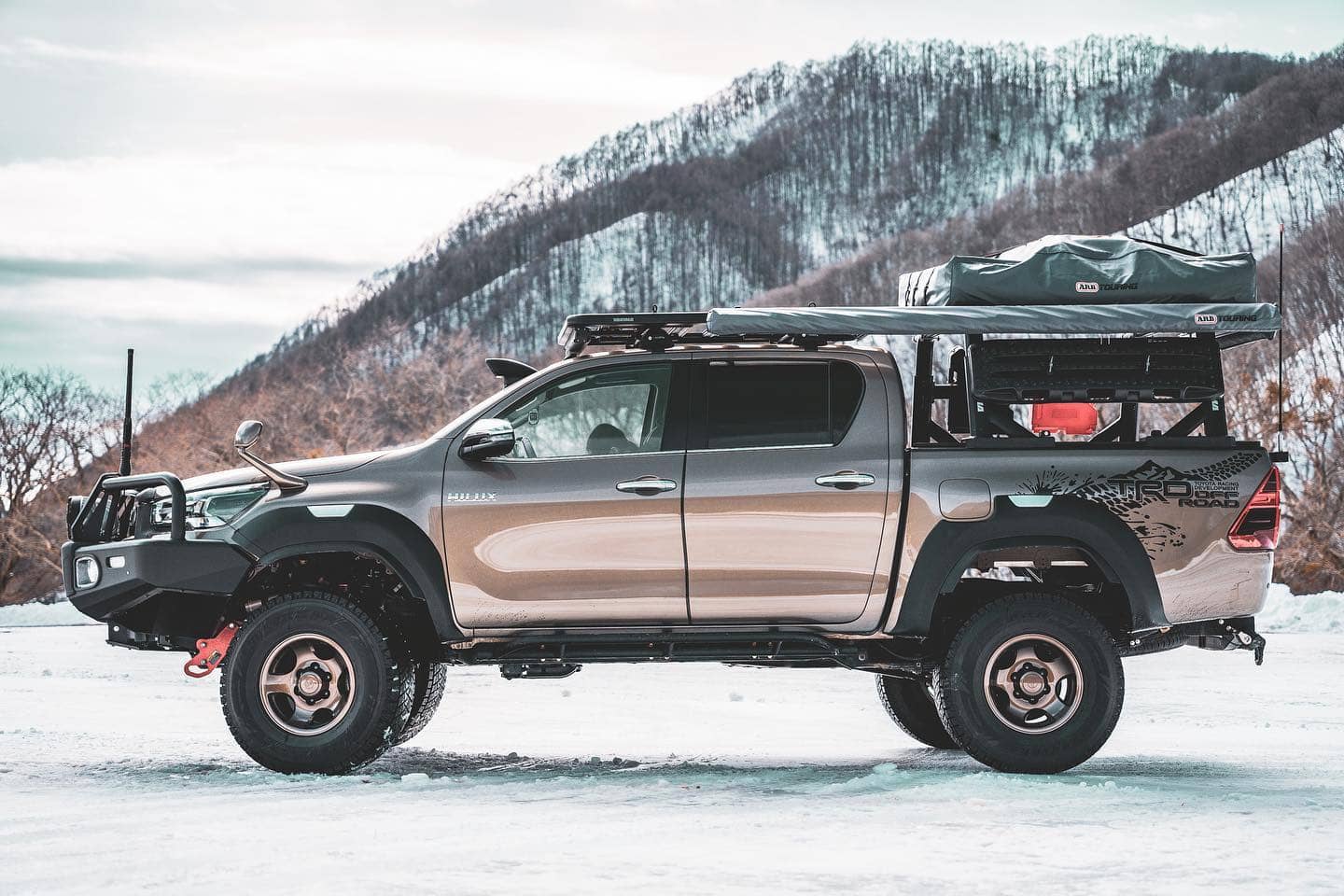 About The Model
Off-road Capabilities of Toyota Hilux
The Toyota Hilux was born with an innate ability to handle rough terrain. Active Traction Control (A-TRC) and the rear differential lock work in tandem to ensure optimal traction, even in the most challenging conditions. The A-TRC intelligently distributes power to the wheels that need it most, mitigating wheelspin and maintaining forward momentum.
The differential lock further assists by equalizing power between left and right rear wheels, ensuring that no wheel is left spinning helplessly in the air or in the mud.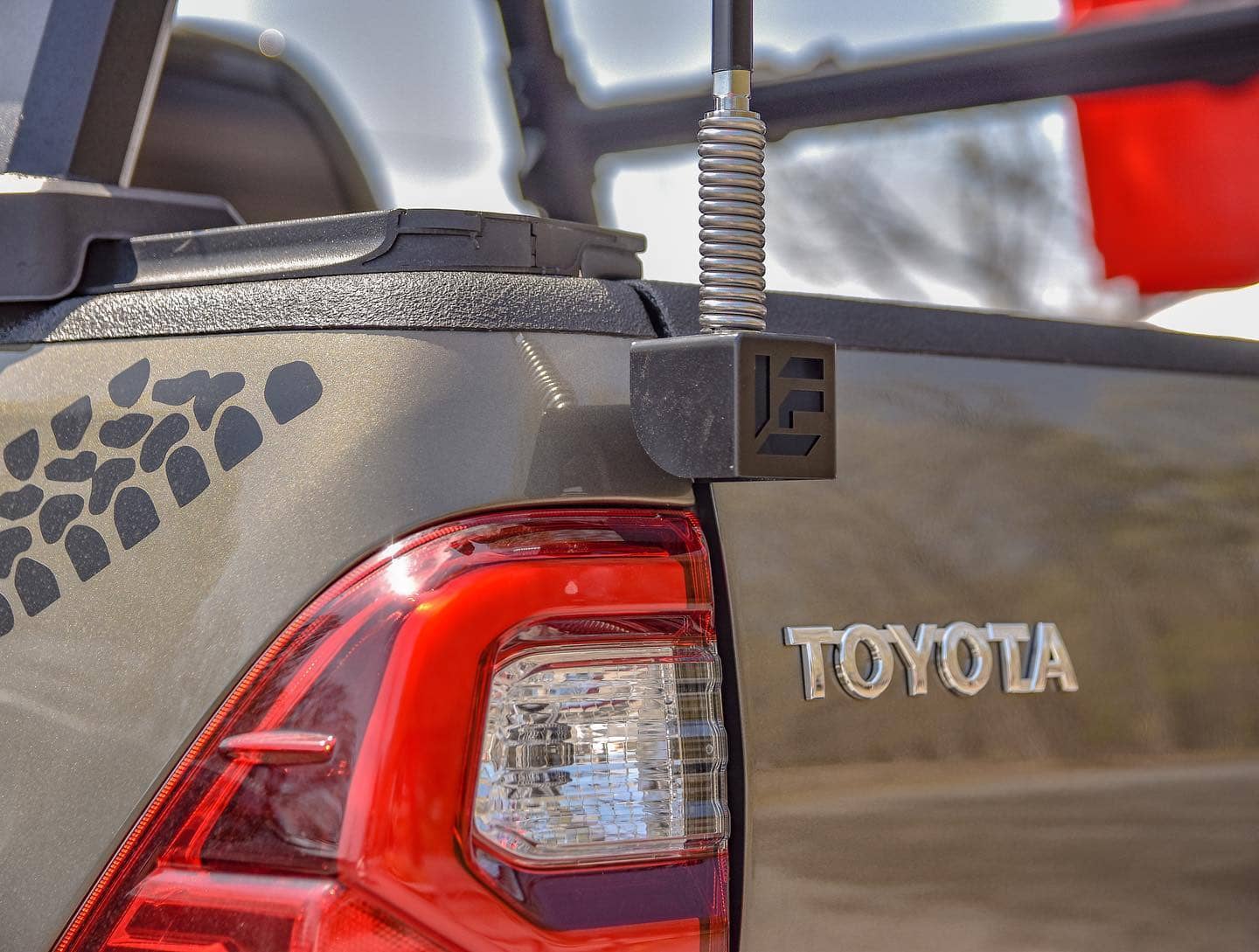 Complementing these systems are two very important off-road assists – Hill-start Assist Control (HAC) and Downhill Assist Control (DAC). HAC prevents the vehicle from rolling back on steep inclines by applying the brakes for up to 2 seconds after the brake pedal is released, ensuring a smooth start.
DAC, on the other hand, applies individual brakes to keep the vehicle stable and maintain its speed between 5 and 7 km/h when descending off-road. This requires no pedal input from the driver, making steep descents less intimidating and more controlled.
Towing Capacity
For those outdoor enthusiasts who need a vehicle to tow their boat, trailer, or even another vehicle, the Hilux has got them covered. It can effortlessly tow up to 3.5 tonnes. Additionally, it comes equipped with Trailer Sway Control (TSC), a safety feature that applies the brakes and reduces engine torque if the system detects a dangerous trailer sway.
This helps ensure the vehicle stays steady when faced with crosswinds or changing road surfaces, making the Hilux a reliable partner for those heavy hauls.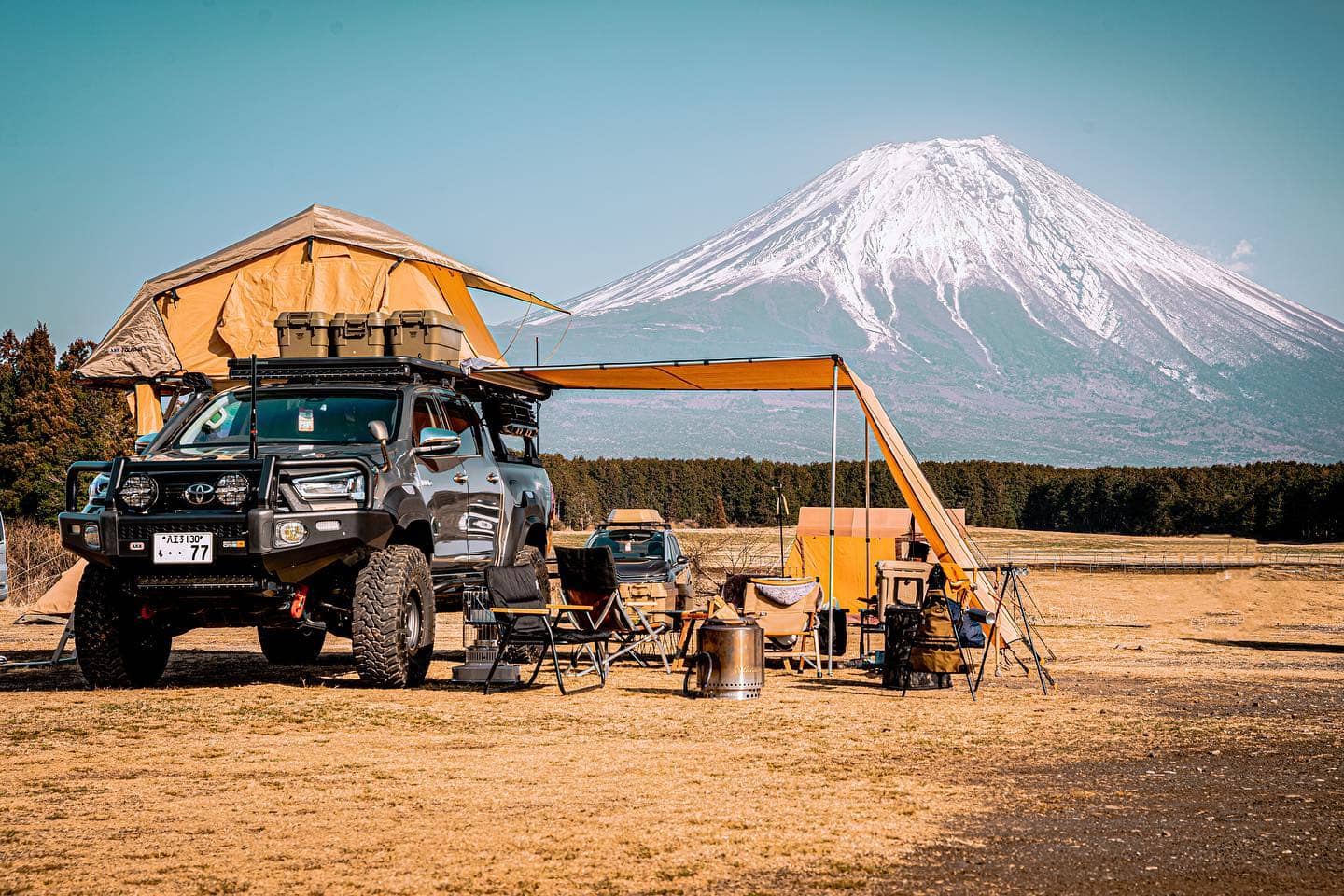 Suspension and Handling
The suspension setup on the Hilux is one of its key strengths when it comes to handling off-road conditions. The front suspension uses a double wishbone layout, while the rear gets a traditional leaf spring rigid axle. This combination provides excellent articulation and load-bearing capacity, crucial factors for a successful off-road vehicle.
As for brakes, it uses ventilated discs up front and drums at the rear, offering dependable stopping power. With a turning circle of just 3 meters, navigating tight spaces or making sharp turns is a breeze.
Performance
The Hilux is powered by a 2.4-liter Diesel engine mated to either a 6-speed manual or automatic transmission. It produces 150 horsepower, and although it's not built for speed, its robust torque output ensures it can crawl over rocks, wade through streams, or climb steep inclines with ease.
The manual version accelerates from 0 to 62 mph in 13.2 seconds, while the automatic does the same in 12.8 seconds. As for fuel efficiency, expect about 29.1–32.4 mpg for the manual and 28.8–30.3 mpg for the automatic.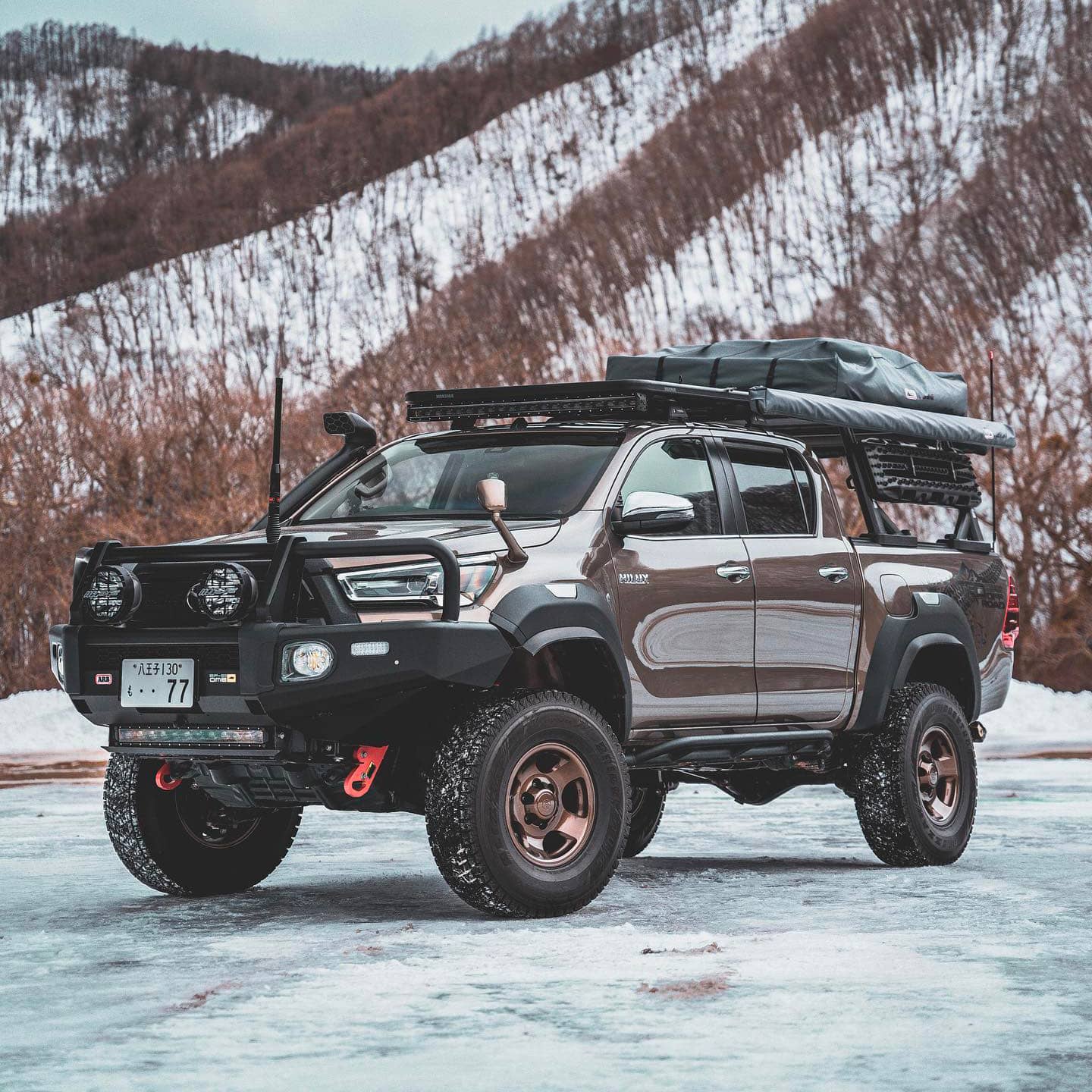 Hilux VS Tacoma: Key Differences
While both the Hilux and the Tacoma are built to last and are more than capable off-road, their core differences lie in their intended markets and uses. First off, the Tacoma is primarily catered to the North American market, while the Hilux is sold across Europe, Asia, Africa, and Australia. The reason for this geographic separation is largely due to market demands and competition. Toyota didn't need the Hilux to compete with the Tacoma on American soil, hence its absence in the US.
"When we delve into their mechanical differences, the divergences are quite clear".
The Tacoma often packs a bigger punch under the hood, with engine options including a 2.7-liter inline-four or a 3.5-liter V6. On the other hand, the Hilux typically features a 2.4-liter turbo diesel engine that balances power and efficiency, which is particularly favorable in regions where fuel prices are steeper.
The suspension is another key area where these two trucks deviate. The Hilux generally comes with a more rudimentary leaf spring setup on the rear axle, which is excellent for hauling heavy loads but can compromise ride comfort. The Tacoma, meanwhile, features a more refined multi-link rear suspension with coil springs designed to provide a smoother ride, particularly when unladen.
Towing capacity is another point of divergence, with the Hilux able to tow up to 3.5 tonnes vs 3 tonnes (6,500 lb) by Tacoma.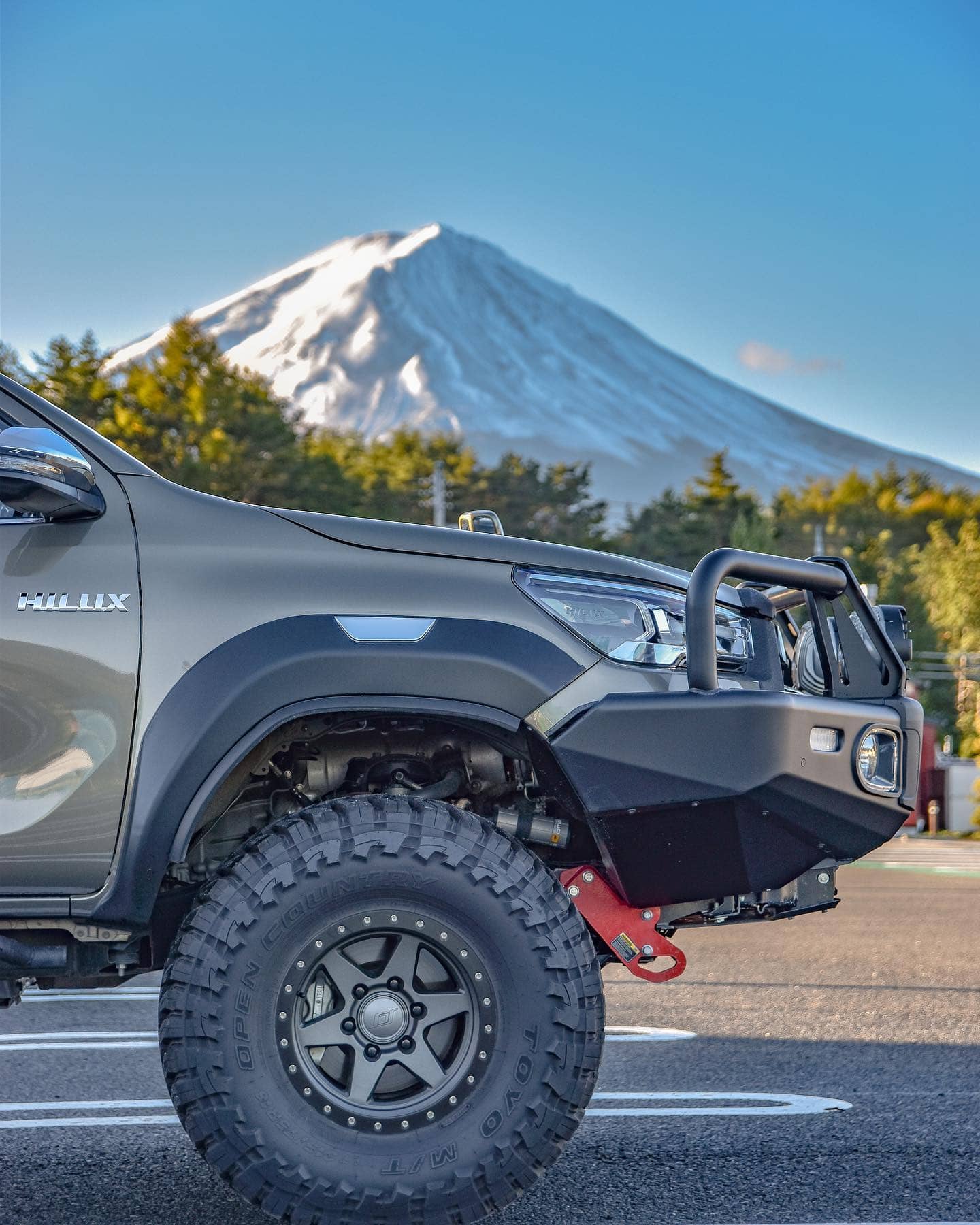 Featured Vehicle: Lifted Toyota Hilux Overland Build
Our feature Hilux today comes to us from a gearhead in Japan. This rig is not just any Hilux; it's a machine that has been meticulously modified to enhance its already formidable off-road capabilities.
Wheels & Tires
Beginning with the wheels, it's shod with 16" SCS BR6 Gunmetallic rims 8J, -12ET wrapped in TOYO OPEN COUNTRY MT 315/75R16 tires. These tires are not just large; they're renowned for their off-road prowess, providing excellent grip on various terrains.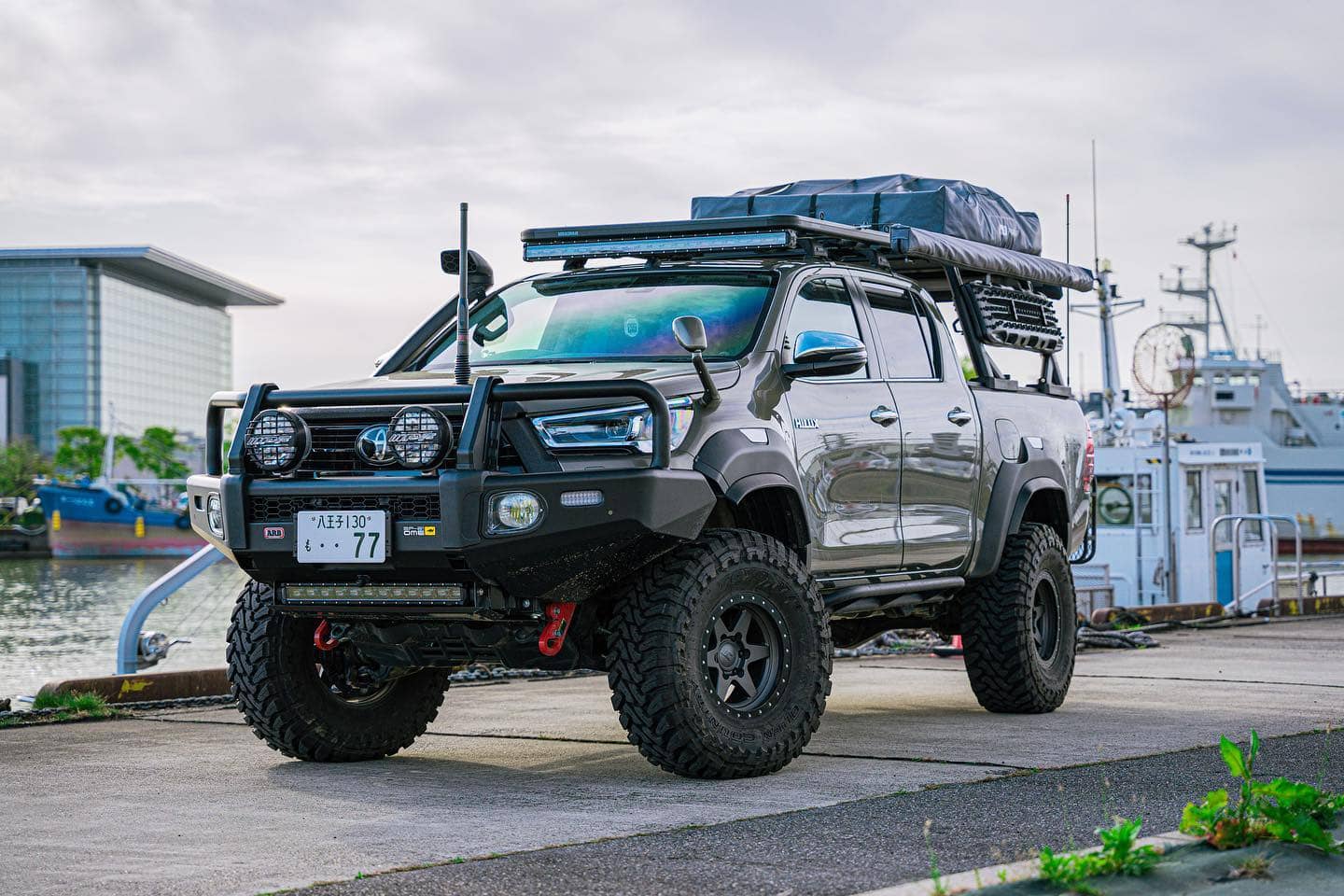 Suspension Lift
The suspension on this beast is a thing of beauty. Equipped with OME BP-51 Shock Absorbers and a Garage Minutz 2-inch body lift kit, this Hilux stands tall and is ready to tackle just about anything thrown at it. The CUSTOMGARAGE SLAM UPPER ARM further enhances the suspension travel and articulation, giving it more freedom to move over uneven terrain.
Exterior Mods
Externally, the Hilux is kitted out with numerous accessories including an ARB Summit Bumper, DRAW-TITE hitch member, JAPAN4x4 rock slider, and a variety of lights like the IPF XTREME 900 XLRT2 Spot beam, EALE LED light bar BL series 28inch, and RGB LED rock lights for those late-night off-road escapades.
All these enhancements culminate to create a truck that not only looks incredibly menacing but can take on any terrain with ease. It's a testament to the Hilux's capabilities and the owner's vision of what an off-road vehicle can truly be.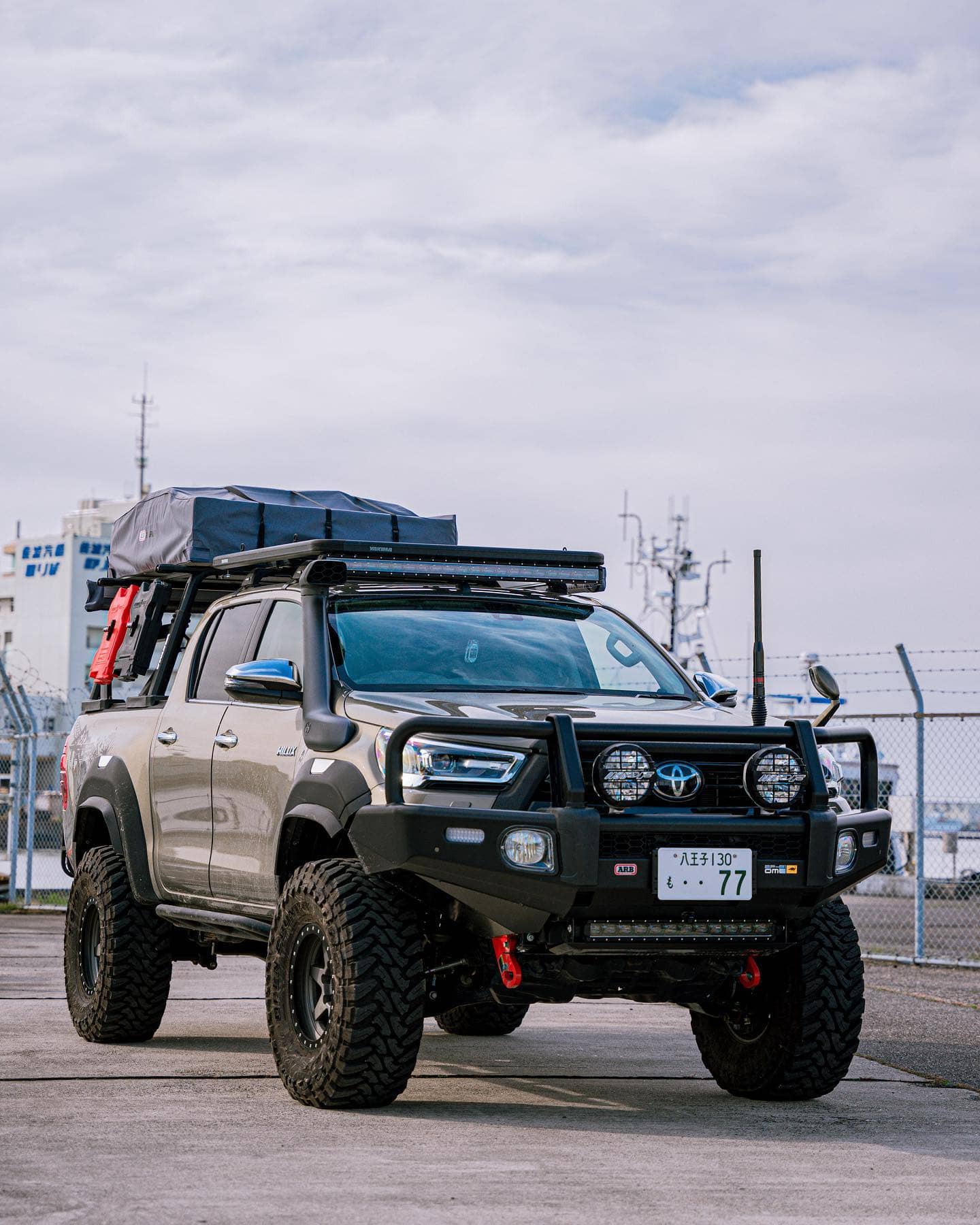 Specs & Mods:
Suspension
OLDMAN EMU BP-51 Shock Absorbers
Garage Minutz 2 inch body lift kit
CUSTOMGARAGE SLAM UPPER ARM
Wheels
16" SCS BR6 Gunmetallic rims 8J, -12ET
TOYO OPEN COUNTRY MT 315/75R16
Lights
IPF XTREME 900 XLRT2 Spot beam
Stone Guard for IPF 900
IPF fog lamp LED 154FLB
EALE LED light bar BL series 28inch
IPF S-632 Driving Lamp
RGB LED rock light
Gear
ARB SIMPSON III ROOFTOP TENT
YAKIMA Overhaul Bad Rack
YAKIMA HD Bar Loadbars
YAKIMA Sidebar
YAKIMA Tonneau Cover Kit
YAKIMA Rock'n'Road
YAKIMA Crossbar Clamp
YAKIMA Wisp Bar
Interior
TOYOTA genuine door molding
Auto retractable mirror kit typeA
Clazzio Prime seat cover
Weathertech floor mats
MAXWIN digital inner mirror
ALPINE BIG X 11 inch floating navigation
RAMMOUNTS X-Grip
TOYOTA genuine leather armrest
Cigarette socket USB port
Mini usb lamp
Center console box
Backman V Answerback
Exterior
Fuel cap cover
Grill Emblem Badge Gold
Valenti blinker position kit
DUSTSTORM exclusive bracket
DRAW-TITE hitch member
Thailand Toyota genuine over fender
EZ Flare Rubber Fender 2"
One-off genuine processing side exit muffler
UV clear film front 3 sides
GME antenna short
ARB side awning 1250×2000
ROTOPAX DLX PACK MOUNT
YAKIMA ROTOPAX MOUNTING KIT
ROTOPAX Traction Boards
ROTOPAX RX-2G
ROTOPAX RX-2S
Australian TOYOTA genuine snorkel
JAPAN4×4 rock slider
Clearance sonar relocation
C.L.LINKS Hitch Cargo Carrier
ARB Summit Bumper
ARB recovery points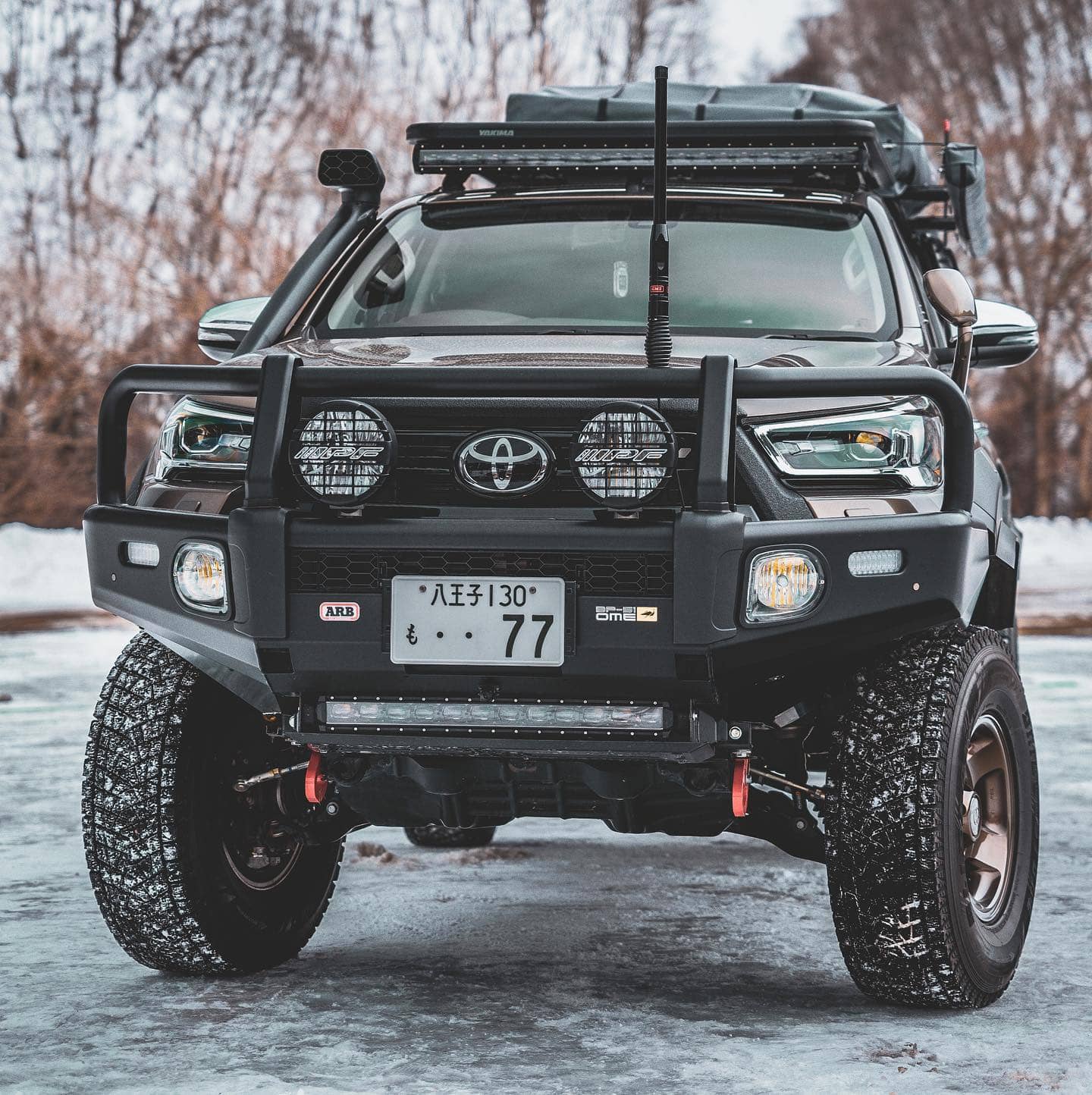 Key Technical Characteristics of Toyota Hilux
| Feature | Specification |
| --- | --- |
| Engine | 2.4 l D-4D |
| Drive | 4WD |
| Transmission | 6 M/T |
| Suspension (Front) | Double wishbone |
| Suspension (Rear) | Leaf spring rigid axle |
| Brakes (Front) | Ventilated disc |
| Brakes (Rear) | Drums |
| Turning Circle | 3m |
| Power | 150 DIN hp |
| Fuel Consumption* | 29.1–32.4 mpg (manual), 28.8–30.3 mpg (auto) |
| CO emissions* | 174–177 g/km (manual), 183 g/km (auto) |
| Acceleration (0–62 mph) | 13.2 seconds (manual), 12.8 seconds (auto) |
| Payload | 1105* kg |
| Gross Vehicle Weight | 3080* kg |
| Bed Size (Single Cab) | 2315 mm (length), 1575 mm (width) |
| Bed Size (Extra Cab) | 1808 mm (length), 1540 mm (width) |
| Bed Size (Double Cab) | 1525 mm (length), 1540 mm (width) |
| Towing Capacity | 3.5 tonnes |
Production Years
6th gen:
1997, 1998, 1999, 2000, 2001, 2002, 2003, 2004, 2005;
7th gen:
2006, 2007, 2008, 2009, 2010, 2011, 2012, 2013, 2014, 2015;
8th gen:
2016, 2017, 2018, 2019, 2020, 2021, 2023, 2024;
Conclusion
The Toyota Hilux remains one of the toughest and most capable off-road vehicles on the planet. With a powerful engine, robust suspension, and a host of off-road aids, it continues to be a favorite among off-road enthusiasts worldwide. And as our featured vehicle shows, with the right modifications, it can be transformed into an even more serious off-road machine. It's no wonder then that the Hilux continues to be a symbol of endurance, durability, and the spirit of adventure.
Watch the progress and find out more about this Toyota Hilux project by visiting the Instagram profile of the owner: @wagamama_hilux77!
Stay tuned for more project reviews on Offroadium.com – Follow us on social media, and share this write-up if you enjoyed reading it!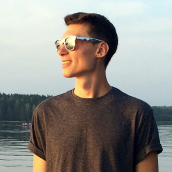 Matt Grabli
Automotive journalist and technical writer at Offroadium.com with more than 10 years of experience in the sphere of aftermarket parts and 4×4 vehicle modifications. Passionate about off-roading, outdoor adventures, and an active lifestyle.