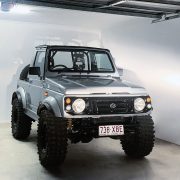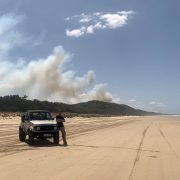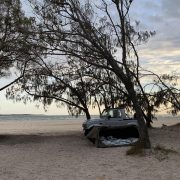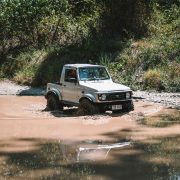 View Gallery
1997 Suzuki Sierra SJ80 – a Lot of Off-Road Fun in a Tiny Package
The Suzuki Sierra, also known as Suzuki Jimny (in Japan) or Samurai (in North America) is a mini SUV that was developed in the 1970s. The vehicle's compact size was dictated by the Japanese tax and legal systems that drastically increase the cost of ownership for larger cars. The 1997 SJ80 version of the Sierra was introduced to the Australian market carrying an upgraded 1.3-liter 16-valve engine. The model became popular among surfers and beach-goers for its affordable price, good off-road capabilities, and unusual looks.
Sierra, based on a full-ladder frame, is very easy to customize. It has a dual-range transfer case and dependent suspension both at the front and rear axle. Light weight, short wheelbase, narrow track width, high stance, and 4WD mean that this little SUV can take you anywhere large rigs go and even further easily tackling sandpits where big trucks would bog down.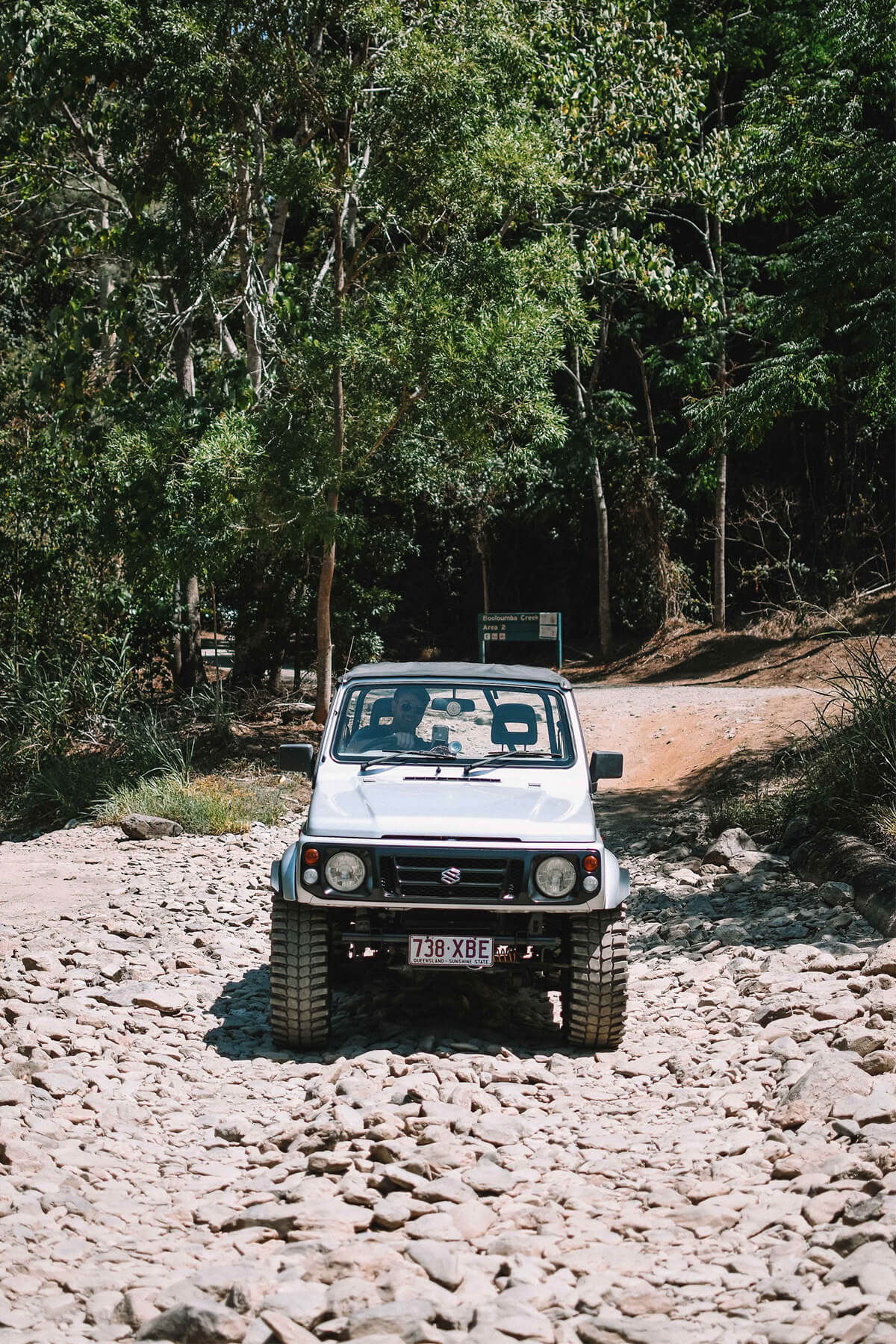 Sure, the Sierra is not as comfortable and lacks cargo space for long-distance trips, it can be a little slow climbing up the hill, but it is strong and reliable and will bring you lots of joy and pure off-road fun. We spoke with the owner of this unique vehicle, a guy named Paddy from the Sunshine Coast, Queensland, Australia. He's very smart and funny. Just read the story and see what he has to say about this fun project.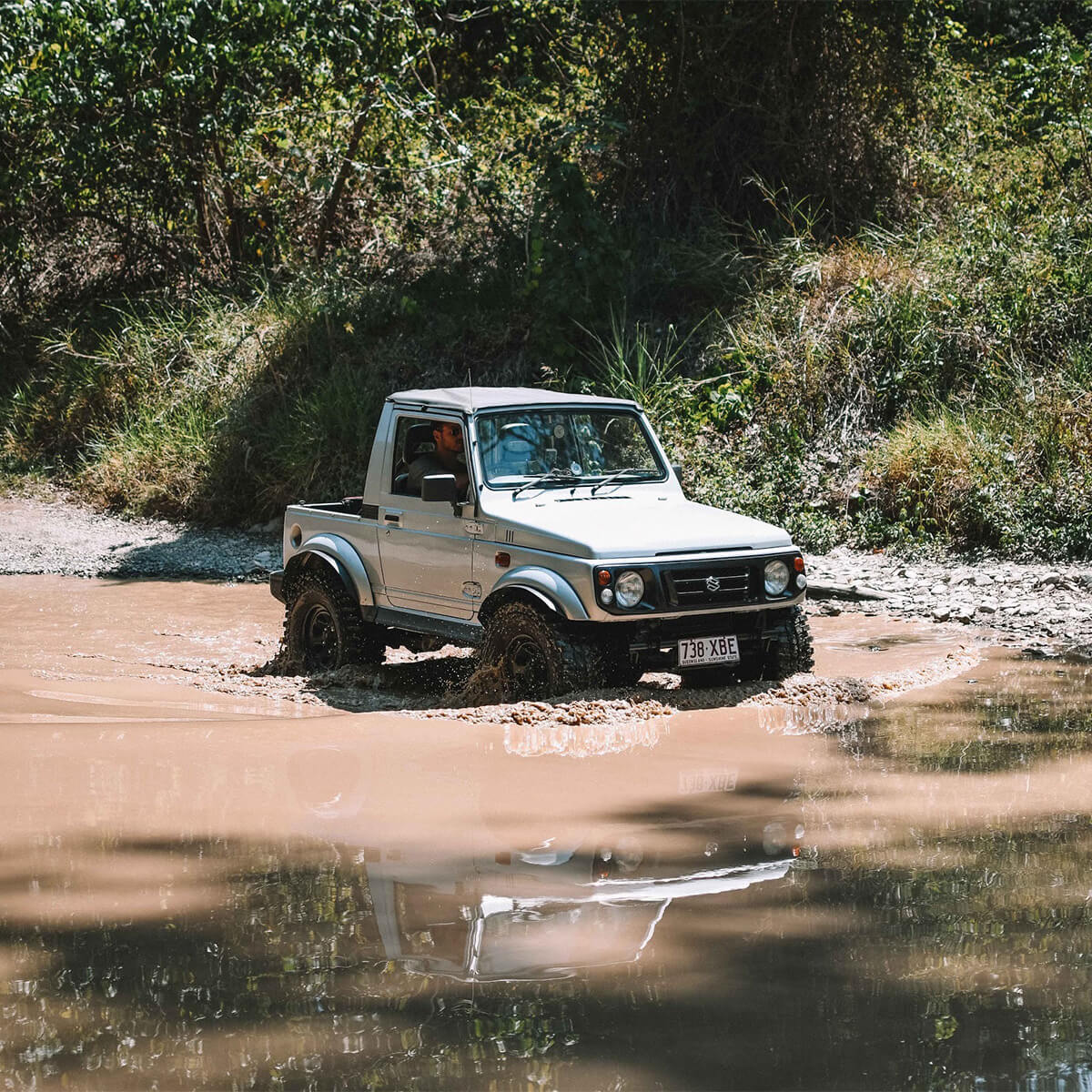 How did you become interested in off-roading?
– Always loved cars. Grew up in the UK and had a VW Polo. Yolo the Polo we called it. Absolute shit box but we slammed it, threw on some RH cups and scraped it down the road. When I moved to Queensland I needed a 4b in my life. There's so much awesome country to explore around here and even in a tiny little Zook you can okie through water crossings and get to those more saught after campsites. Phenomenal.
"There's so much awesome country to explore around here and even in a tiny little zook you can okie through water crossings and get to those more saught after campsites"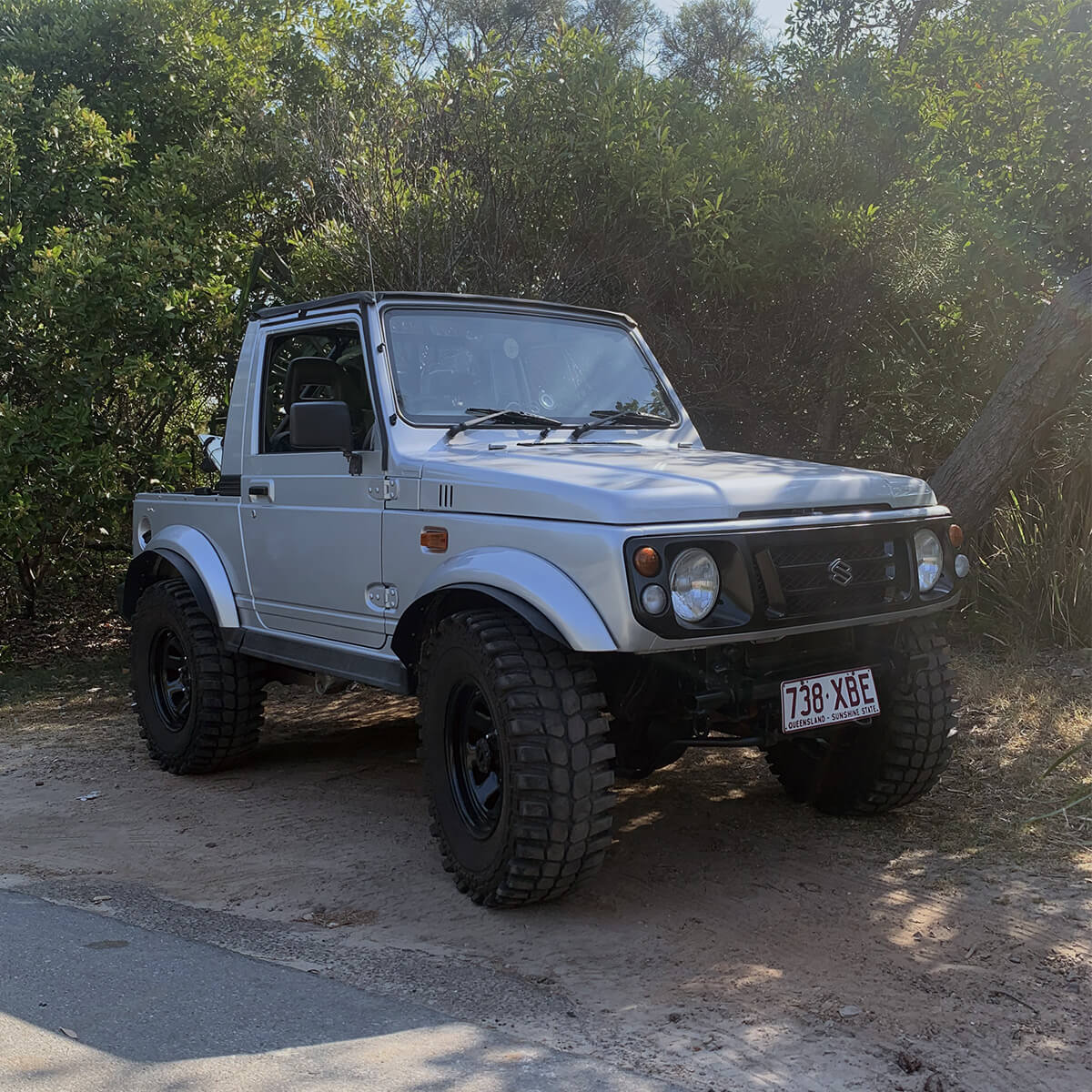 Why did you choose this particular model for your project?
– If I'm honest, before moving up to Queensland I was in Melbourne and I picked up a pristine soft top Vitara. It was so awesome, so 90's and I took it down to bells almost weekends with a board sticking out the top doing 100 down the freeway. After a mate showed me a pic of me in it, I realised I looked like a Ken doll. So thought I needed an upgrade for my ego to cope. I took a trip up to Noosa before making the big move and saw a silver Sierra. I frothed and bought mine the following weekend. Shout out to Hayden Dory who became a mate of mine and who owned that zook. He's since sold it sadly.[/vc_column_text]
What inspired you to choose this modification style?
– Personal taste. I love simplicity and proportion. It looks just right to me. And half of owning this car is being a poser. Fuck it, 90 percent is about being a poser. I just wanted it to look good.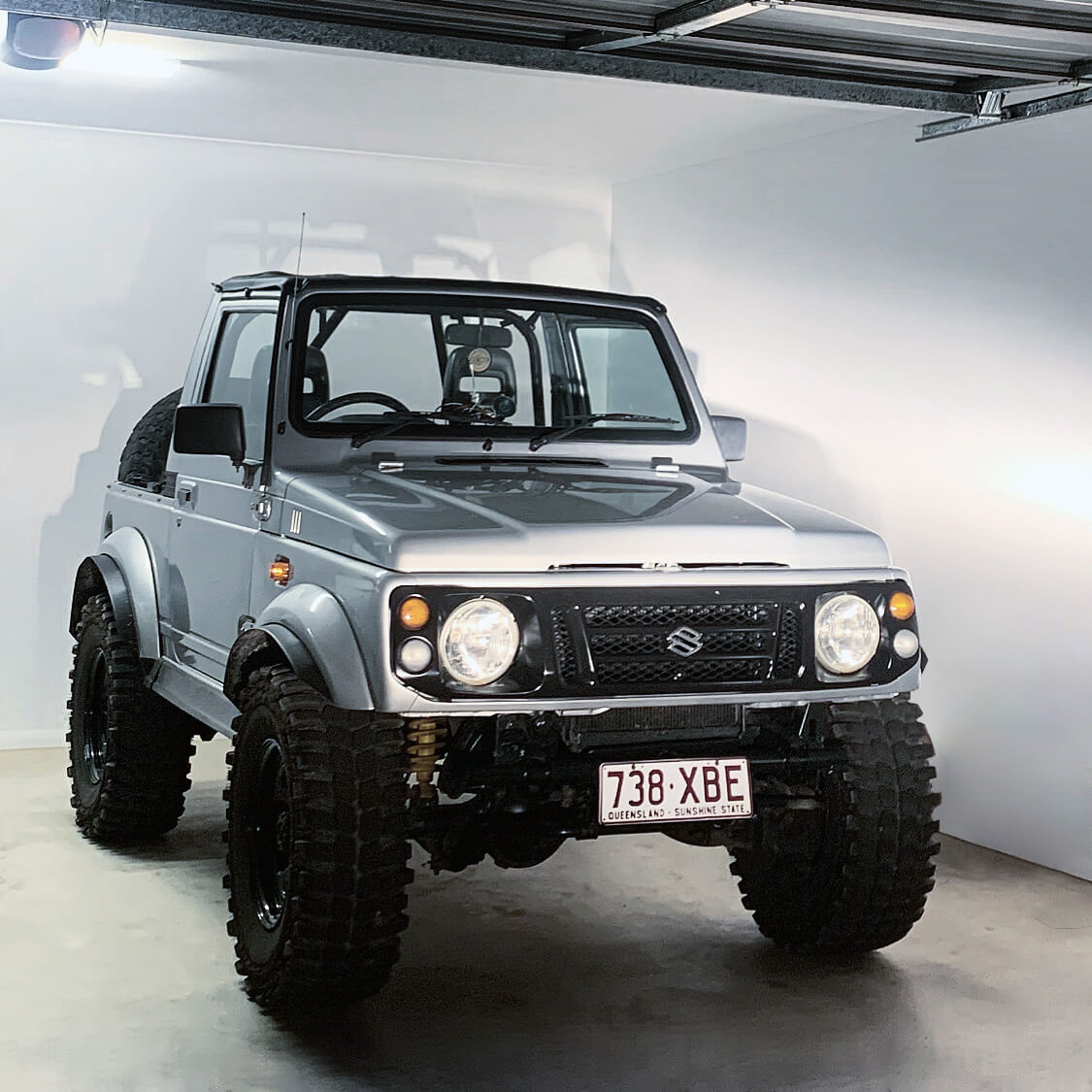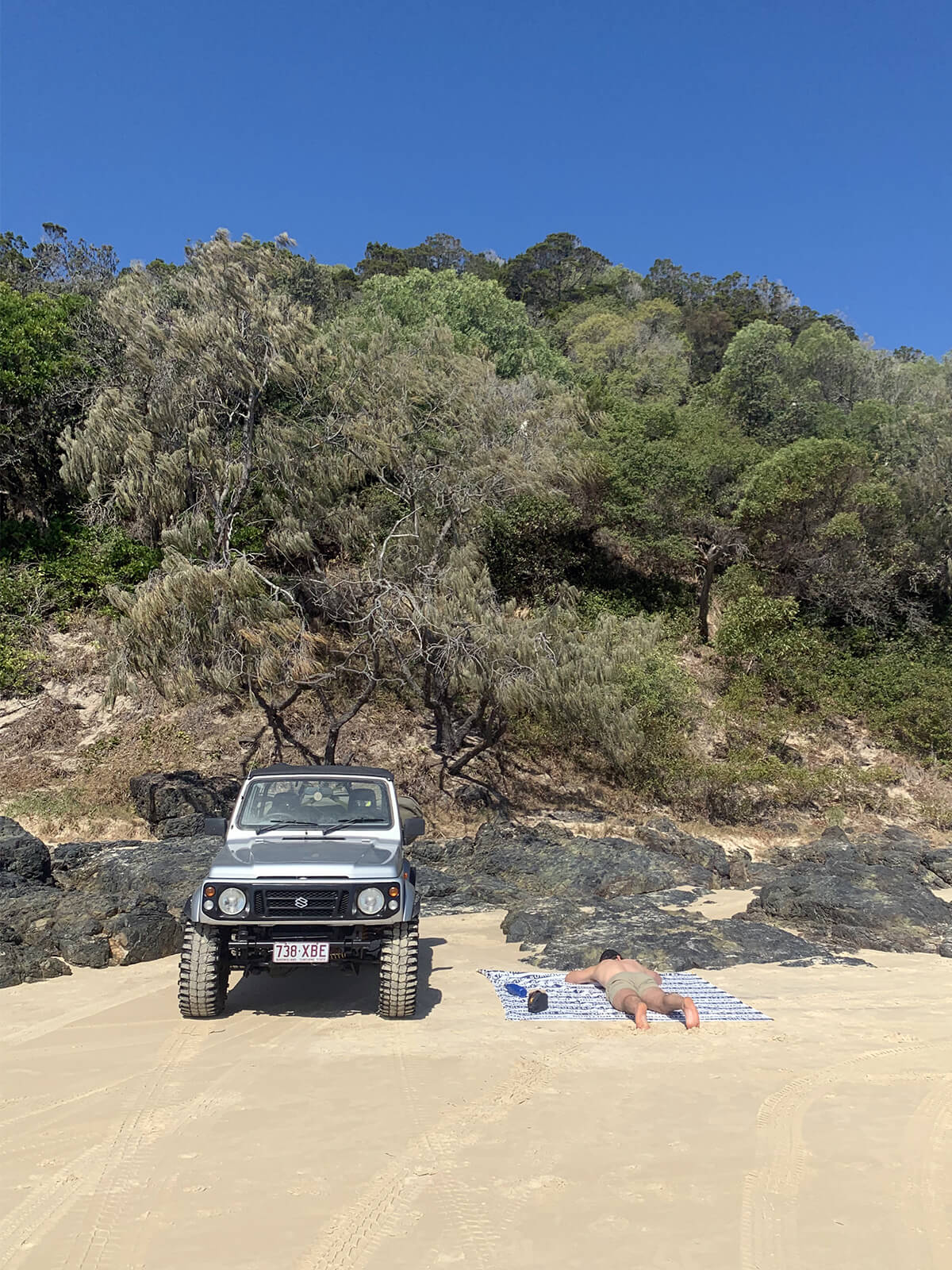 What challenges did you face while putting it together?
– Gearing! Such a simple mod that I made a massive pigs ear of. Went for a switched 1 litre transfer case to turn those 31" tyres a little easier. Oh yeah should have mentioned those earlier. They're called lakesea mudsters. And yes they're loud. Anyway I was sold a dud. Had no clue what I was doing and ended up spending a shit load of money and it still didn't work. Found a fresh one and threw it in and now she runs beautifully.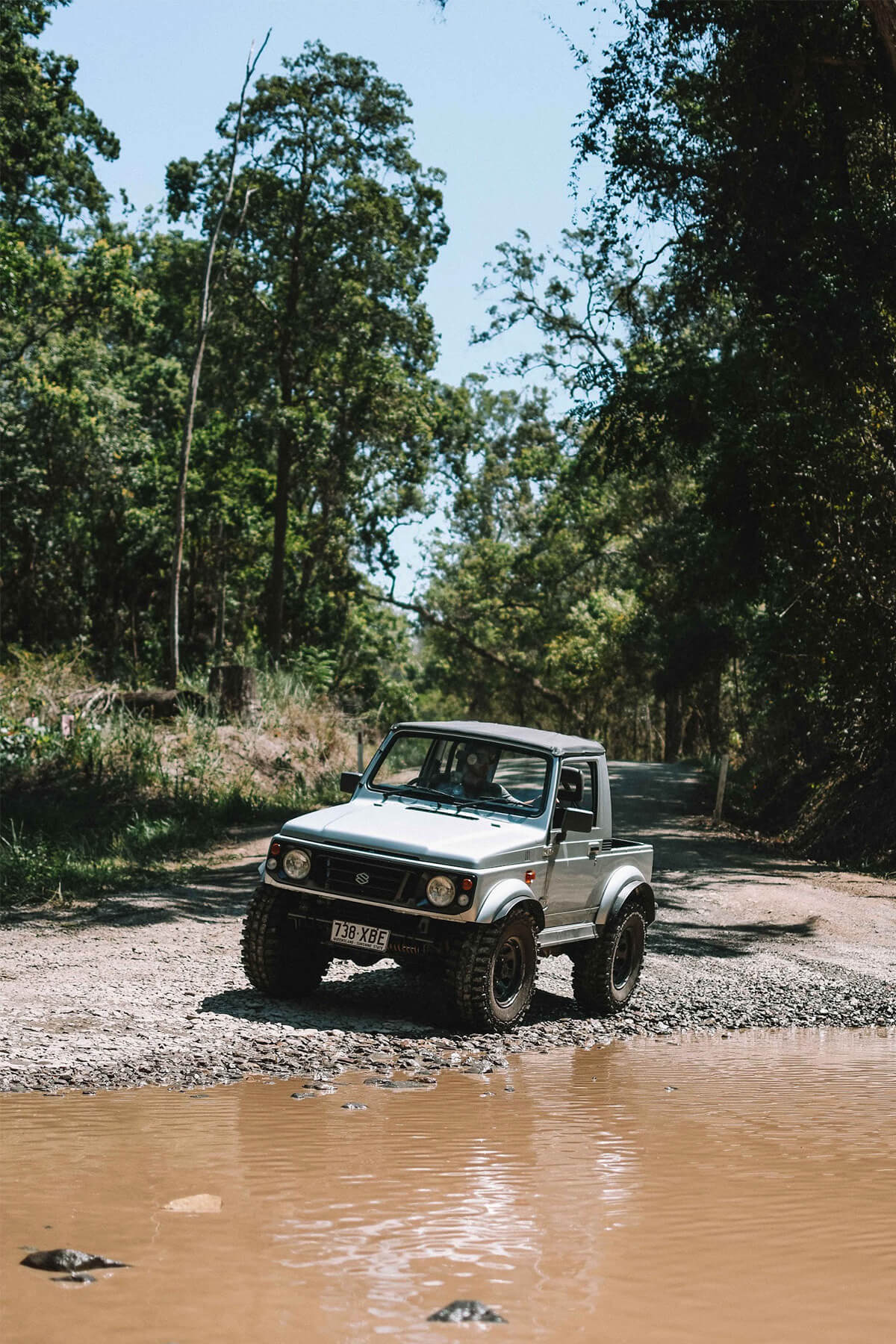 What do you love about your vehicle?
– Everything. It's small and clean. I just finished respraying the old fibreglass roof which used to be white. They're hard to come by and I was really lucky with that score. It was literally down the road from me and I bought it 2 mins after it went up on market place. We put in sliding windows for the puppy to look out of. It's a little camping wagon. Absolutely blasts the beach and almost impossible to bog. It's so puny and inoffensive. What's not to love? And hey, it's all about under compensation right?
Is it your daily or a weekend ride?
– Daily. But the mrs has a nice new Subaru for longer trips.
Do you take it off road? If so, where and how often?
– Yeah we hit the beaches a lot. Been up the glasshouse mountains a few times and lots of general exploring around the area. Kenilworth is fun too.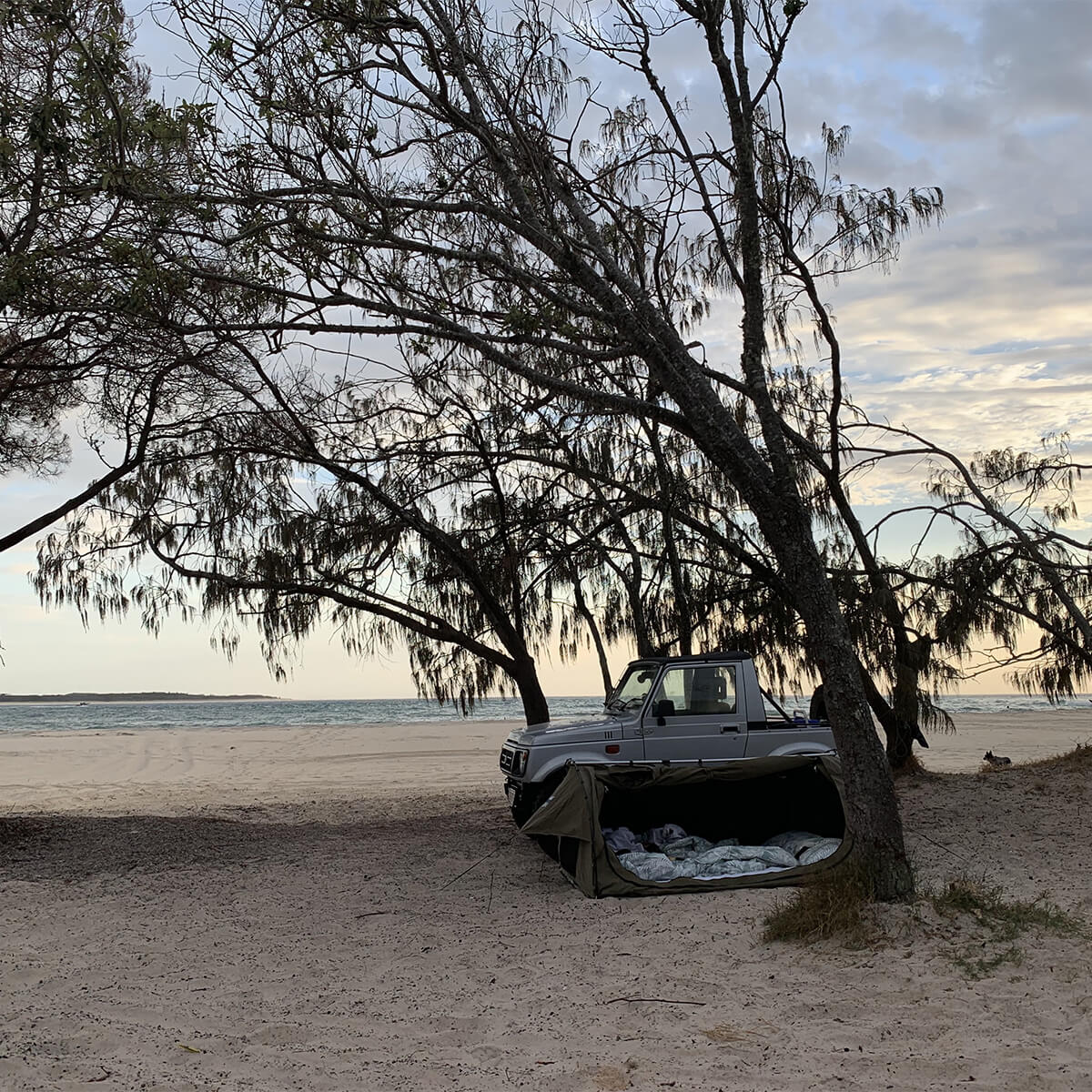 Engine specs, modifications
– She's running the stock G13b which was rebuilt by me and a mate with a Webber carb. I'd like to do the G16b upgrade with a turbo when I finish off my current 45 series LandCruiser project. But for now this motor does the job and I love it. She's simple and reliable. All you need in what is essentially a roller-skate on steroids.
Lift height and suspension modifications
– She's running 2" king spring lift and extended bump stops to assist with front-end scrub.
Wheel specs
– Classic steelies for the win. It's actually tricky to find wheels that fit. These are originally off a Ford F-150 I think as they share the same centre bore size.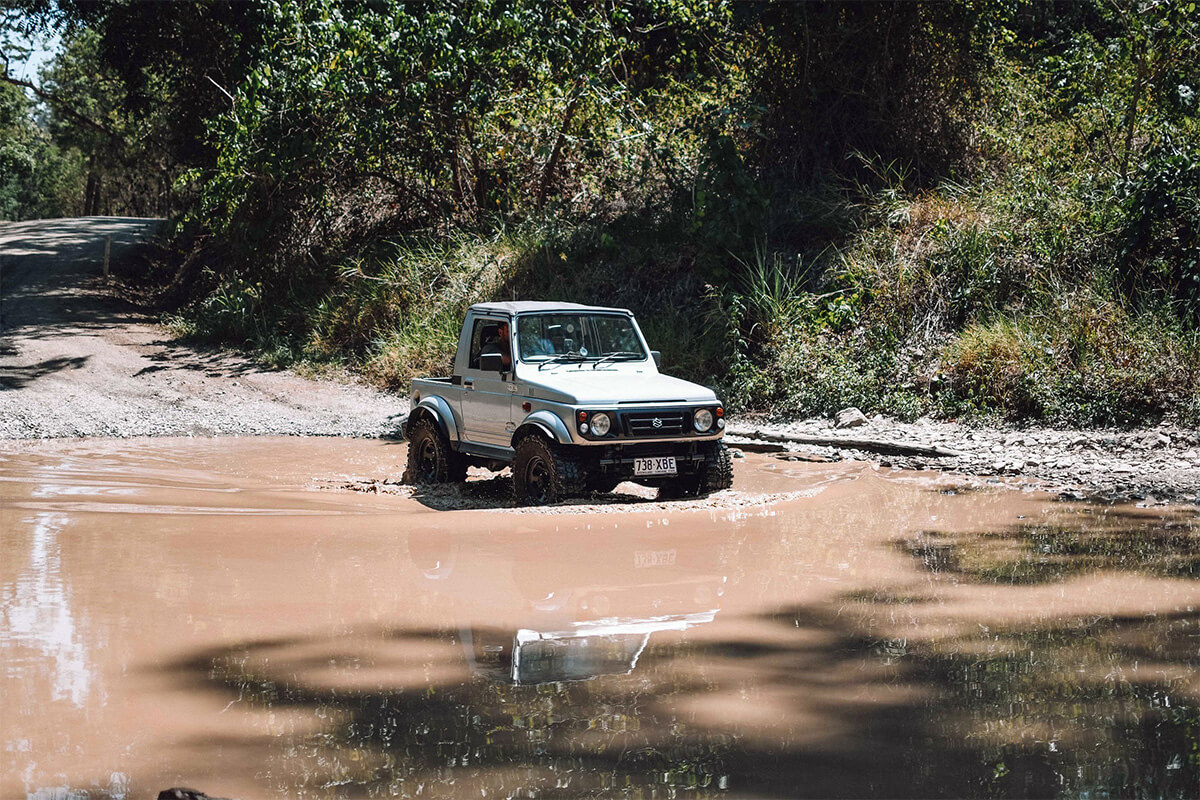 Exterior mods
– When I got the car it was thrashed. Sun damaged and rusty. The poor thing had been up the beach more times than the Hoff but equally as slow motion. We repaired the rust, then sent it off for a full respray in the original factory silver. She came up a treat!
Interior mods
– Absolutely stock standard and clean. Removed the rear seats as they're about as useful as a one armed brick layer in Baghdad and weighed a bit too. Threw in a dodgy old roll bar because it looks good. Wouldn't trust it with my life though. Then Raptor lined it and cut some rubber matting for the tray. Clean and simple. Perfect.
All other mods
– I made some flares out of Bunnings garden edging and screwed a Bintang bottle opener to the front that my mate bought from Bali. That went through the respray so it looks the part.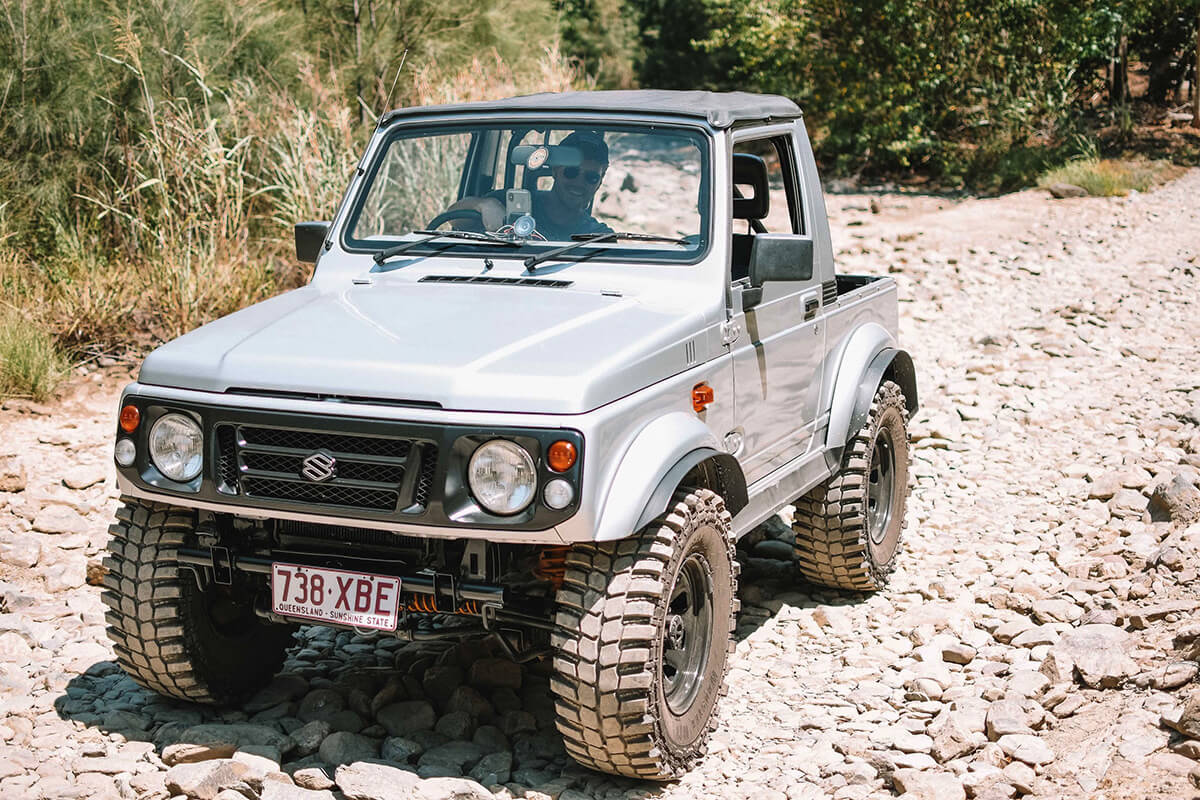 What are your future plans about this vehicle?
– Just the G16b motor and finish tinting the rear window! I'm procrastinating on it hard as I'm rubbish at tinting, got any contacts?
Anything else you would like to share about your vehicle or about the off-roading in general?
– Yes, watch this space as I'm currently working on a 45 series landcruiser body on an 80 series chassis with a 1uzfe Lexus V8 in it.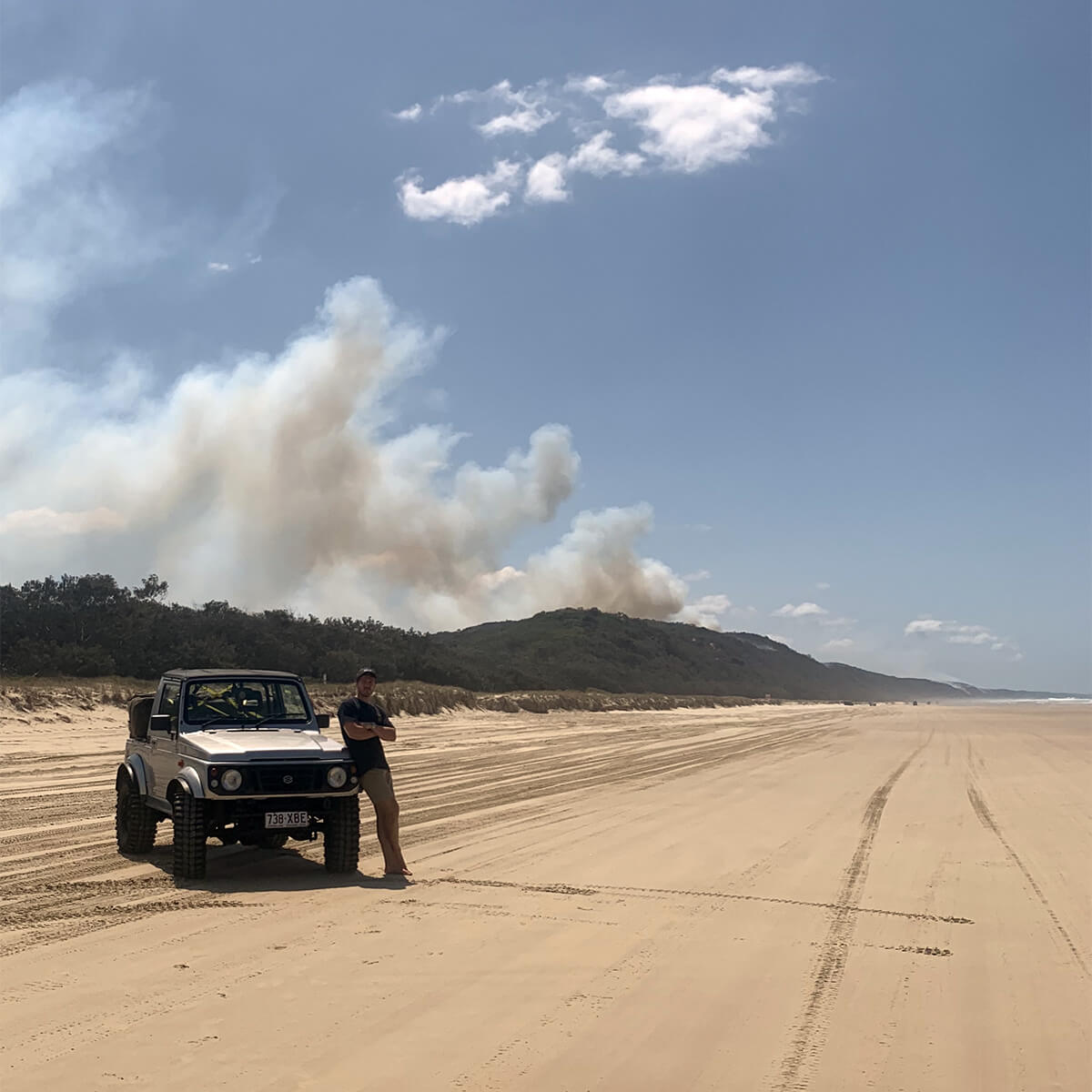 Watch the progress and find out more about this Suzuki Sierra SJ80 project by visiting the Instagram profile of the owner: @paddysavery!
Stay tuned for more project reviews on Offroadium.com – Follow us on social media, and share this write-up if you enjoyed reading it!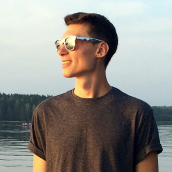 Matt Grabli
Matt brings over a decade of automotive expertise to his role as staff writer and editor at Offroadium.com. With an enduring passion for the off-road vehicles and adventures, he is devoted to creating interesting content that equips 4x4 enthusiasts with the knowledge to improve their rigs.