Lifted Suzuki SX4 With Off-road Tires – the Evolution From Rally to Autocross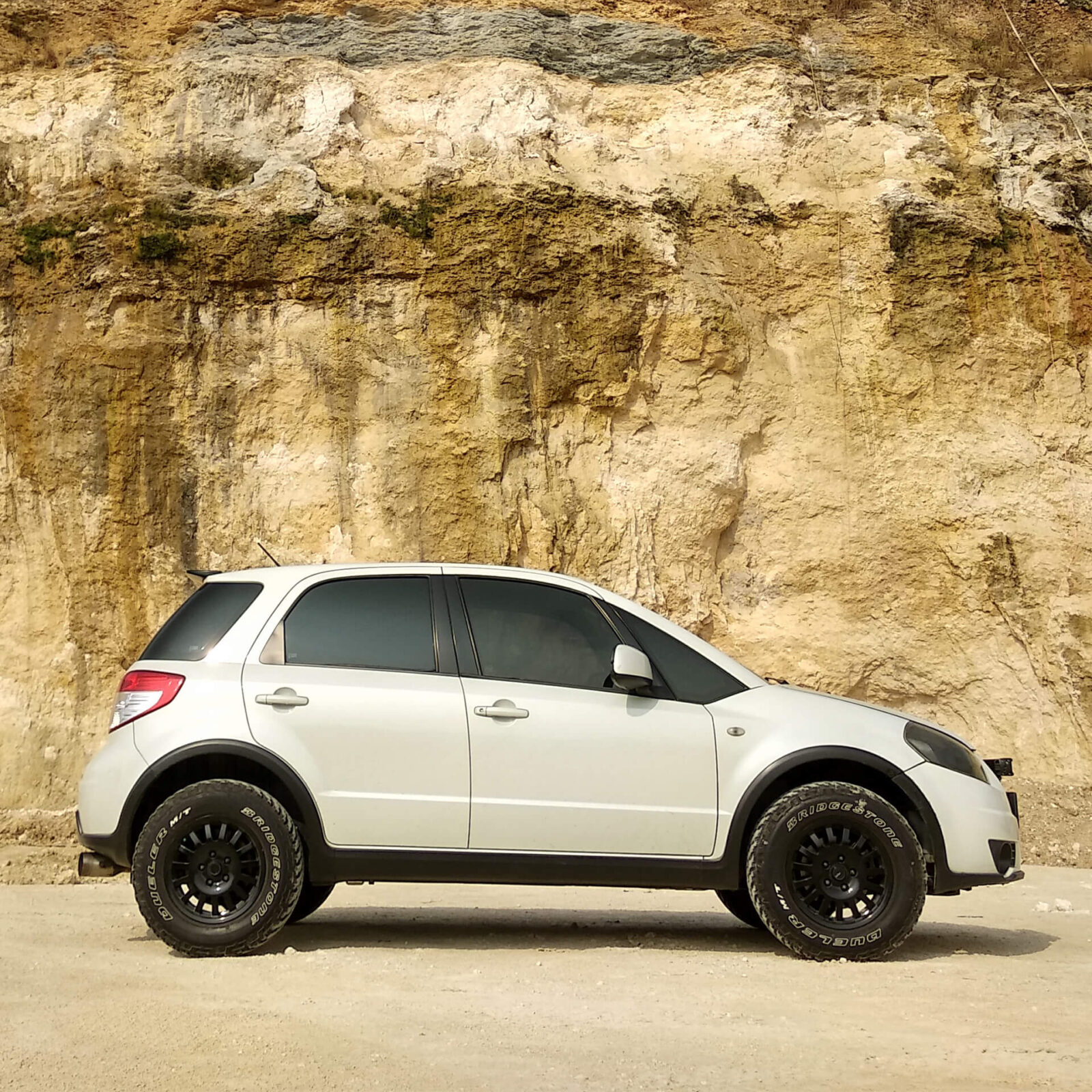 The Suzuki SX4 is a compact crossover created by a Japanese automaker in collaboration with Fiat and pretty popular in Europe and Asia. Suzuki had to pack it with lots of modern safety and compact features as standard without adding to the overall price tag to make the car more desirable in a highly competitive market segment. Even though the vehicle looks small, the cabin and cargo space are surprisingly roomy. The higher than usual seating position allows for good visibility in offroading conditions.
Like all Japanese imports, the Suzuki SX4 is extremely reliable and handles challenging driving conditions well. All these factors plus the desire to be different were key for Andrea Liem from Jakarta, Indonesia to purchase this capable compact SUV back in 2011. A student at the time, Andrea was a rally and racing fan, so at first, he lowered his ride giving it a more sporty look.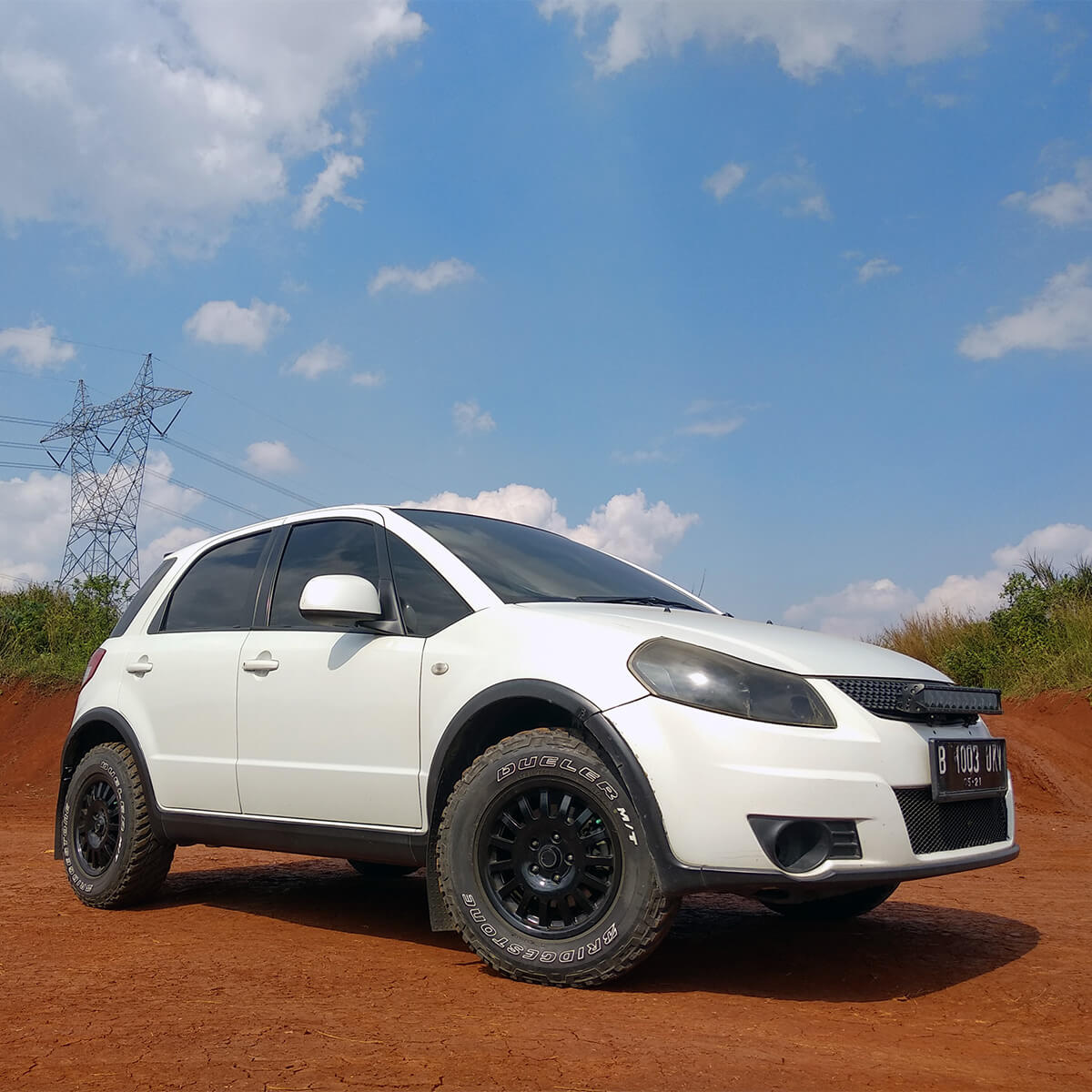 Driven by the desire to explore picturesque Indonesian landscapes, Andrea decided to transform his ride into an off-roader, lifted it, installed auxiliary lights, and wrapped off-road wheels into meaty mud-terrain tires. The car has its limits, it's an FWD after all, but Andrea does his best to make his beloved Suzuki the best it could be with what he has available. We asked the owner to tell us about his pride and joy. Read the all-inspiring interview and follow his journey on Instagram.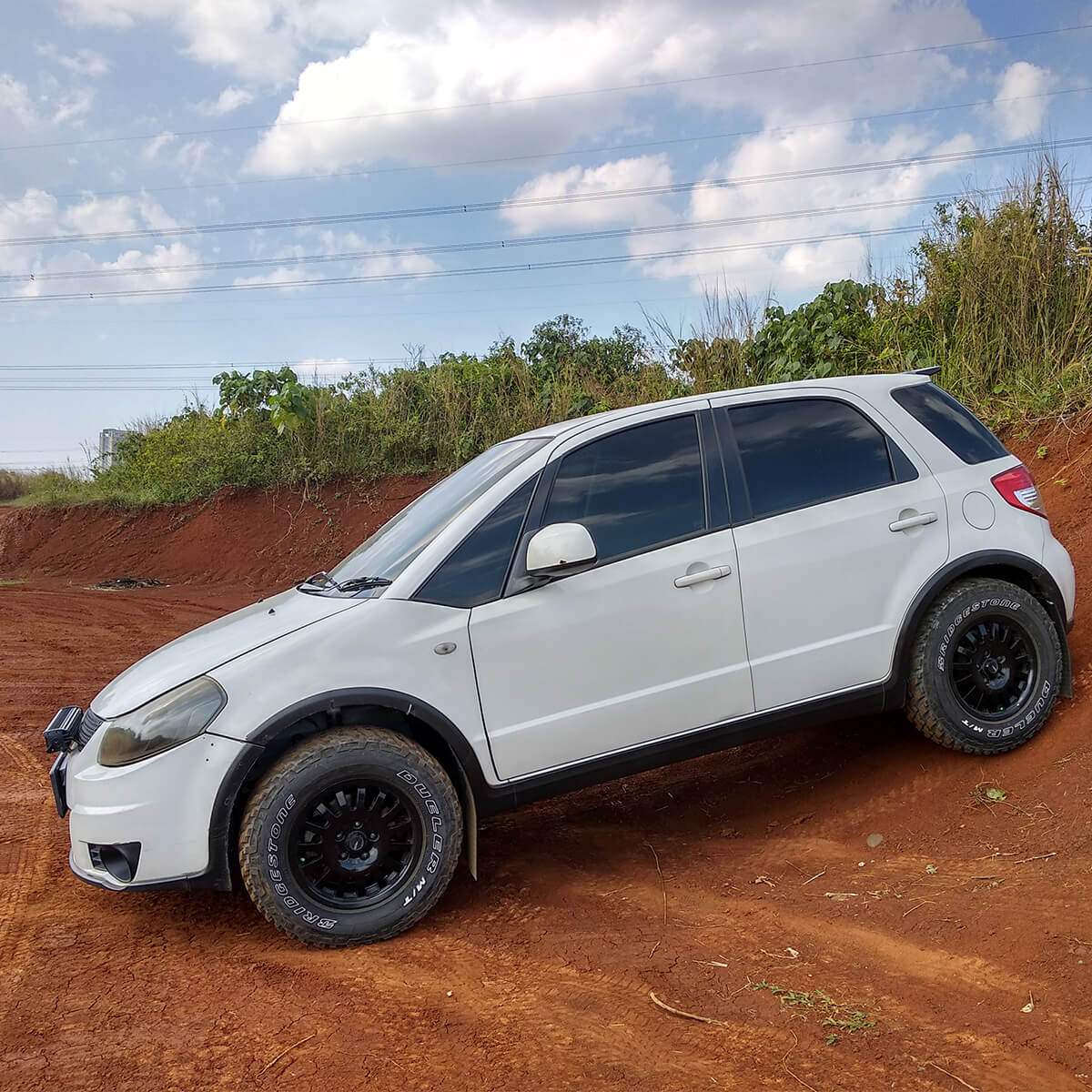 How did you become interested in off-roading?
– I always love to explore new places, especially nature-related. It gives me peace of mind in the middle of bird chirps in the forest, or sound of waterfalls, and fresh air.
Combined with the fact that I grew with some petrolheads, I just love cars, and anything related to it. Be it F1, GT, Lemans, Rally, or rally-raid (dakar, silkway, etc.).
And how to combine these two? Build an offroad car!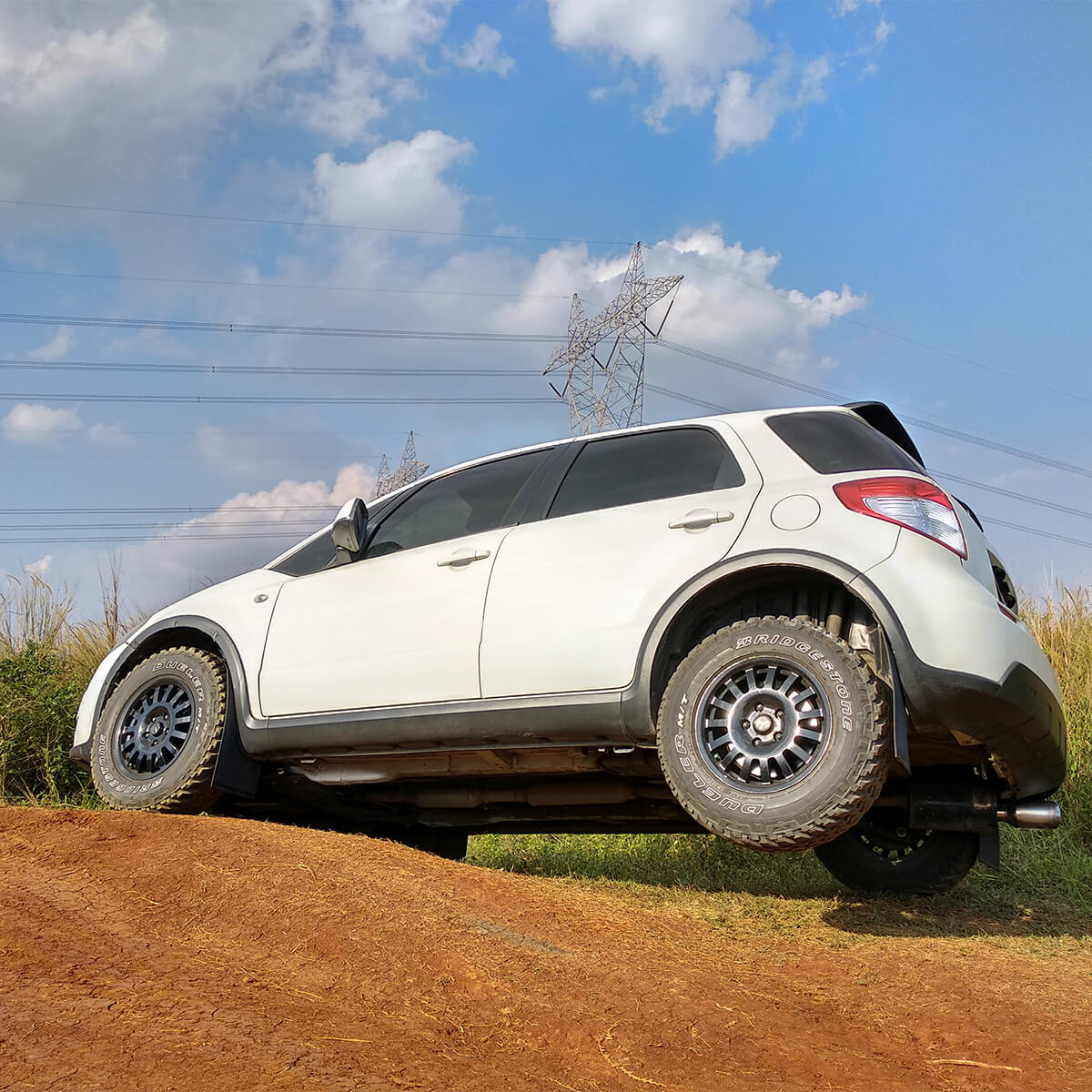 Why did you choose this particular model for your project?
– I bought the SX4 in 2011. There were only 2 options that meet my criteria: compact crossover, which are Nissan Juke and Suzuki SX4. Obviously I chose the SX4 for its WRC participation, and its used for rally events all around the world. Well, at least only the body is the same, lol.
Aside from that, the SX4 was not selling well here, and it's rare to see it on the road, so as an anti mainstream guy, I liked that.
What inspired you to choose this modification style?
– Time goes on, i lowered it and build it as track car, and after i got another car for the track duties, i decided to lift it,since actually, many people here lowered their SX4 or just change the wheel for look. So i thought it will be interesting to lift it, to stand out fron the rest. And it will help me go explore the nature, As extra ground clearance is useful.
I also love how the offroad cars explicitly say "i can go anywhere" as they clears the obstacles and it fits my purpose to explore the nature, as often i need to clear obstacles on my way to waterfalls in middle of nowhere.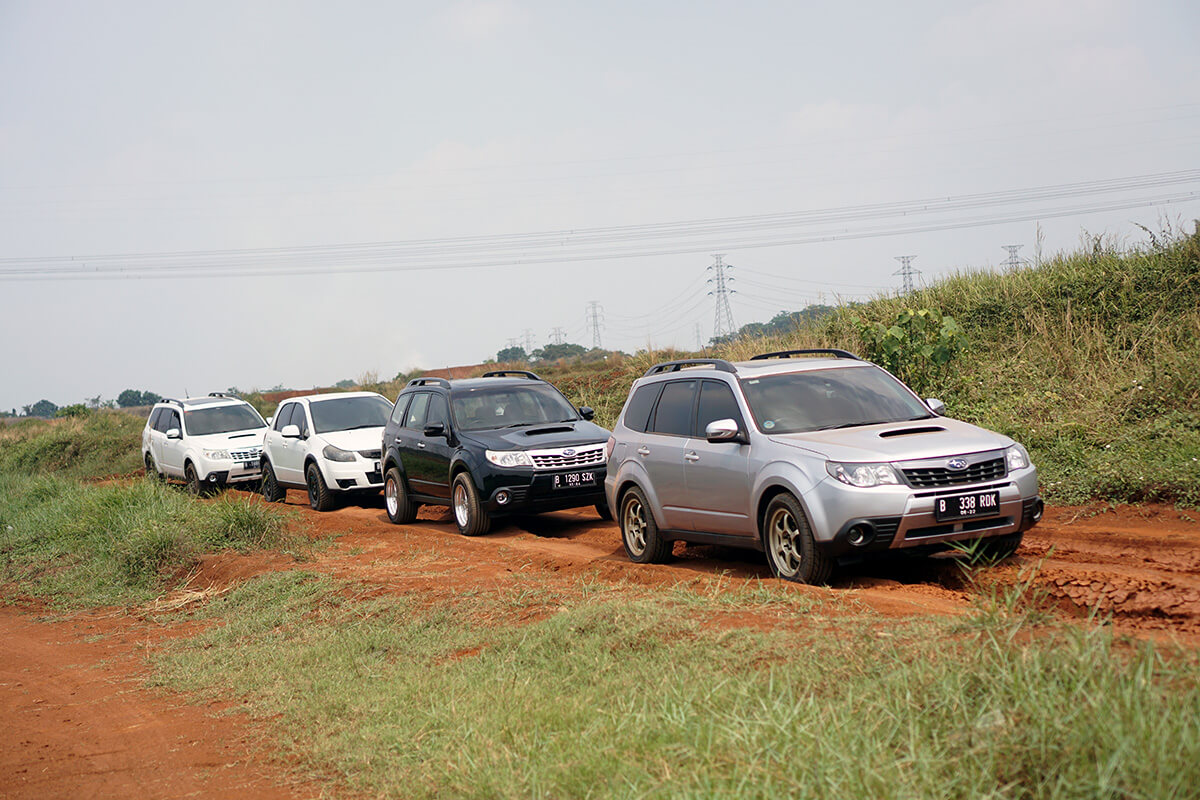 What challenges did you face while putting it together?
– Well, almost everything need to be custom made or swapped from other car, since the aftermarket support was less than other makes. But this is the art of modifying right? To maximize the car's potential with every possible way, and make it unique.
What do you love about your vehicle?
– As i mentioned above, it stands out from the rest. Most will lower their SX4 or just change the wheel, while mine is lifted. Its always interesting to be a "anti mainstream guy" lol.
Also, the SX4 is pretty robust on its stock form. It can take much abuse from adventures and still work on top condition afterwards.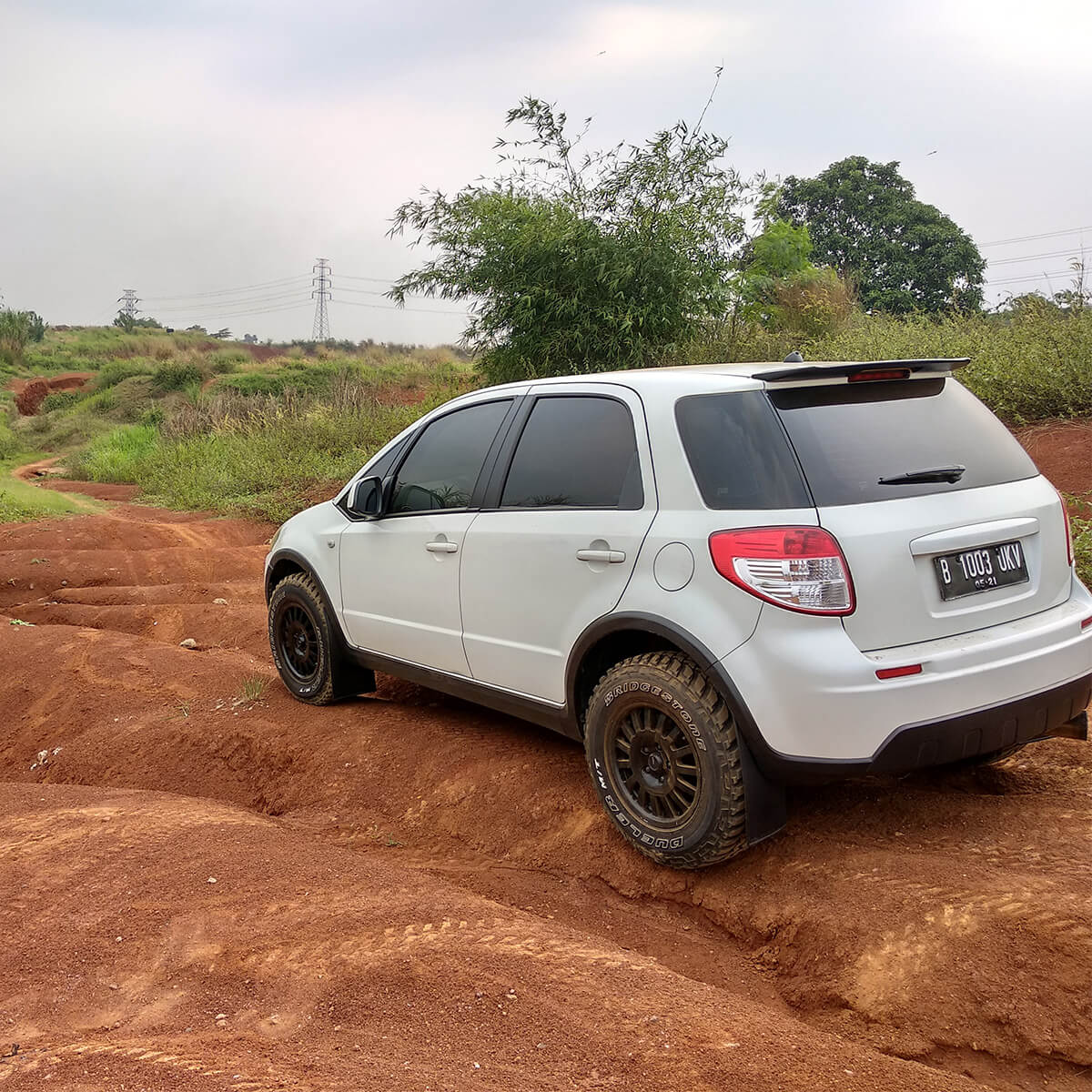 Is it your daily or a weekend ride?
– Its my daily ride since mt college life 9years ago, so it has much history with me.
My parents also sometimes use the SX4, when im working at home. They loved it! Even my mom's friend dig the SX4 lol.
Do you take it off road? If so, where and how often?
– Yes, just once a month or two, since im quite busy on my work as consultant. Just a refreshing trip to a national park, beaches or mountains. Sometimes i went for long road trip to other island (i.e. go to bali island from Jakarta in Java island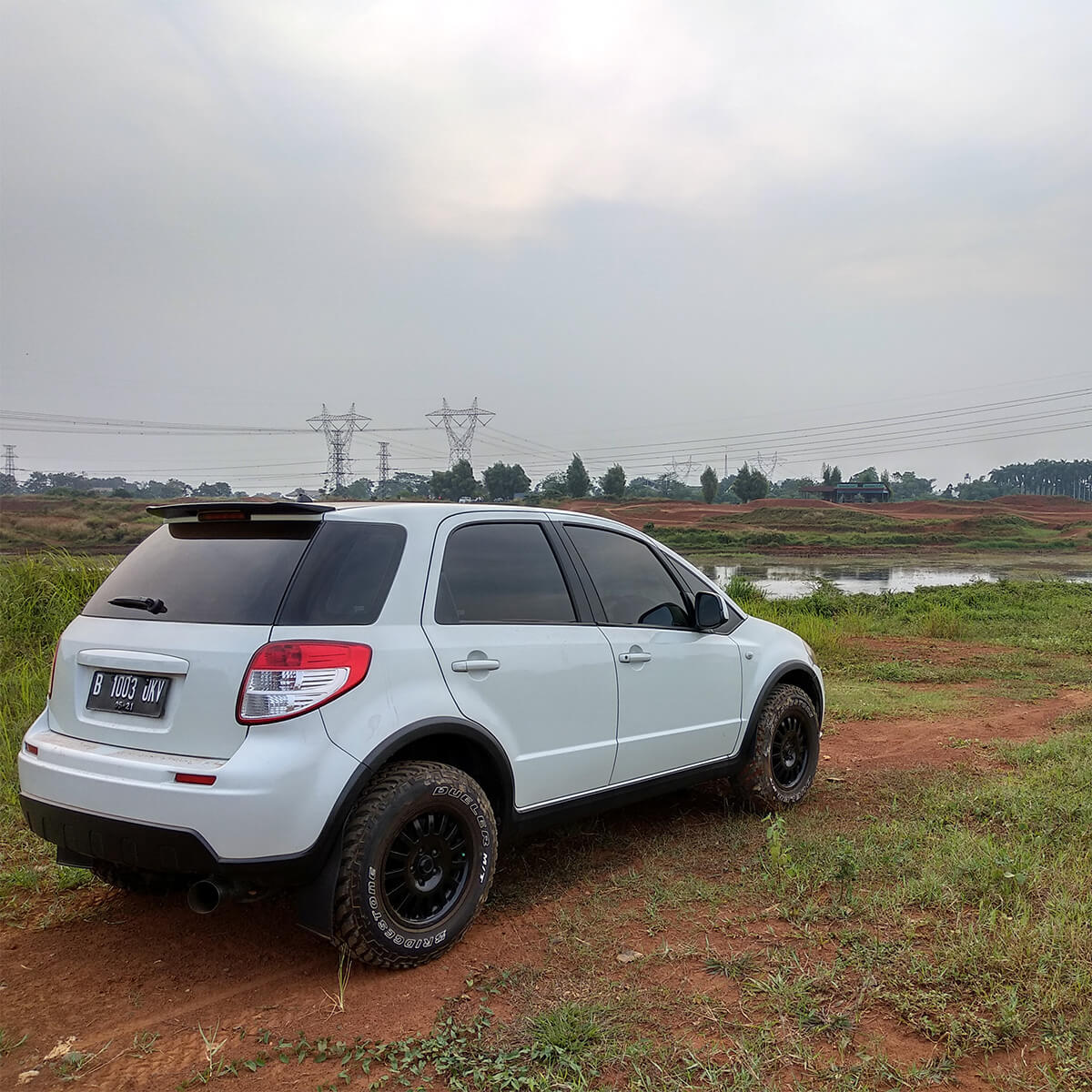 Suzuki SX4 Specs
Engine specs, modifications
Pretty much stock, just:
– K&N replacement for wash-able feature
– Custom made exhaust systems by local workshop
Actually the stock engine is lacking power (only 99hp) and not much potential. Planning to swap it with bigger displacement ones. Will explain it in the future planning section.
Lift height and suspension modifications
– 2″ lift by replacing stock springs with longer ones from Toyota Innova (MPV version of Toyota Hilux), fits perfect with custom mounts. Rides still comfortable and stiff enough it doesn't sway much.
– Replaced stock lower-arm bushings with polyurethanes for better durability.
– Replaced stock brake lines with braided Techna-Fit.
– Motul RBF660 Racinf Brakefluid (leftover from sx4's trackday life , lol yes i built sx4 as a trackday car in past years.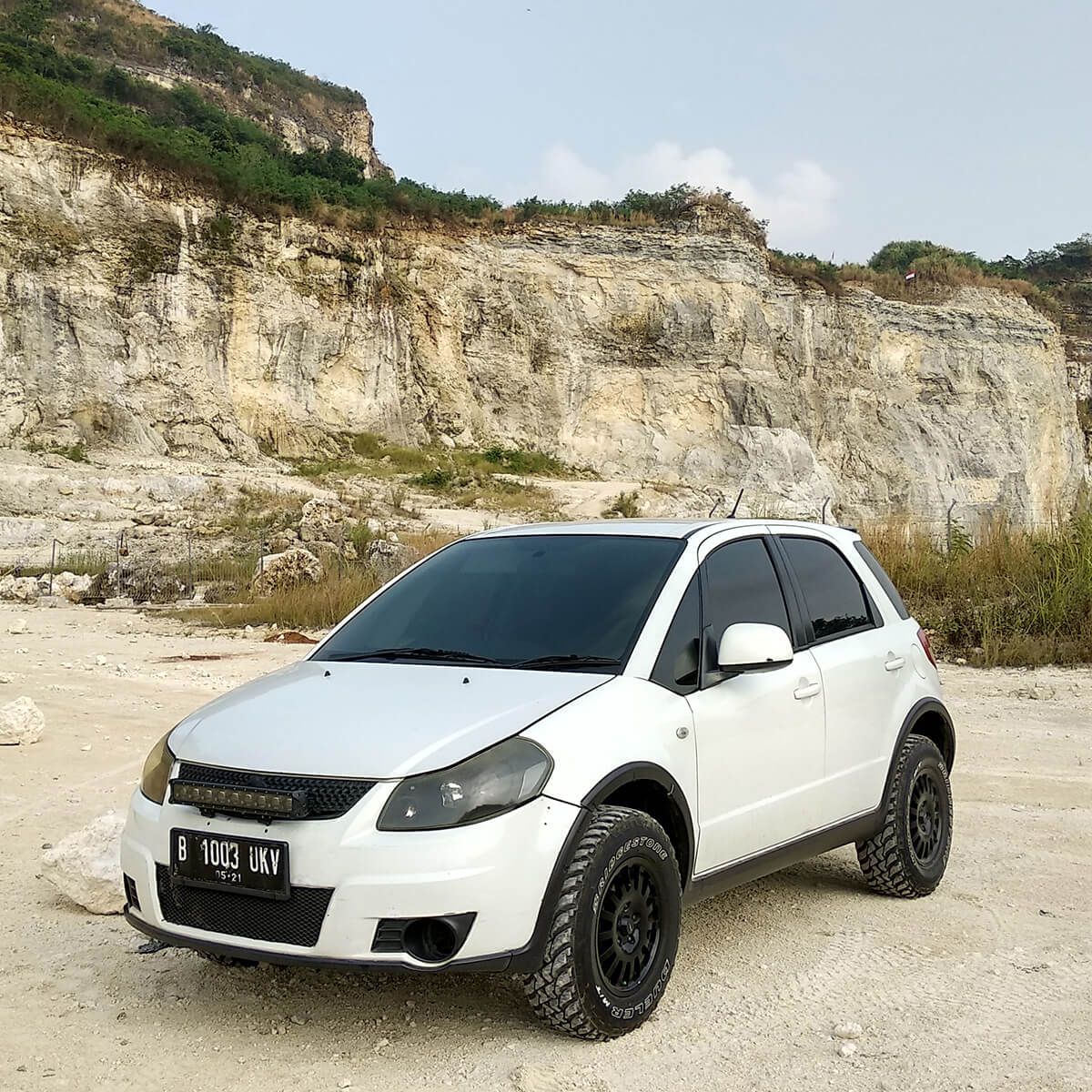 Wheel specs
– Wheels: Sparco Cromodora 15×7. Repainted in black.
– Tires: Bridgestone Dueler M/T. 215/75r15.
Exterior mods
Not much, as i love simple & efficient method.
– Added mesh on front lower grill to add protection for radiator against flying rocks and chips.
– Chinese lightbar, works pretty well on zero light environment.
– Shaved the stock roof rack as i never need to put anything on the top. Low center gravity is always better. Just put all my gears inside efficiently.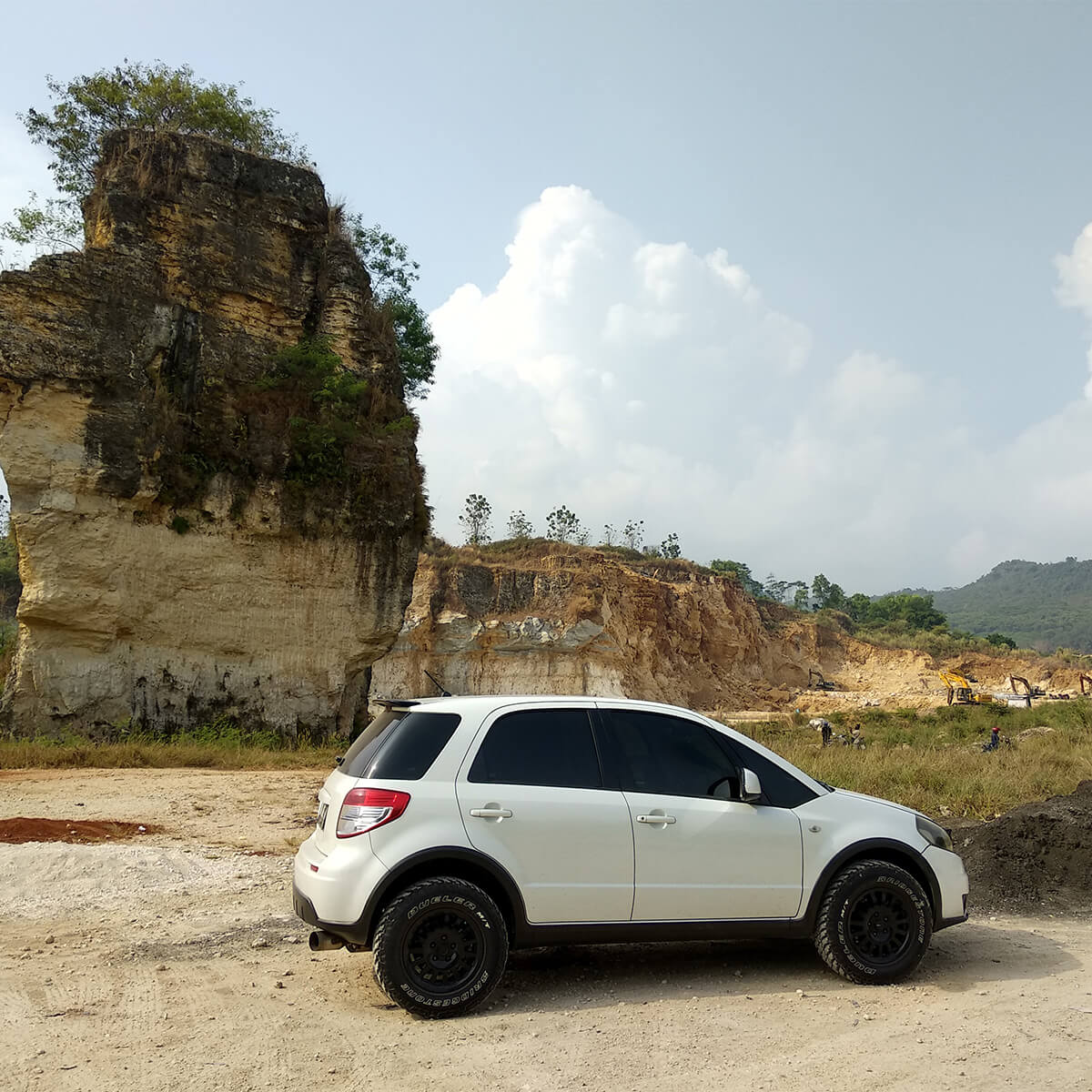 Interior mods
– Replaced stock steering wheel to smaller local made one, actually leftover from previous track build. I like the small diameter.
– Pioneer single din (DEH-S4250) and 2way speakers from local brand "Cello". These gave perfect sound to accompany on my adventures.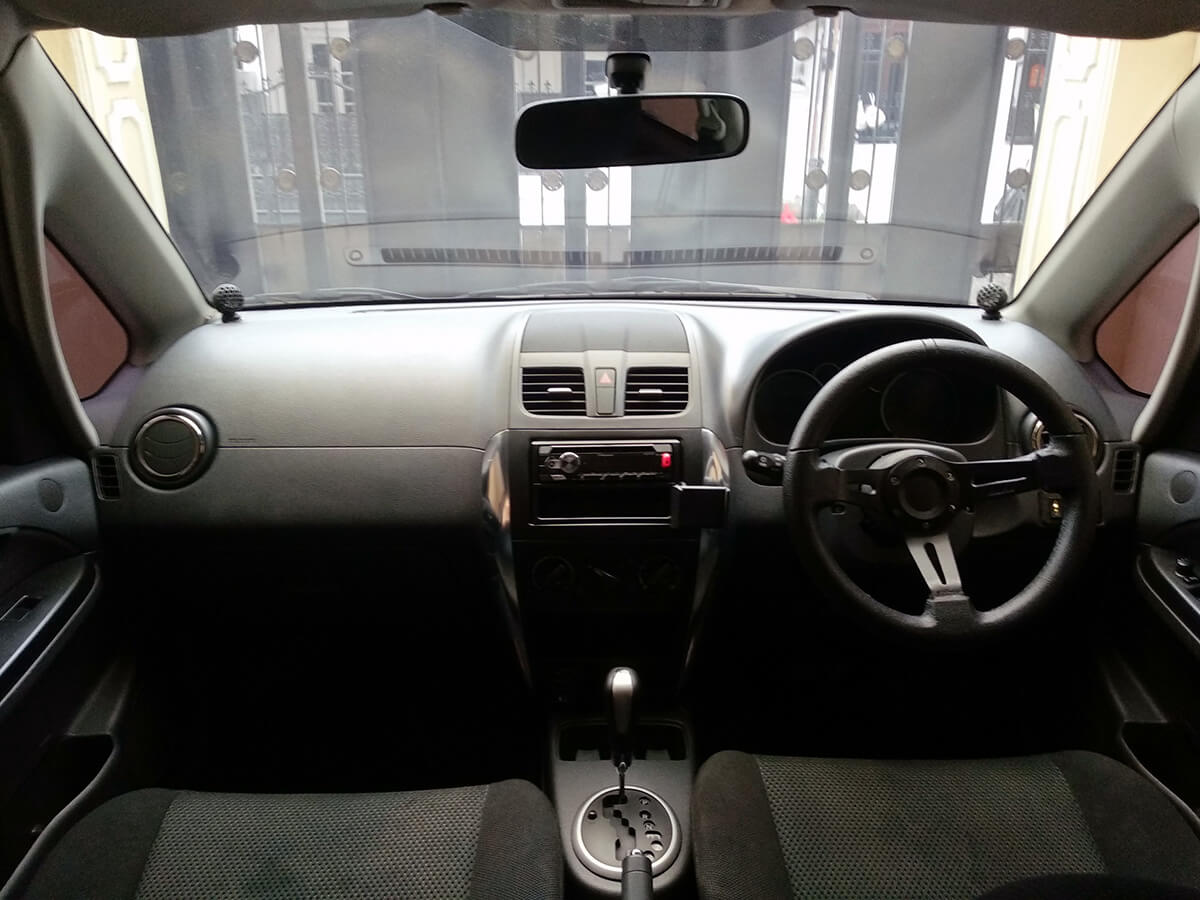 – Well, just regular maintenance lol. Regularly check everything from engine, trans, Electrical, air conditioner Suspensions, etc.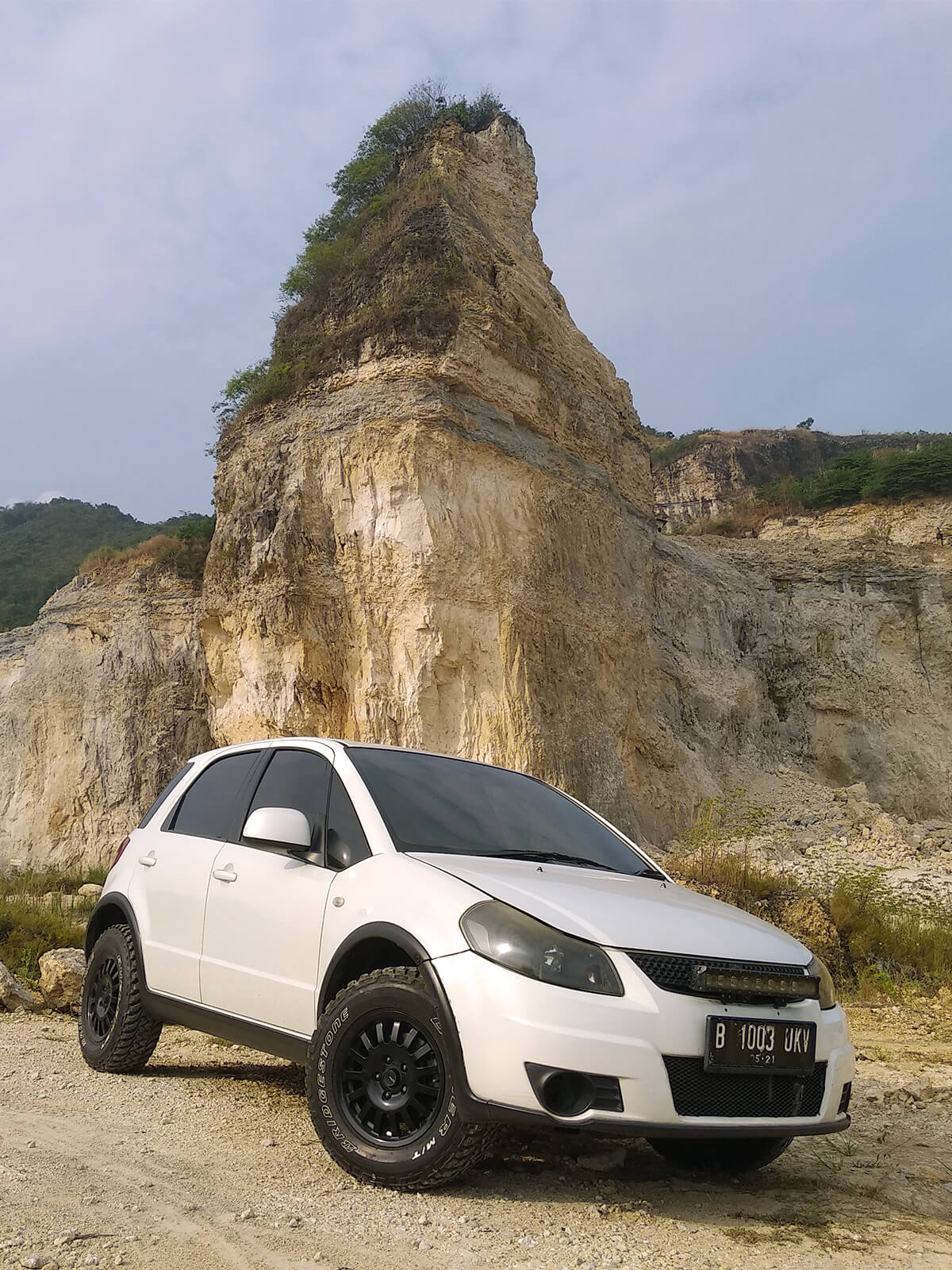 What are your future plans about this vehicle?
– Been planning to make a custom lift kit for better ride.
Also planning to swap the current engine with 1.6 (M16A) from swift sport or even 2.0 (J20A) from Vitara. The current M15A lacks power and not much room for improvement. The 2 above will much better platform for upgrades.
Also thought to add steel bumpers, but lets see if the weight will throw the balance or not, since i want the SX4 to be as light as possible.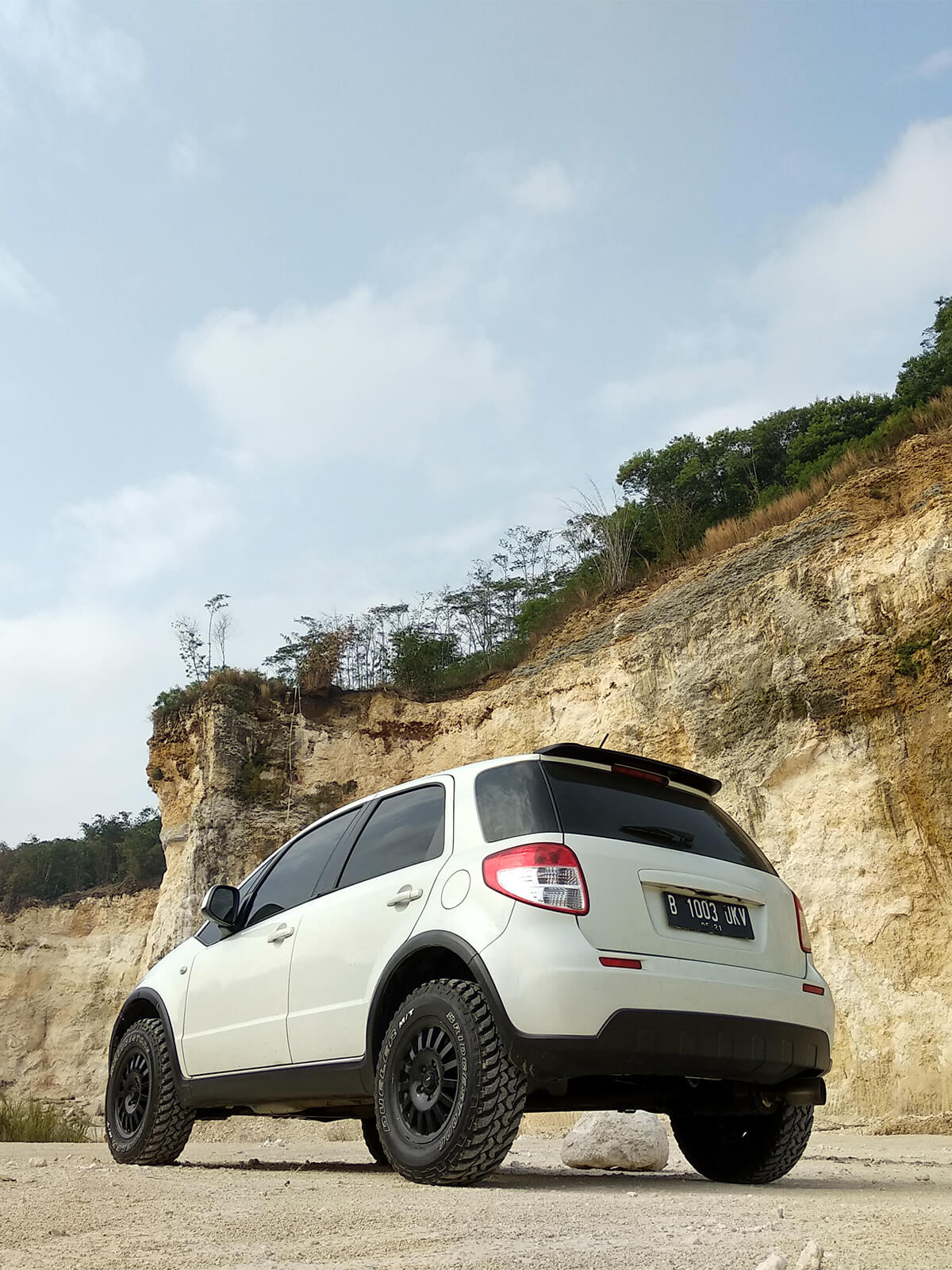 – The SX4 has accompanied me perfectly on my adventures and I'm looking forward to other adventures with it, and its upgrades!
Just hope my build can inspire others!
Watch the progress and find out more about this lifted Suzuki SX4 project by visiting the Instagram profile of the owner: @blanco.sx4!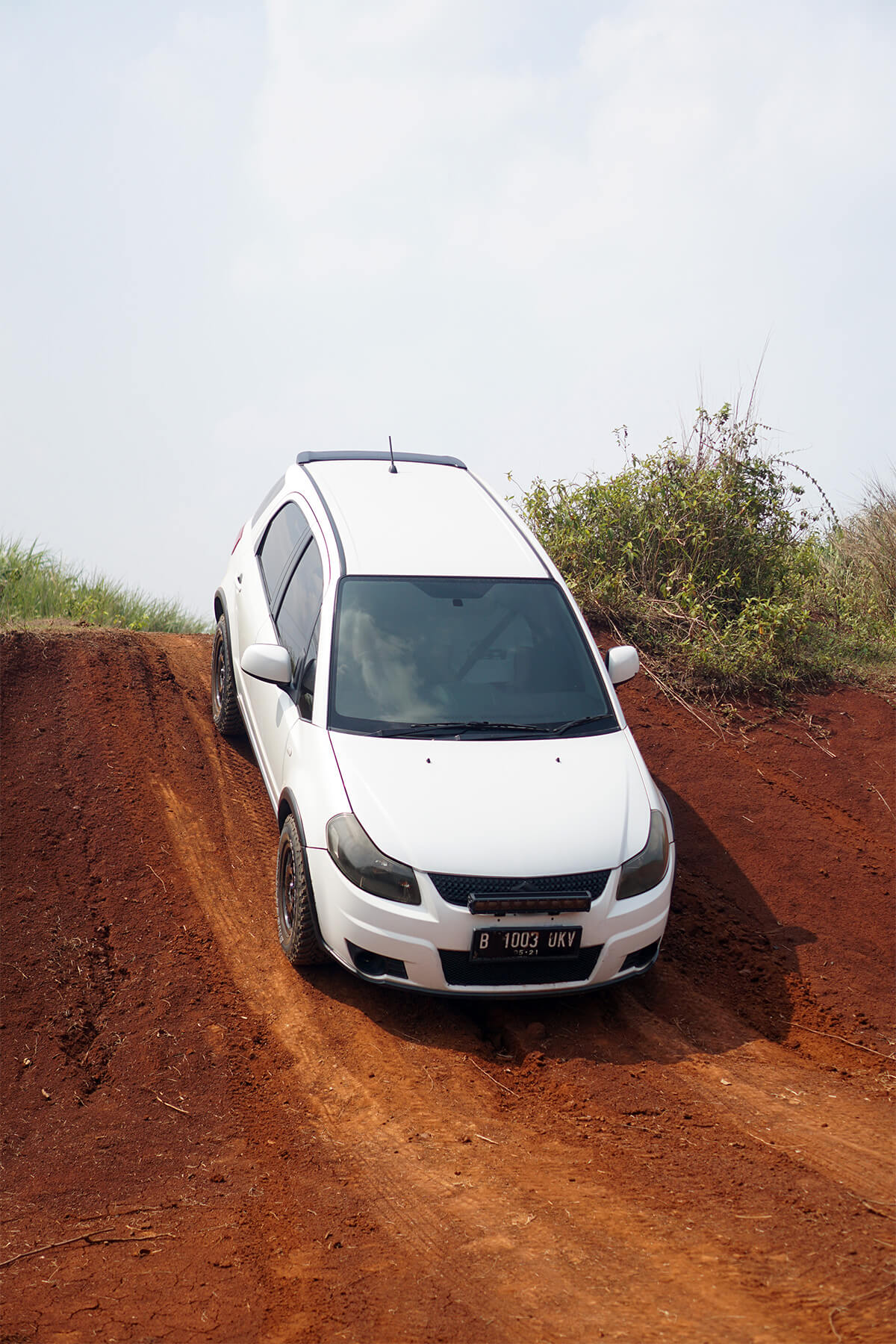 Related Parts & Mods
– Inspired by this Suzuki SX4 build and looking to prepare your own crossover for off-road adventures? Some parts used on this vehicle were sourced from custom shops or custom made, but our team has put together a list of products and accessories available online that may help you to achieve similar results:
Lift Kit
Wheels
Roof Rack
Off-Road Accessories
*Before ordering any part or accessory, it is recommended that you verify its fitment with a qualified professional and/or seller. We are not responsible for fitment or other issues that may arise from using the products featured on our website.
Stay tuned for more project reviews on Offroadium.com – Follow us on social media, and share this write-up if you enjoyed reading it!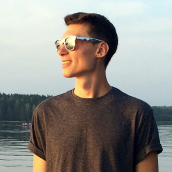 Matt Grabli
Automotive journalist and technical writer at Offroadium.com with more than 10 years of experience in the sphere of aftermarket parts and 4×4 vehicle modifications. Passionate about off-roading, outdoor adventures, and an active lifestyle.