Lifted Square Body Chevy Suburban Gets a New Rebirth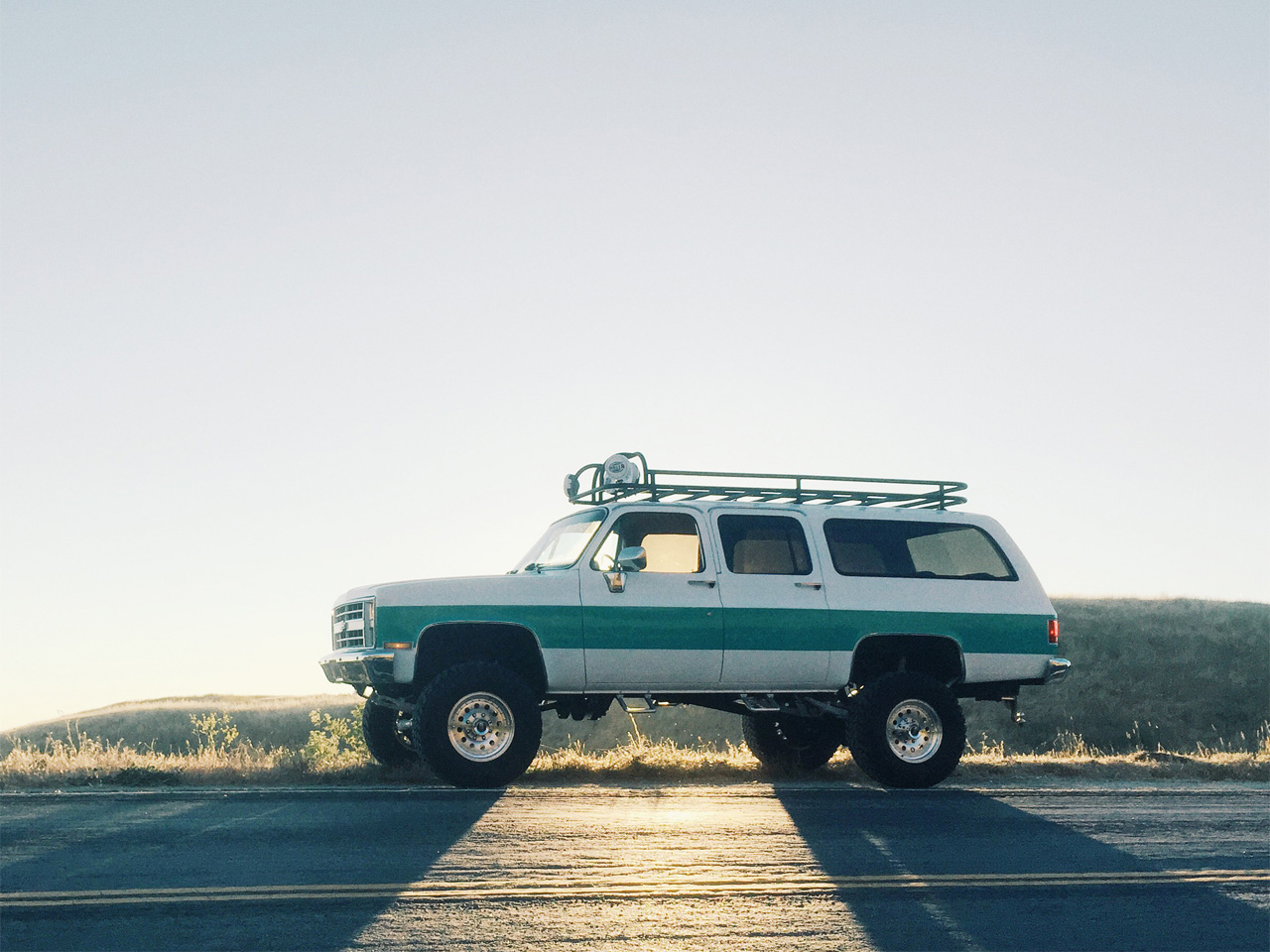 Lifted square body Chevy Suburban has always been an icon for all fans of the full-size American SUVs. This huge rig used to be the biggest sport utility vehicle in the world for quite a long time and became a real legend of the 70s and 80s. Just from the first look at Trino's old school Lifted Square body Chevy Suburban you realize how different it is in comparison with modern vehicles.
"I grew up around my dads Suburbans and really liked his 87 diesel he had when I was younger" – Says Trino, so he kept an eye out for a project around the same year with the 6.2, 4wd, straight body and the rear roll down window.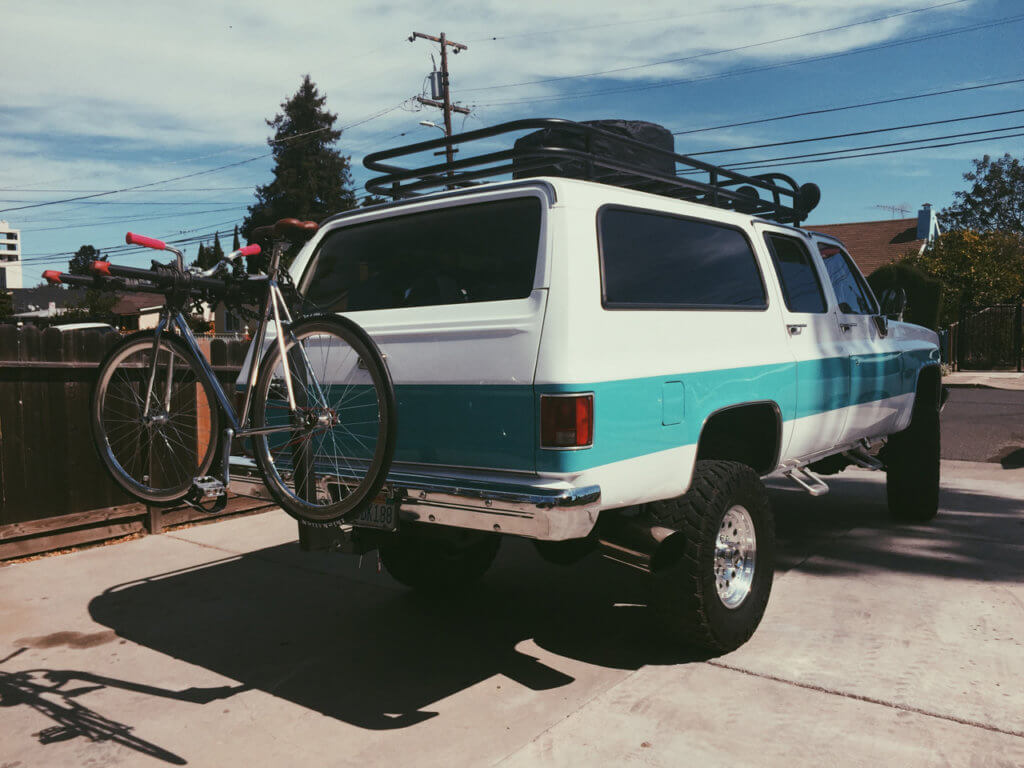 This 1986 Chevy Suburban square body is powered by a 6.2L Diesel engine with Banks Sidewinder Turbo Kit that gives just enough power for this dinosaur to keep up with modern trucks.
6" skyjacker all spring lift kit with steering shock absorbers provide enough clearance to fit 35" off-road wheels. By the way, this square body Chevy Suburban has got a 4×4 drivetrain which makes it really capable on a rough terrain. The rims are 17" American Racing Outlaw II with 10" offset, wrapped in 35" x 12.5" Nitto Trail Grappler tires.
Exterior modifications feature custom teal on the white paint job, custom roof rack built to house 5 Hella spotlights, and a spare tire/rim with the same specs as above. It's also equipped with a rocklight underglow, new glass, and seals and features updated lights all around.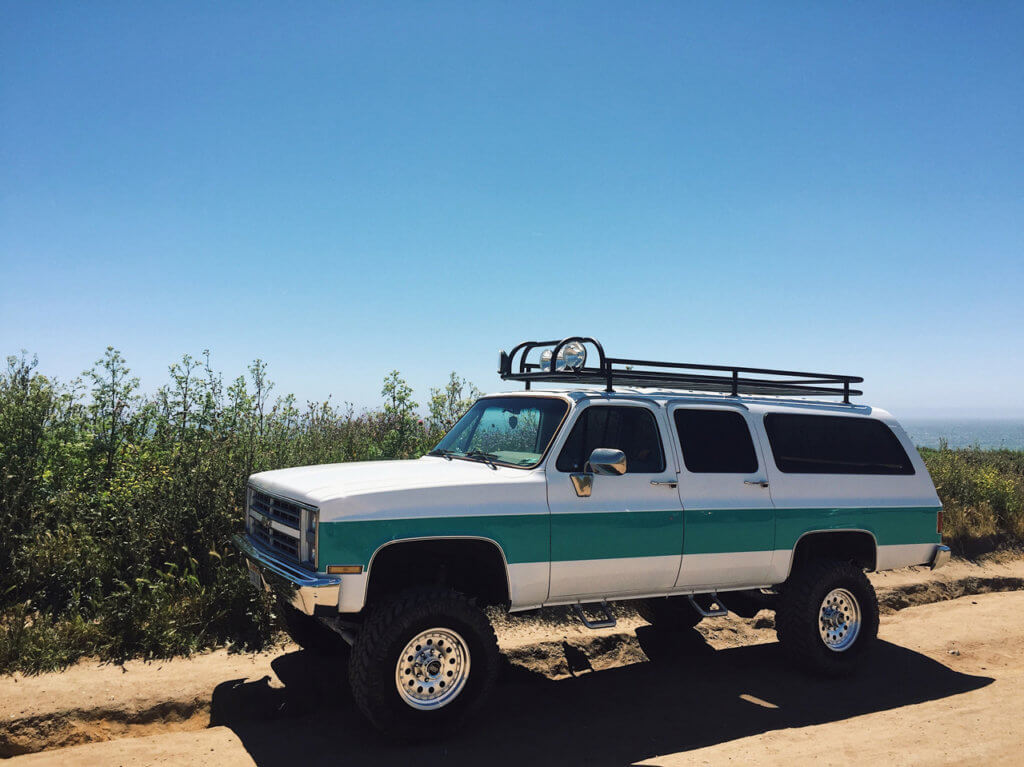 Complete restoration wouldn't be enough without some interior upgrades so Trino upgrade his square body Chevy Suburban with power windows all around, fitted it with bench seating on the front and installed a decent audio system with 2 3" tweeters, 4 6" and 2 6×9" speakers, 1 15" ported subwoofer, and 3 amps to power it all. The headliner was redone to match with the tan interior.
Lifted Square Body Chevy Suburban Specs
| Year/Make/Model: | 1986 Chevy Suburban |
| --- | --- |
| Engine: | 6.2 Diesel with Banks Sidewinder Turbo Kit |
| Drivetrain | 4WD |
| Suspension: | Skyjacker 6" suspension lift, Steering shock absorbers |
| Rims: | 17" American Racing Outlaw II wheels with a 10mm offset |
| Tires: | 35" x 12.5" Nitto Trail Grappler |
| Lights: | 5 roof-mount Hella round spotlights |
Trino's truck is probably one of the best looking Square Body Chevy Suburbans that we've come across for a while. It's built with great attention to details and features that original old-school truck character. Find more pictures of this truck by checking out the profile of the owner. IG username: treeno.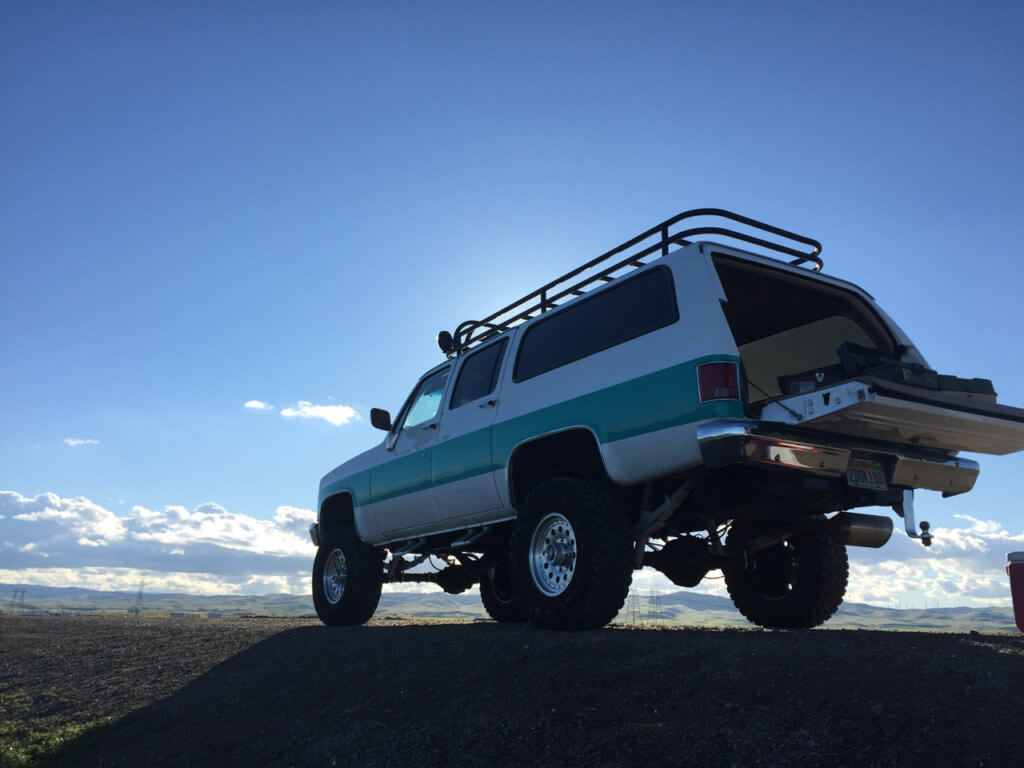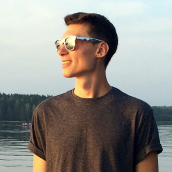 Matt Grabli
Matt brings over a decade of automotive expertise to his role as staff writer and editor at Offroadium.com. With an enduring passion for the off-road vehicles and adventures, he is devoted to creating interesting content that equips 4x4 enthusiasts with the knowledge to improve their rigs.