Subaru Forester off-road Mods 101 – Lift, Biggest Wheel Size & Overland Gear
A Subaru Forester is one of the most popular compact crossovers used for recreational off-road activities all over the US. It combines the versatility of a station wagon, off-road capabilities of an SUV, with the handling, and gas mileage of a passenger car.
"Back in the 90s when this model came out to the market it proved that you no longer need a bulky and thirsty SUV to reach places with challenging terrain, especially if most of our driving involves city and highway.
Thanks to the symmetric all-wheel drive and the X-mode on the later models it became pretty capable in the snow, mud, and sand even in the stock form. It is more than enough for beginners, but for those looking to maximize the offroad potential of a Forester – the aftermarket has plenty of options to offer. With properly selected off-road mods it can handle pretty challenging trails you thought were possible only for the big 4x4s.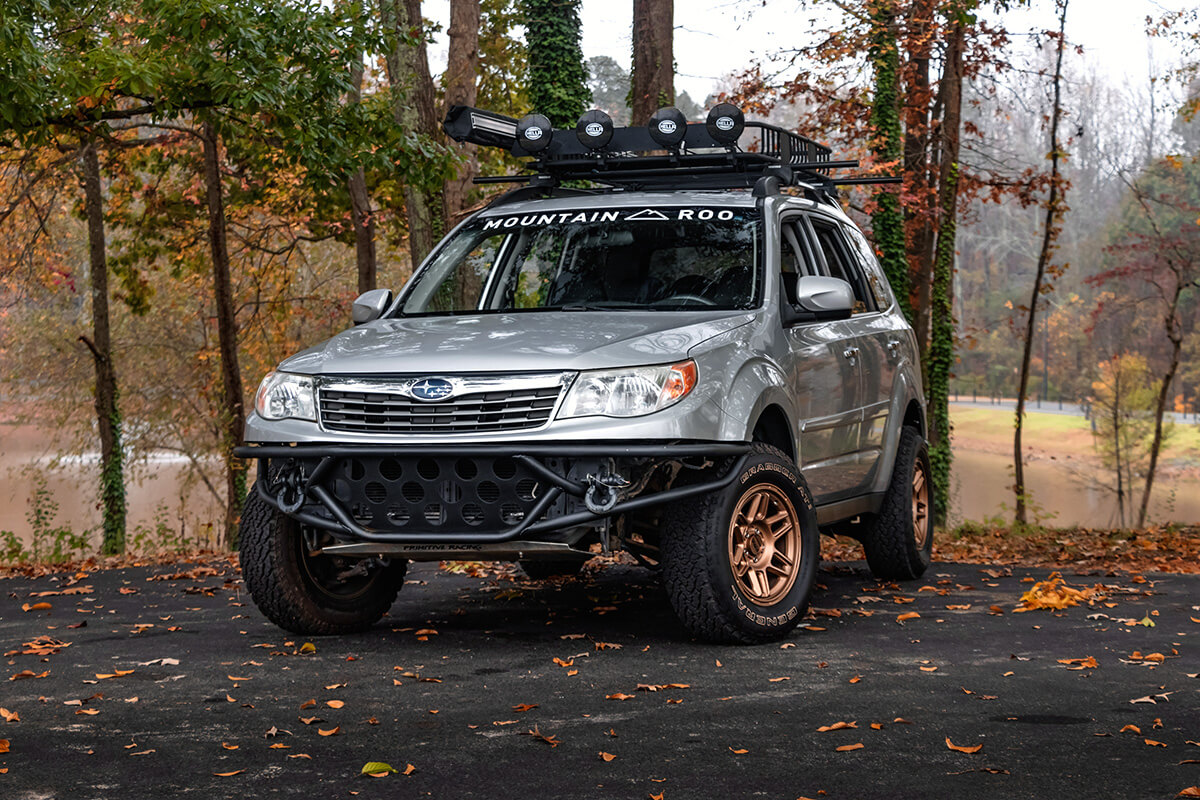 Mods and Off-road Accessories
So you decided that you want to make your Foz look good and improve its off-road characteristics at the same time, but not sure where to start and what brands to rely on? Our simple guide will help you to navigate in the sea of aftermarket add-ons and choose tried and tested solutions.
As a rule of thumb, the form should always follow function, so in case if you're excited about the look of an aftermarket steel bumper that you've just found online, calm down a bit, check all the specifications, research reviews, and make sure that it will satisfy your main requirements.
The sequence illustrated below is optimal for the majority of offroad projects. While we insist on starting big mods from wheels and tires you can interchange the steps listed below and adapt them to your own requirements and budget.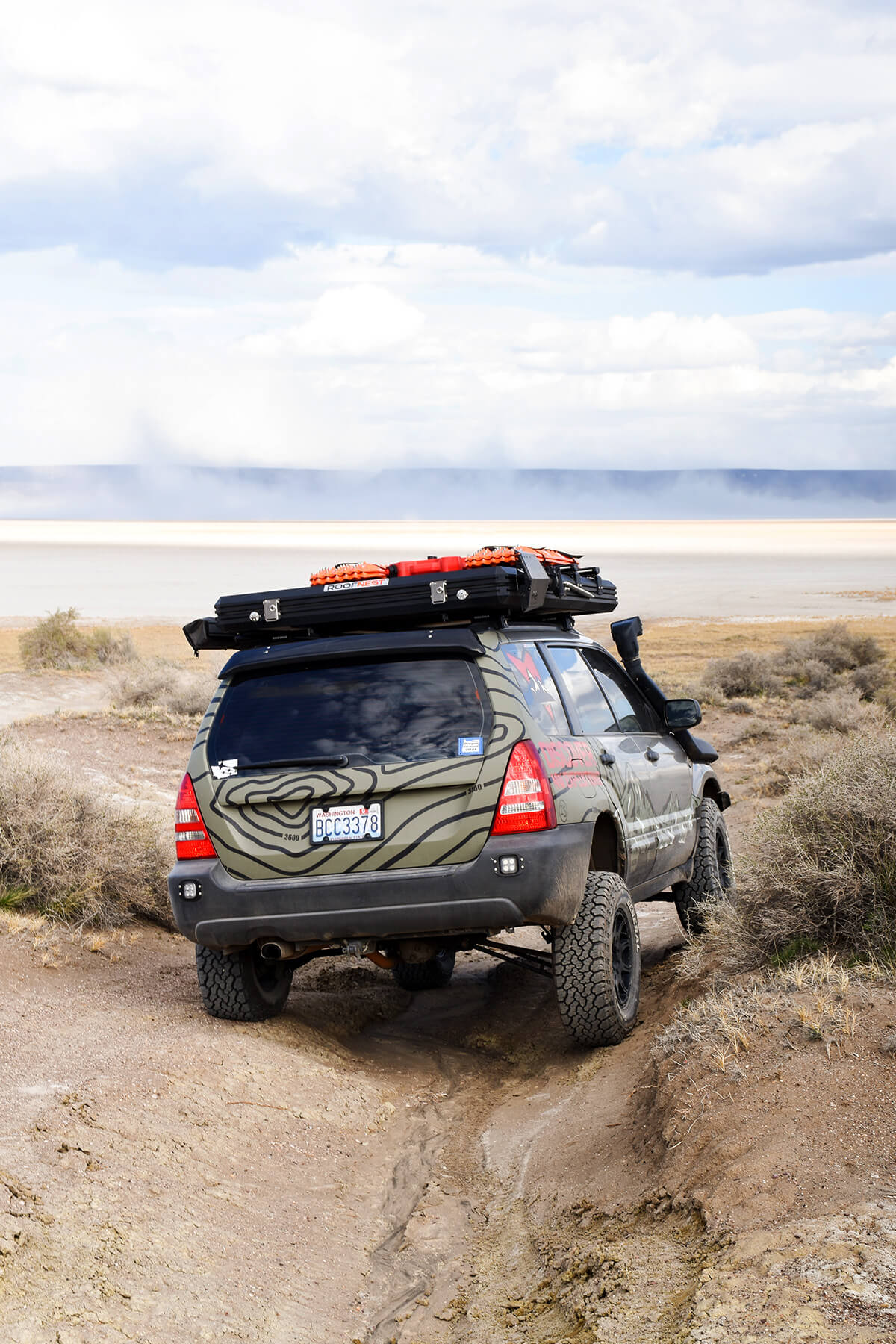 Step 1 – Suspension
While one of the most important parts of your off-road project is the wheels & tires, your suspension will limit you in their sizes. The suspension modifications will help you to mount larger tires, and improve the ground clearance. This way you'll be able to tackle more challenging trails and improve the approach/departure angles.
*Skip this step if you want to keep the suspension stock.
Suspension upgrade doesn't always mean big money. If you are looking for slightly larger and beefier tires, a simple 1-2″ spacer lift kit will do the job with ease.
If you want to step up, improve the suspension articulation, and the handling, consider replacing the standard suspension components with specifically designed kits.
What Suspension Options Are Available for my Subaru Forester?
Spacers (Good for starters and moderate trails) $300-$1000
Custom fabricated Long travel suspension kits (Hardcore off-roading, off-road racing) $1500 & Up
*The prices above are a rough estimate.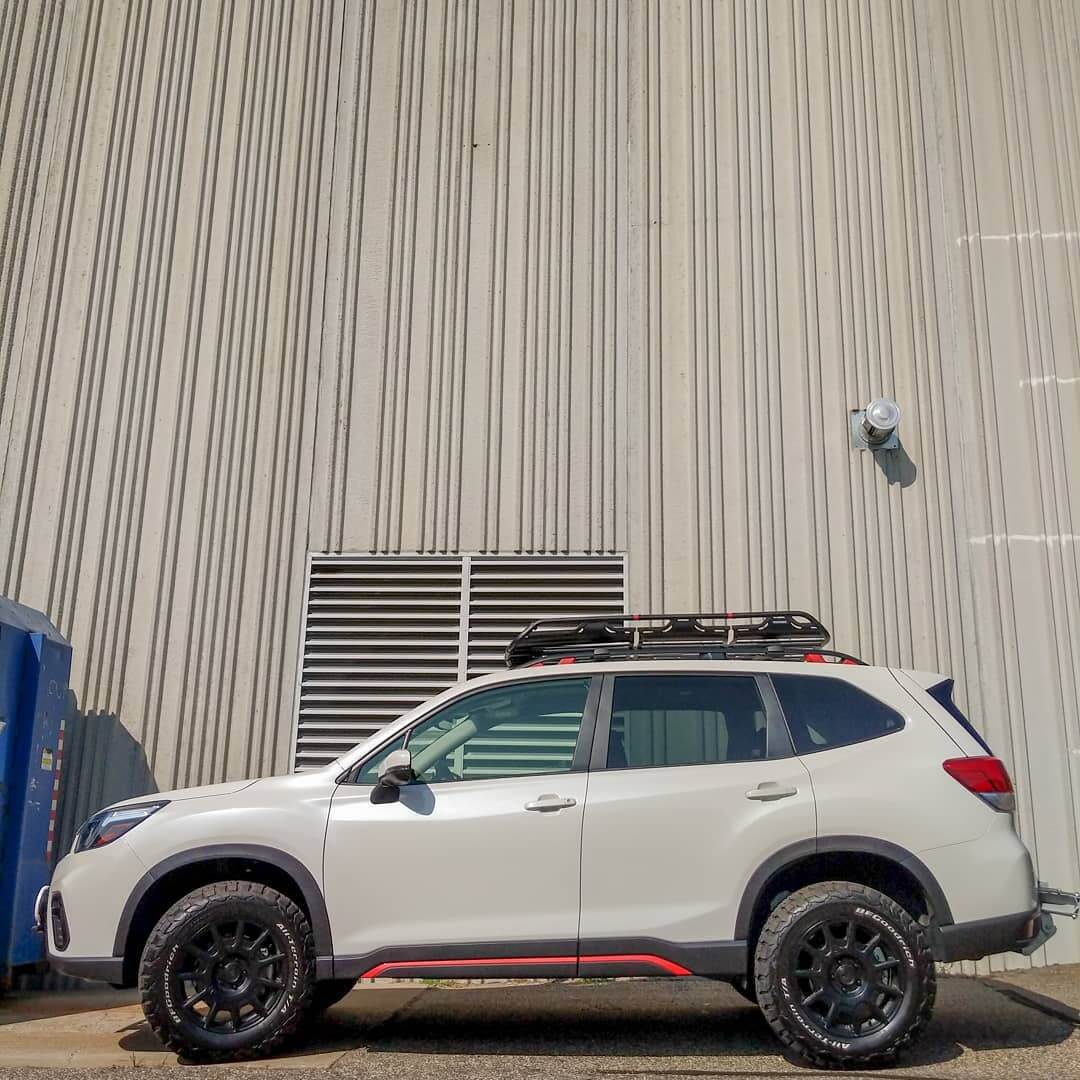 Step 2 – Wheels & Tires
A properly selected rim and tire package will extensively improve the off-road capabilities of your Subaru Forester. Wheels with a taller sidewall and smaller rim diameter are better for off-roading because they provide a wider contact point when aired down and decrease the risk of damaging both rims and tires.
*airing down is a perfect way to improve the traction on any terrain. It allows your wheels to get a wider contact point with the surface and therefore improve the grip. Keep in mind, airing down will decrease the overall ground clearance of your vehicle! Pick tires with a taller profile if you want to eliminate this difference.
Biggest Tire Size without the lift Forester SF, SG, SH, SJ, SK
If you decided to keep your Forester Stock, then you will need to select the biggest tire that can fit without rubbing. Usually, it's one or two sizes taller than the maximum factory-recommended size.
You can look them up online and rely on the experience of the Forester owners who tried these sizes before or do all the measurements by yourself.
To make your search a little bit easier, we already looked up the maximum tire sizes for a Forester without a lift.
SF (1997-2002)
235/70R15 2″ lift required + fender liner and mud flap trimming
SG (2002-2008)
235/70R15 2″ lift required + fender liner and mud flap trimming
215-70r16 slight rubbing
225/65/17
SH (2008-2012)
215/70-15
225/70 R16 (slight rubbing)
235/60R17
225/75r16 Lift required
235/70r16KO2 Lift required
SJ (2013-2018)
XT 17″ rims the smallest
non XT 16″ rims will work
225/70/16
225/60/17 – Factory Recommended Size
225/65/17
235/60/18
SK (2018-2022)
Please keep in mind that wheel and tire fitment depends on many factors and with certain rim sizes slight rubbing may occur. This is why we are not responsible for any rubbing or other fitment issues. Please consult with your supplier before pulling the trigger on a certain wheel & tire combo.
A visual tire comparison calculator will help you to do all measurements and make sure you're ordering the right wheel & tire combo.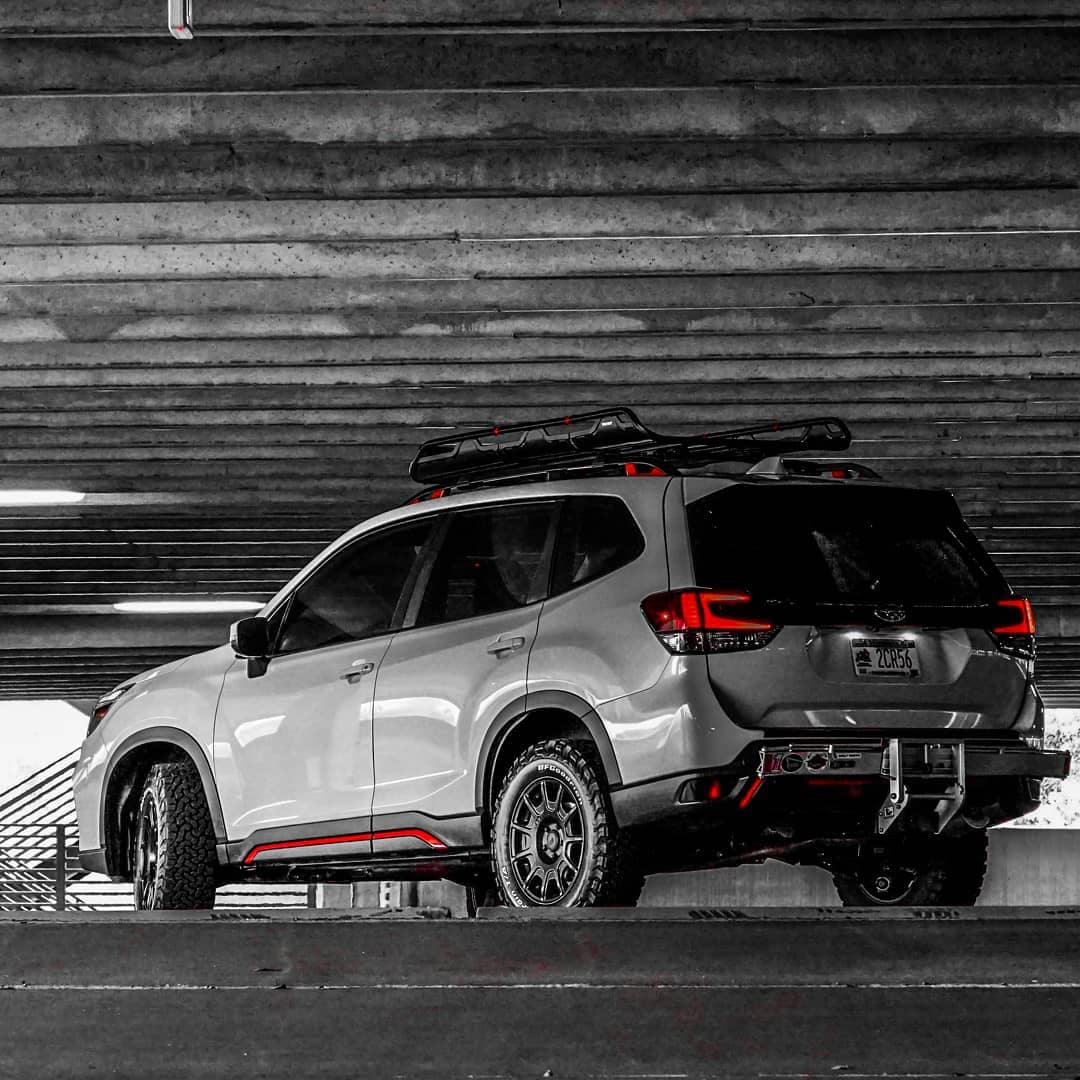 Lift
If you chose a lift kit, then most definitely it's supplier provided you with a maximum available tire size for your model. Just follow the recommendations and choose A/T or M/T tires that fit your budget.
A/T
Pros: All-Terrain is a universal type of off-road tire that performs perfectly in the sand, ok on gravel, ok in the snow, and bad in dirt and mud. Thanks to the less aggressive tire tread than M/Ts it behaves much better on concrete roads, providing a better gas mileage and quieter ride.
Cons: Useless in deep mud.
M/T
Pros: Mud Terrain is an advanced type of offroad tire, that works great on pretty much any terrain including mud, rocks, snow, and even sand.
Cons: Due to the aggressive tread patterns it doesn't do great in terms of handling on paved roads. It's a lot noisier and wears out faster.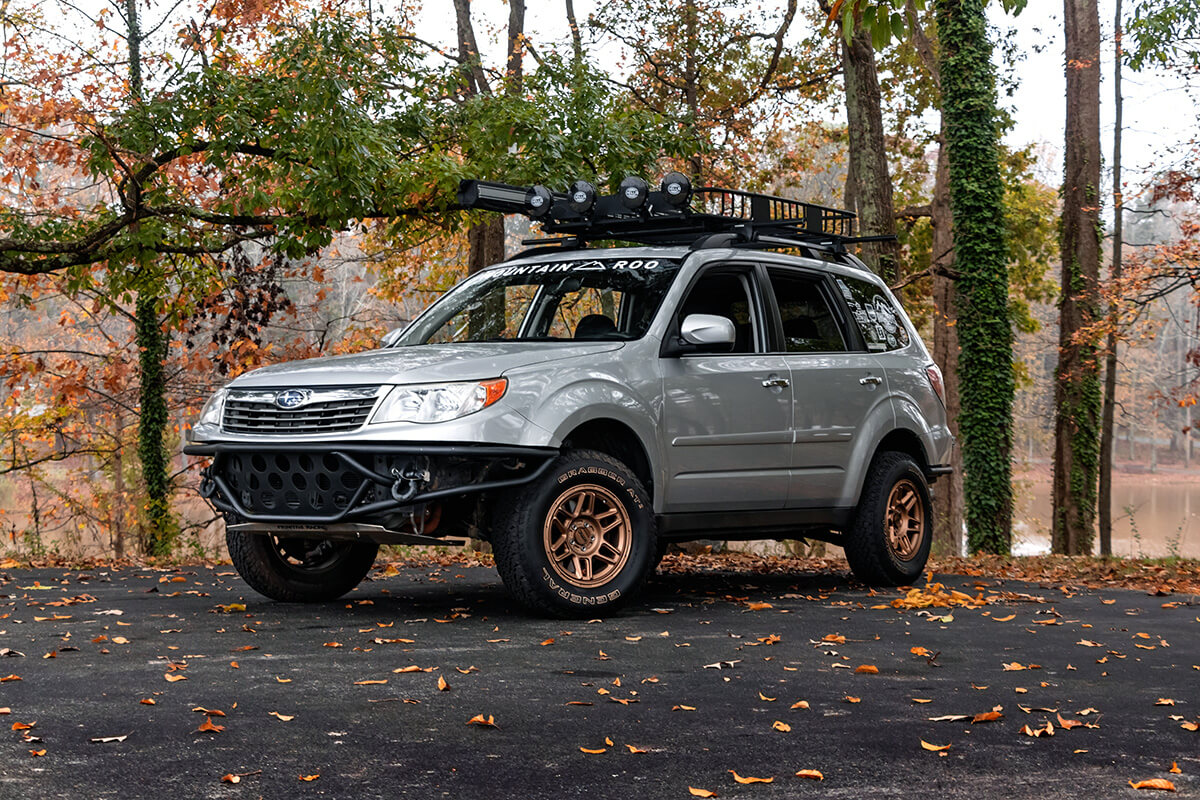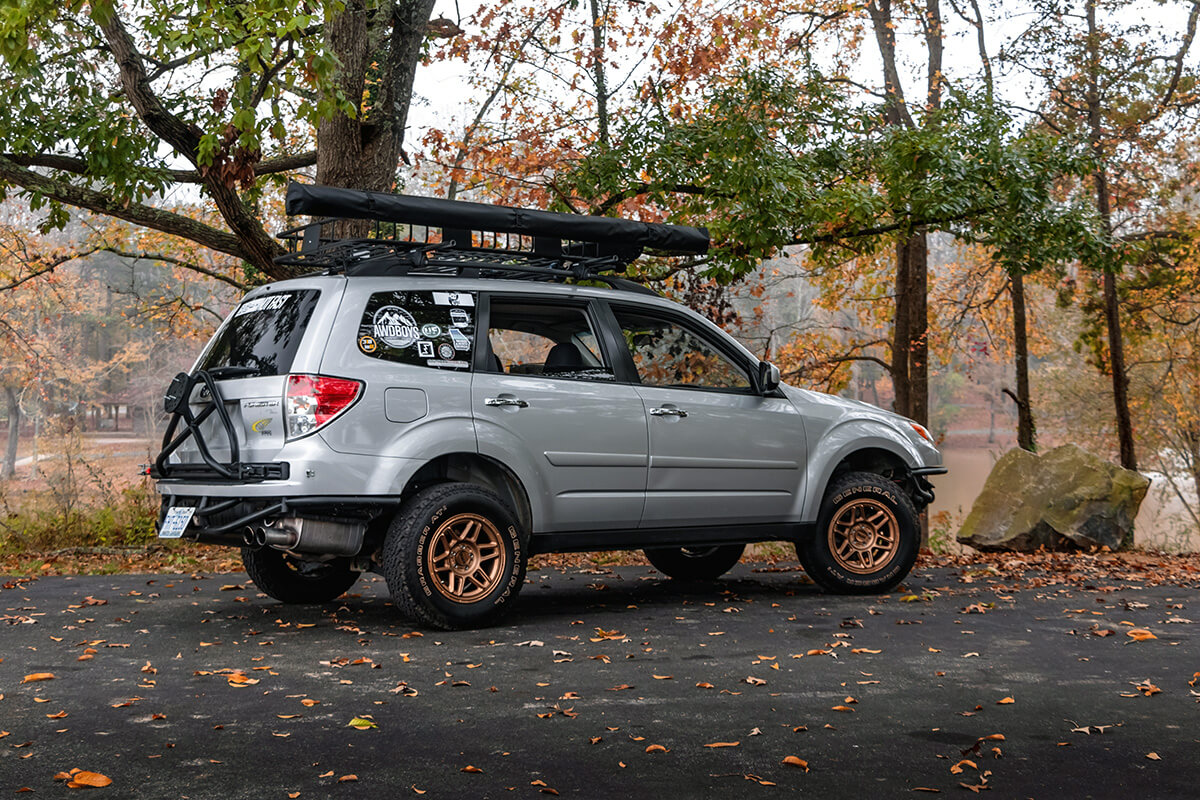 Step 3 – Body / Underbody Armor
It's not hard to guess that you can easily damage body panels and undercarriage components when going off the paved roads, so it's always a good idea to take care of them in advance.
Skid plates, transmission, differential covers will provide additional protection from rocks and debris to vulnerable components such as the transmission (CVT) and differentials. Being model-specific, the majority of them bolts right on without serious modifications.
Off-road front and rear bumpers Even though such an extreme upgrade is not a mainstream choice for a Forester, although some aftermarket options are available for the SG, SH and SJ models. It protects the body of your vehicle and provides better clearance for oversized wheels. It improves the approach and departure angles, allowing you to tackle more complicated trails. Except for that, an aftermarket bumper often comes with a winch mount plate, tow hooks, and cut-outs for LED lightbars or pod lights. Find out more in our Subaru Forester Off road Bumper guide!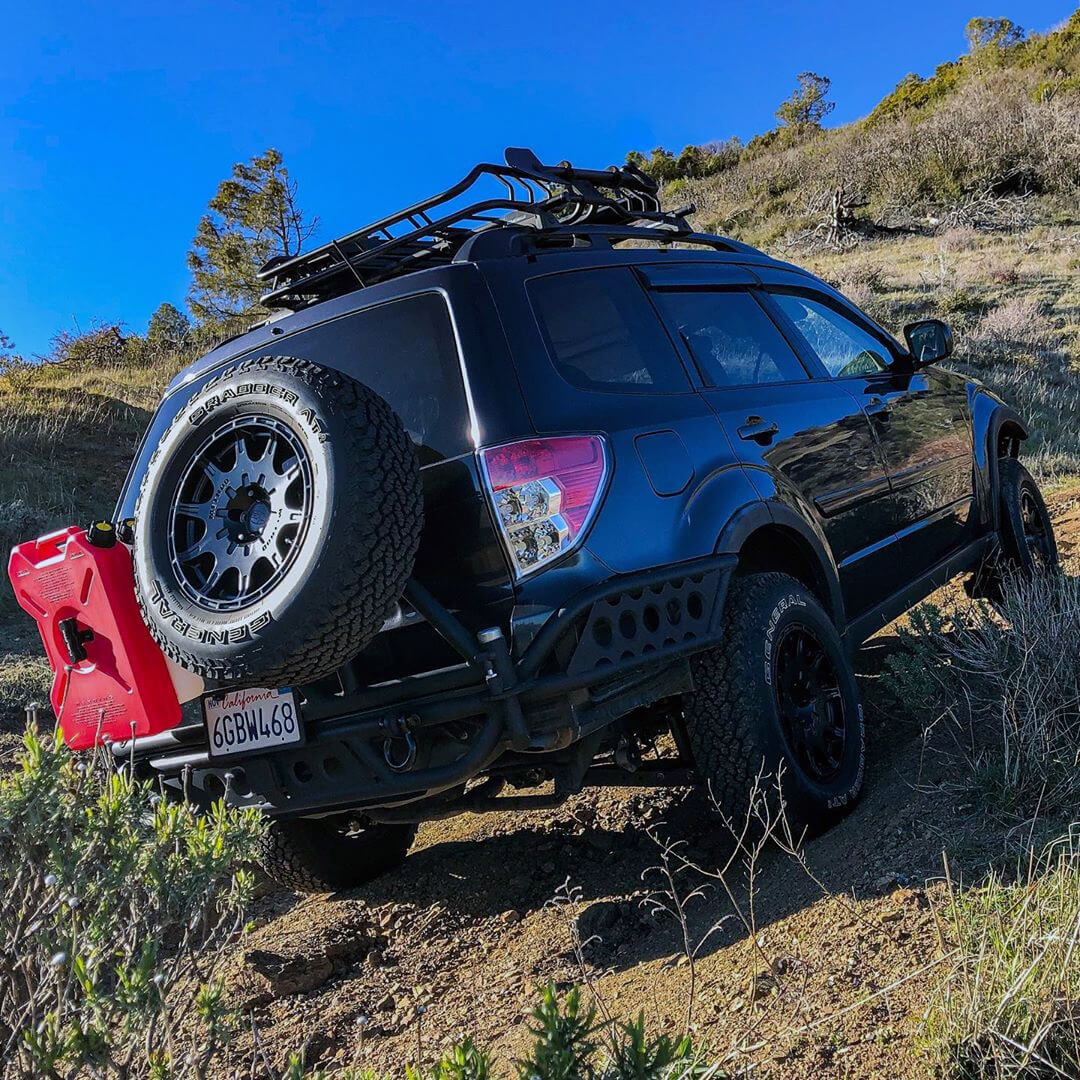 Step 4 – Recovery
Traction boards like Maxtraxx or other brands are an essential product for self-recovery. They are relatively cheap, but it's hard to underestimate how useful they can be when your vehicle got stuck, you don't have a winch, and there's no one around to tow you out.
Tire chains – easy to use and very effective recovery method that allows you to get unstuck from any trouble. Some models can be installed on a tire after you've got stuck, others must be put on before.
A winch (not a mainstream choice for a Forester) is one of the most reliable recovery items for any off-road project. Make sure to order one that matches the weight of your rig, and figure out where to mount it. Possible winch mounting variants are – custom tow hook-mount winch tray built into your stock bumper, an aftermarket winch mount bumper, a hitch mount winch tray on the back.
A recovery kit will help you to unstuck yourself from any sticky situation while keeping you safe and avoiding injury. It's an absolute must for any driver going off the paved roads.
Communication is also important to stay in touch with your crew or request emergency help when cellular service is not available. It's also an absolute must for any driver going far into the trails.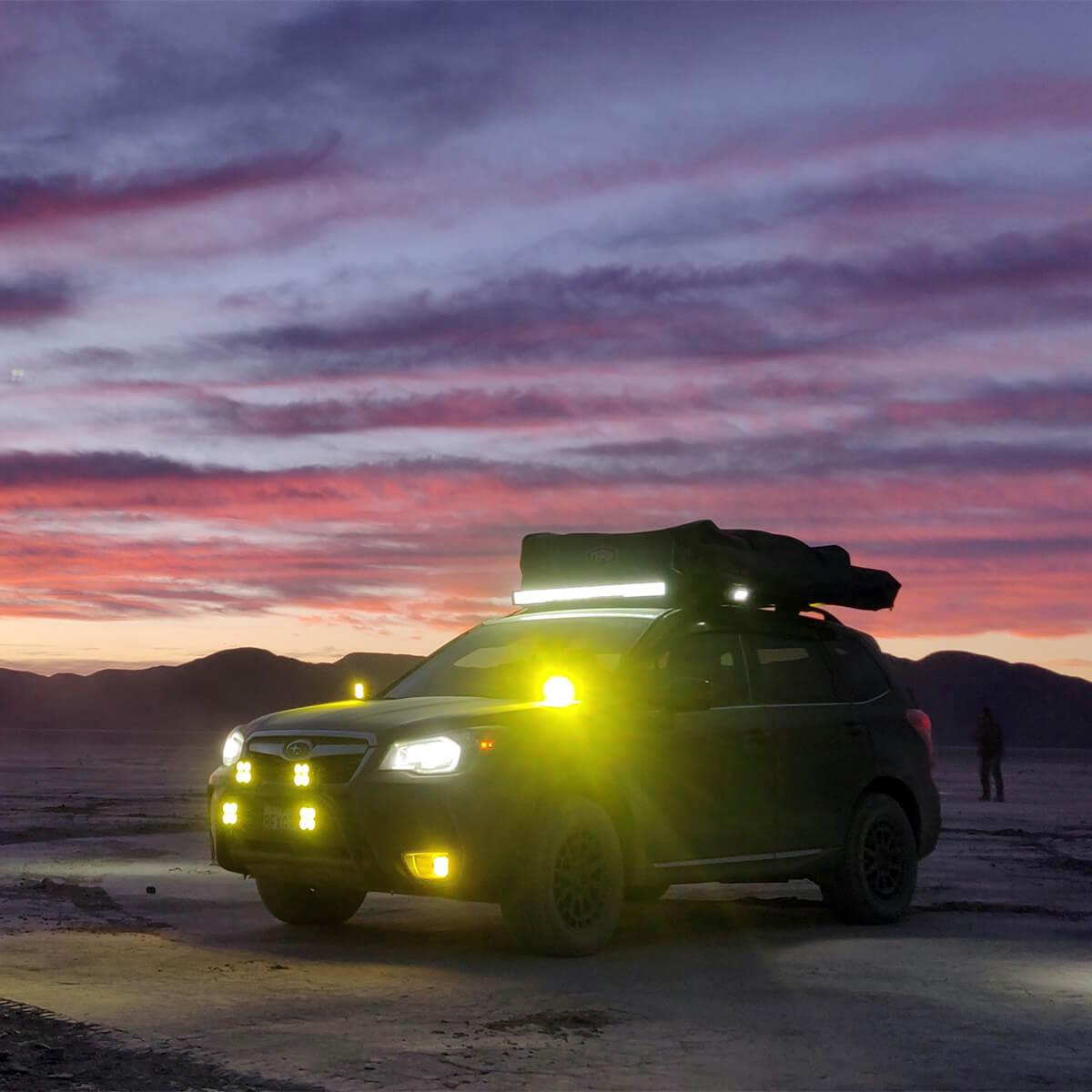 Step 5 – Lighting
It's often necessary to have a few more light sources other than your headlights and fogs to navigate the trails at night or set up your camping spot. Perimeter mount pod lights and light bars will allow you to light up the area around your Subaru Forester.
Step 6 – Gear & Accessories
Think about what would you need on the road and at your camping spot. Food, camping, and sports gear should be on your list, so figure out a way to carry them conveniently.
A roof rack is an absolute must for any overland adventure style project, as it allows you to free up some space in the cargo area of your vehicle and mount all necessary gear and supplies – View Our Selection for Forester
Jerry cans – keep yourself hydrated and your fuel tank full – View Our Top Picks
Bike carriers, kayak carriers, etc.
Modified Subaru Forester Off-road Builds Gallery
Generations
SF 1st gen production years: 1997, 1998, 1999, 2000, 2001, 2002;
SG 2nd gen production years: 2002, 2003, 2004, 2005, 2006, 2007, 2008;
SH3rd gen production years: 2008, 2009, 2010, 2011, 2012, 2013;
SJ 4th gen production years: 2013, 2014, 2015, 2016, 2017, 2018;
SK 5th gen production years: 2019, 2020, 2021, 2022, 2023;