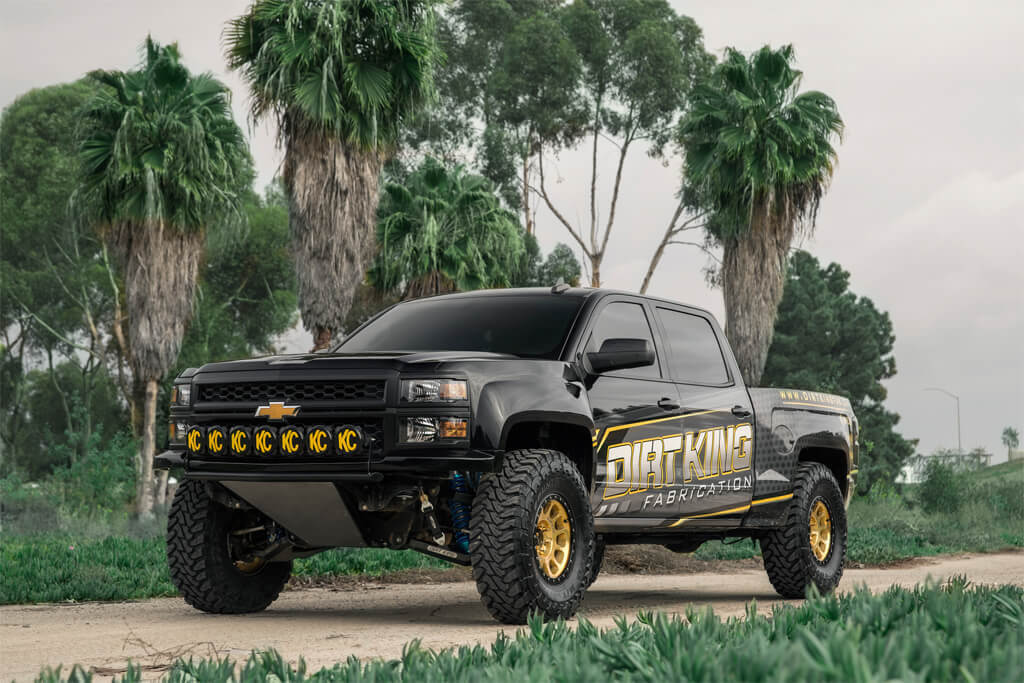 Today we're taking an in-depth look at insane Chevy Silverado prerunner with a long travel suspension. If you are a Chevy guy and keep wondering why wouldn't GM make a proper competitor for Ford's hyped Raptor on a base of the full-size Silverado platform – than I can definitely confirm that you're not alone. Of course, there is a Chevy Reaper, but for many reasons, it just doesn't do it as good as Ford's dinosaur.
While you can spend endless nights discussing this topic with your buddies or post a thousand comments on the truck forums and social media, it will hardly close the appearance of the ultimate Chevy baja truck, but as the old saying goes – if the mountain won't come to Mohammed, then Mohammed must go to the mountain. And so did Mike, the owner of this brutal prerunner Silverado that you see on the pictures above. He just went out there and built his own ultimate Chevy desert truck to show who's the real king off the road.
Just from the first look at the ground-hugging silhouette of Mike's Chevy Silverado prerunner, you realize how well it is put together. Long travel suspension along with Massive widebody panels that cover beefy 37" off-road racing wheels are giving the truck a stunning stance that catches the eye of any off-road enthusiast. Building a truck of this kind requires a lot of knowledge and experience, so we reached out to Mike to find out his recipe for building the ultimate Silverado prerunner.
Concept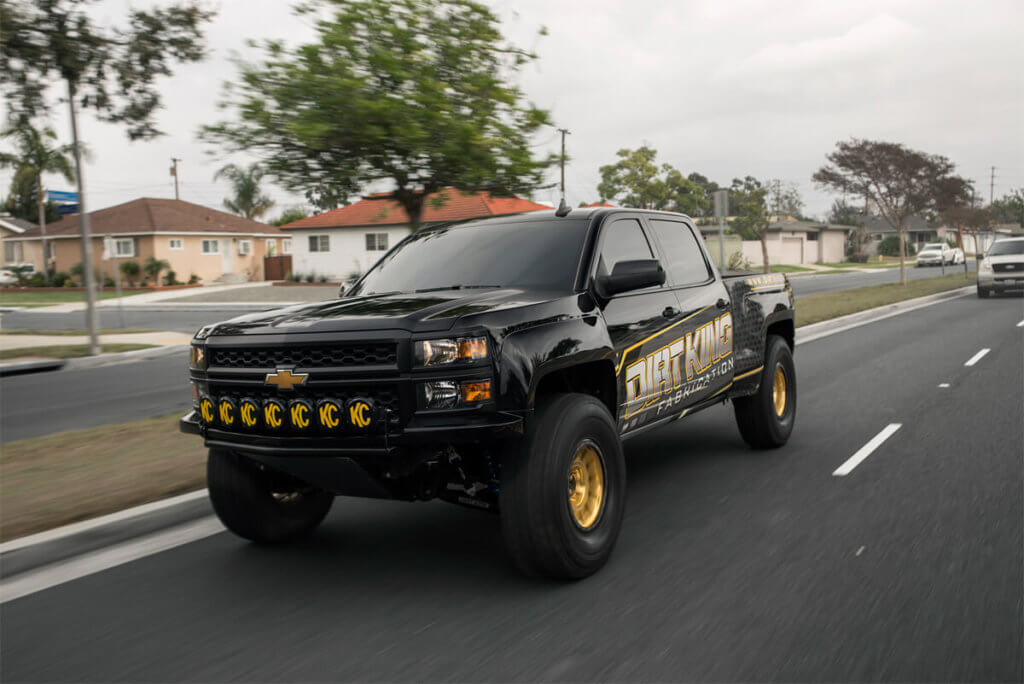 Before we dived into the specs and technical stuff of this chevy pre runner I asked Mike about the things that inspired and shaped the vision of this project back in the beginning. "I was definitely inspired by other Instagram famous prerunner builds. – says Mike, I did not have any direction with the build until I started working with Dirtking Fabrication and they pointed me in the direction of building a fully capable pre runner. They put their own touch on the truck making it stand out in this breed of prerunner beasts.
Suspension
A suspension is the heart and soul of any prerunner, and this is exactly what the guys from DirtKing Fabrication are famous for. Mike's Chevy Silverado prerunner was fitted with a long travel kit in the front with coilovers and 3.0 adjustable bypasses. Caged rear end of the truck is equipped with 3.0 adjustable bypasses running through the bed, Deaver u182 leaf pack and Dirtking rear drop shackle. Above listed modifications allowed up to 13" of the wheel travel.
Wheels
Tire size is crucially important in the desert racing, so it was decided to go with the 37" inch size for optimal stability of the truck at the high speeds on a rough terrain. Custom gold powder coated 17" Method NV race wheels are wrapped with 37" x 12" Toyo M/T tires.

Bodywork
Factory body parts did not provide enough clearance to fit right with the new stance of the truck so front fenders and quarter panels were replaced with 6" wide aftermarket Chevy Silverado prerunner fenders by Fiberwerx on the front and the back. Tubular prerunner front and rear bumpers were installed to maximize the approach and departure angles.
Lights
Illuminating the path in front of the truck is an important safety measure especially if you drive at the high speeds in the middle of nowhere, so KC PRO 6 powerful LED light bar has found a place right above the tubular bumper on the front end of the truck.
| Year Make Model: | 2015 Chevrolet Silverado 1500 LT |
| --- | --- |
| Project style: | Prerunner |
| Drivetrain | Four-Wheel Drive |
| Engine: | 5.3L V8 |
| Performance Modifications: | Straight pipe exhaust, Volant Air intake, custom LS tune |
| Suspension Modifications: | Dirtking Fabrication 4 wheel drive long travel kit in the front with coil overs and 3.0 adjustable bypasses. Caged rear end with 3.0 adjustable bypasses running through the bed. Deaver u182 leaf pack, Dirtking rear drop shackle |
| Exterior Modifications: | Front and rear 6" fiberglass, custom front and rear bumper, custom bed cage for bypasses, KC pro 6 light bar and Flex rear dust light, LineX bed, and cage. Custom built front inner fenders for more clearance |
With the amount of such extensive modifications this Chevy Silverado prerunner does not look over the top like some of the trucks that we see here and there on the internet. All of the modifications were seamlessly integrated into the original design, which makes it look extremely bold.
Without the whole Dirtking Fabrication company, their vision for the build and quality products this would not have existed so I definitely appreciate all that they have done! FiberwerX, Method Racewheels, and KC Hilites have all been part of this growth as well since the start – says Mike.
Stay tuned for the next feature stories, a lot of great stuff is coming!