When lack of cargo and passenger space is not an issue and maneuverability and ride quality are a priority, it makes choosing a mid-size crossover SUV as a base for your off-road build a very good idea. For a long-time Subaru fan Ryan from Chino Hills, CA, the decision to choose a 2008 Subaru Tribeca for his project was dictated by the desire to stand out from the crowd of typical Subaru offroaders, create something unique, and make people scratch their heads trying to figure out what type of vehicle does he drive.
The Tribeca, based on the Subaru Legacy platform, has a compact size but powerful enough engine and AWD to maneuver and get around rough terrain with ease. A set of mud terrain tires and a lift kit greatly contribute to the vehicle's ability to deal with tough situations in the big wild. We at OFFROADIUM.com are excited to see more and more enthusiasts who are daring enough to face and overcome challenges of rebuilding and upgrading these types of cars that we rarely see off the pavement, bringing greater diversity to the off-road scene.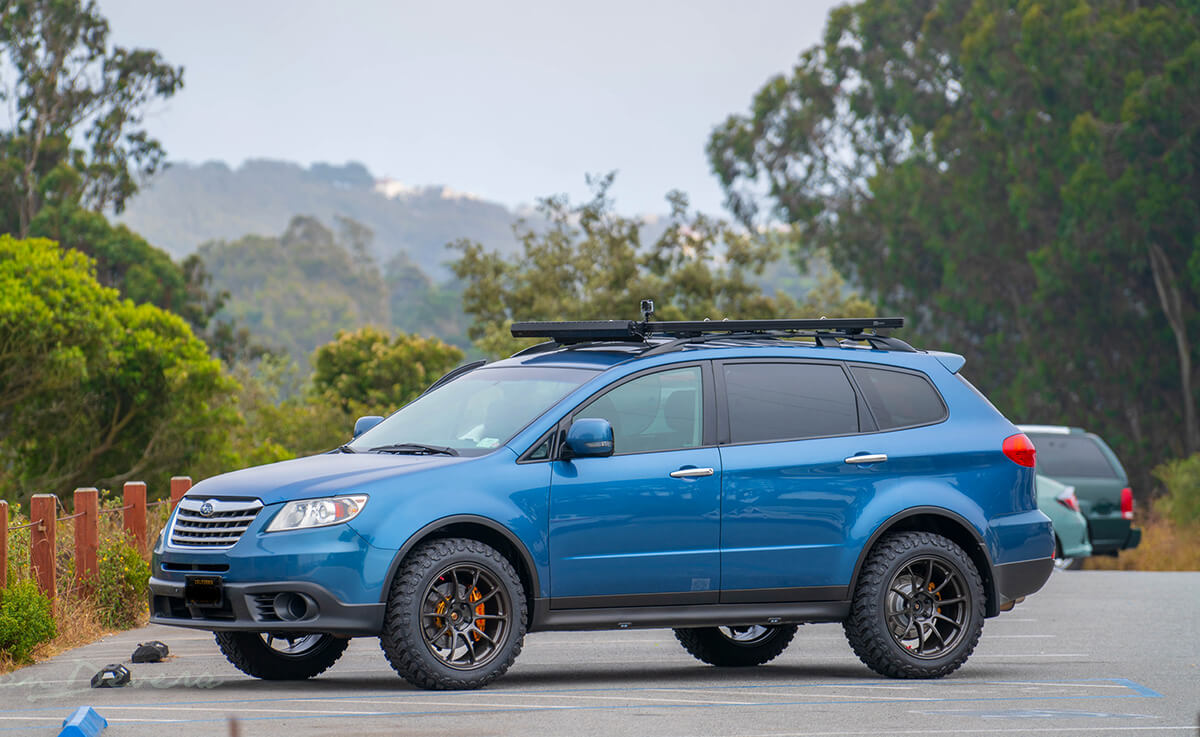 Why did you choose Subaru?
I was a diehard Subaru fan since the early 90's WRC races. Colin McCrae was my favorite driver and I fell in love with his GC8 555 Rally Impreza. From that moment on I was hooked to the Subaru brand. My first Suby was an 05' STi. As I got older and started a family, we outgrew the STi and needed a larger vehicle. Subaru's largest offering at the time was the 7 seat Tribeca. After test driving it, I was impressed with its smooth delivery of power. The rest was history.
"As I got older and started a family, we outgrew the STi and needed a larger vehicle"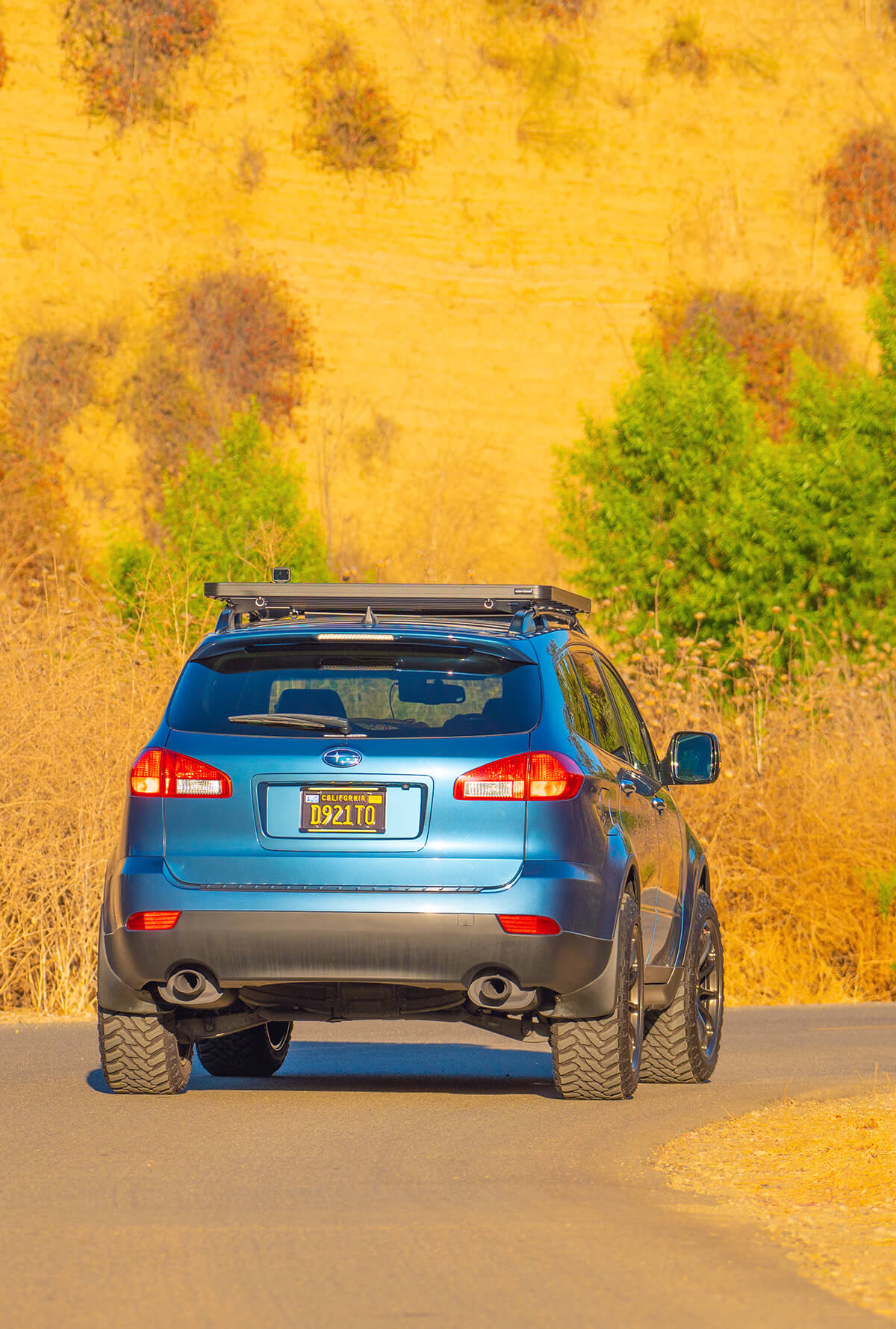 How did you become interested in off-roading?
– I was always interested in camping as a kid. We would go on trips as a family and my Uncle had this nice Mitsubishi Pajero that we took everywhere.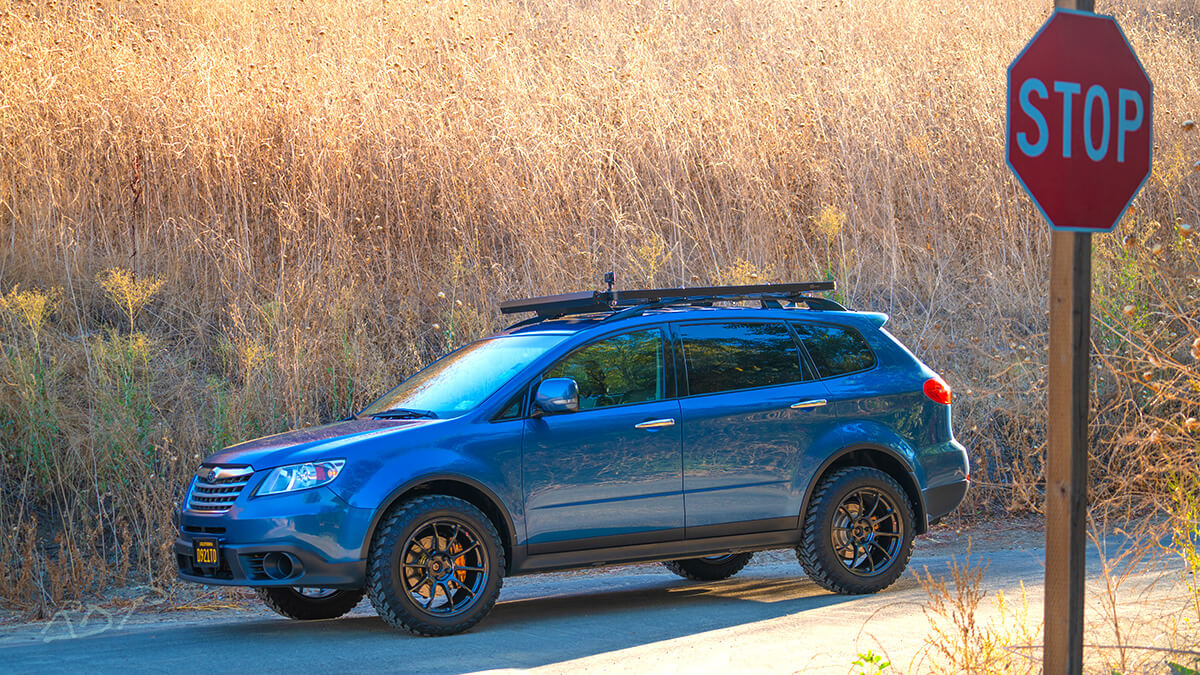 What inspired you to choose this modification style?
– I've been to many off-road meetups and camping trips, and I would see the same vehicles time and again. Lots of Taco's, 4-Runners and Land Cruisers. Not a whole lot of Subaru's at the time, but the ones I did see were mostly Outbacks. I wanted to be different from the crowd, and it didn't get much more different than the Tribeca. Although it was Subaru's least sold car, it instantly made me want to build one for Overlanding.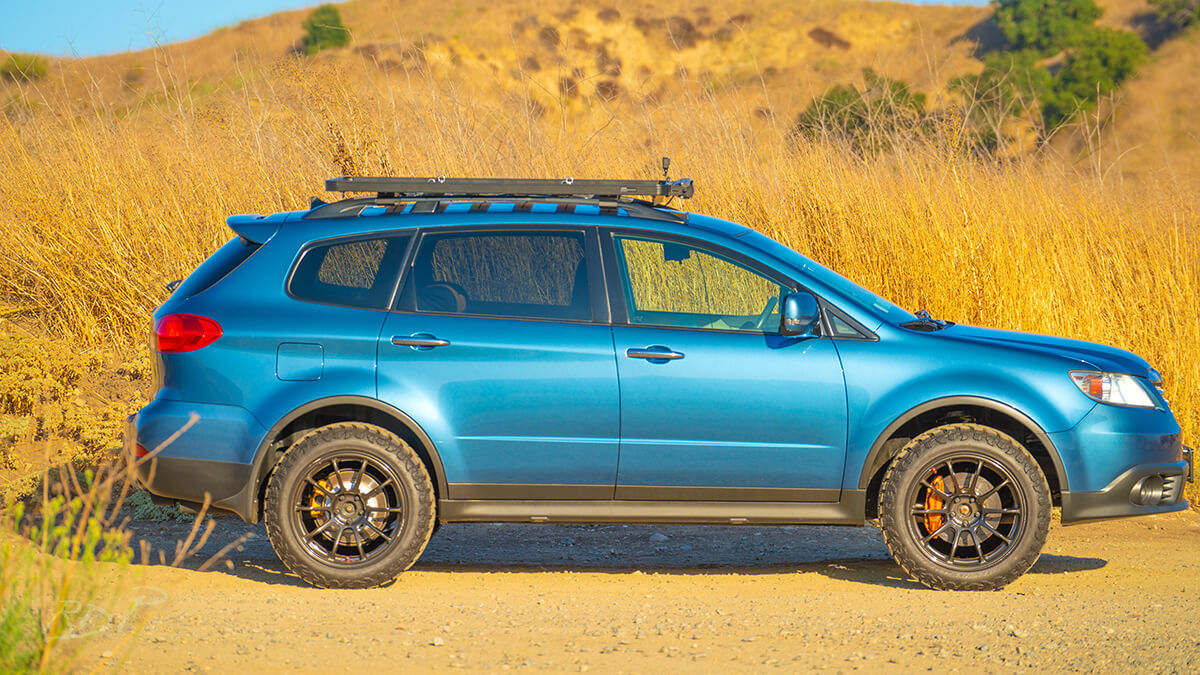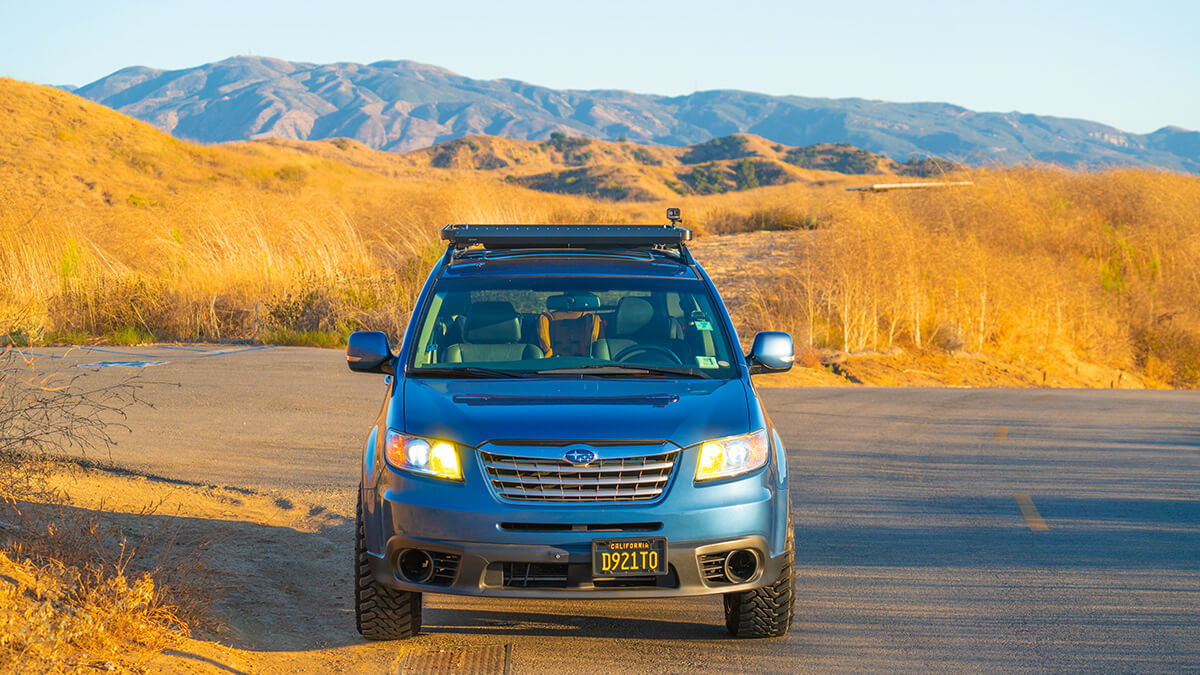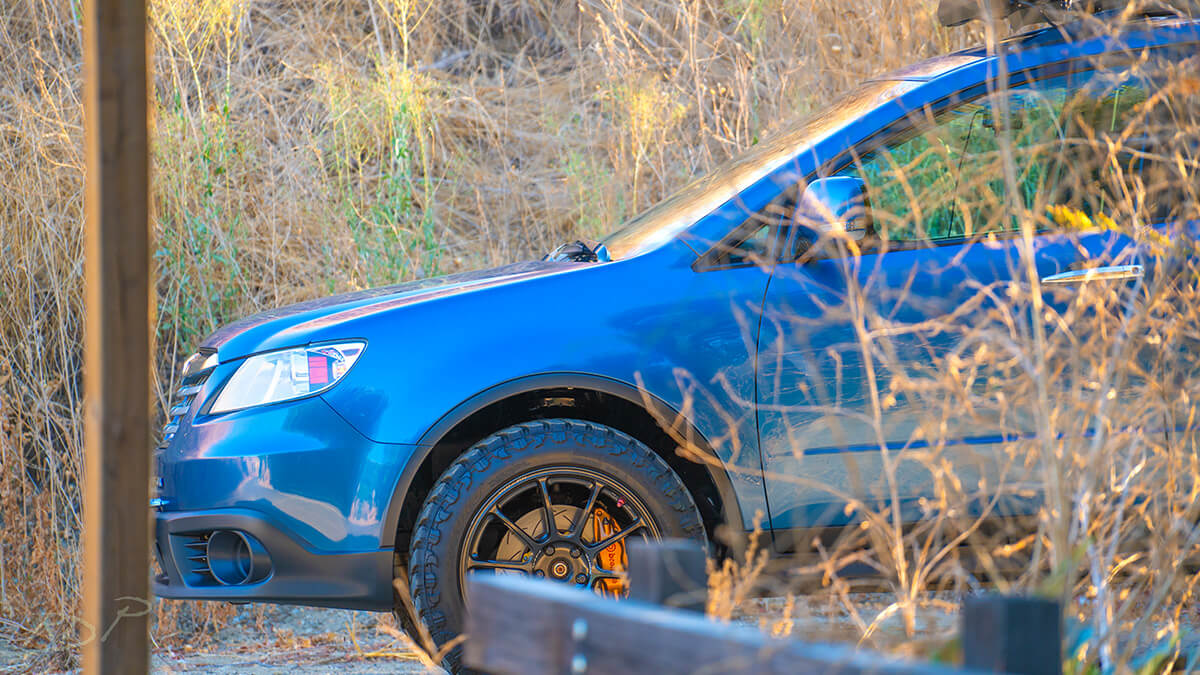 What challenges did you face while putting it together?
– By far the biggest challenge is finding parts. The aftermarket scene for the Tribeca is non-existent. If you wanted an exhaust or bumper, you would have to custom make it. That's how it is with just about everything. There are so many companies out there that make all sorts of cool parts and accessories for Suby's not named Tribeca. Unfortunately for me, that makes modding a time consuming and costly affair.
"The aftermarket scene for the Tribeca is non-existent"
What do you love about your vehicle?
– The fact that I get questions about it all the time. The number one question is always "what kind of car is that? Is that a CrossTrek?"
Especially after de-badging the car, no one really has a clue what it is. They see the Subaru logo and get confused because it's not popular whatsoever.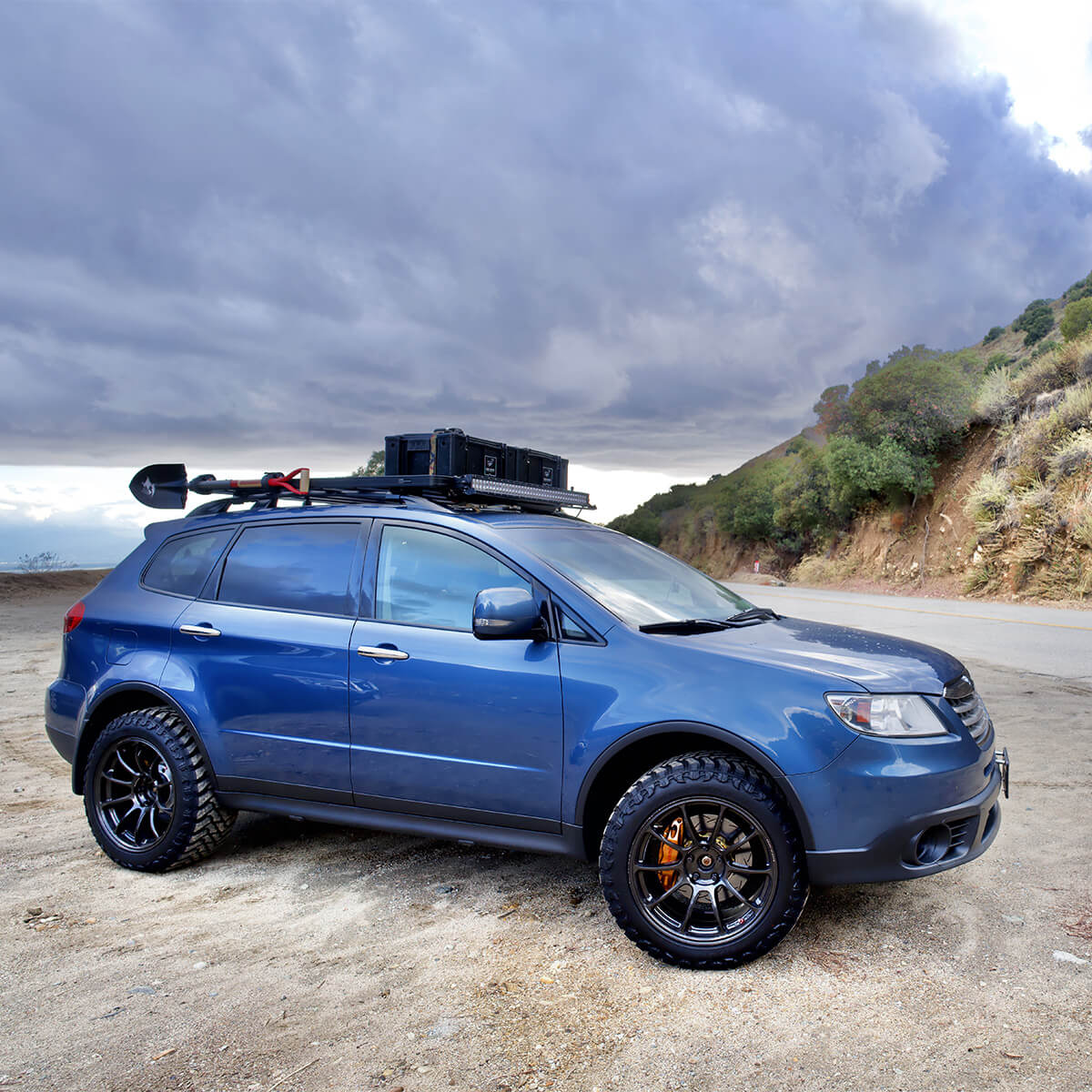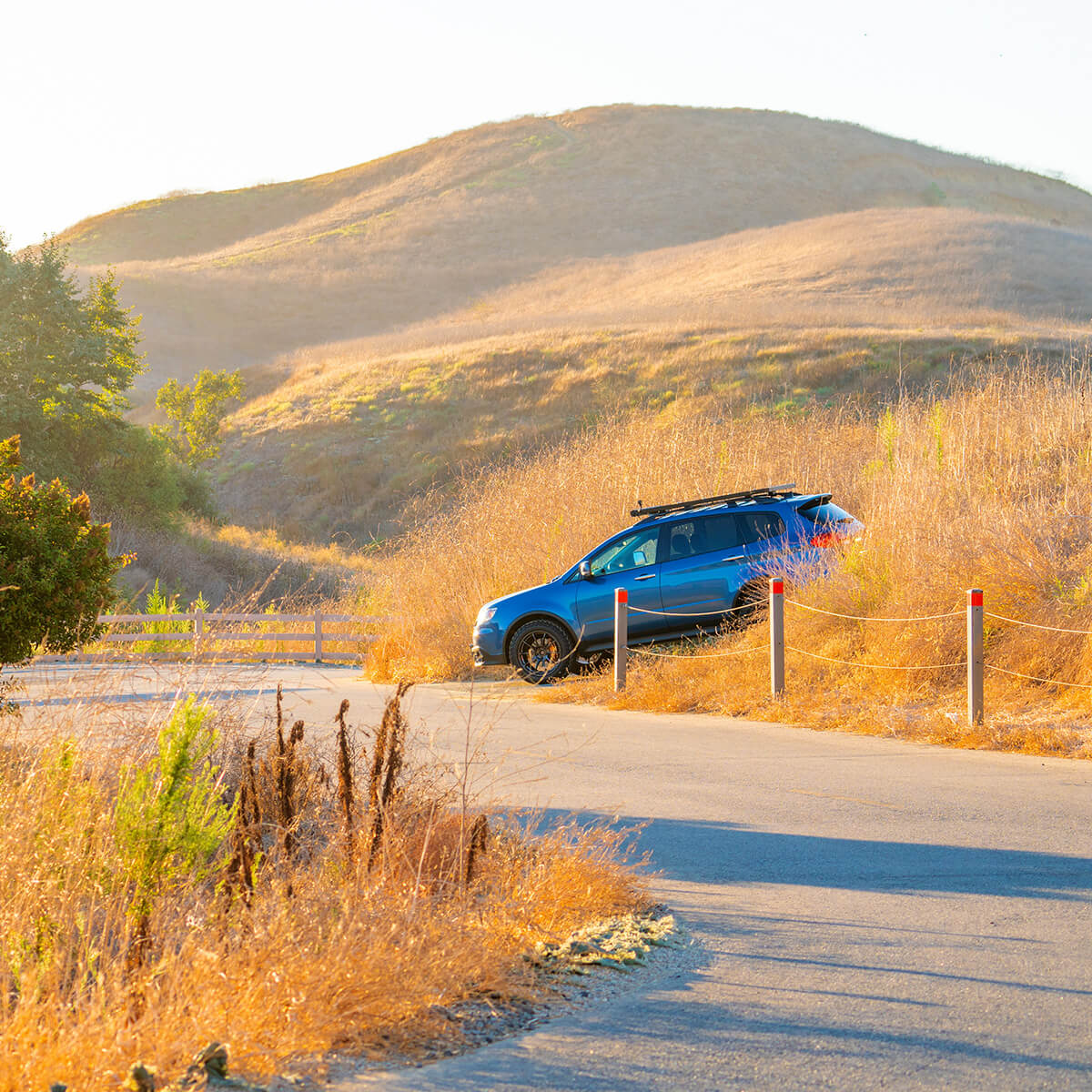 Is it your daily or a weekend ride?
– Daily driven with 230k on the odometer and no major problems so far.
Do you take it off road? If so, where and how often?
– Yes, Rainbow Basin, Rattlesnake Canyon and Cleghorn to name a few.
What are your future plans about your Tribeca?
– Many plans in the future – off the top of my head, full titanium headers, titanium piping and exhaust, Custom bumpers front and rear, new fully built suspension and a some recovery gear for now.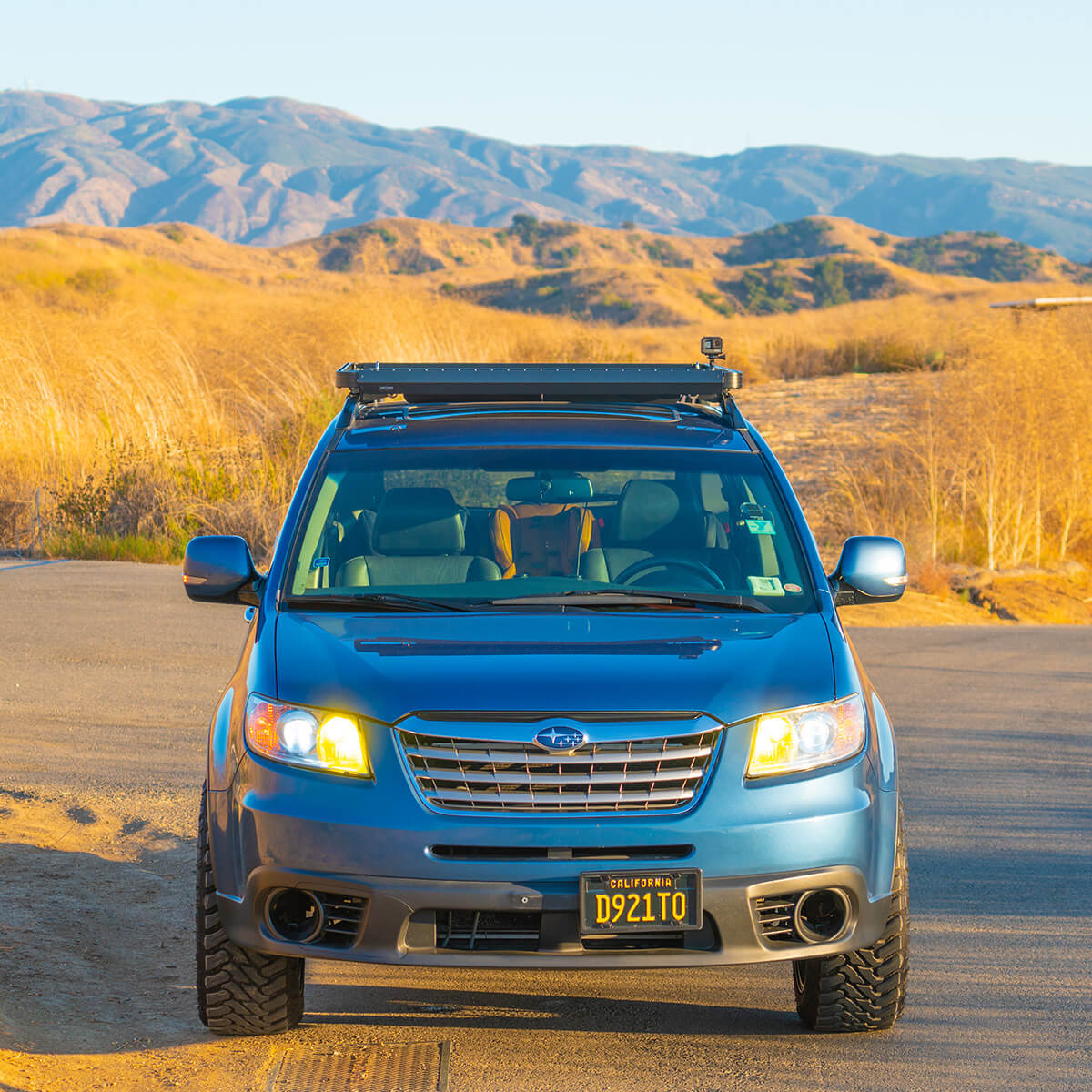 2008 Subaru Tribeca – Specs
Engine
– All stock motor except for a drop in K&N filter and an intake resonator delete
– 3.6l DOHC 24-valve flat-6,
– Aluminum block and heads, port fuel injection
– Displacement: 220 cu in, 3600cc
– Power (SAE net): 256 bhp @ 6000 rpm
– Torque (SAE net): 247 lb-ft @ 4400 rpm
Lift & suspension
– 2" front, 2.5" rear lift kit w/ multilink spacers by Anderson Design & Fabrication
– KYB Shocks
– Custom King Springs.
Wheels
– 19×9.5 Volk Racing ZE40, +22mm offset, platinum black
– 255/55/19 Atturo Trailblade M/T mud terrain tires
Exterior
– FrontRunner Outfitters Slimline II Roof rack with stainless steel tie downs
– FrontRunner Outfitters 40" LED lightbar w/ wind diffuser
– GoPro top rack mount
– Primitive Racing aluminum under tray.
Interior
– Magnetic phone/camera/GoPro mounts on dashboard and windshield.
Other mods
– Custom front fender well modification for complete lock to lock turn radius clearance of Mud Terrain tires
– Gold Brembo STi calipers
– DBA 5000 2-piece slotted rotors
– Streetmaster brake pads
– Goodrich stainless steel brake lines.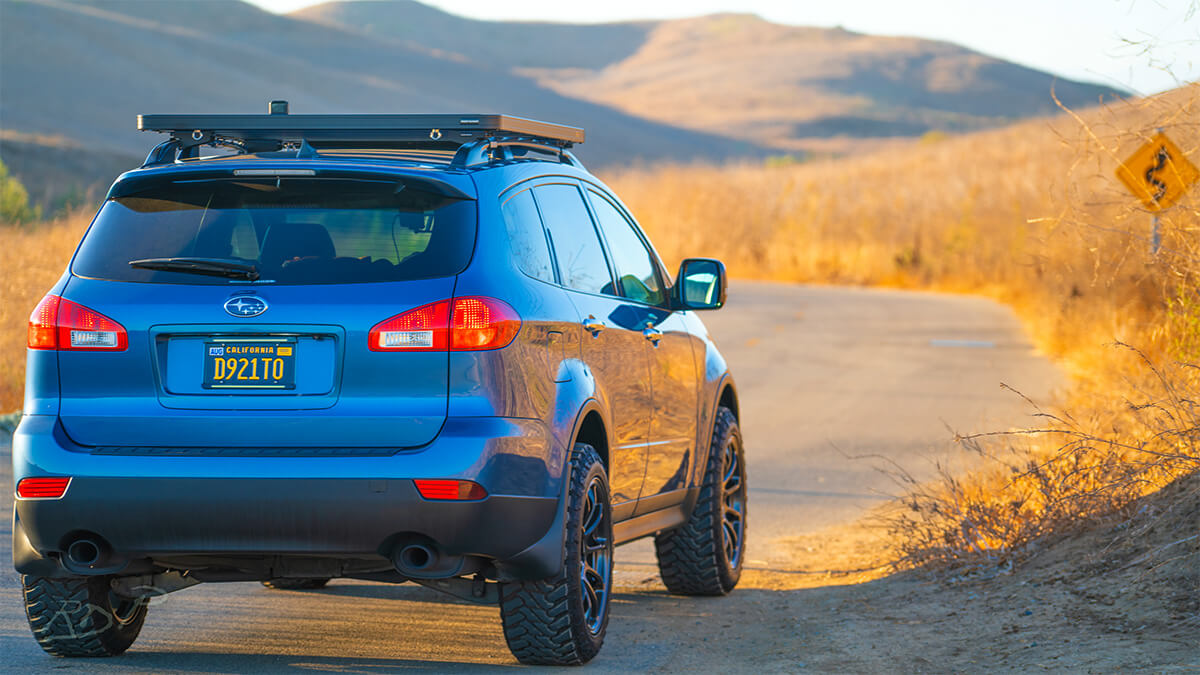 Watch the progress and find out more about this Subaru Tribeca project by visiting the Instagram profile of the owner: @rjdtribeca!
Stay tuned for more project reviews on Offroadium.com – Follow us on social media, and share this write up if you enjoyed reading it!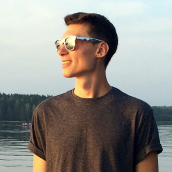 Matt Grabli
Matt brings over a decade of automotive expertise to his role as staff writer and editor at Offroadium.com. With an enduring passion for the off-road vehicles and adventures, he is devoted to creating interesting content that equips 4x4 enthusiasts with the knowledge to improve their rigs.