Toyota Rav4 With Wide Fender Flares and 31" Offroad Tires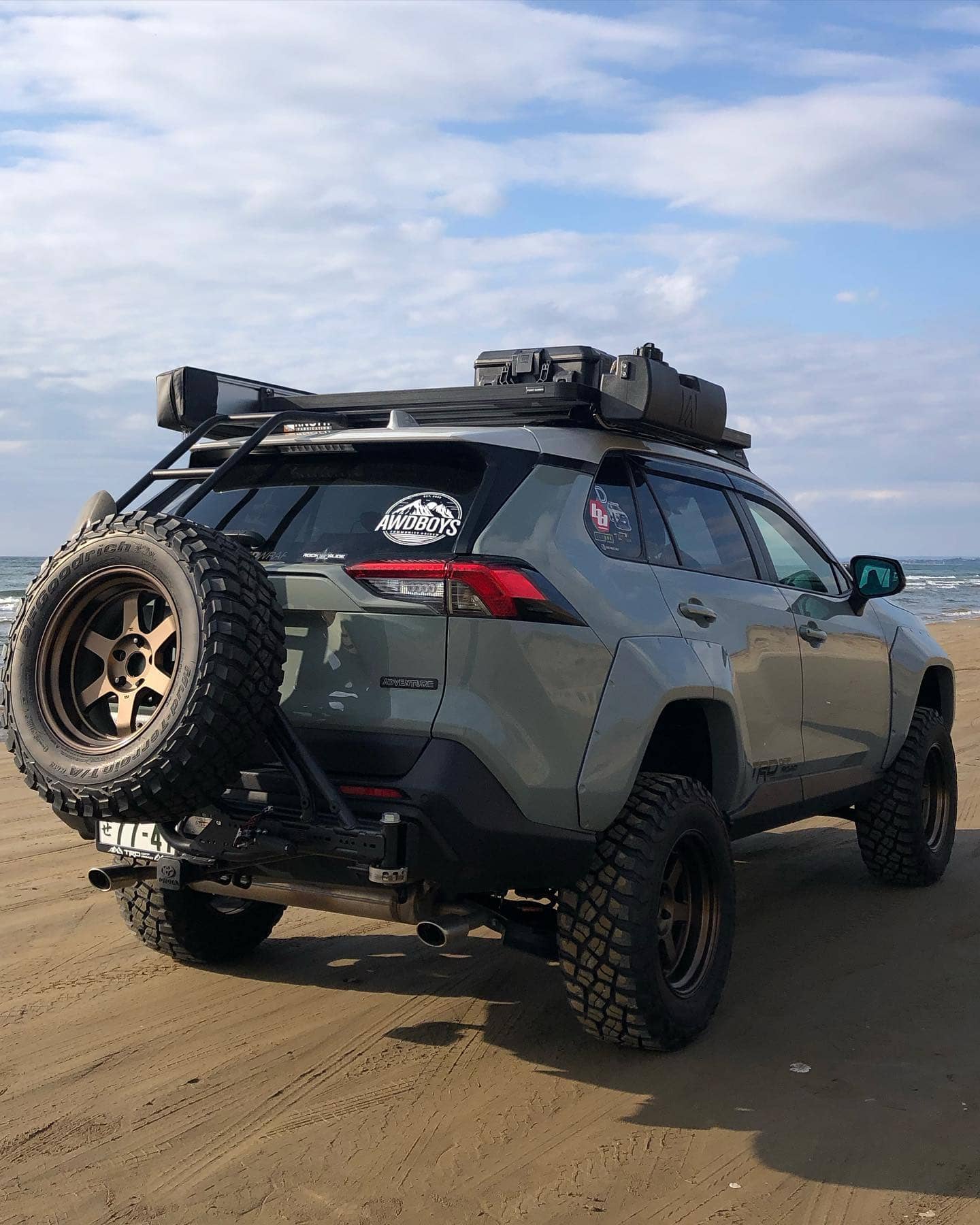 In the audacious world of off-roading where burly trucks and monstrous 4x4s dominate, it's not common to witness a crossover carving its own trail. Today, we are venturing into the unconventional, showcasing a daring and audacious rig that punches far above its weight class – a lifted Toyota Rav4, owned and meticulously modified by a spirited gear head from the Land of the Rising Sun.
With a distinctive wide body look emphasized by the large fender flares, this ride embodies the bold spirit of off-roading with a dash of street swagger reminiscent of the Rocket Bunny-style overfenders trend.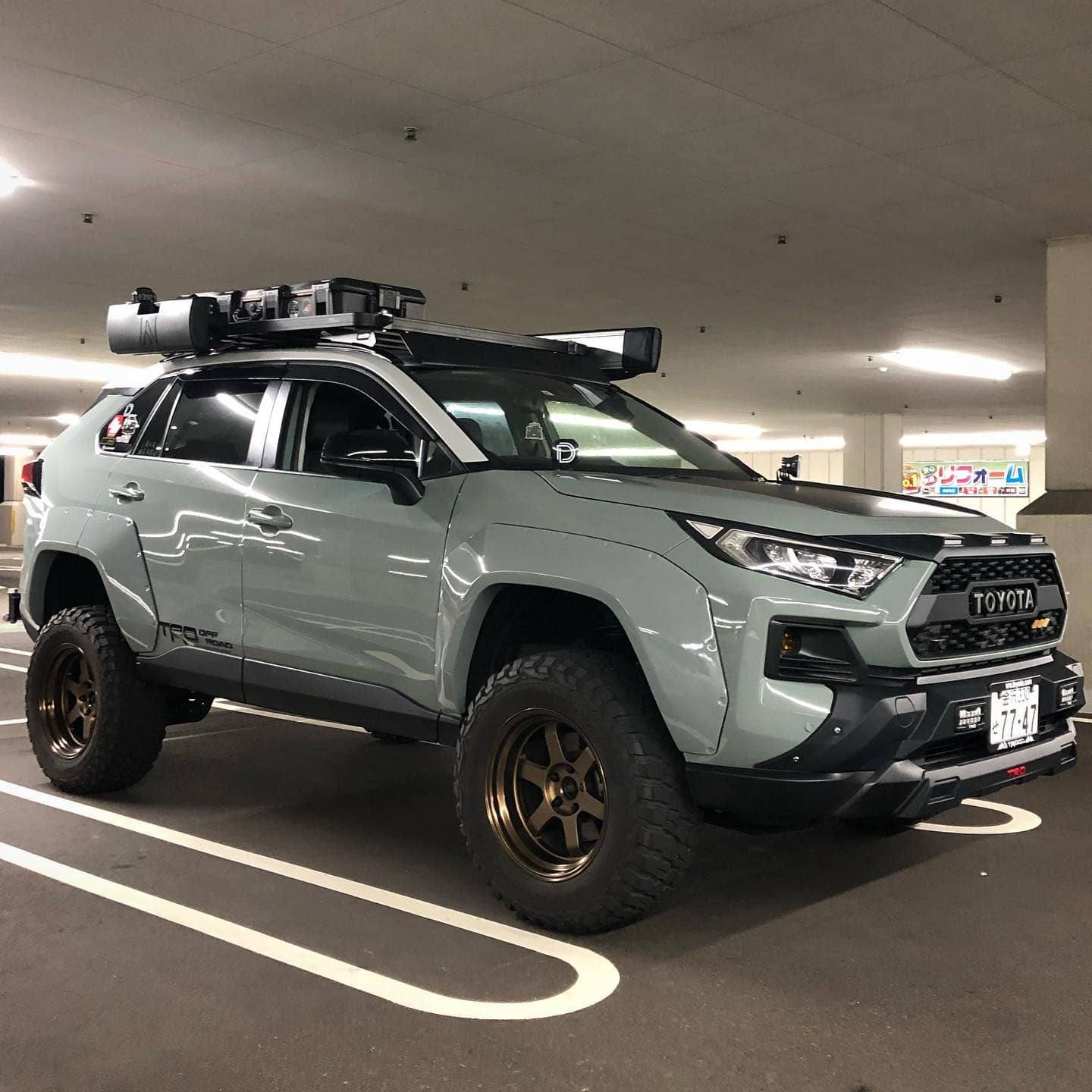 This hardy Toyota Rav4 is more than just an urban crossover with an attitude, it's an expression of its owner's relentless pursuit to transform the mundane into the extraordinary.
"Bolstered by those wide body fender flares, not only does this rugged Japanese ride serve up a visually dramatic stance, but it also boasts the functionality of supporting larger 31" inch tires to broaden its tracks."
This elevates the off-road capability of the Rav4, enabling it to traverse terrains that would otherwise be off-limits for a stock crossover. So strap in as we dive deep into this feature car's specs and mods, unearthing what makes this lifted Rav4 an off-roading trailblazer.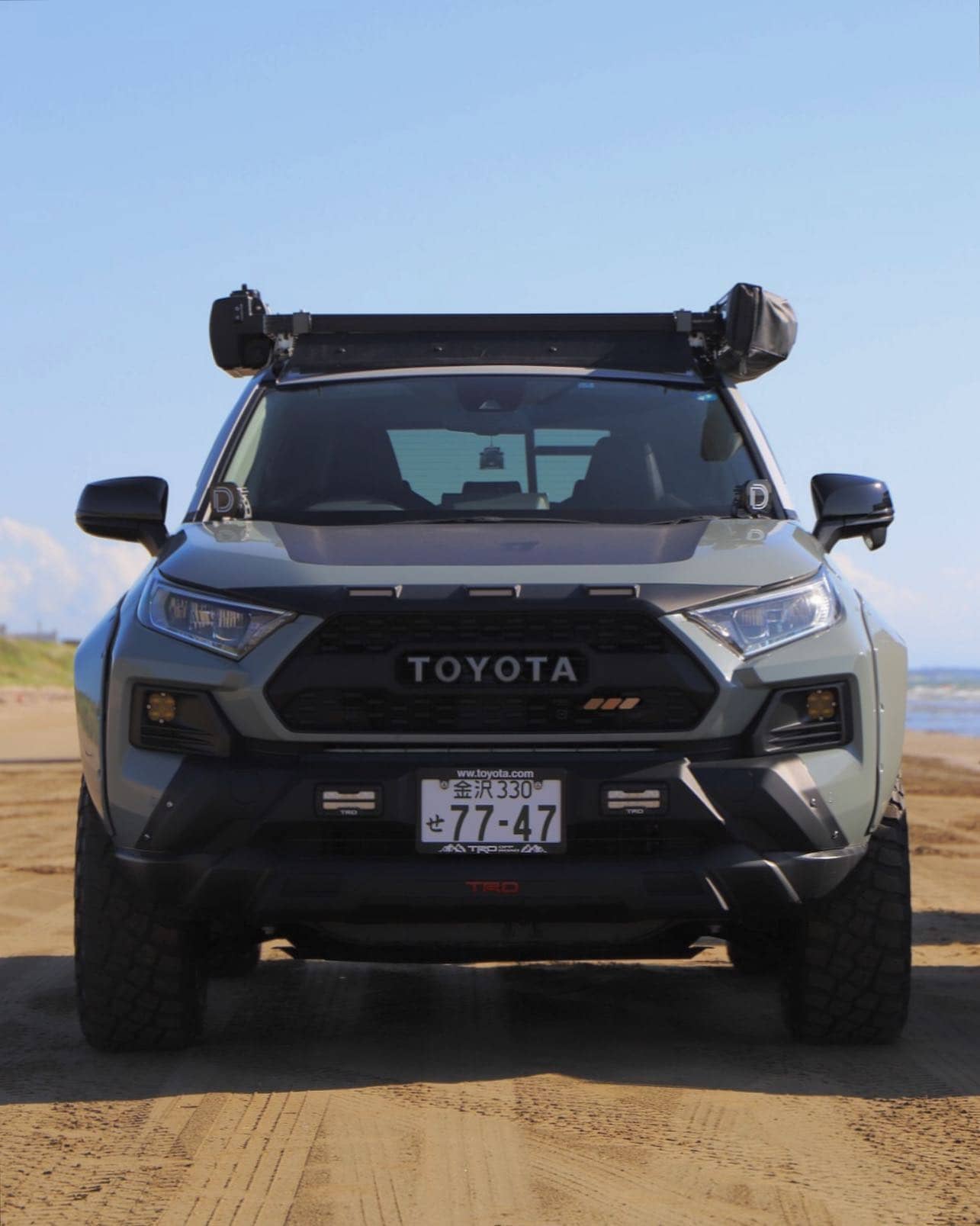 About the Model
The Toyota Rav4, one of the pioneers of the compact crossover segment, has undergone several evolutions to its latest iteration. Known for its reliability and robustness, the Rav4 is no stranger to off-roading enthusiasts.
The standard All-Wheel Drive system, paired with an off-road ready suspension and All-Terrain tires, makes it a suitable candidate for moderate off-roading and camping trips. Its comparatively small stature and lighter weight against the big SUVs and trucks allow for nimbleness and easy handling, even on challenging terrains.
Off-road Capabilities of Toyota Rav4
"The latest generation Rav4 boasts the Dynamic Torque Vectoring All-Wheel Drive (TV-AWD) system, exclusive to its gas models. This innovative technology enhances the crossover's stability and responsiveness by routing up to 50 percent of the power to the rear wheels, which is then further allocated to the wheel requiring more traction".
This intelligent power distribution helps maintain optimum control and grip, regardless of the terrain, making the Rav4 a viable off-roading contender.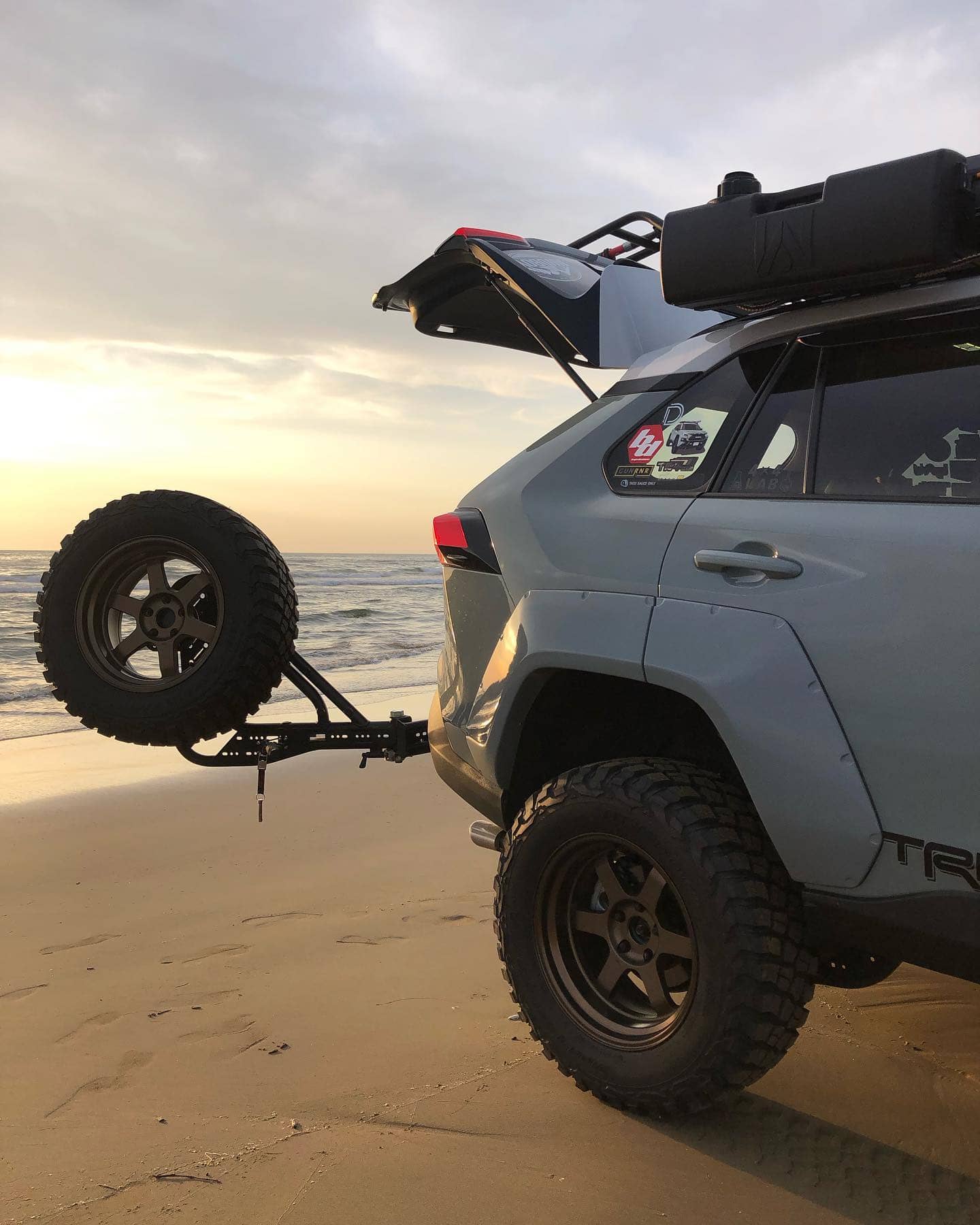 Popularity of the Toyota Rav4 on the Market
The Rav4 has enjoyed widespread popularity among consumers, attributable to its fuel efficiency, car-like safety features, and a versatile personality that manages to balance the ruggedness of an SUV with the comfort of a sedan.
Its ascendancy in the market resonates particularly well with the younger demographic seeking an adventurous lifestyle without compromising on practicality and daily drivability.
The Build
31" Wheels
Our feature car's shoes are quite remarkable, fitted with iconic RAYS Volk Racing TE37V wheels (another element that connects it with the JDM street scene) wrapped in beefy BF Goodrich KM3 265/65R17 Tires. This combination lends the Rav4 an aggressive, yet functional, appeal that hints at the off-road potential of this crossover.
Suspension Lift
The star of the show is the Road House Japan Kaddis Lift Kit that elevates the Rav4's ground clearance, granting it the ability to overcome obstacles and rough terrains with relative ease. This suspension upgrade works in harmony with the larger tires, facilitating the Rav4's transformation into a capable off-road machine.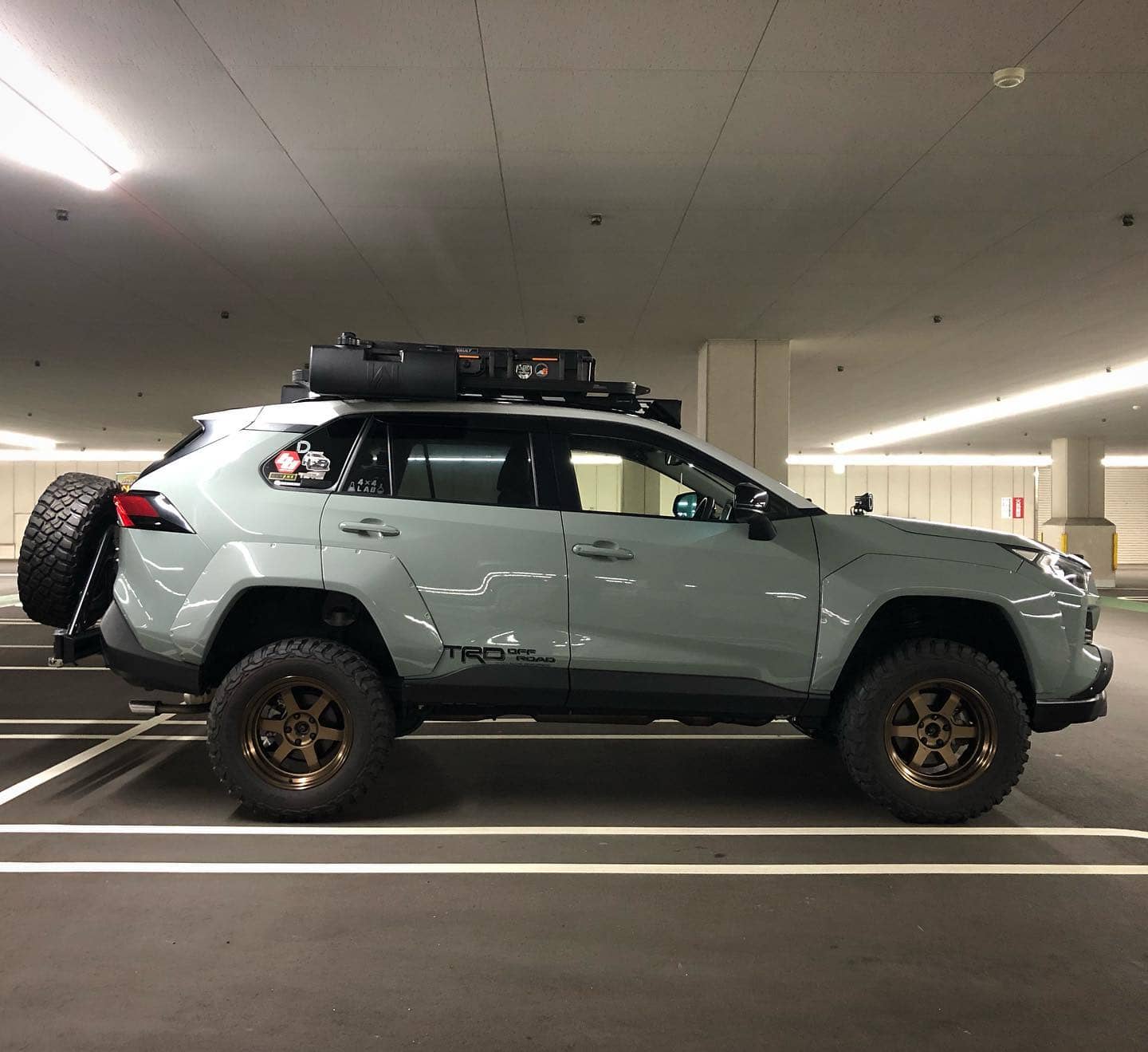 Lights
The Japanese gear head didn't skimp on lighting either. The Rav4 features Baja Designs LED Fog Lights, Diode Dynamics SS3 LED Lights, and LP Aventure Hood Light Brackets that are designed to illuminate the darkest trails, ensuring that visibility is never compromised, regardless of the time of day.
Exterior Mods
The exterior modifications are where this Rav4 truly comes into its own. The Beyondwraps Hood Stamp, RNOFIT Fabrication Ltd Rear ladder & Dendoff Springs, and TR4Design RAV4 Fender Flares work together to create a striking and imposing aesthetic. Practicality hasn't been forgotten either, with additions like the Frontrunner Tokyo Slimline II Roof Rack and the Dirt Complex Trail Swing, among others, enhancing the Rav4's versatility and preparedness for any expedition.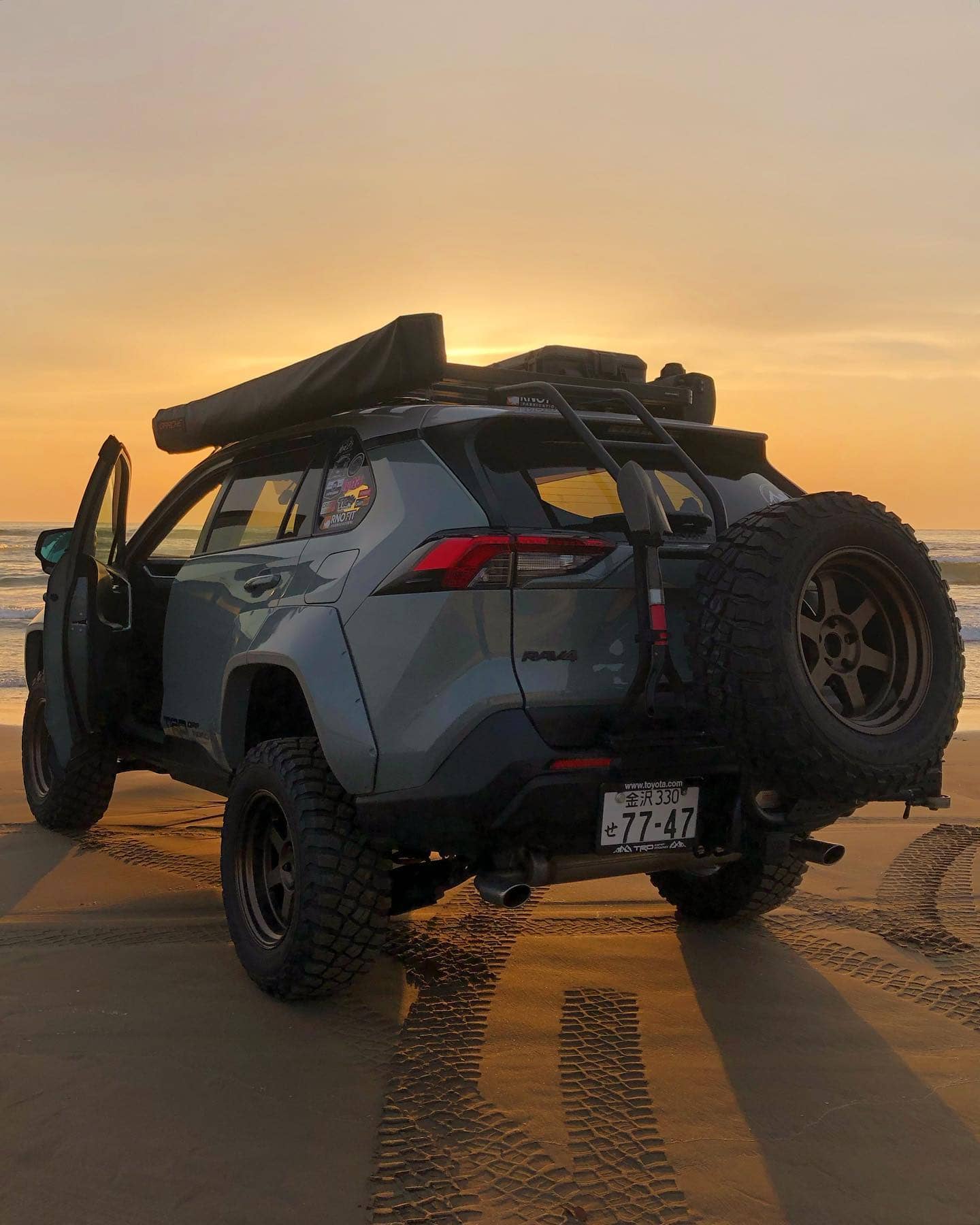 Gearing Up For Adventure
When it comes to gear, the owner has equipped the Rav4 with everything from a Darche Eclipse 270° Awning for shelter, a Waterport 3.85 Gallon Water Tank for hydration, to a Pelican V730 Vault Takedown Case for storage. These additions elevate the Rav4's overlanding capabilities, ensuring it is fully equipped to tackle long outdoor expeditions.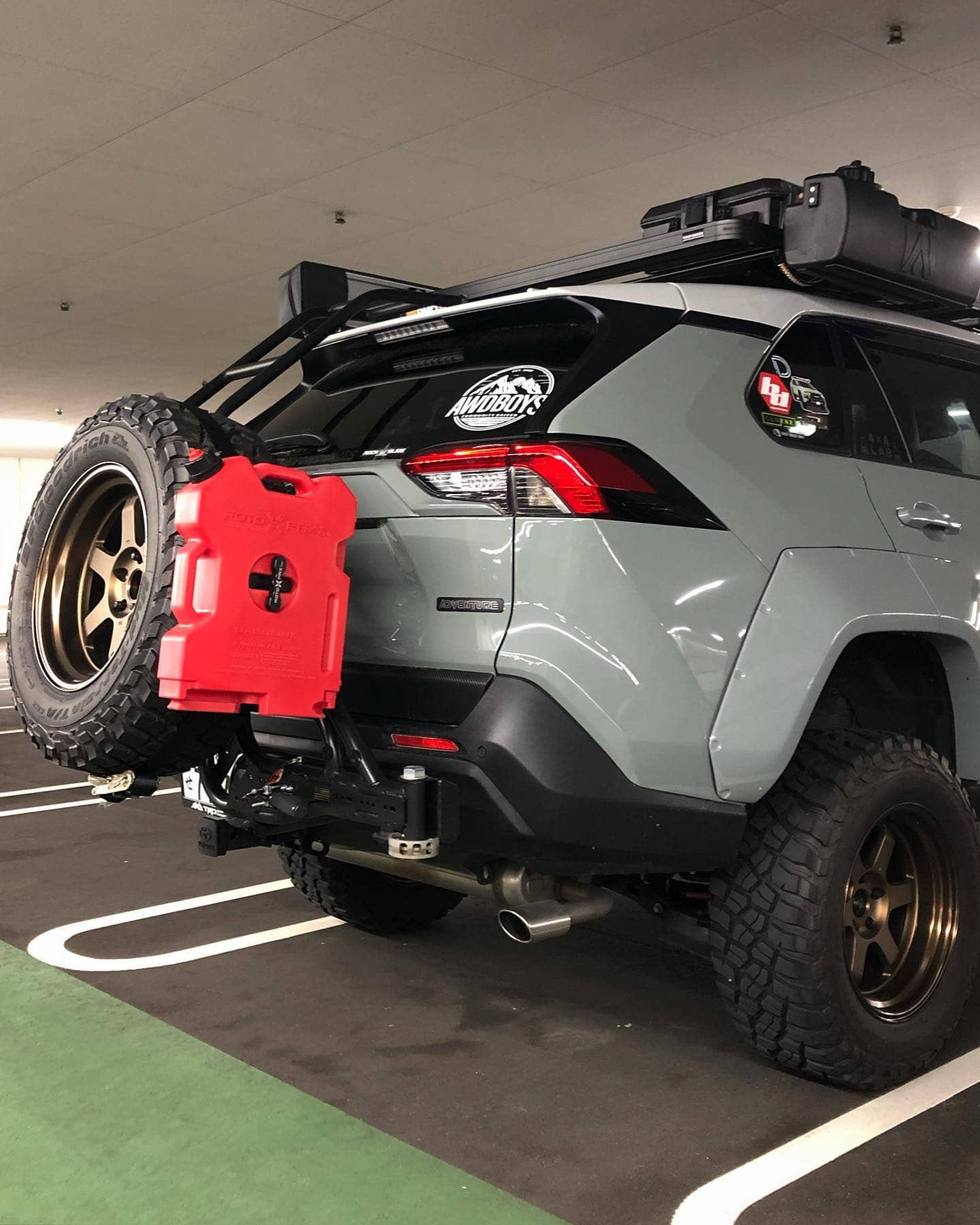 Specs & Mods:
Wheels
RAYS Volk Racing TE37V
BF Goodrich Tires KM3 265/65R17 Tires
Suspension
Road House Japan Kaddis Lift Kit
Dendoff Springs
Lights
Baja Designs LED Fog Lights
Diode Dynamics SS3 LED Lights
LP Aventure Hood Light Brackets
Exterior mods & Gear
Beyondwraps Hood Stamp
RNOFIT Fabrication Ltd Rear ladder
Darche Eclipse 270° Awning
Frontrunner Tokyo Slimline II Roof Rack
Dirt Complex Trail Swing
Waterport 3.85 Gallon Water Tank
Pelican V730 Vault Takedown Case
TR4Design RAV4 Fender Flares
MESO Customs Mirror turn signals & Interior Accessories
Taco Vinyl Molle Panels & Grille Badge
Jaos Battlez 2Tail-Pipe Exhaust
OEM Toyota Hitch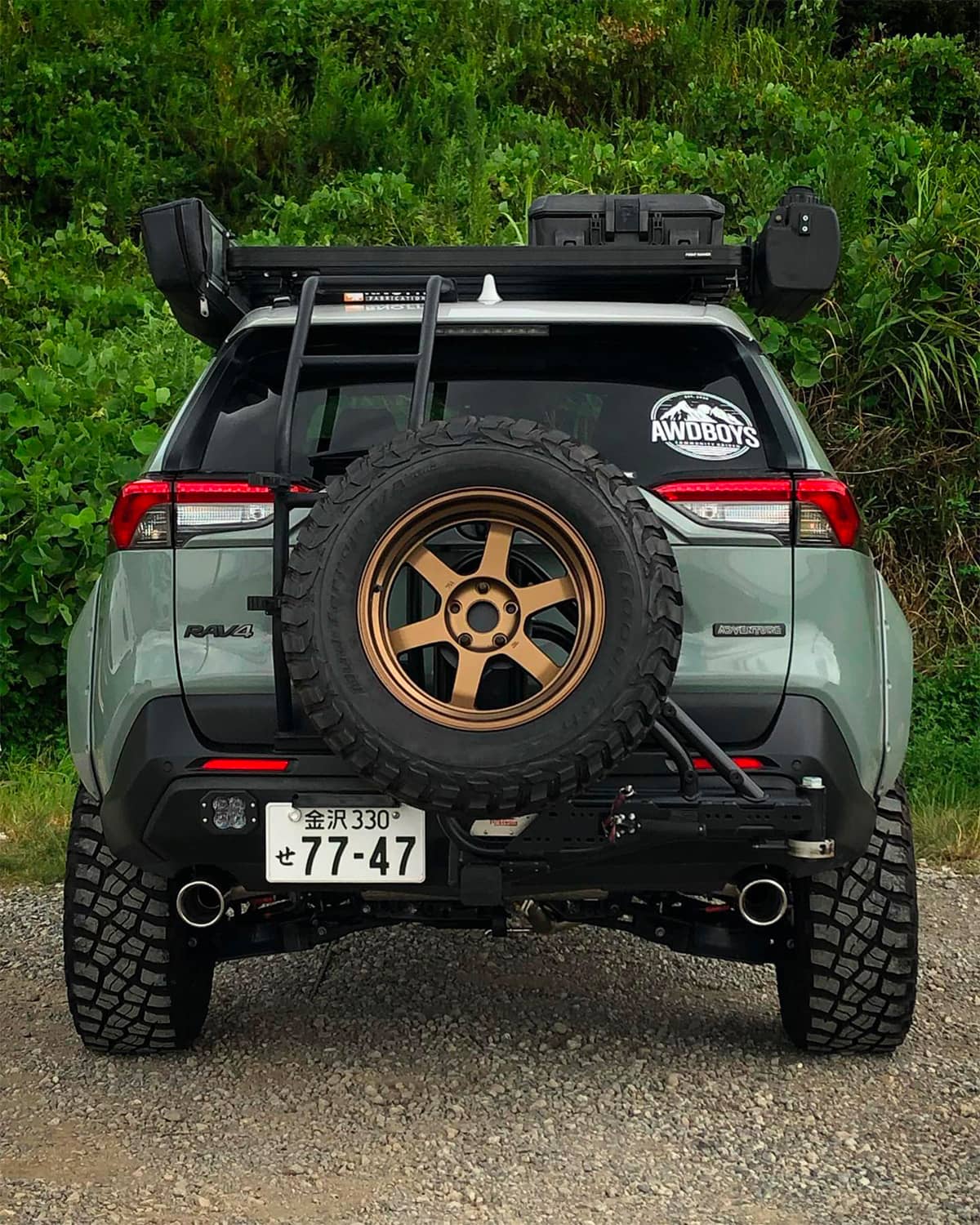 In conclusion, this lifted Toyota Rav4 is a testament to the fascinating symbiosis of unconventional off-roading and audacious styling. Each modification, every piece of gear has been thoughtfully selected, and meticulously installed, turning this once standard crossover into a captivating off-road marvel that dares to venture where few of its kin dare to tread.
An inspiration to all Rav4 owners and off-roading enthusiasts alike, this vehicle goes to show that with a dash of creativity and a passion for the outdoors, the sky's the limit.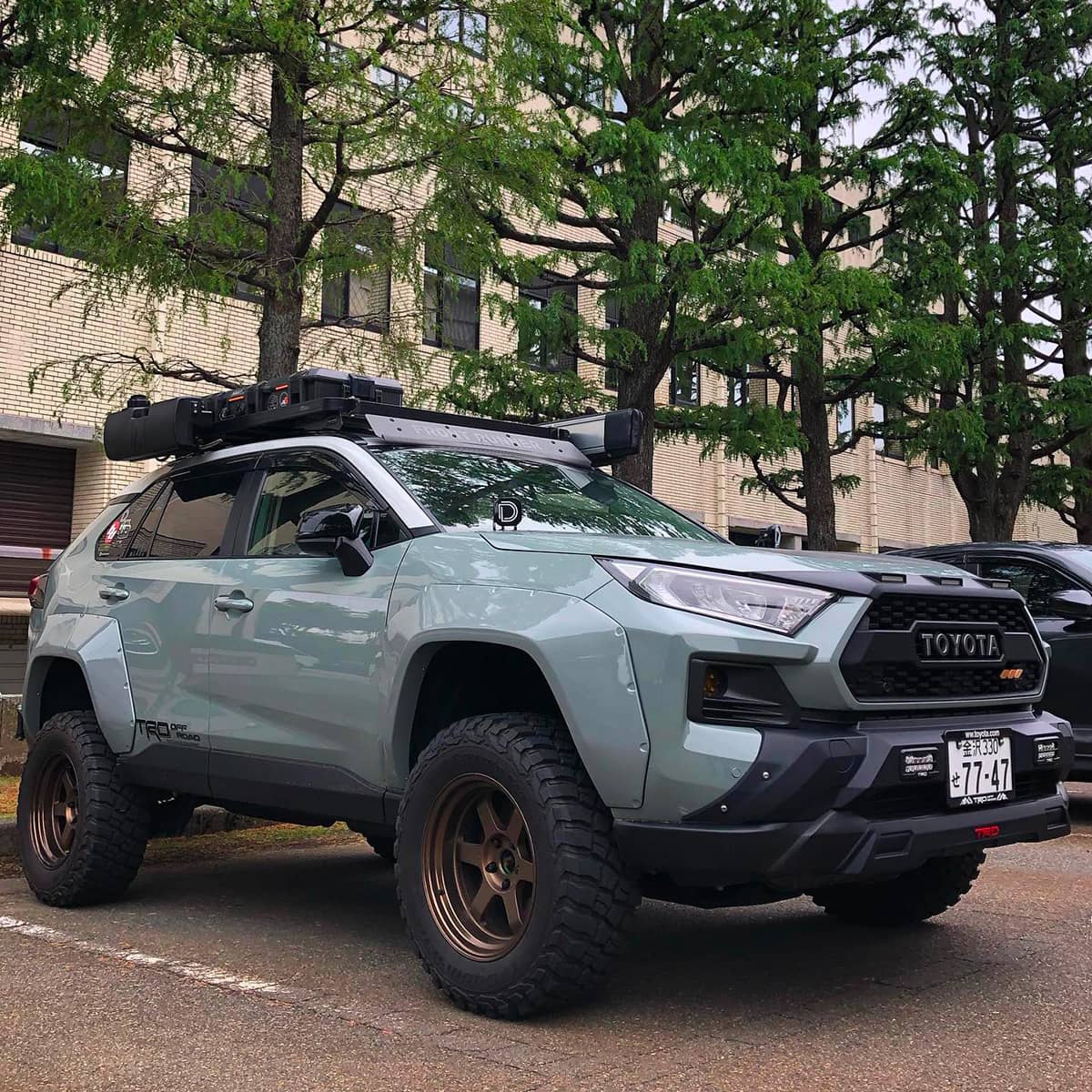 Watch the progress and find out more about this Toyota Rav 4 project by visiting the Instagram profile of the owner: @tm_1995rav4!
Stay tuned for more project reviews on Offroadium.com – Follow us on social media, and share this write-up if you enjoyed reading it!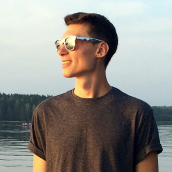 Matt Grabli
Automotive journalist and technical writer at Offroadium.com with more than 10 years of experience in the sphere of aftermarket parts and 4×4 vehicle modifications. Passionate about off-roading, outdoor adventures, and an active lifestyle.