Make Model: Toyota 4runner SR5
Year: 2010

Price: $37,500 OBO

Mileage: 156,000

Location: Los Angeles, CA

Class: Overland SUV
Read More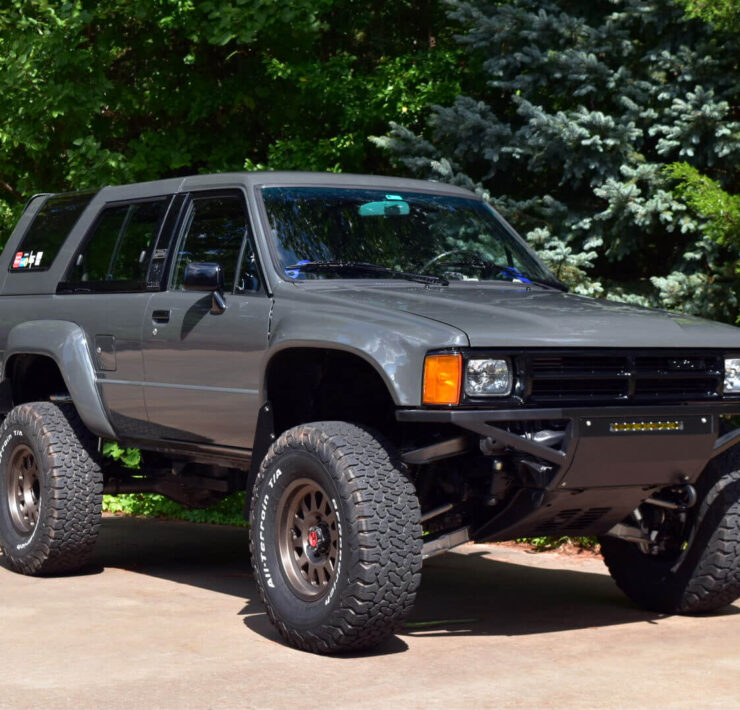 Most modern SUVs look sleek and sporty with little to none to do with offroading,…
Read More
Toyota 4Runner Mods, Off-road Accessories & Build Reviews 3rd, 4th and 5th gen
A Toyota 4Runner is hands down one of the most iconic 4×4 vehicles that keep tearing up the trails since the early 80s. Throughout a nearly 40-year production run, it was available in 5 generations and a myriad of modifications.
Thanks to the efficient, yet powerful motors, mid-size platform, and capable four-wheel-drive system it managed to outperform the competition and move the strongest players out of its path. Thanks to the sheer love of the off-road community, the aftermarket support for this model is simply amazing. You can find dozens of reliable parts designed to improve the offroad qualities of your vehicle. 4Runner is up to any challenge you can throw at it (especially the Four Runner Trail Edition), whether is steep mountain passes, rocky trails, or deep mud.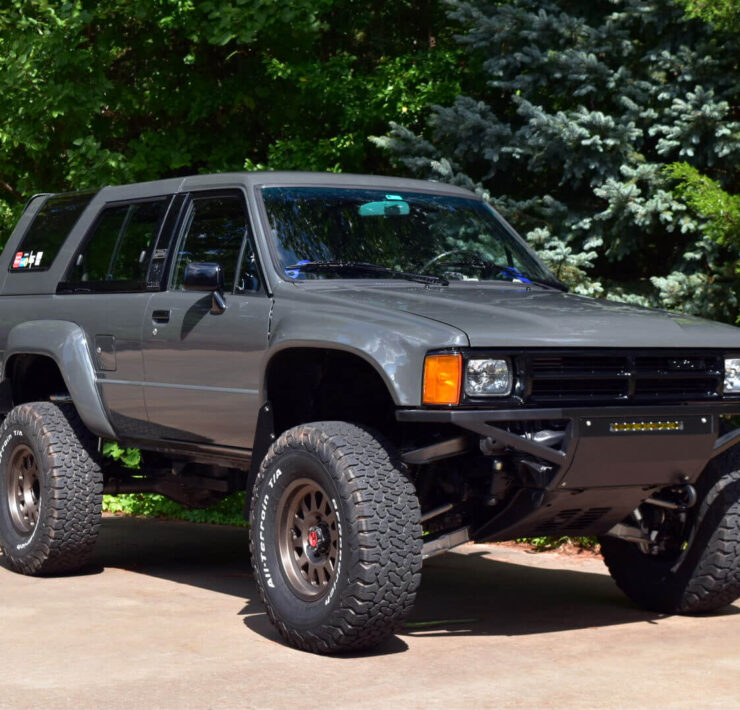 Most modern SUVs look sleek and sporty with little to none to do with offroading,…
Read More
Mods and Off-road Accessories
So you decided that you want to make your truck look good and improve its off-road characteristics at the same time, but not sure where to start and what brands to rely on. Our simple guide will help you to navigate in the sea of aftermarket add-ons and choose tried and tested solutions.
"As a rule of thumb, the form should always follow function, so in case if you're excited about the look of an aftermarket steel bumper that you've just found online, calm down a bit, check all the specifications, research reviews, and make sure that it will satisfy your main requirements."
The sequence illustrated below is optimal for the majority of the offroad projects. While we insist on starting big mods from wheels and tires you can interchange the steps listed below and adapt them to your own requirements and budget.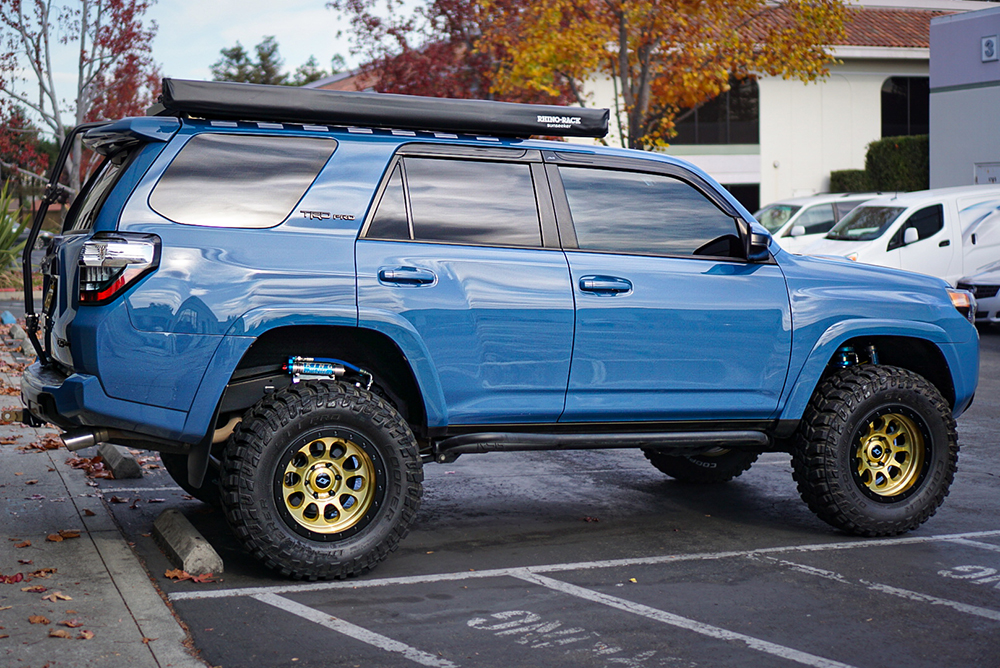 Step 1 – Suspension
While one of the most important parts of your off-road project is the wheels & tires, your suspension will limit you in their sizes.
*Skip this step if you don't want to exceed factory-recommended wheel and tire specifications, but keep in mind that larger tires will tremendously improve the off-road capabilities of your rig and spice up the appearance at the same time.
Suspension upgrade doesn't always mean big money. If you are looking for slightly larger and beefier tires, a simple 1-3″ spacer lift kit will do the job with ease.
If you want to step up, improve the suspension articulation, and open up the new complex trails, a full suspension kit will be your best bet.
What Suspension Options Are Available for my Toyota 4Runner?
Leveling kits & Spacers (Good for starters and moderate trails) $50-$500
Full suspension Lift kits (Good for serious off-roading) $600 & UP
Long travel suspension kits (Hardcore off-roading, off-road racing) $1500 & Up
*The prices above are a rough estimate.
Check Current Price
Step 2 – Wheels & Tires
A properly selected rim and tire package will extensively improve the off-road capabilities of your Toyota 4Runner. If you chose a lift kit, then most definitely it's supplier provided you with a maximum available tire size for your model. Just follow the recommendations and choose A/T or M/T tires that fit in your budget.
A/T
Pros: All-Terrain is a universal type of off-road tire that performs perfectly in the sand, ok on gravel, ok in the snow, and bad in dirt and mud. Thanks to the less aggressive tire tread than M/Ts it behaves much better on concrete roads, providing a better gas mileage and quieter ride.
Cons: Useless in deep mud.
Check Current Price
M/T
Pros: Mud Terrain is an advanced type of an offroad tire, that works great on pretty much any terrain including mud, rocks, snow, and even sand.
Cons: Due to the aggressive tread patterns it doesn't do great in terms of handling on paved roads. It's a lot noisier and wears out faster.
Check Current Price
Step 3 – Body Armor
It's not hard to guess that you can easily damage body panels and undercarriage components when going off the paved roads, so it's always a good idea to take care of them in advance.
A skid plate is an easy solution to protect the suspension components from rocks and debris. Being model-specific, it bolts right on without serious modifications.
Off-road front and rear bumpers not only protect the body of your vehicle but also provide better clearance for oversized wheels and improve the approach and departure angles, allowing you to tackle more complicated trails. Except for that, an aftermarket bumper often comes with a winch mount plate, tow hooks, and cut-outs for LED lightbars or pod lights.
Rock Sliders protect the rocker panels of your rig from damage while traversing highly technical trails. They usually mount directly to the frame utilizing the factory cut-outs, so drilling may not be required.
Step 5 – Lighting
It's often necessary to have a few more light sources other than your headlights and fogs to navigate the trails at night or set up your camping spot. Perimeter mount pod lights and light bars will allow you to light up the area around your Toyota 4Runner.
Step 6 – Gear & Accessories
Think about what would you need on the road and at your camping spot. Food, camping, and sports gear should be on your list, so figure out a way to carry them conveniently.
A roof rack is an absolute must for any overland adventure style project, as it allows you to free up some space in the cargo area of your vehicle and mount all necessary gear and supplies – View Our Selection for 4Runner
Bike carriers, kayak carriers, etc.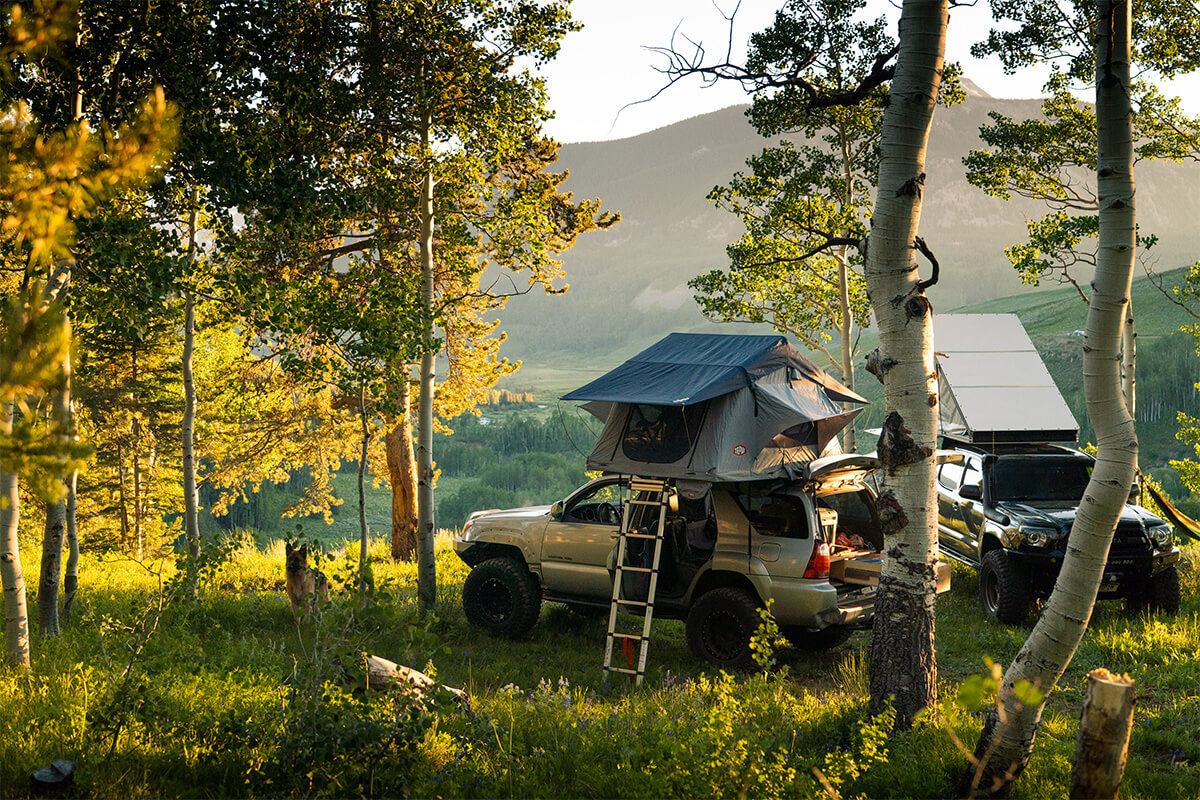 Modified Toyota 4Runner 3rd, 4th, and 5th gen Off-road Builds
3rd gen production years: 1995, 1996, 1997, 1998, 1999, 2000, 2001, 2002;
4rd gen production years: 2003, 2004, 2005, 2006, 2007, 2008, 2009;
5rd gen production years: 2010, 2011, 2012, 2013, 2014, 2015, 2016, 2017, 2018, 2019, 2020, 2021;
Depending on your needs, wants and budget you can add or delete any items for this list and adapt it to your own requirements. It's a creative process, so go ahead and express yourself!
We hope that our step-by-step guide will help you to fully set up your Toyota 4Runner for overland-style adventures and enjoy your new off-road trips with confidence and comfort.