Lifted Honda Element eCamper Off road Build With 30" BFG Tires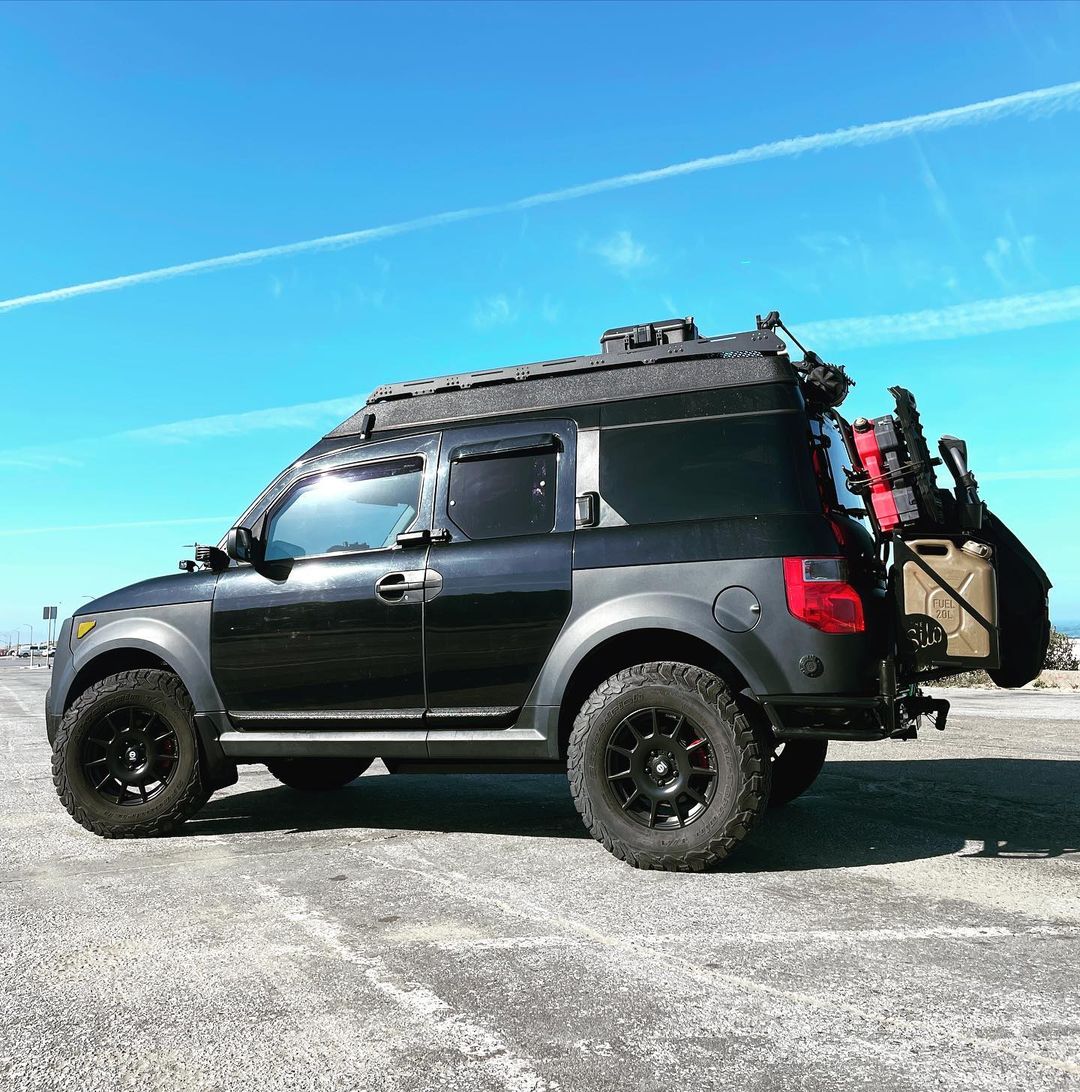 One of the coolest things about the AWD community is the diversity of models used for the off-road projects. While the majority prefers to stick with the tried and tested mainstream models that have strong aftermarket support, there are individuals who aren't afraid of trying the new things and pushing the boundaries of their vehicles.
This black lifted 2006 Honda Element with an eCamper is a perfect example of such builds. Its owner went a long way to turn this funky SUV into an awesome-looking off-road adventure beast.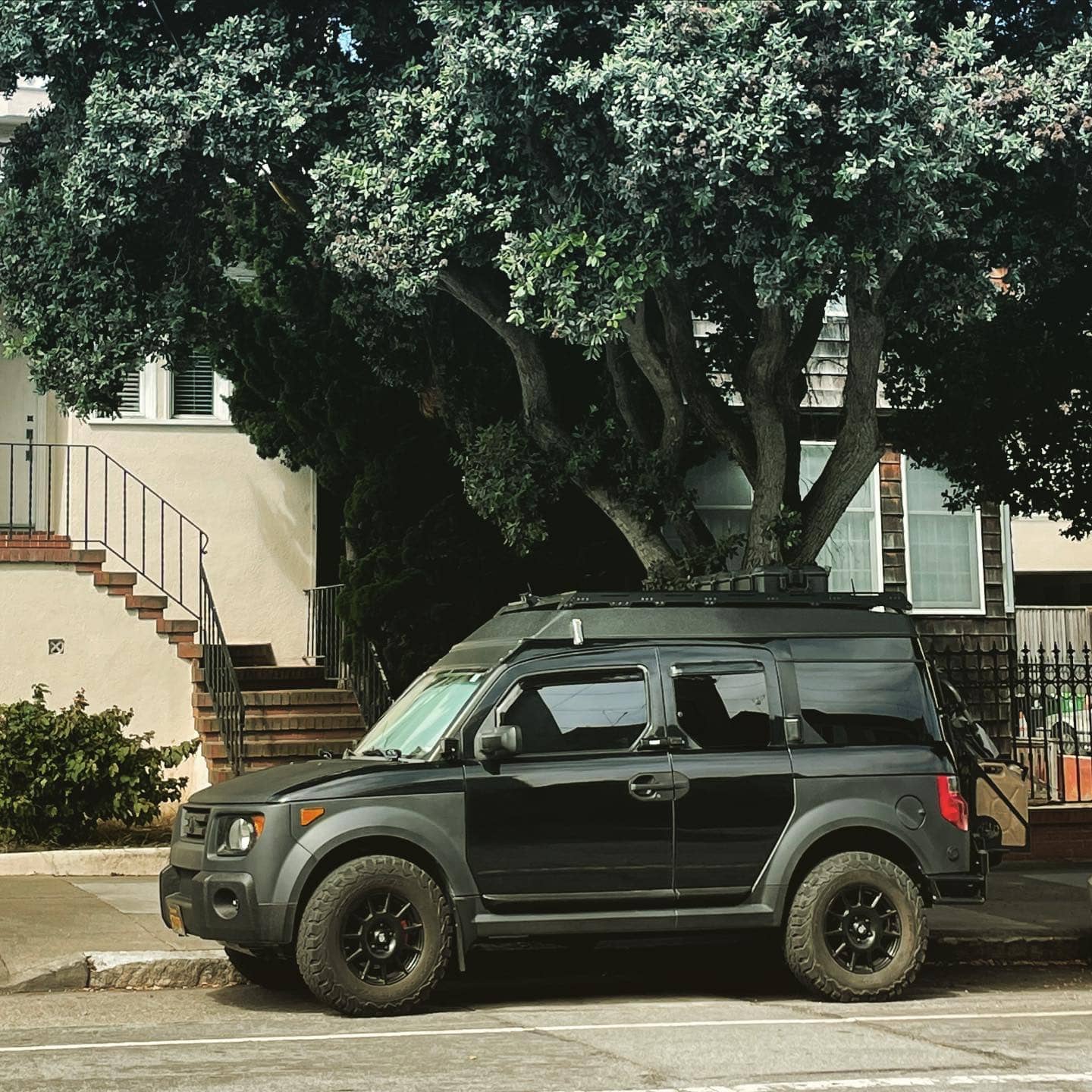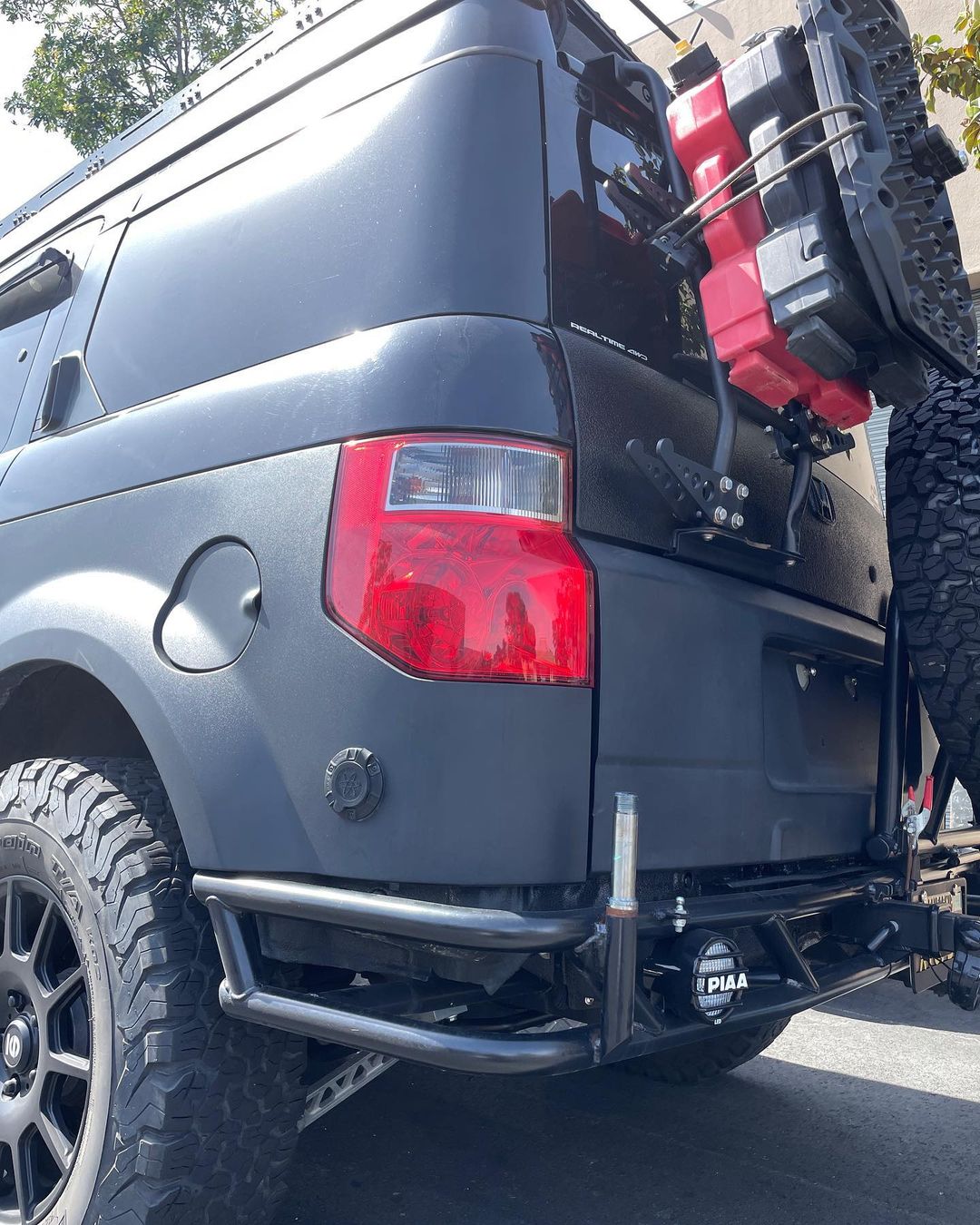 Thanks to its boxy design, the Element is roomy and versatile, making it a great choice for everything from camping trips to hauling gear. However, while the Element is a popular choice for those who enjoy spending time outdoors, there aren't many that are built for offroading.
"Thanks to its boxy design, the Element is roomy and versatile"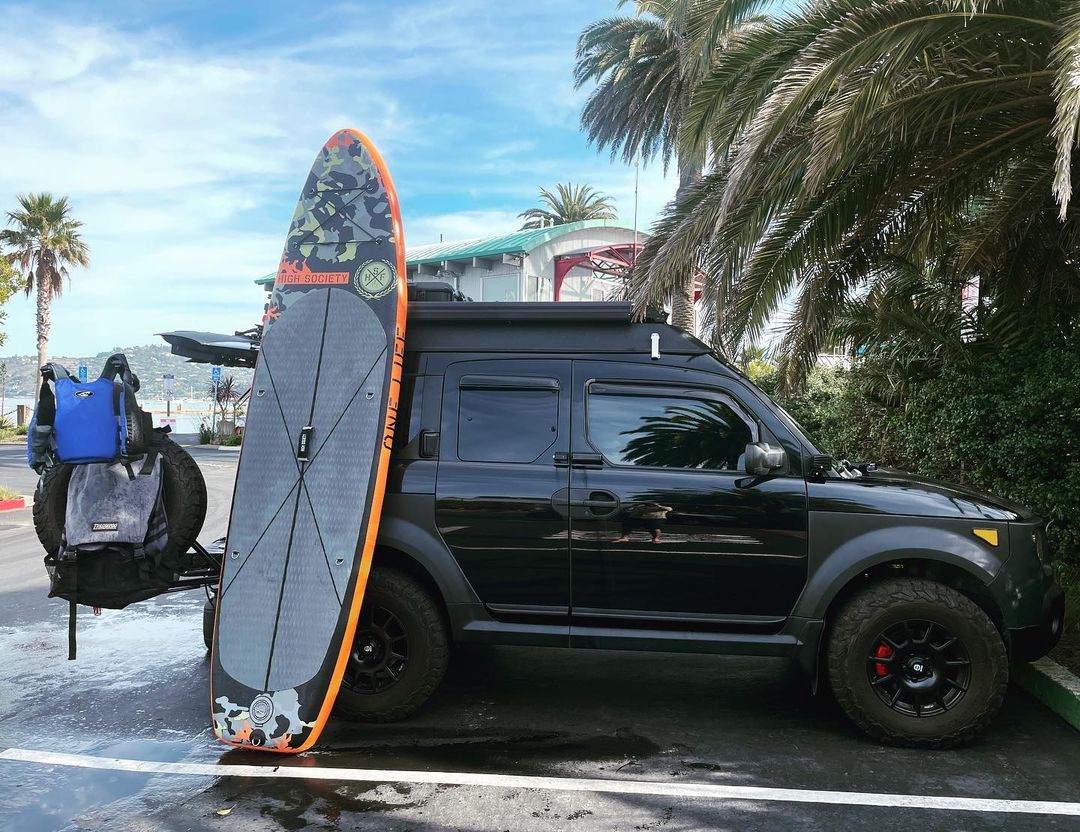 That's not to say that the Element can't handle some rough terrain – thanks to its ample ground clearance and all-wheel drive inherited from the Honda CR-V, it can definitely hold its own – but it's not designed for serious offroading like the bigger SUV…at least in the stock form. In addition to that, the aftermarket doesn't offer many off-road modifications for this model, so you have to be really creative to turn your vision into reality.
"There aren't many model-specific aftermarket upgrades available for this model"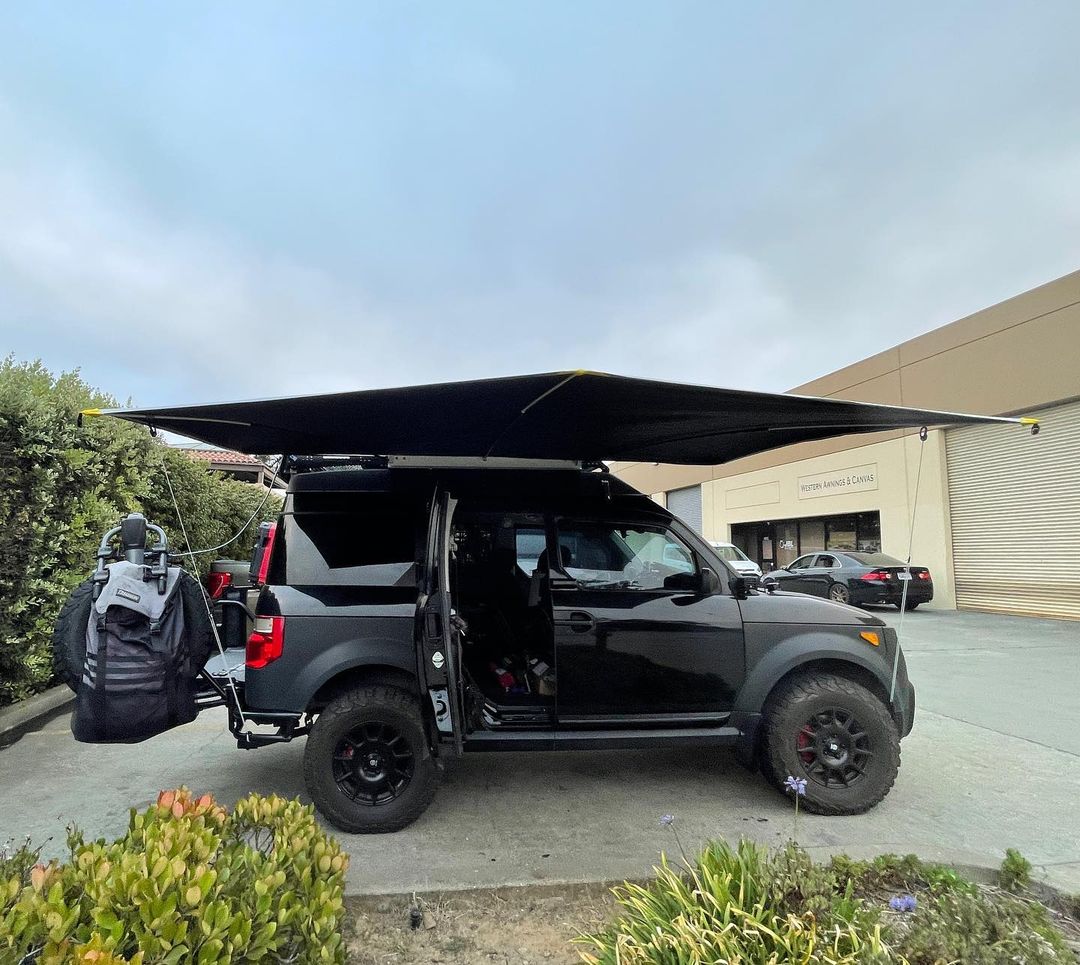 Luckily none of the objections above had stopped the owner of this Element from working on his favorite project. As a result, some of the parts he used were universal, some of them were model-specific, and others custom fabricated to suit the specs of the Element.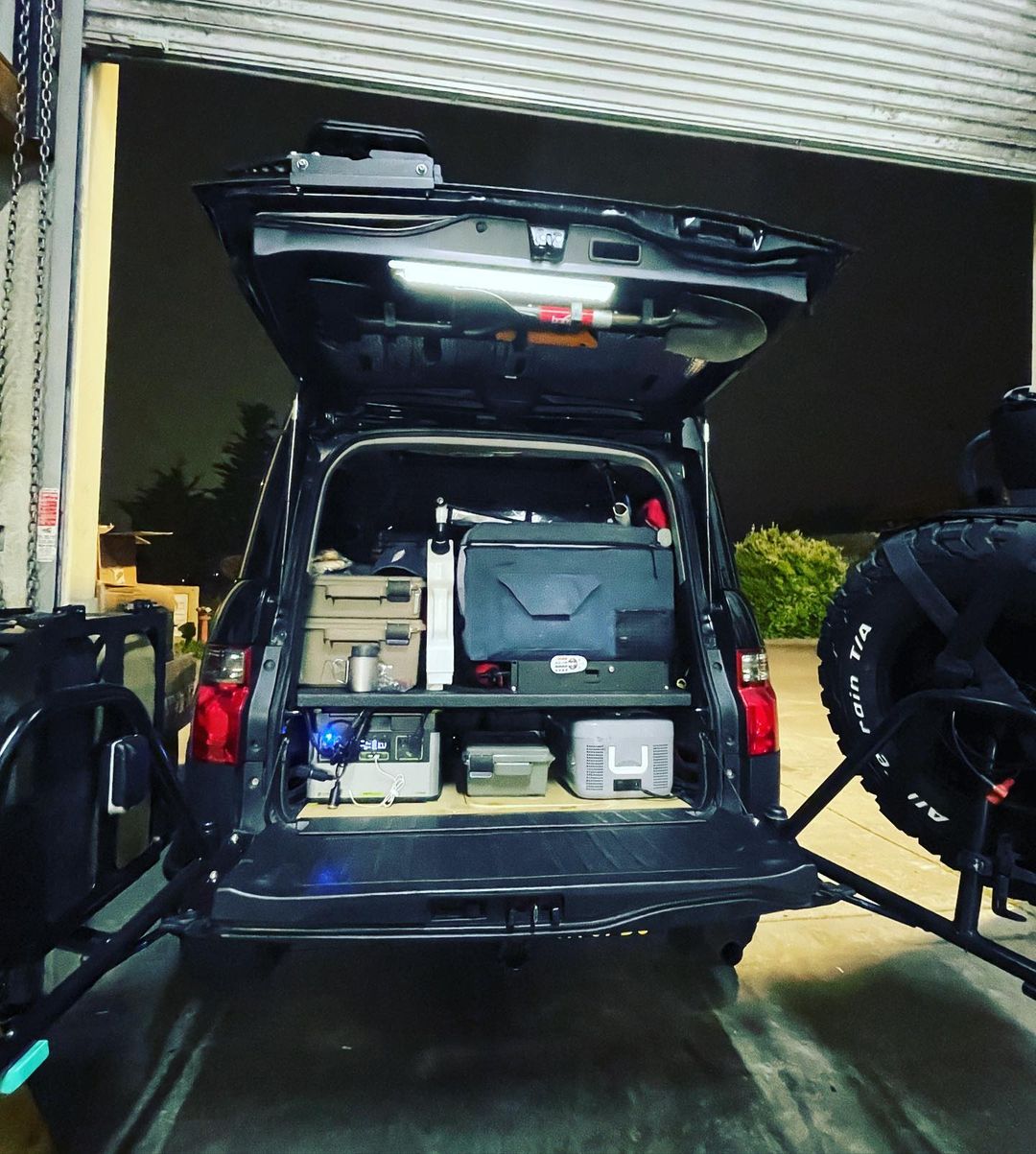 The Build
It features a lot of awesome parts and mods from top to bottom, but let's start with the biggest ones.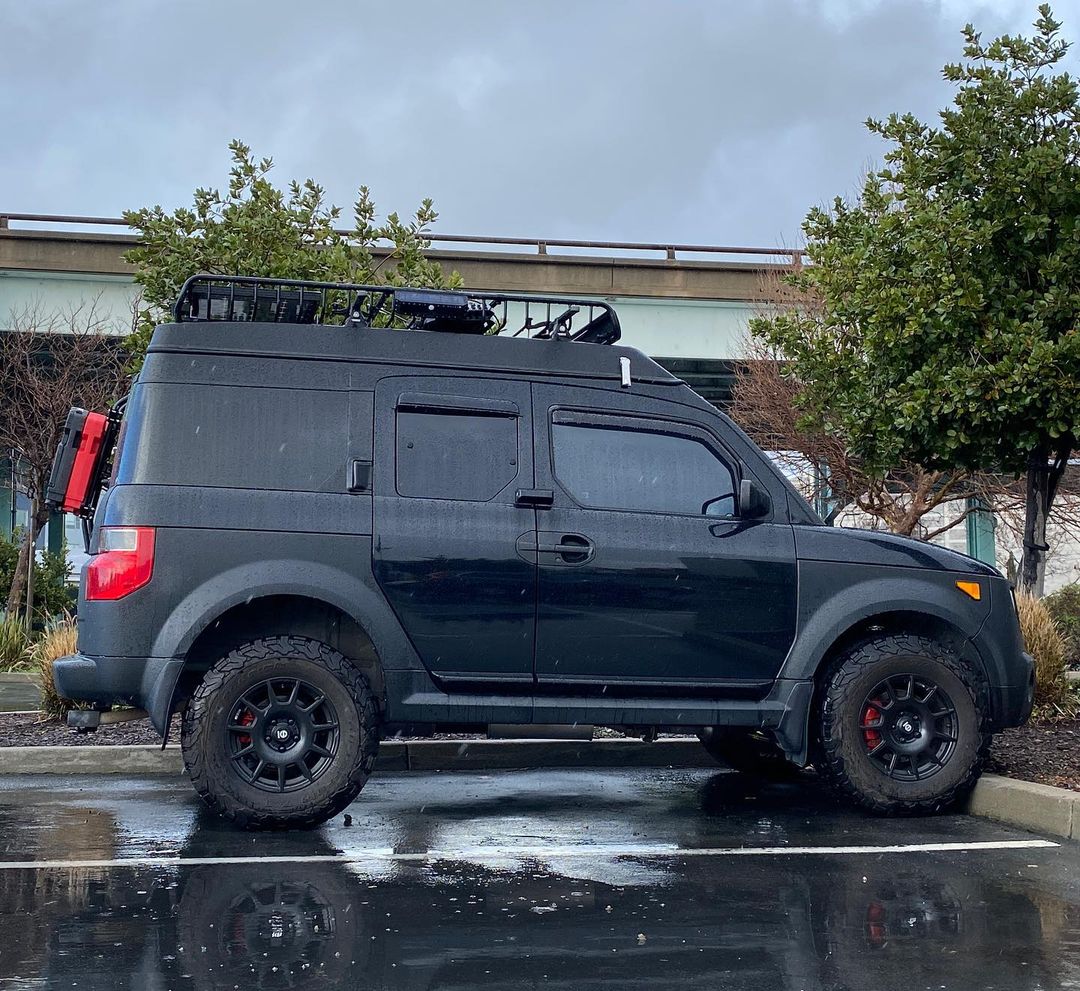 Wheels & Tires
The car sits on a set of oversized 245/75/16 BF Goodrich T/A KO2 offroad tires that equal 30" which is quite big for this crossover. They are much bigger than 225/55/18 factory tires and provide +1" of lift overall. Plus they ensure optimal traction while off-roading and allow to deflate safely when necessary.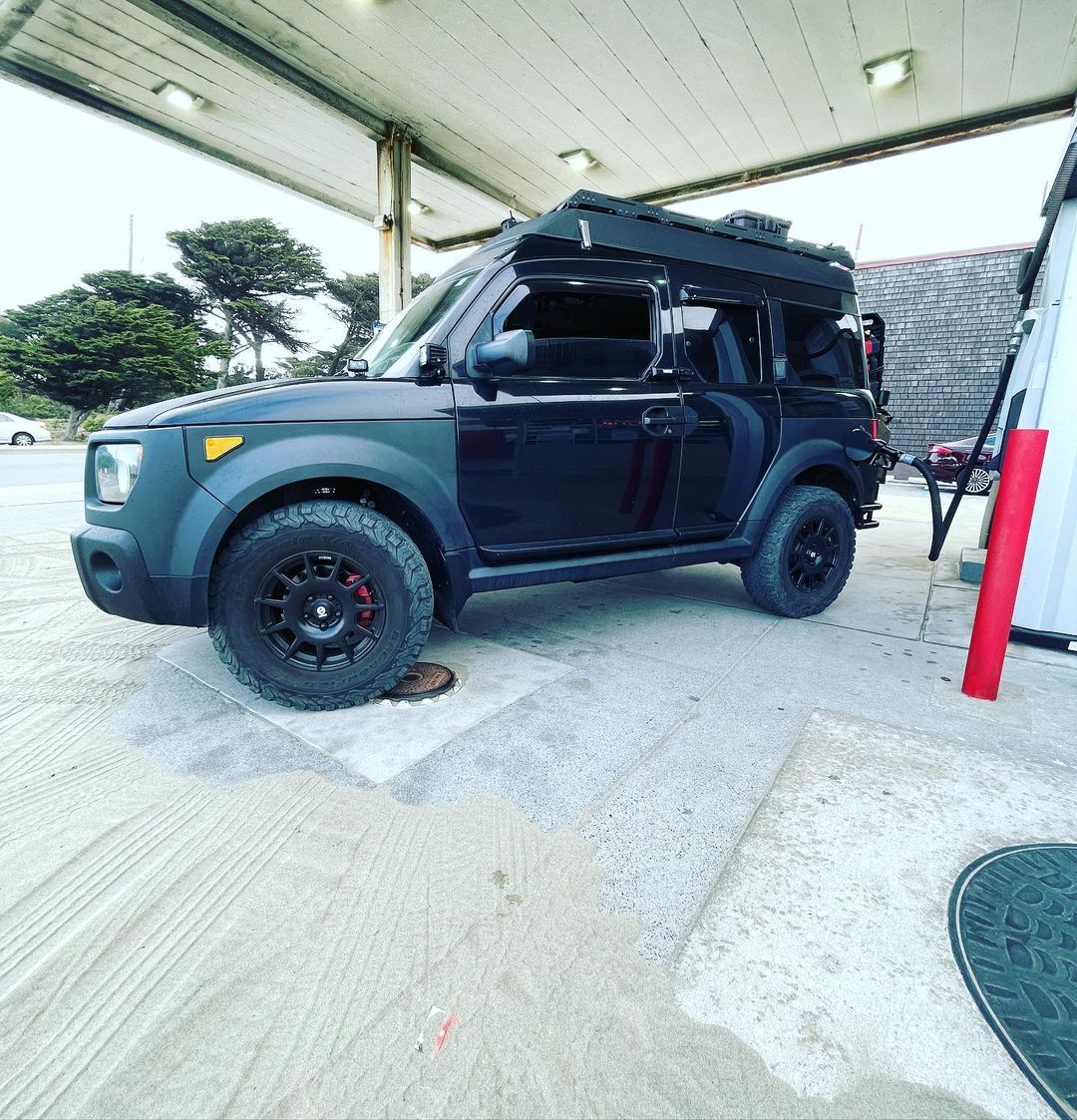 Lift & Suspension
In order to fit the oversized off-road tires and improve the ground clearance, the suspension was lifted by 4" with a help of a custom coilover lift using BC Racing, 3" CCM blocks, and a custom-cut spacer to make it all work. As a result the vehicle finally got that legit off-road look many Element drivers are dreaming of.
"the suspension was lifted by 4" with a help of a custom coilovers"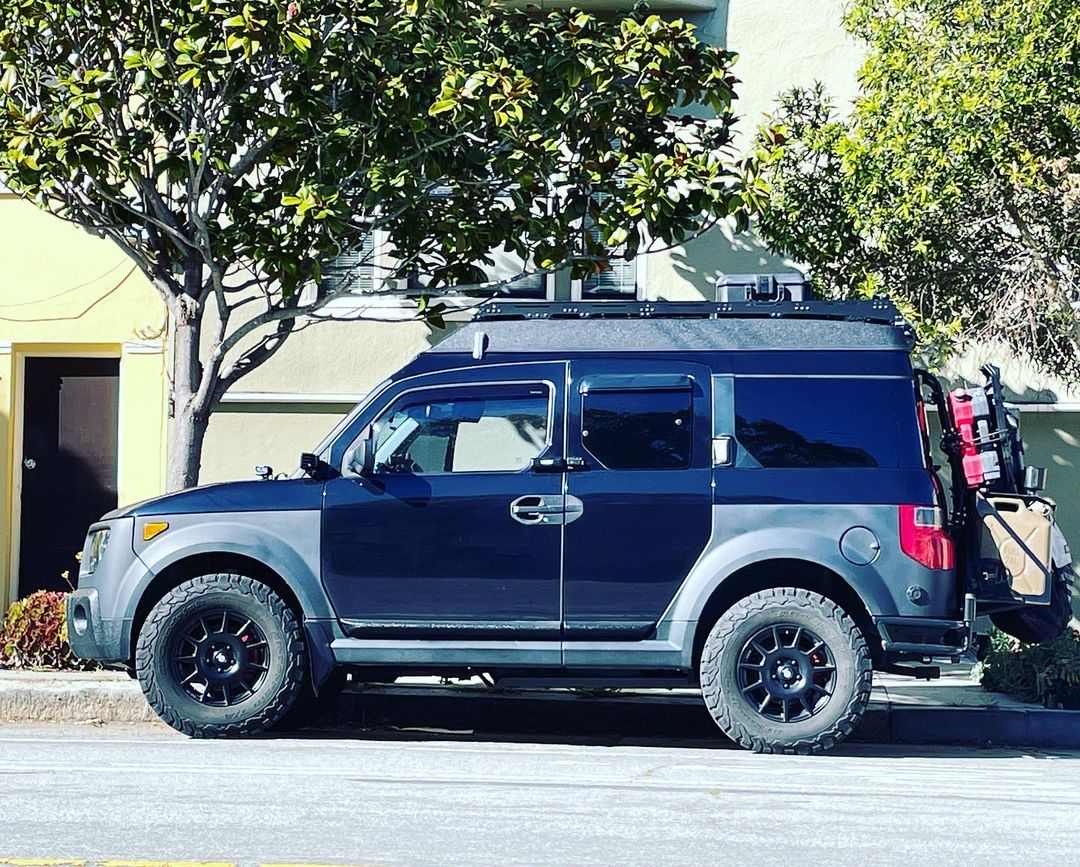 Exterior Upgrades
The next big mod is the custom rear off-road bumper by Silo Garage with a swing-out spare tire and water tank holders. It's strong enough to hold a much-needed full-size spare tire and other overland-style gear that could be handy during off-road adventures.
"The next big mod is the custom rear off-road bumper by Silo Garage"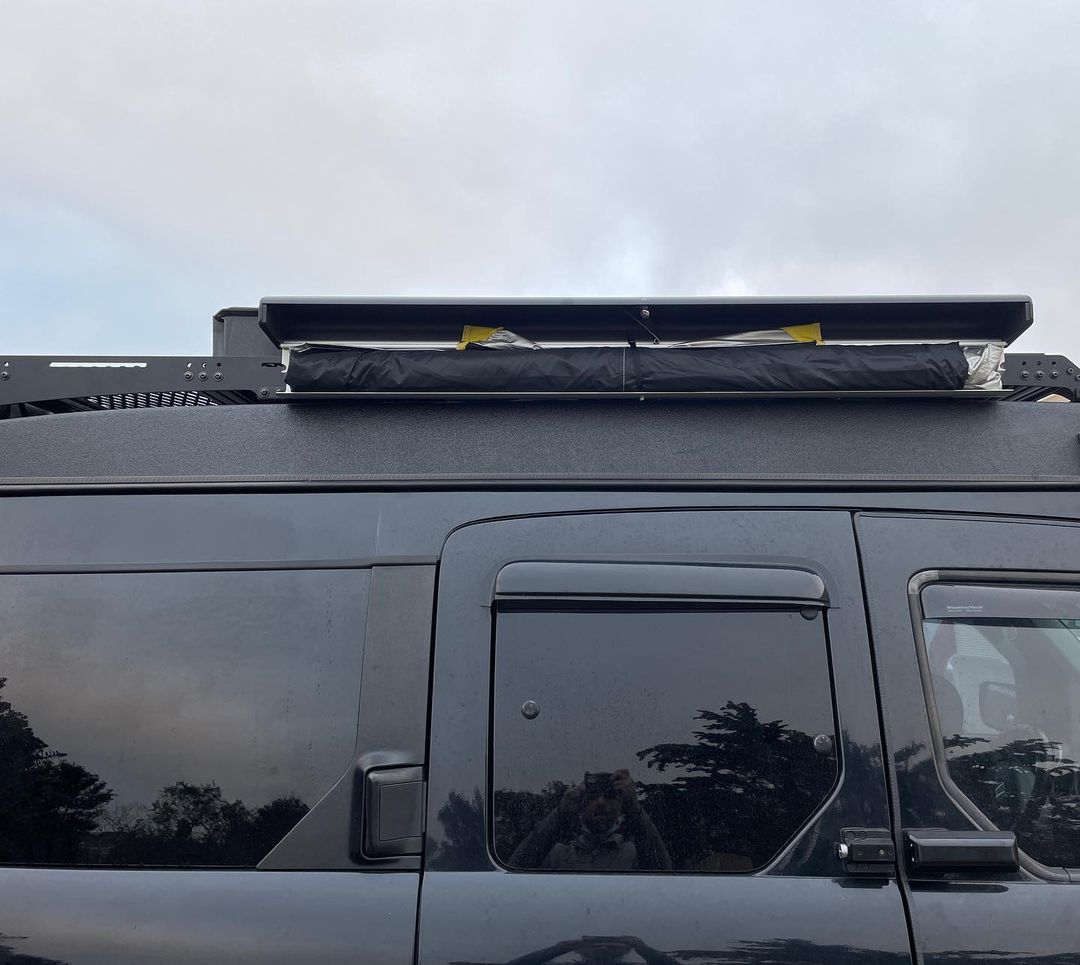 Camper
Ursa Minor eCamper conversion is another awesome upgrade that deserves special attention. Being a model-specific upgrade, it became one of the most desirable mods in the Element community as it provides a convenient and easy-to-use sleeping platform on top of this rig, which utilizes the rear sun-roof opening for access and perfectly blends in with the exterior design of the vehicle when folded flat.
"Ursa Minor eCmper conversion is another awesome upgrade that deserves special attention"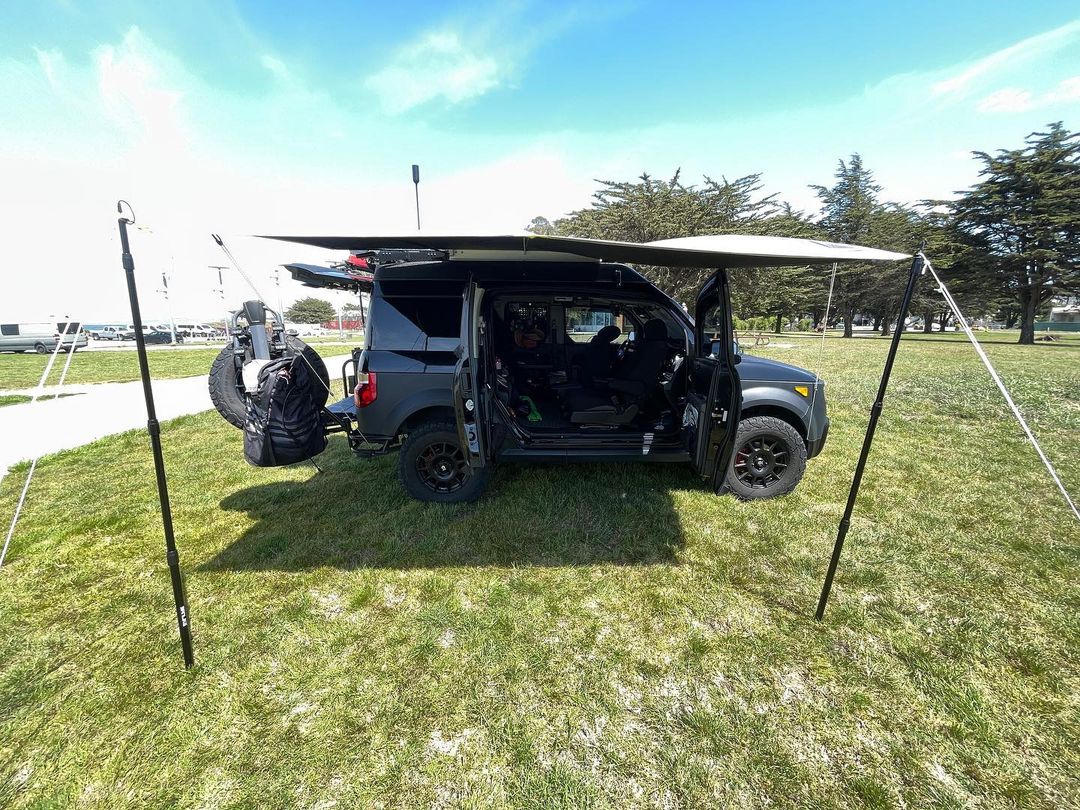 Custom Rob Deezy eCamper roof rack was installed on the very top to improve the cargo capacity of the Element and load it up with 200W solar panels, side awning, and other gear.
Interior Mods
The interior is outfitted vith varius functional add-ons to make camping as much convenient as possible. Main upgrades include Hiro's swivel seat, 2 refrigerators, Goal Zero 1500x generator, 24F NorthStar battery and 240 amp alternator which provide just enough of power to electrify all necessary electronics.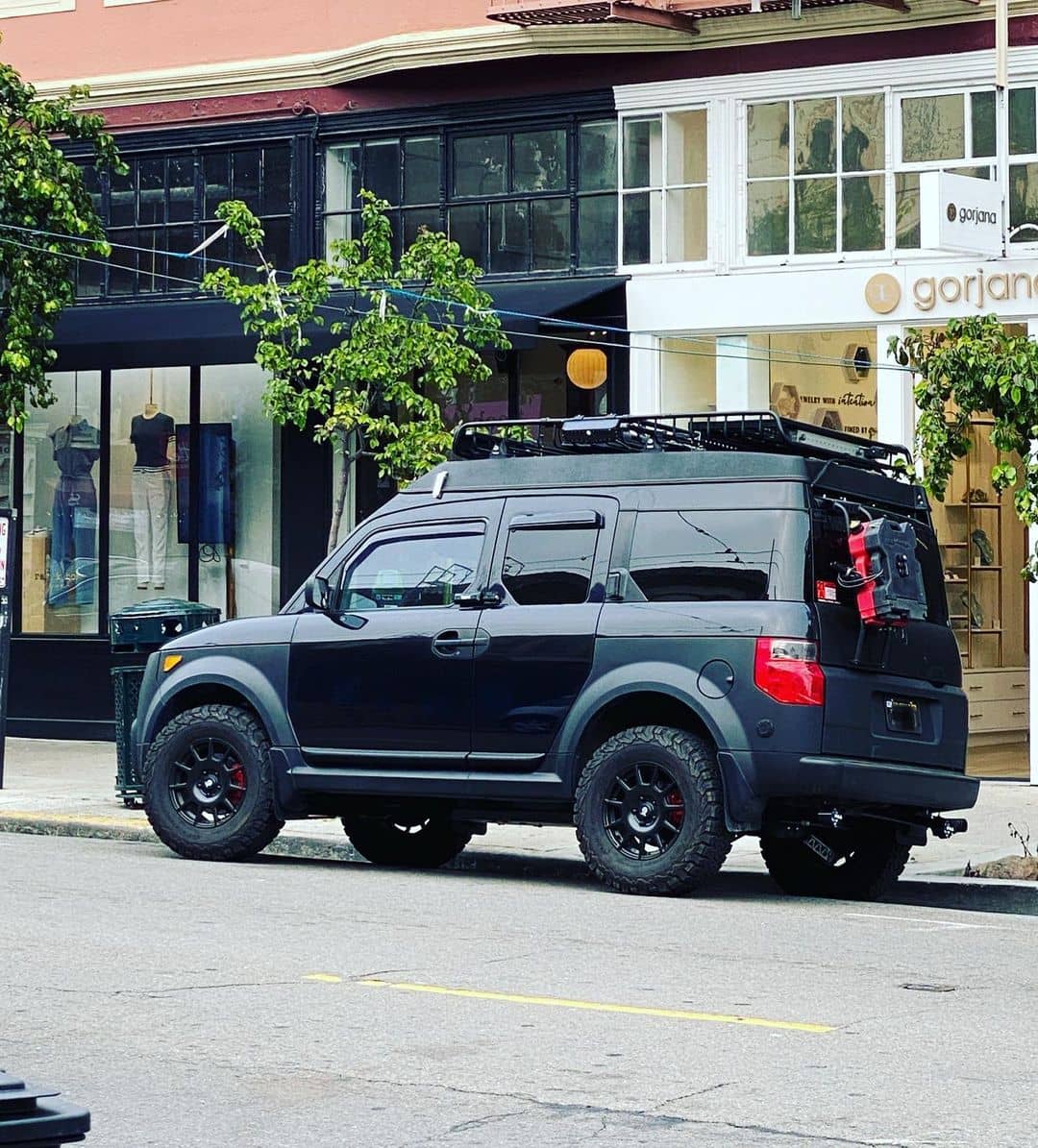 The Interview
Why did you choose a Honda Element for your project?
– This brings my 3rd Element over the past 15 years, I was very selective in what I was looking for. 2003-2006 EX, AWD, dark grey/black interior Purchased completely stock with a Version 1 Ursa Minor conversion with only 43k miles.
What is your favorite part about this build?
– I enjoy planning, engineering, building, and enjoying the project to suit our needs as a family.
What was the most difficult part about putting it together?
– Being a rather rare Overland vehicle platform with little aftermarket support, it's been a challenge to make things fit on an aluminum unibody. From suspension to custom racks, everything had to be made custom. I've worked along side with countless fabricators and manufacturers to help bring to market Element specific parts to the masses.
"Fun facts: When camping I have the ability to carry 18 gallons of water and 7 gallons of spare fuel"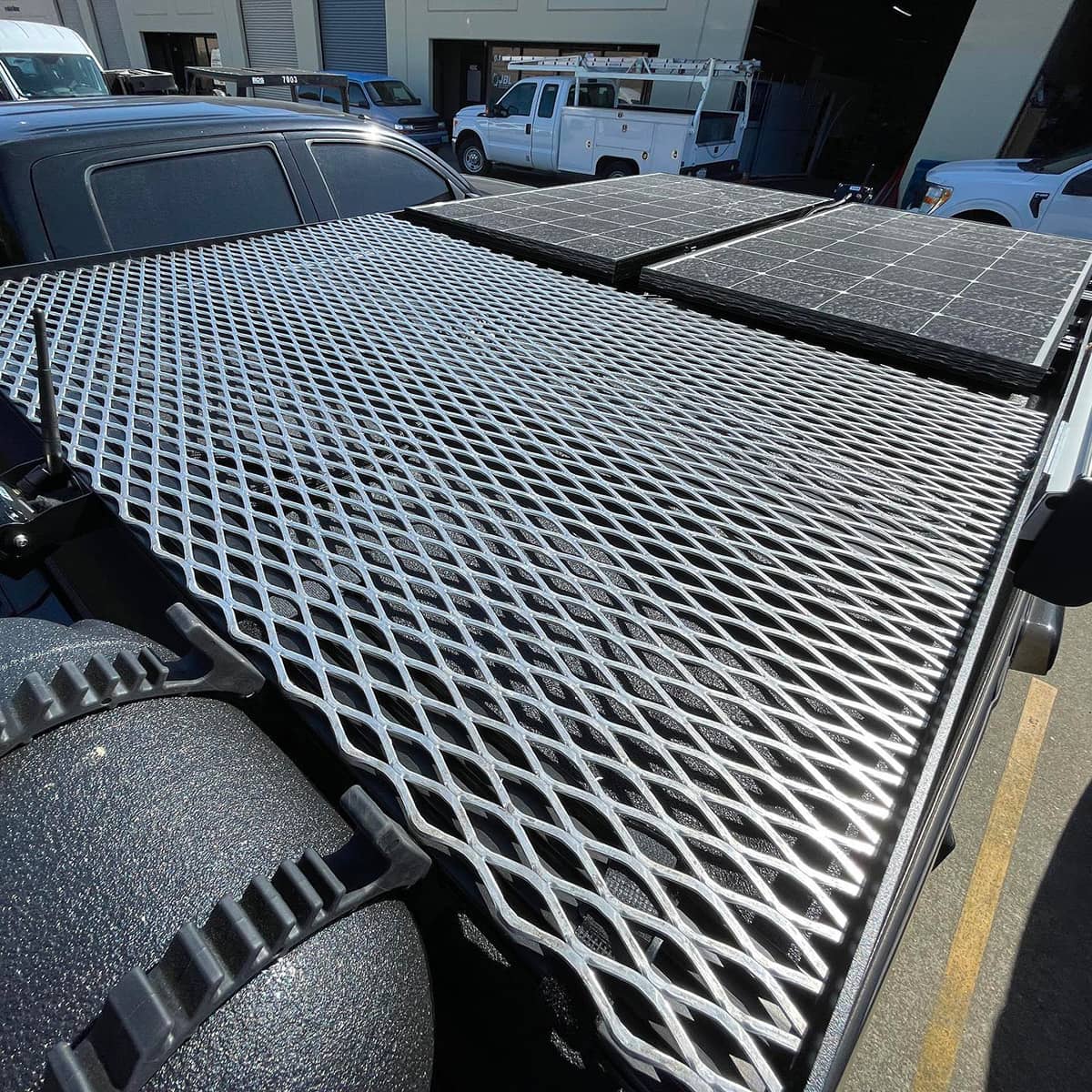 Future plans for your project?
– Next on the mod list is retrofitting an external folding cooking surface with a sliding prep table on the rear spare tire swing-out. Tight tolerances will prove to make it challenging but that's part of the enjoyment for me. 
In the planning phase of a new rear drawer system that will eliminate storage boxes and making setup and break down much easier.
Cool accomplishments
– Creating the entire power management system using 200w of solar on the roof and a Goal Zero Yeti 1500x as a Lithium generator. All power is provided by the sun. 2 refrigerators run continuously, additional lighting, charging, coffee machine, pressure cooker, blender, dual burner electric cooktop, WeBoost OTR cellular booster, all powered with no fossil fuel use.
"Probably the best thing about the Honda Element is the community surrounding them. The saying is true, you really do meet the nicest people driving a Honda "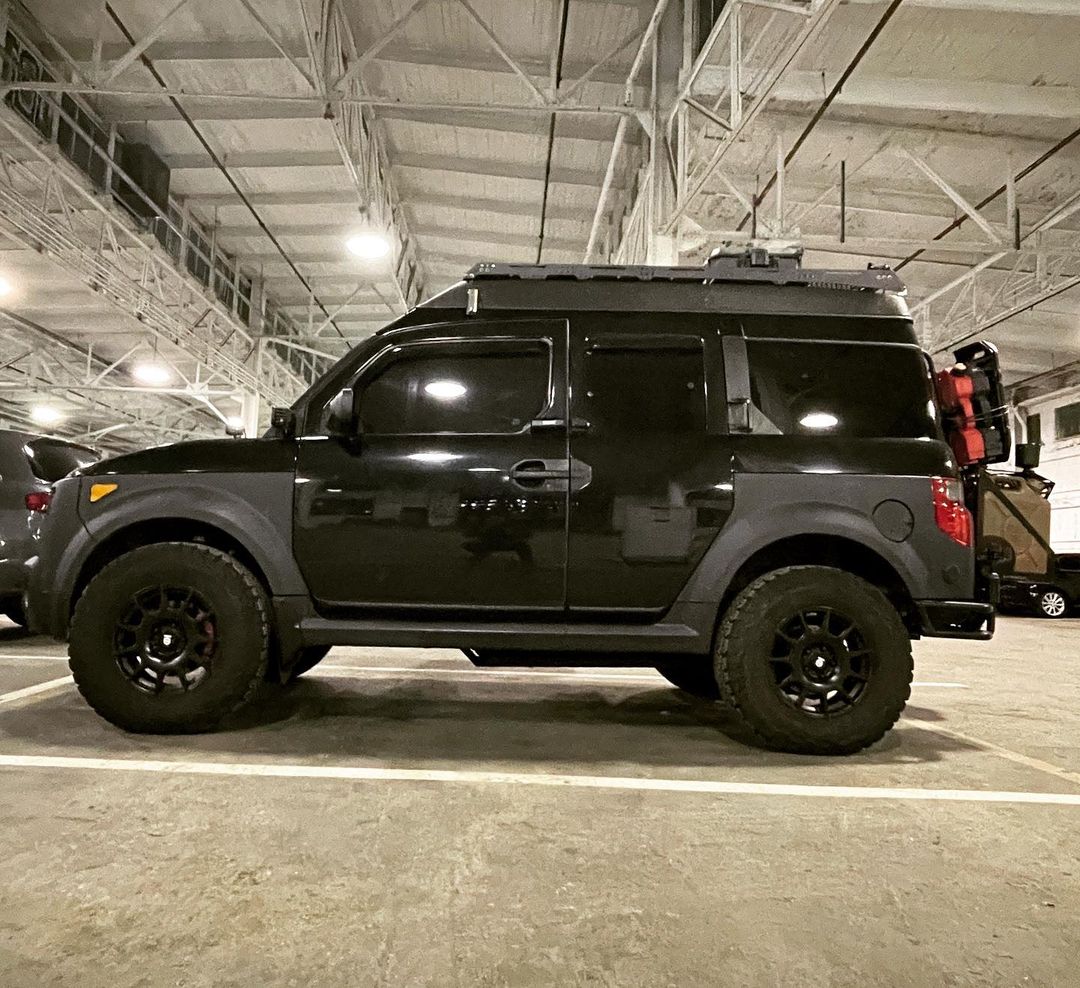 Specs – Honda Element Off-road Build
Tires: 245/75-16 BFG KO2 (30")
Suspension: 4"+ custom coilover lift using BC Racing, 3" CCM blocks, custom cut spacer to make it all work
Ursa Minor Ecamper conversion
Custom Rob Deezy ecamper roof rack
Silo Garage rear bumper
Hiro's swivel seat
2 refrigerators
200w solar on roof
Goal Zero 1500x generator
24F NorthStar battery
240 amp alternator
Rhinolining by @a1rhinolinings
Conclusion
If you are looking for a unique off-road crossover, the Honda Element may be your best bet. While this vehicle is not as popular as some of the mainstream models, it offers a great alternative for those who want something different. With a little bit of work, an Element can be turned into an awesome adventure vehicle that will stand out from the crowd.
Watch the progress and find out more about this Honda Element project by visiting the Instagram profile of the owner: @hondaecamper!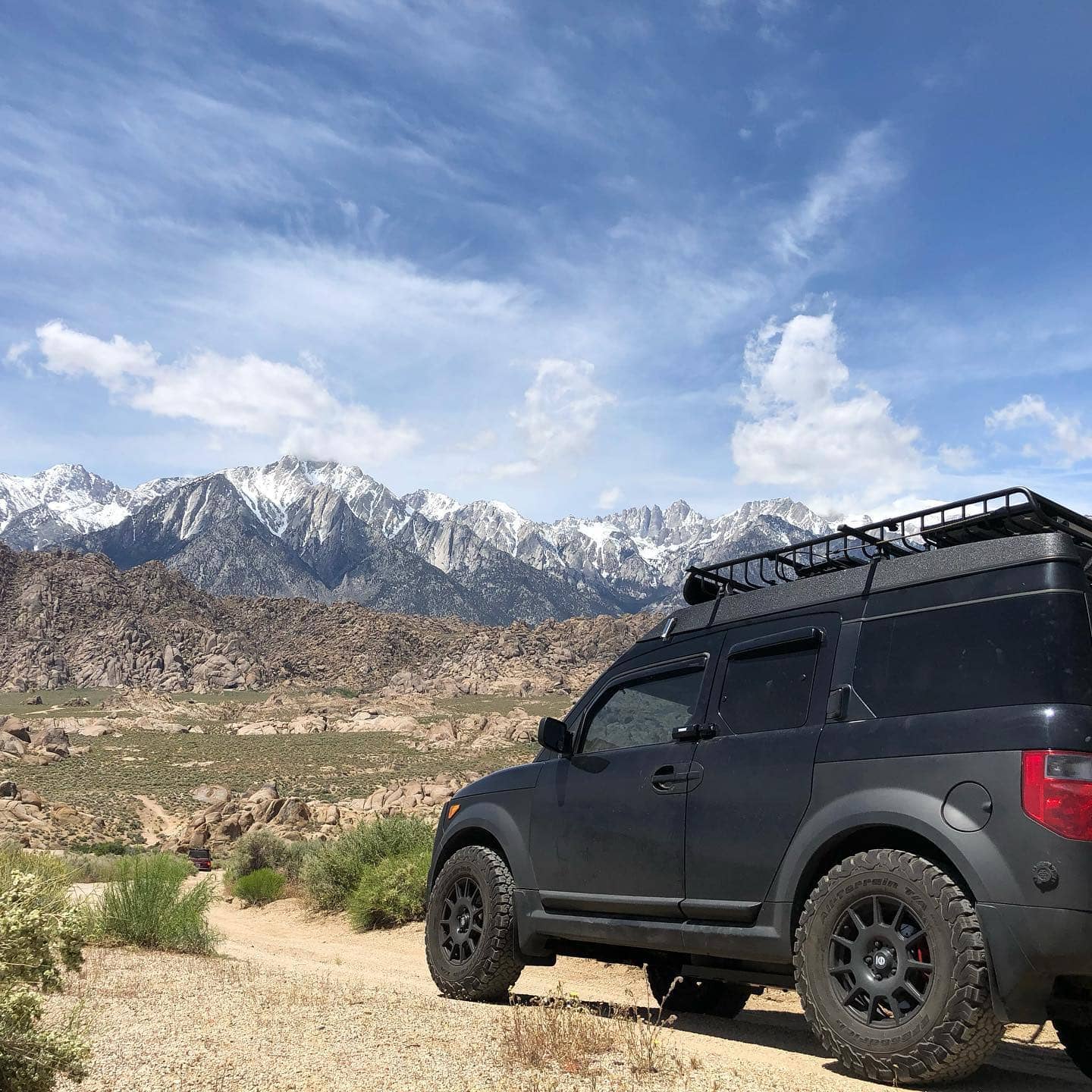 Related Parts & Mods
– Inspired by this Honda Element build and looking to prepare your own crossover for off-road adventures? Some parts used in this build were sourced from custom shops or custom made, but our team has put together a list of similar products and accessories available online that may help you to achieve similar results:
Lift Kit
Roof Rack
Roof Top Tent
Awning
LED Lights
Hitch
*Before ordering any part or accessory, it is recommended that you verify its fitment with a qualified professional and/or seller. We are not responsible for fitment or other issues that may arise from using the products featured on our website.
Stay tuned for more project reviews on Offroadium.com – Follow us on social media, and share this write-up if you enjoyed reading it!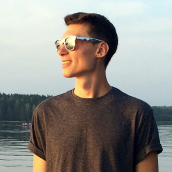 Matt Grabli
Matt brings over a decade of automotive expertise to his role as staff writer and editor at Offroadium.com. With an enduring passion for the off-road vehicles and adventures, he is devoted to creating interesting content that equips 4x4 enthusiasts with the knowledge to improve their rigs.