Lifted Nissan Rogue with Off-road Mods and 245/65R17 BFG Tires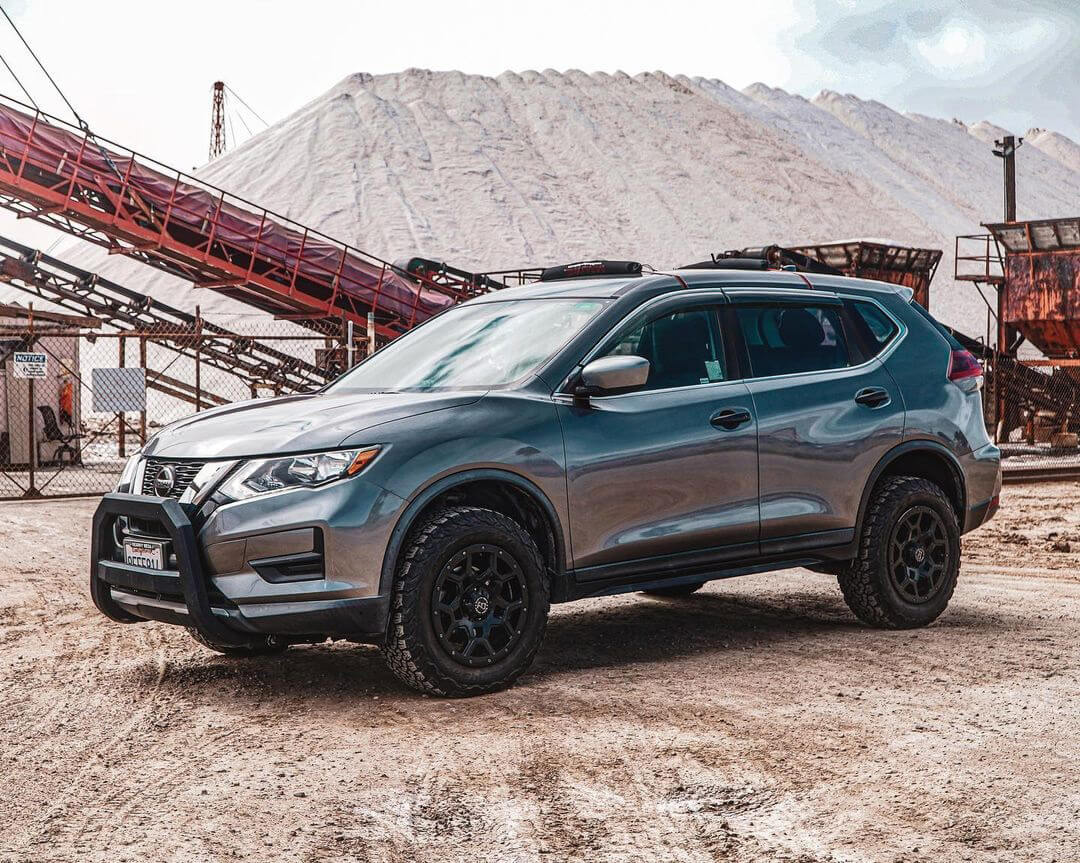 The 2nd gen Nissan Rogue, known outside the U.S. and Canada as the Nissan X-Trail T32, is a compact crossover SUV produced since 2014. Currently, it's the best-selling Nissan SUV model in the United States due to great ride quality, a long list of standard comfort and safety features, and a roomy interior.
This AWD crossover is powered by a 2.0-liter inline-4 engine paired with a CVT transmission, which provides smooth acceleration and surprisingly low fuel consumption. Even though we don't get to see modified Nissan Rogues often, this kind of vehicle is a perfect choice for work and play, especially if you tend to leave the paved streets often.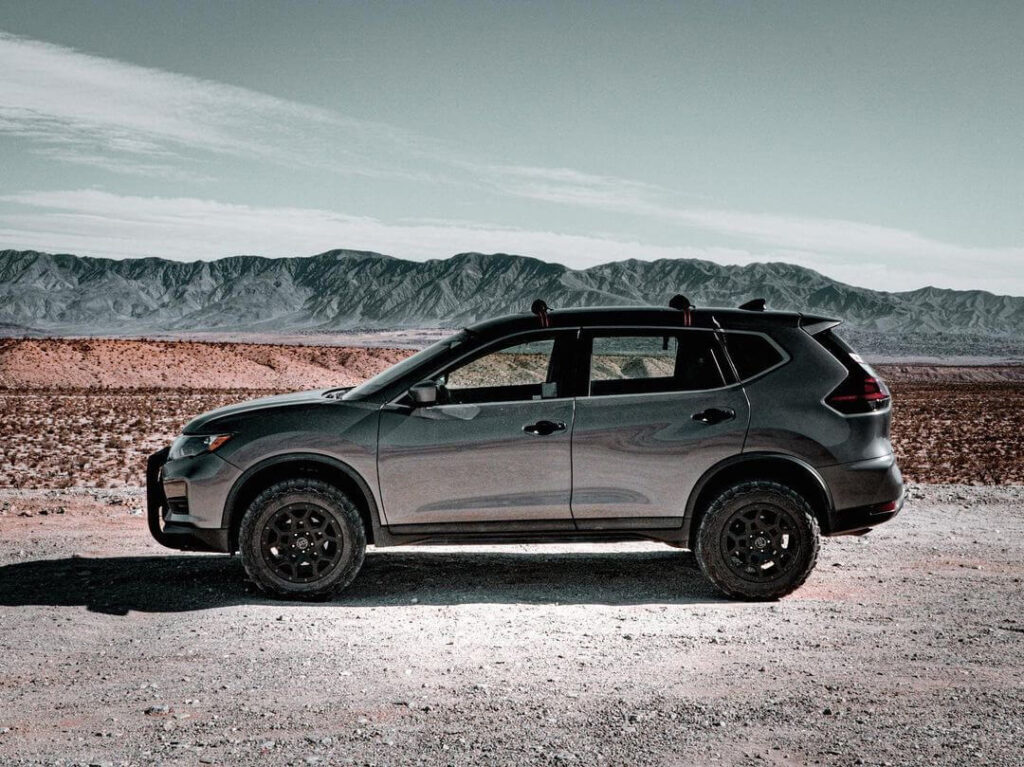 We spoke with the owner of the 2019 Nissan Rogue from San Diego, California. As a geologist, Stephen Quimpo was looking for a reliable, fuel-efficient vehicle that could take him to the job site and back in comfort. With a lifted suspension and a set of 17″ Overland Black Rhino Wheels, the Rogue is more than capable of tackling challenging terrains. Check out our interview with the owner of the "Rhino Rogue".
"As a geologist, Stephen Quimpo was looking for a reliable, fuel-efficient vehicle that could take him to the job site and back in comfort.
How did you become interested in off-roading?
– My job (geologist) requires me to go in backcountry trails to get to project sites.
What inspired you to choose this modification style?
– There's a very limited amount of aftermarket off-road parts for the Rogue so I usually choose what I can get. I try to keep things that serve a purpose and nothing for looks.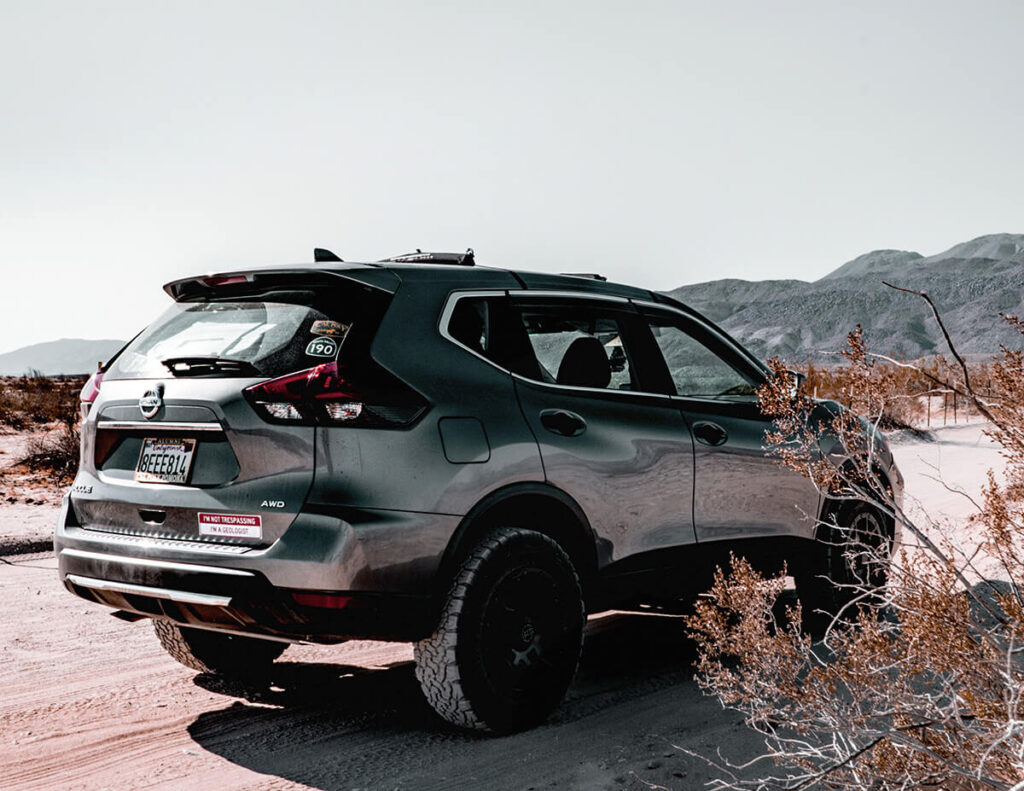 What challenges did you face while putting it together?
– The bull bar isn't built well nor does it fit well out of the box. A bit of fabrication was required and it really is only good to mount lights on.
What do you love about your vehicle?
– The gas mileage and just the fact you don't see many trail-capable Rogues.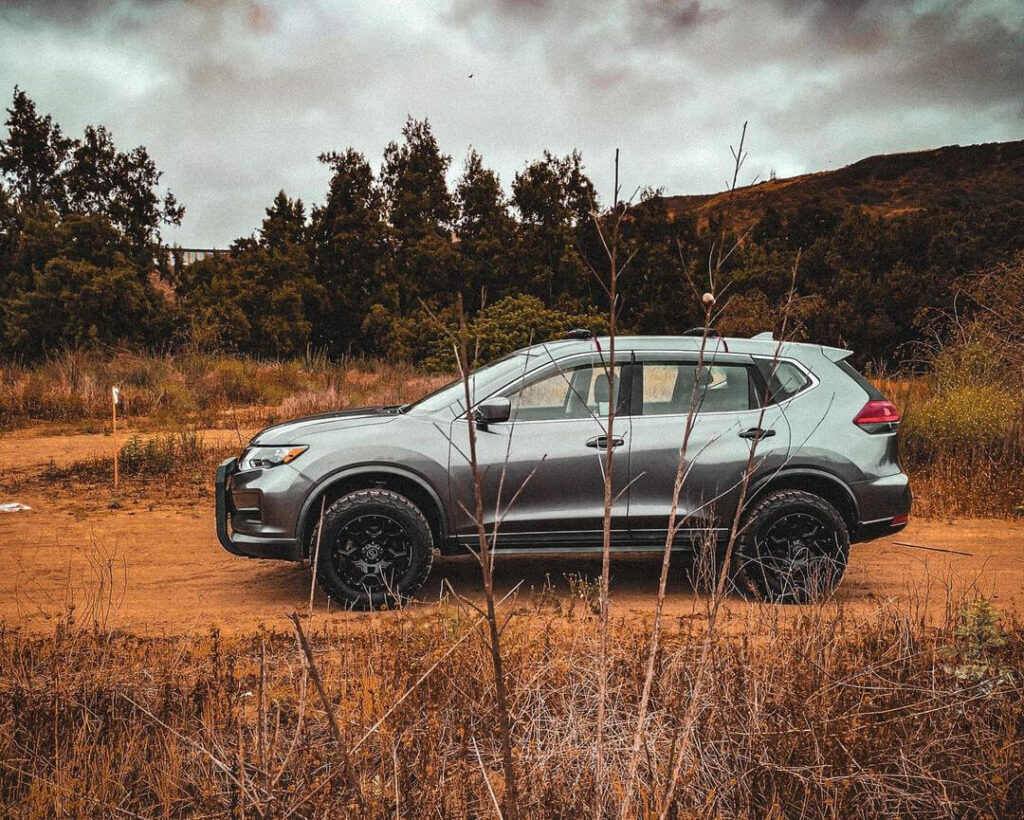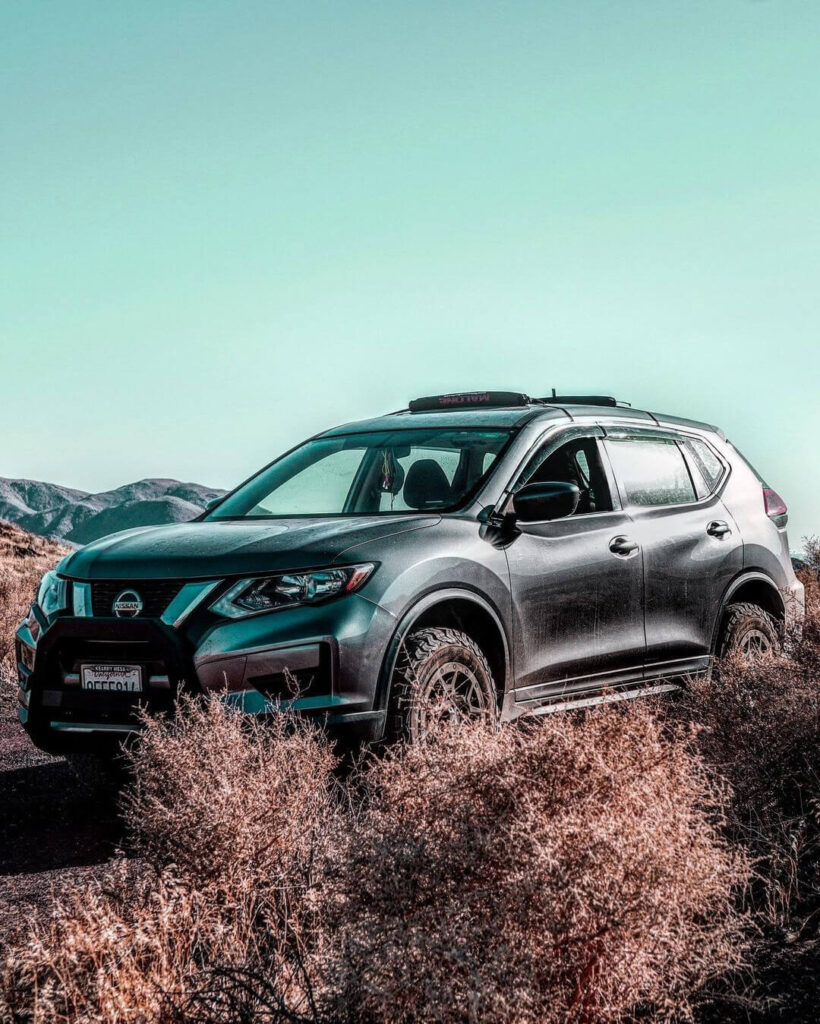 Is it your daily or a weekend ride?
– Daily and weekend
Where do you take it off-road?
– Anza Borrego at least once a month

2019 NISSAN ROGUE AWD – SPECS
Engine
– 2.0 L 4-cylinder (stock)
Lift
– 2" front and rear – ReadyLift kit
Wheel
– 17" Black Rhino overland rims
– 245/65/17 BF GOODRICH T/A KO2
Exterior mods
– Vanguard Off road-Bull bar
– WeatherTech window deflectors
– FCS soft surf rack (held together with husky ratchet straps)
What are your future plans for this vehicle?
– Add some ditch lights and maybe a true roof rack, but I like how jerry-rigged the car looks.
Anything else you would like to share about your vehicle or about off-roading in general?
– Keep your trails clean, don't be an asshole (in life and out off-roading).
Watch the progress and find out more about this Nissan Rogue project by visiting the Instagram profile of the owner: @Rhino_Rogue!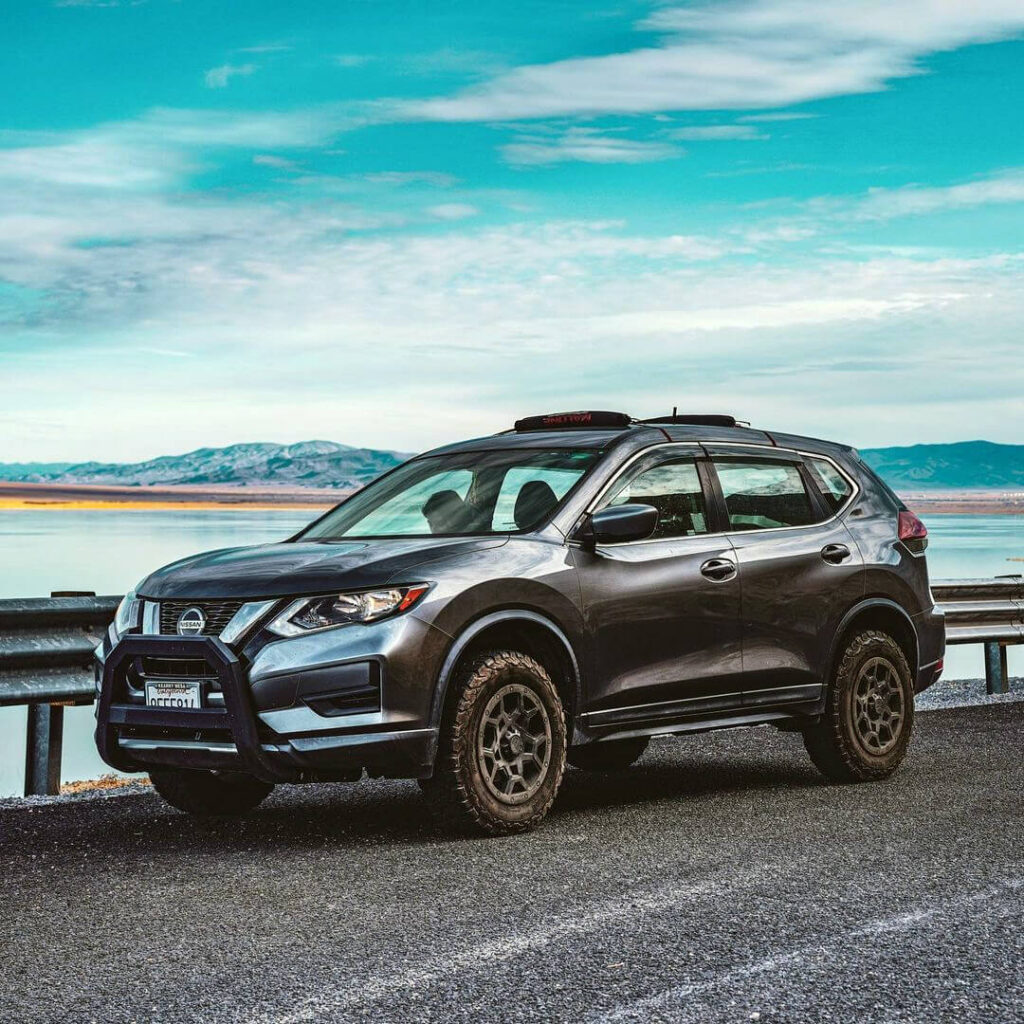 Related Parts & Mods
– Inspired by this Nissan Rogue build and looking to prepare your own crossover for off-road adventures? Some parts used on this vehicle were sourced from custom shops or custom made, but our team has put together a list of products and accessories available online that may help you to achieve similar results:
Lift Kit
or
Wheels
Bull Bar
Roof Rack
Roof Top Tent
*Before ordering any part or accessory, it is recommended that you verify its fitment with a qualified professional and/or seller. We are not responsible for fitment or other issues that may arise from using the products featured on our website.
Stay tuned for more project reviews on Offroadium.com – Follow us on social media, and share this write-up if you enjoyed reading it!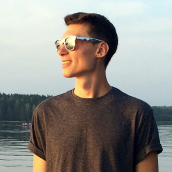 Matt Grabli
Matt brings over a decade of automotive expertise to his role as staff writer and editor at Offroadium.com. With an enduring passion for the off-road vehicles and adventures, he is devoted to creating interesting content that equips 4x4 enthusiasts with the knowledge to improve their rigs.