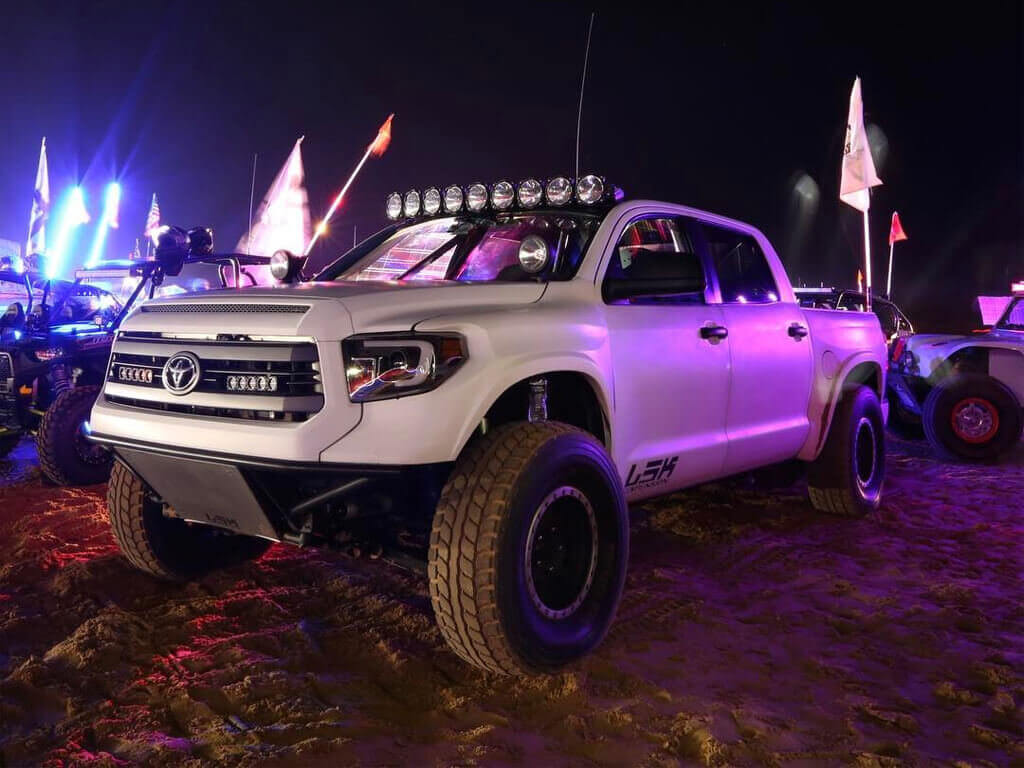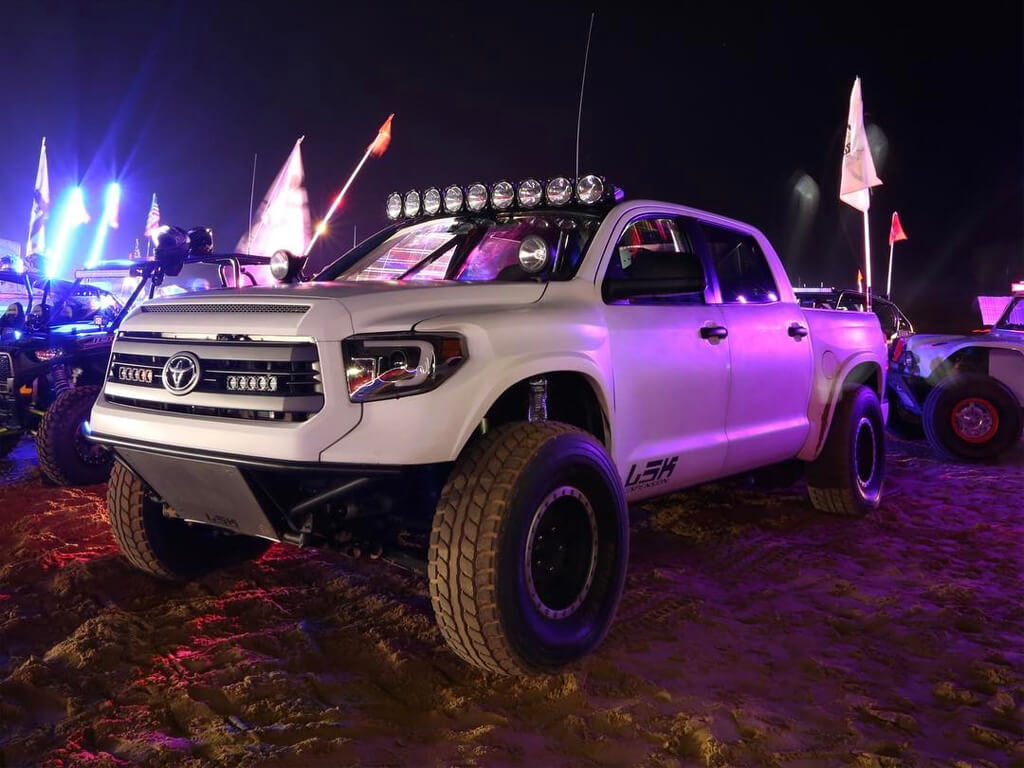 If you're into desert racing and looking to build a proper Toyota Tundra prerunner, but don't know where to start, sit back and read on, as we are about to share with you an ultimate recipe of a perfect desert rig. Of course, a bare theory is useless without real-world examples, and this is why we brought up this beefy long travel Tundra prerunner that perfectly illustrates the list of necessary modifications. The truck may look familiar to some of you, as it showed up on numerous desert events and popped up here and there on the Instagram feed. It is owned by Andy Smoot, who was kind enough to tell us a few words about this insane truck and share some pictures.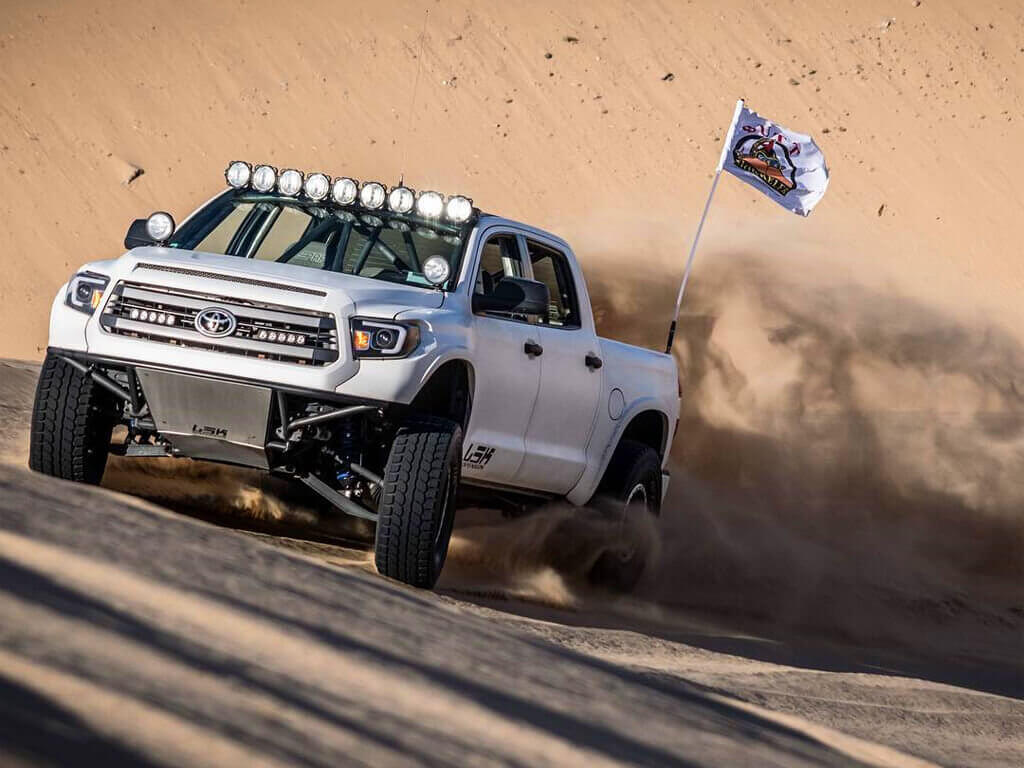 The Prerunner kitchen is not as simple as building a streetcar and requires much more knowledge from the chef to pick and combine all of the ingredients in the right way. As with any other dish, the most important step is choosing the base, because this can save you a lot of time and effort in the future. When we're looking to start a build, we often look at the old trucks in the classifieds, but they often require too many fixes and repairs to be reliable again. This mint 2014 Toyota Tundra appeared to be in a perfect shape all-around, so Andy decided to use it as a base for his new Prerunner project.
ENGINE
Being equipped with a 5.7L Force V8 motor, that gives out about 381 HP and 401 ft/lb of torque, this truck shows pretty decent performance on and off the road, but it wasn't enough for Andy's ambitious plans. He decided to outfit it with the famous TRD supercharger and boost up the power to impressive 504 HP and 550 ft/lb of torque.

LONG TRAVEL SUSPENSION
One of the most important elements of any pre runner truck is the suspension, and luckily, the aftermarket has got a couple of nice options to turn this truck into a real desert king. The white Tundra that you see on the pictures is equipped with LSK suspension components that provide impressive 16" of wheel travel and 1-inch longer wheelbase. Such a result was achieved with the help of LSK 4WD Bolt-on kit that consists of custom upper arms, lower arms, spindles, and steering. Proper damping and articulation are ensured by the King 8″ 2.5 coilovers and 8″ 3.0 bypasses. However, after some time of prerunning Andy decided to go even further, and swap it with a top of the line LSK Race Kit. It provides even better stability, suspension travel, and overall handling. This kit comes with custom upper arms, lower arms, spindles, shock tower/upper arm mounts, and steering. Instead of 8" coilovers, it now requires bigger 10″ Coilovers and 10″ Bypasses. Estimated suspension travel is 16"-17". The truck is currently at the shop, and except for the new front suspension, it's also getting a new engine cage. In case if you were wondering what is the cost of this setup, current MSRP on LSK Race kit is $4,500 and it doesn't include the coilovers.
REAR SUSPENSION
The rear suspension is represented by LSK 3 link setup with a panhard bar, King 14″ 2.5 coilovers and 16″ 3.5 bypasses.
Stock gearing and factory electronic LSD was ditched away in a favor of Nitro 4.88 gears and T10.5″ Toyota Auburn Pro Posi LSD that delivers uncompromised traction whenever it's needed.
WHEELS & TIRES
This long travel tundra prerunner is sitting wide on proper 37 inch BFGoodrich Projects and strong Method racing wheels.

WIDEBODY PANELS
Big suspension travel and 37" wheels require much more space in the wheel wells than factory components, so to get enough room to clear them, Andy installed the widebody fenders by Advanced Fiberglass (formerly known as Glassworks). The kit includes wide front fenders and extended rear bed sides. Roughly it costs about $1200 without painting and installation.
LIGHTS
To take care of visibility at night, the truck was equipped with a powerful roof mount Gravity LED Pro6 LED light bar by KC along with hood mount auxiliary lights. Factory Tundra headlights were also replaced with stylish aftermarket units. They feature bright C-shape LED DRL lightbars and black housing that looks exceptionally well on this white long travel tundra.
INTERIOR AND SAFETY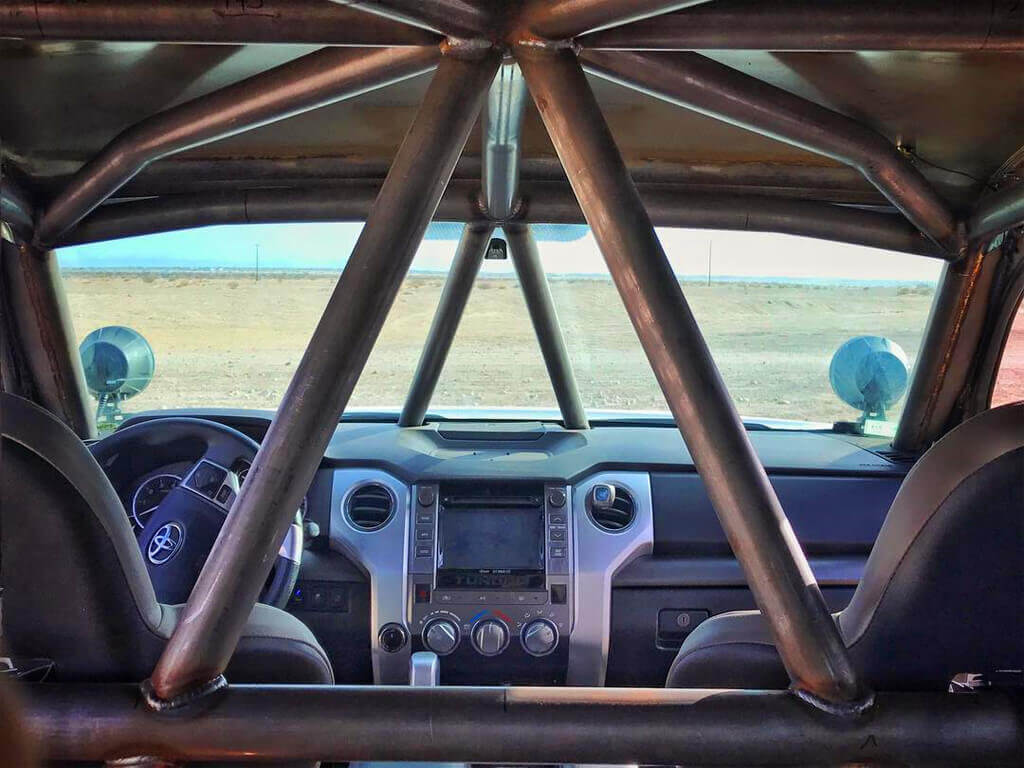 Since this Toyota Tundra prerunner is taken off-road quite often and being driven at the high speeds – safety measures couldn't have been overlooked. A full cab cage was installed along with a set of custom PRP race seats and harnesses. PCI radio and intercom top of the list of interior upgrades to ensure reliable communication with a crew when Andy is out there wheeling.
It looks like we've covered pretty much all modifications made to the truck, however as we all know there is always a room for improvement. If you want to build the same truck, just follow Andy's example and use the pars that he successfully installed on his own truck.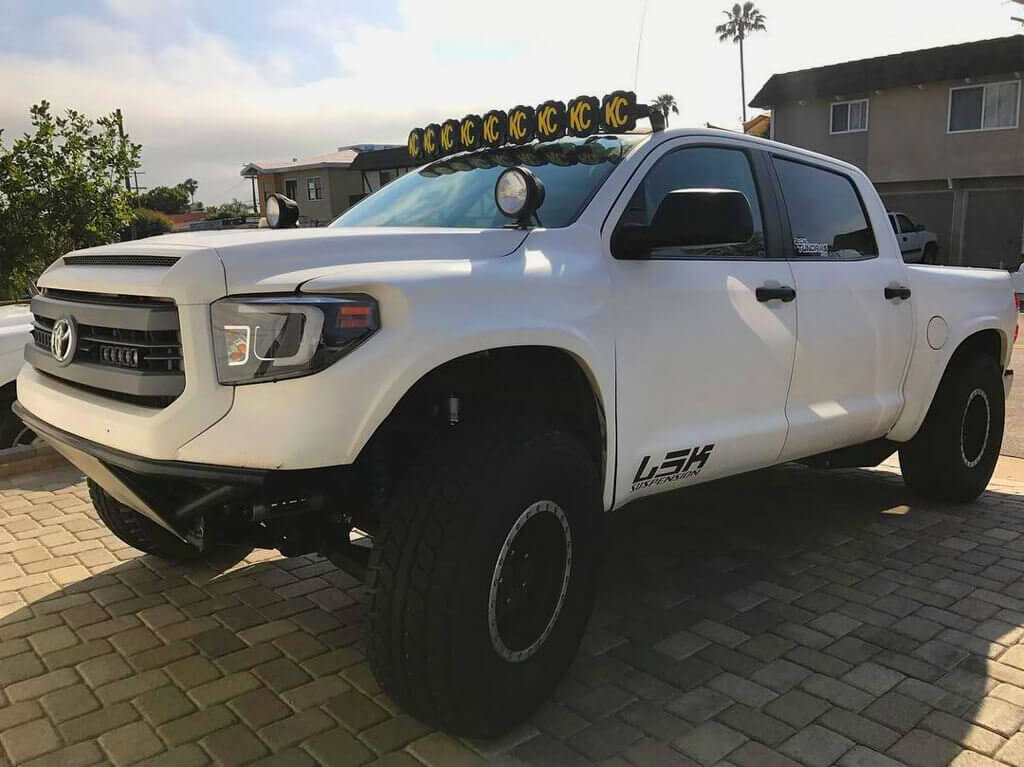 Toyota Tundra is a perfect base for a prerunner project thanks to its firm body on frame construction, powerful engine and availability of custom suspension solutions for any budget. You don't have to develop your own parts in CAD and fabricate them in your garage. Just go there, get the race proven components and enjoy driving. If you have the knowledge, tools, space and a spare time to install the parts by yourself, it will save you a lot of cash on labor, otherwise, visit your local off-road shop and have experienced specialists install everything for you. Regardless of which way you choose, you will meet a lot of awesome people and spend some good quality time.
Andy wants to thank LSK, Downsouth Motorsports, KC highlights, Rogue Offroad and SoCal Tundras for the help and support on his Toyota Tundra prerunner project.