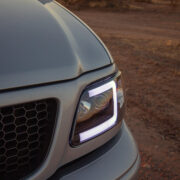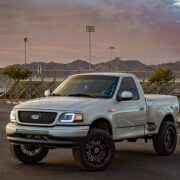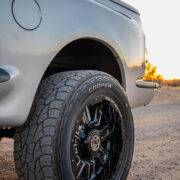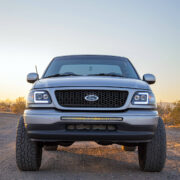 View Gallery
The Ford F-150 is known to be the best-selling vehicle in the U.S. of all times. And there are many good reasons for that. Ford has been building trucks for over a century now. After WWII, Ford came up with a line of pickup trucks that were easy to work on and easy to fix with common tools and called it the F-Series. A versatile, reliable, and powerful truck became one of the symbols of freedom for the American people. Since 1948, fourteen generations of these full-size trucks have been introduced.
We've met with Corey Smith, a young man from Phoenix, Arizona, the proud owner of the 2-door 2002 Ford F-150. The truck has been in his family for almost two decades, which is why his desire to maintain, upgrade and improve it is very relatable. Back in the day, the tenth-generation Ford F-150 Lightning was the fastest production pickup truck in the world, and Corey has gone to great lengths to unlock the full potential of his pride and joy to outperform it with his 4.6L engine. He made sure to transform it in and out to bump up the performance and make the truck stand out in the crowd.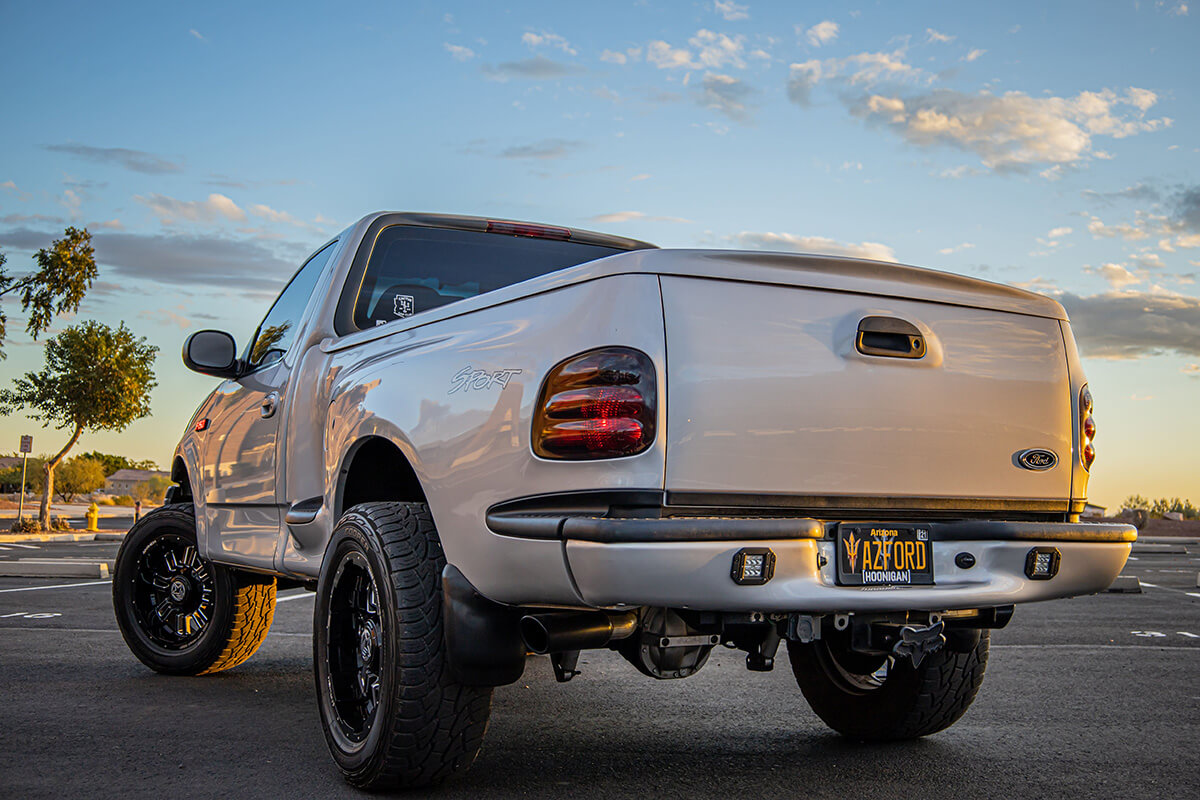 A supercharged and upgraded engine, lifted suspension, custom interior, and exterior elements – this is just a taste of what was done to this overpowered grocery getter. Even though Corey is not into off-roading right now, he knows that his truck can do it all – take him anywhere, tow or haul a heavy load, but most of all, it can leave most modern trucks in the dust on the street.
"A supercharged and upgraded engine, lifted suspension, custom interior, and exterior elements – this is just a taste of what was done to this truck"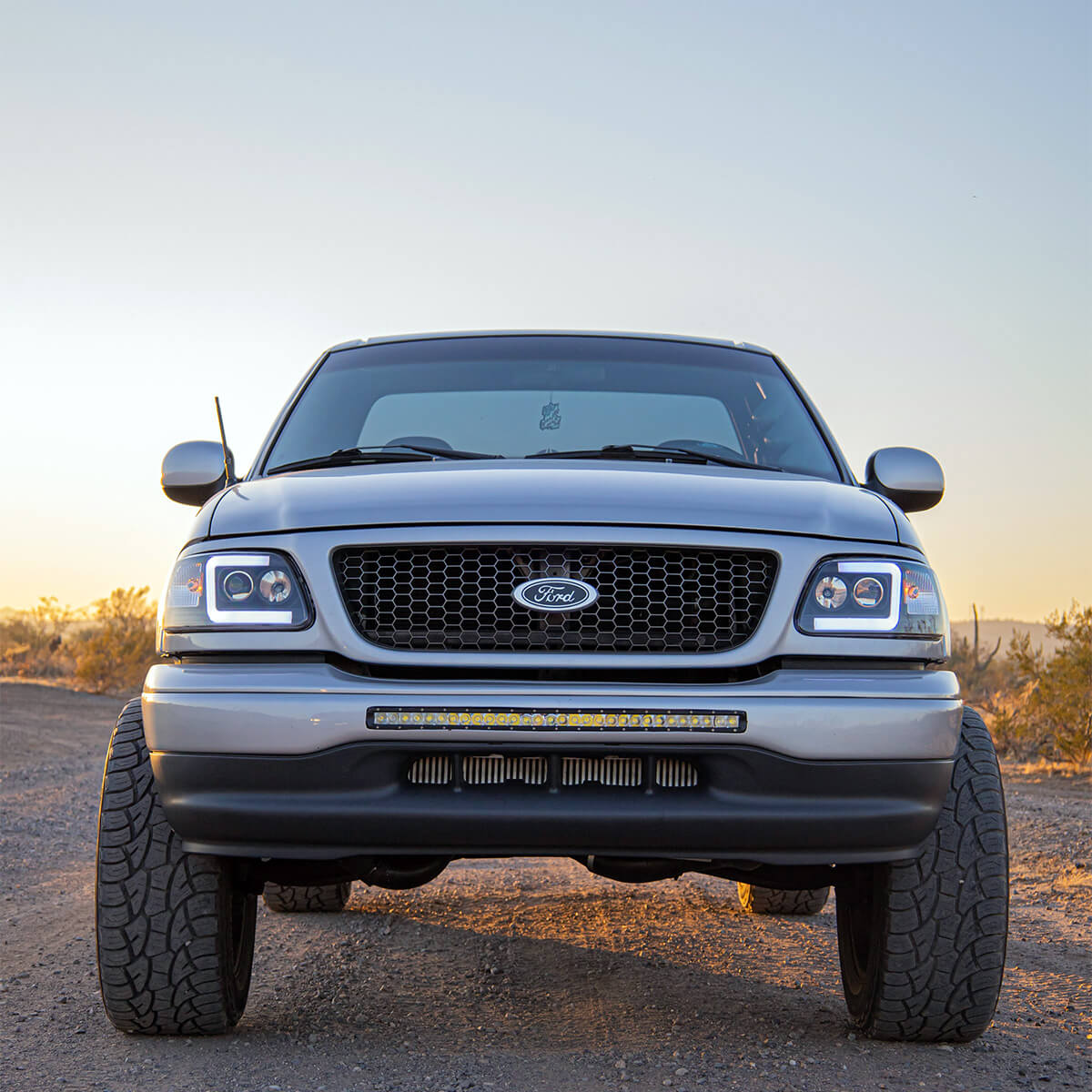 Why did you choose this particular model for your project?
– The truck has been in my family as a work vehicle since nearly new. About a year before I got my driver's license the transmission blew on it so my parents decided to keep it and give it to me as my first vehicle. I've always loved the truck and have been slowly modifying it to where it is now.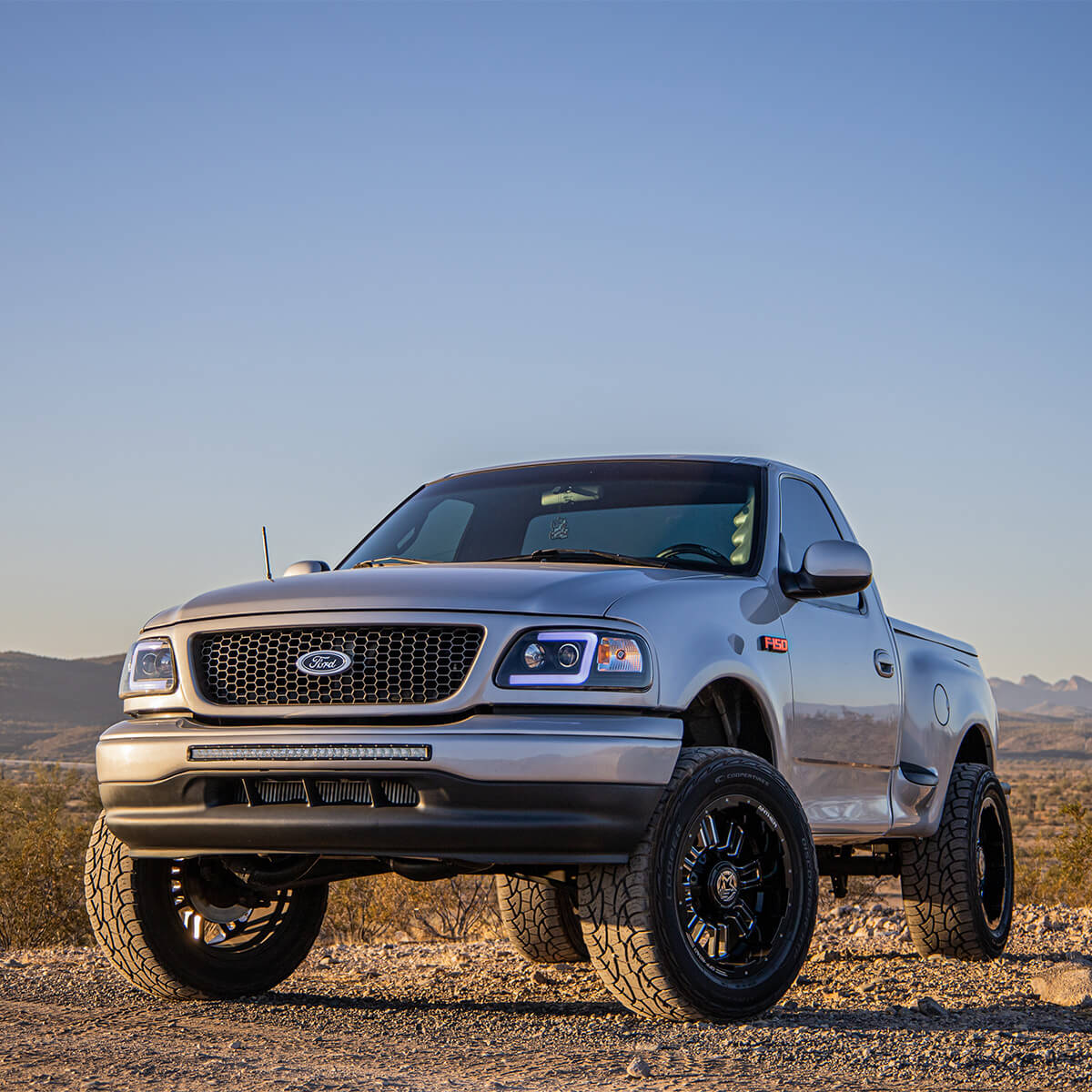 What inspired you to choose this modification style?
– The majority of 10th gen Ford F-150s, other than Lightnings, are fairly rough so seeing a nice one is rare. I love having super unique cars so modifying a 10th gen seemed like the perfect choice. I also chose to lift the truck because a lot of the single cab stepside F150s are lowered, so I wanted to stick with doing something different.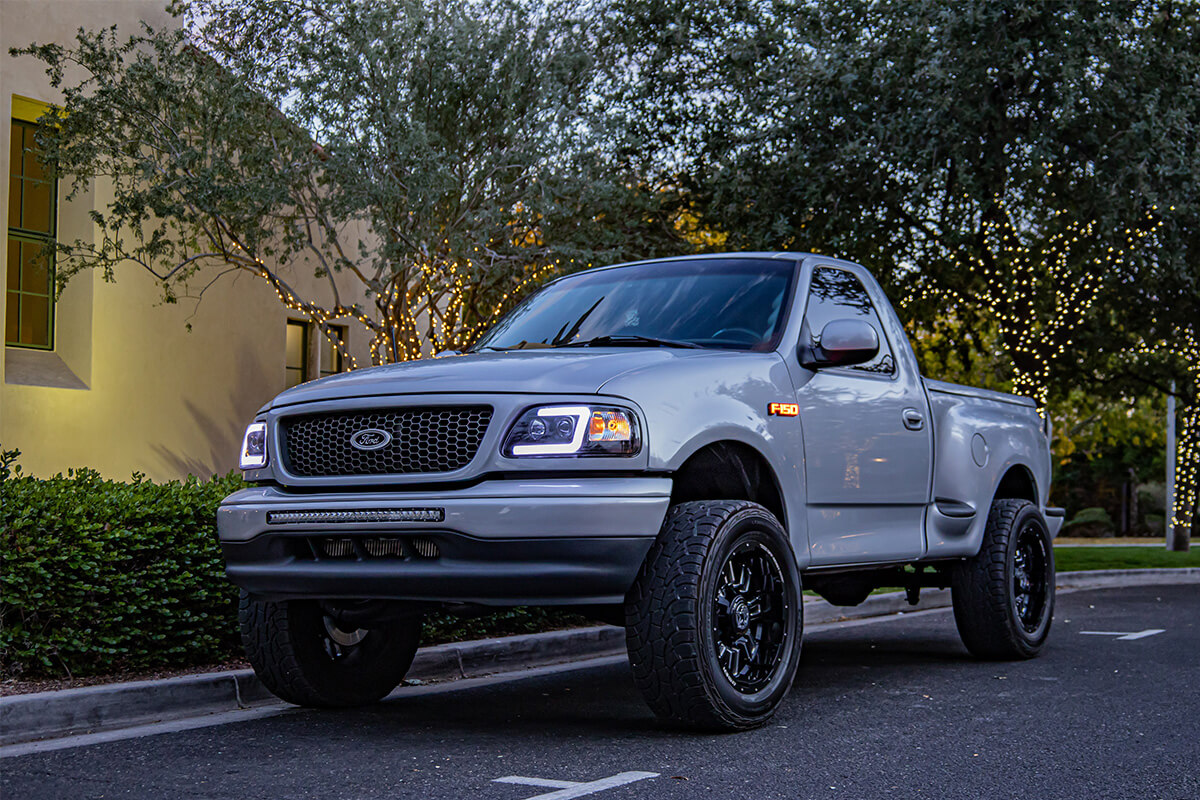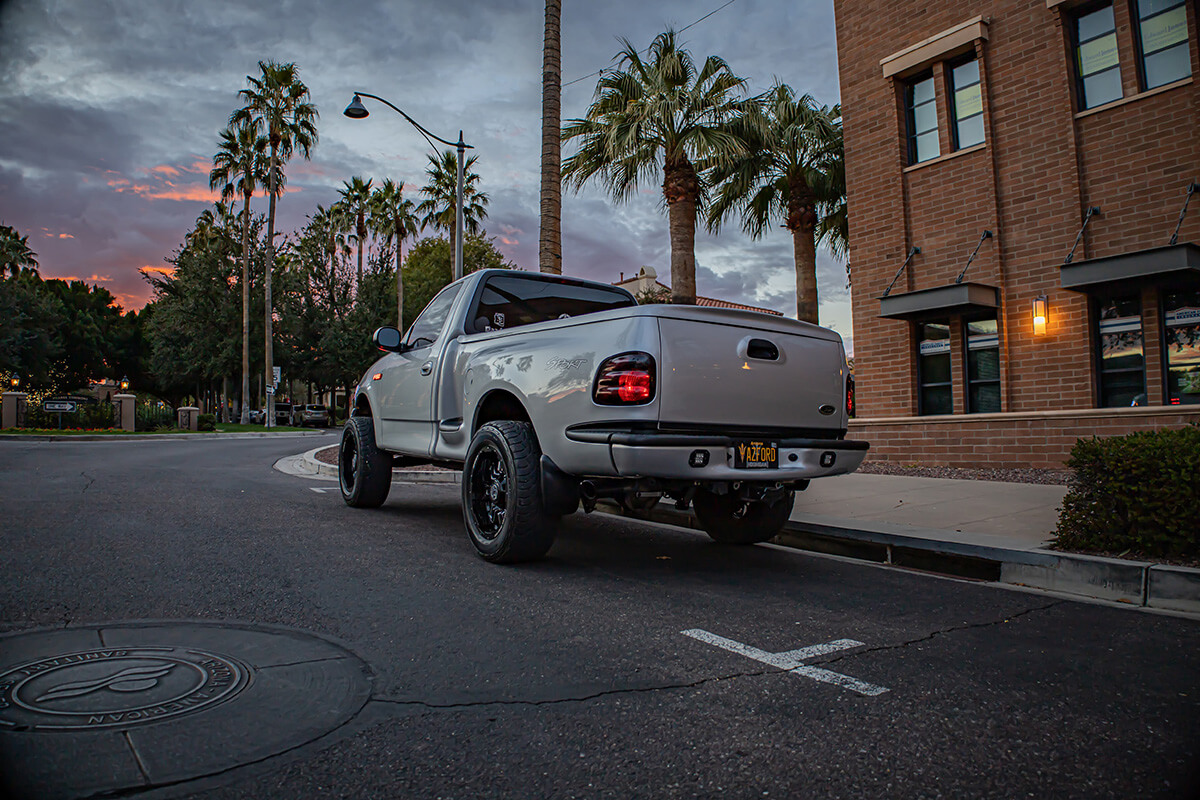 What challenges did you face while putting it together?
– The main challenge was parts availability. Not many people modify 10th gen F150s anymore so finding aftermarket parts can be hard to come by.
What do you love about your vehicle?
– While I do love the current engine setup and the overall styling, my favorite part about the truck is how unique it is. I take it to shows/meets almost once a week and there is never anything else like it.
Is it your daily or a weekend ride?
– Definitely just a weekend ride, I have a Volvo c30 that I use as a daily.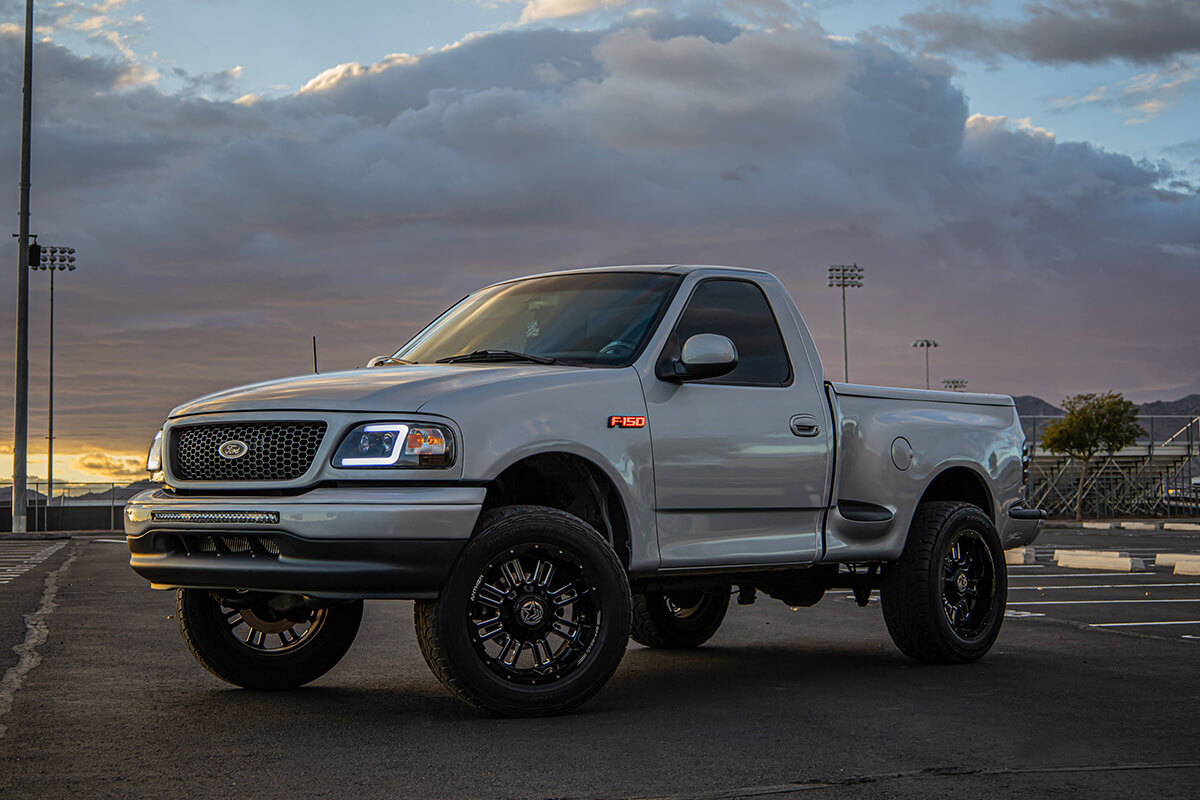 SPECS – 2002 FORD F-150
Engine specs, modifications
500 WHP at 10 psi of boost
– 4.6L V8 2v
– P-1SC Procharger (custom dual blow off valves)
– Forged internals (Manley Rods & Icon Pistons)
– Stage 3 Comp Cams
– JBA Silver Ceramic Headers
– Custom dual exit exhaust with JEGs electric cutouts after headers
– Mishimoto Radiator
– MAFIA maf Programmer
– 60lb Injectors
– Walbro Fuel Pump
– SCT Flash Programmer
– Fully Built Transmission
– Built Rear-end & Drivetrain with 4.10 Gears
Lift height and suspension modifications
– Custom lift kit (Roughly 5 inch height gain)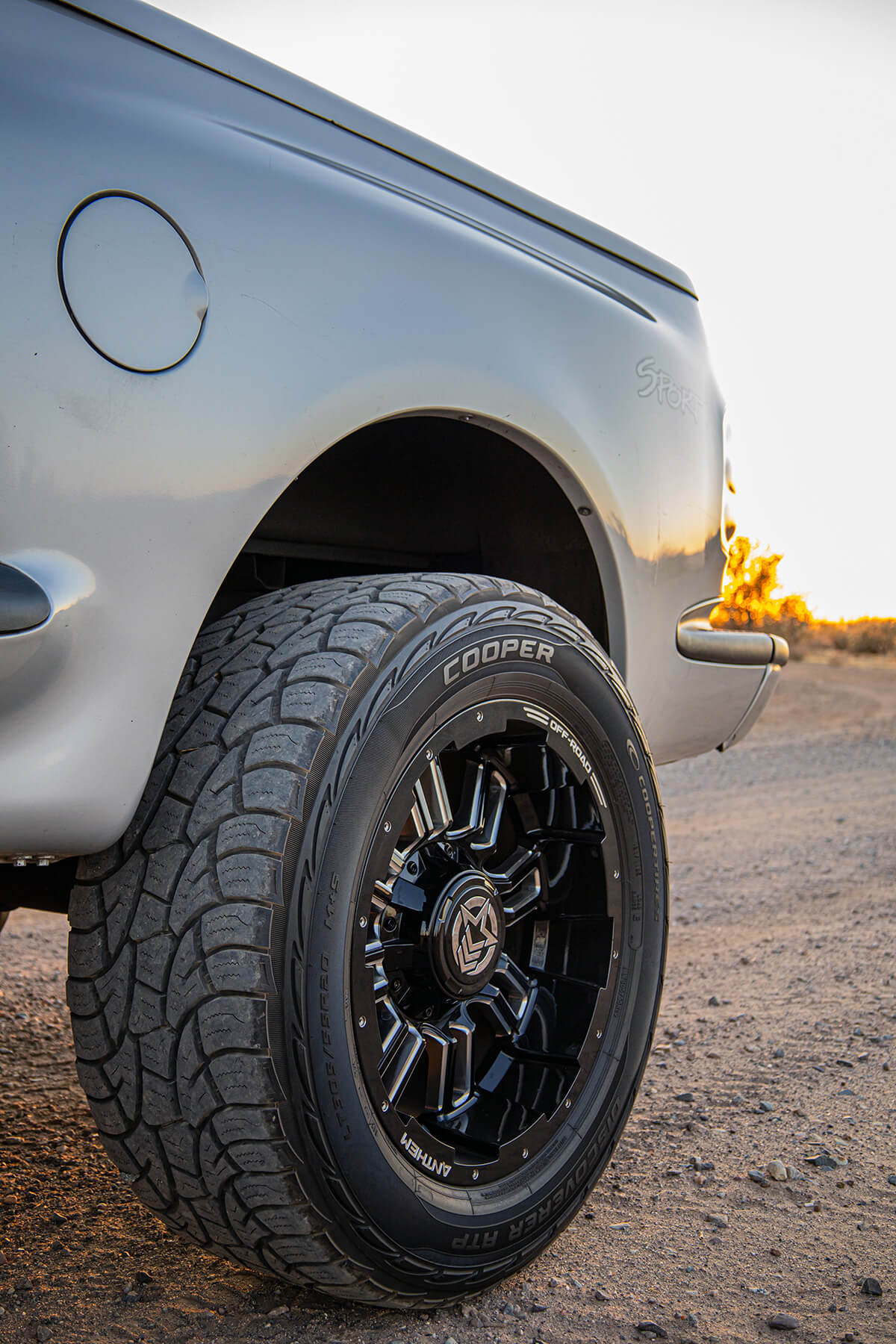 Wheel specs
– 20×10 Gloss Black Anthem Enforcers
– 305/55R20 Cooper Discoverer ATPs
Exterior mods
– SpyderAuto headlights
– Gorecon F-150 LED badges
– Custom taillights
– Custom made front and back bumper lighting
– Black Ford Badges
– Tonneau Cover
– F150 Badge Delete (Tailgate)
– Gorecon antenna
– Tint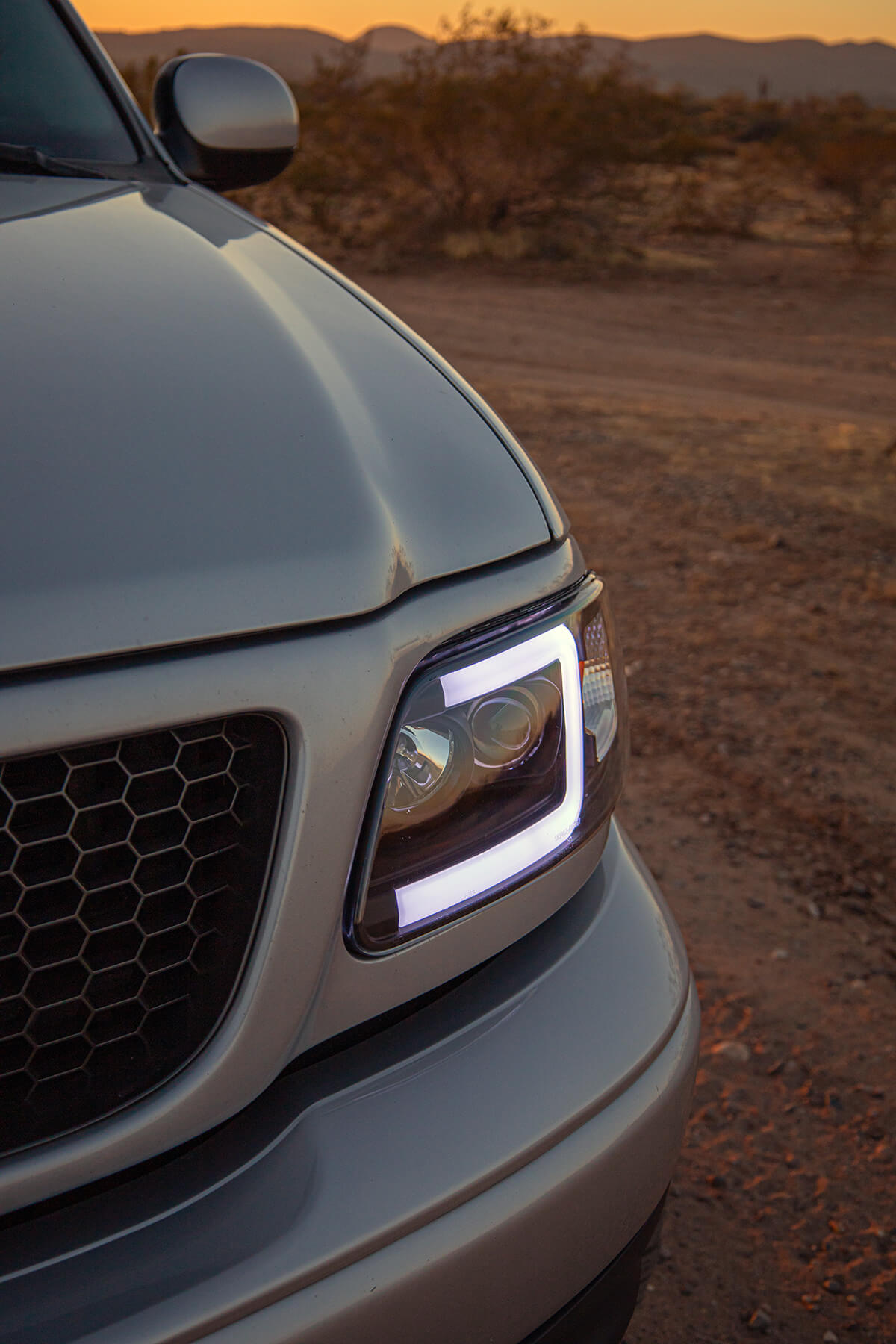 Interior mods
– Glowshift Pillar Guages (Boost Guage, A/F Guage, Transmission Temperature Guage)
– JVC Head Unit
– Full Rockford Fosgate Soundsystem (4 speakers and 2 10 inch subs with 1000W 4 channel amp)
What are your future plans for this vehicle?
– Future plans are to get some fresh paint on the truck and increase the power even more.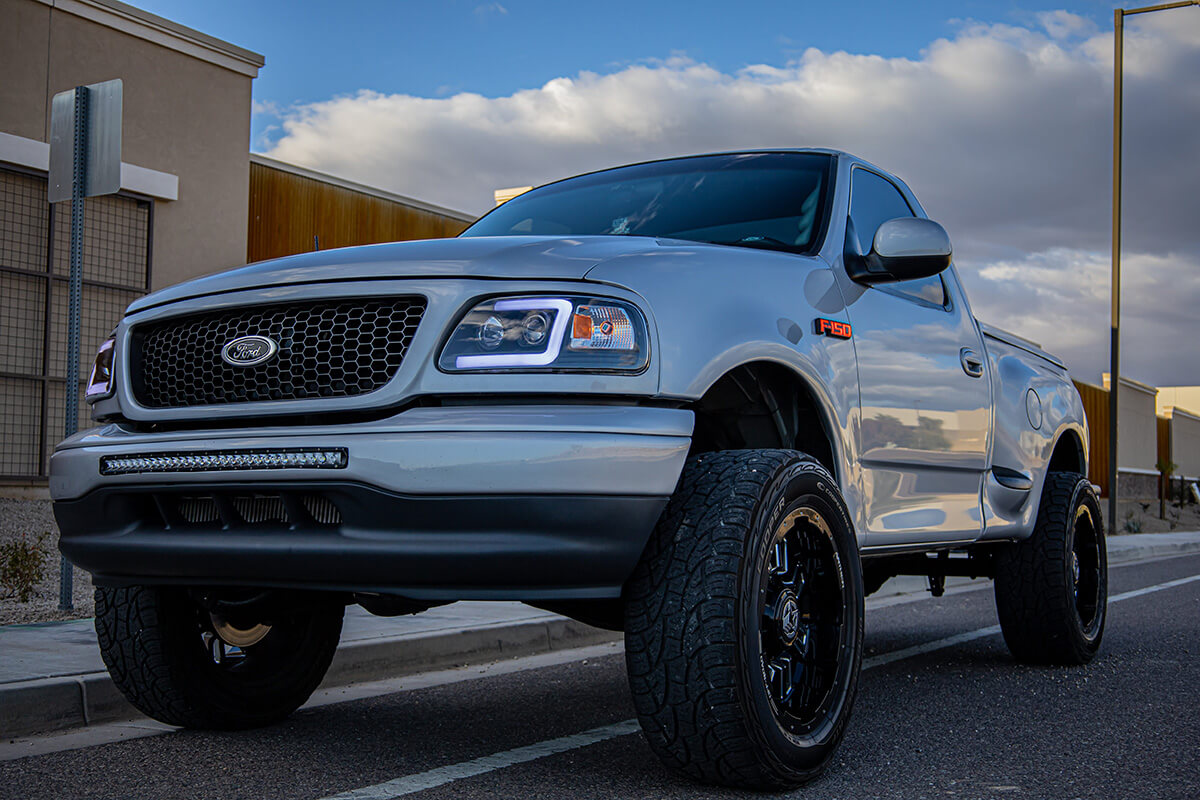 Watch the progress and find out more about this Ford F-150 project by visiting the Instagram profile of the owner: @az.ford!
Stay tuned for more project reviews on Offroadium.com – Follow us on social media, and share this write up if you enjoyed reading it!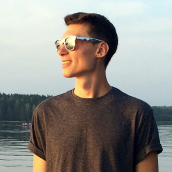 Matt Grabli
Matt brings over a decade of automotive expertise to his role as staff writer and editor at Offroadium.com. With an enduring passion for the off-road vehicles and adventures, he is devoted to creating interesting content that equips 4x4 enthusiasts with the knowledge to improve their rigs.