Stylish Mazda CX30 With Subtle Mods And A/T Off-road Wheels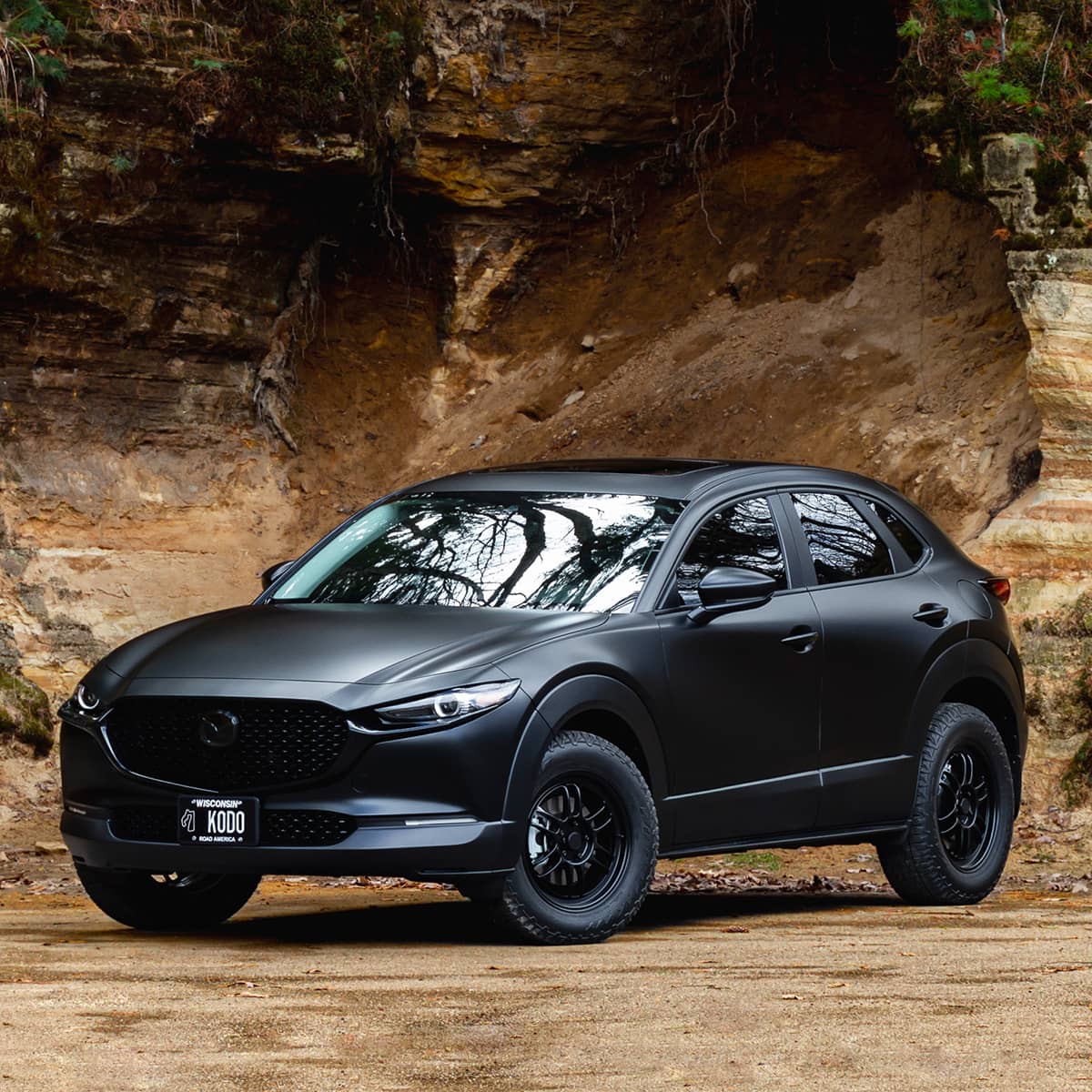 It's not your typical overland-stylized crossover bristling with tactical gear and add-ons. There are no ominous snorkels, no rooftop tents, or winches. Instead, it radiates an aura of sophistication and finesse, infused with a latent readiness to take on the untamed. Yes, we are talking about the Mazda CX30, affectionately named "Kuro" by its owner, which translates from Japanese as "black".
A vehicle that straddles the subtle line between a sport compact and an off-road capable subcompact crossover, this CX30 is a stunner that couldn't be overlooked, demanding to be featured on Offroadium.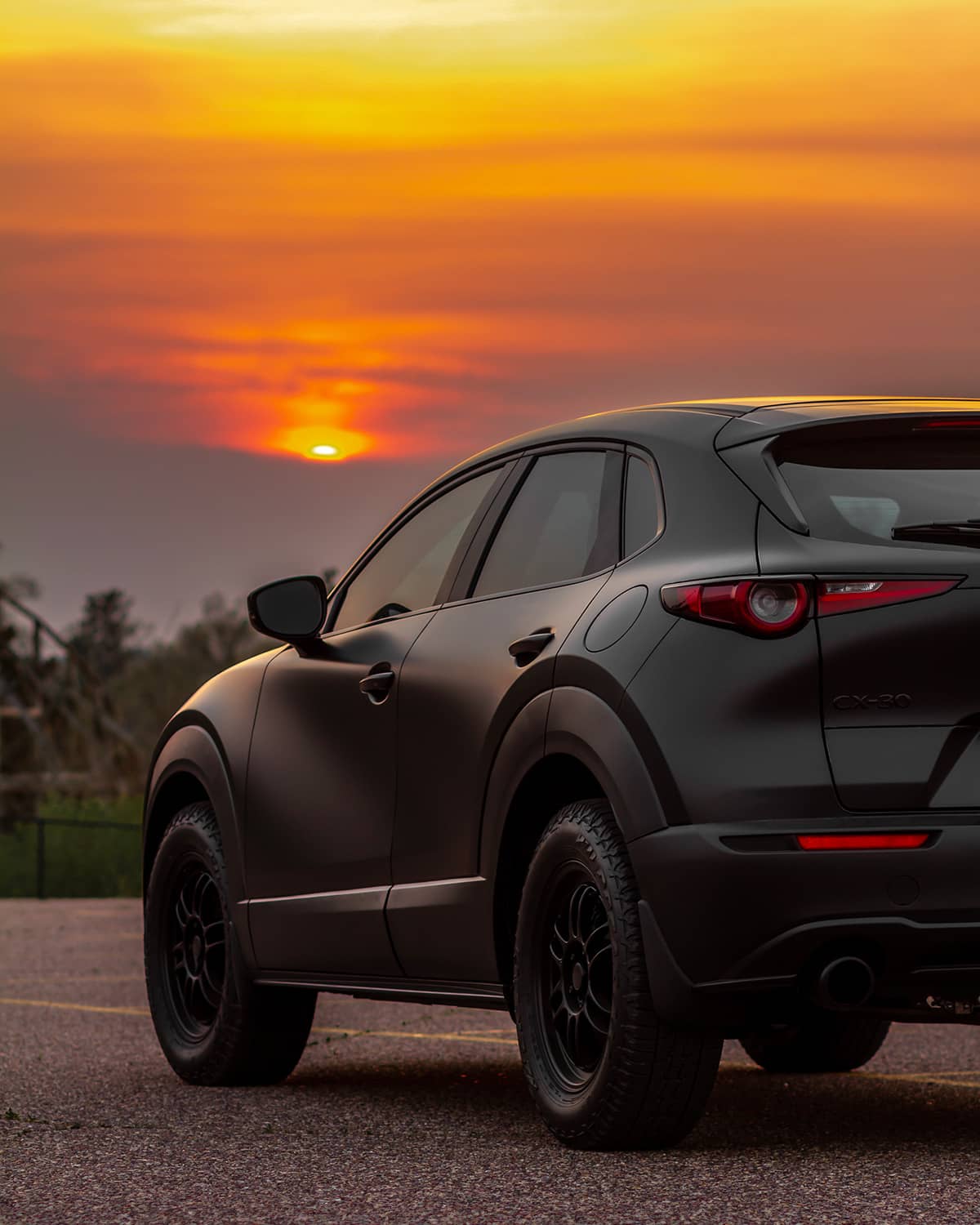 While not explicitly off-road centered, this CX30 doesn't shy away from making its presence felt amongst the lifted beasts featured on our site. Its Falken Wildpeak A/T tires, imposing yet not brutishly aggressive, lend it a newfound versatility and off-road prowess. These beefy tires elevate it from an urban compact utility vehicle (CUV) into a more capable adventurer, opening up new paths off the paved roads.
""Kodo is the design language used by Mazda to develop their current model line-up. It's based on three design principles:

Yohaku – The beauty of empty space
Sori – Curves with poise and balance
Utsoroi – The play of light and shadow" – Mazda.Co.Nz".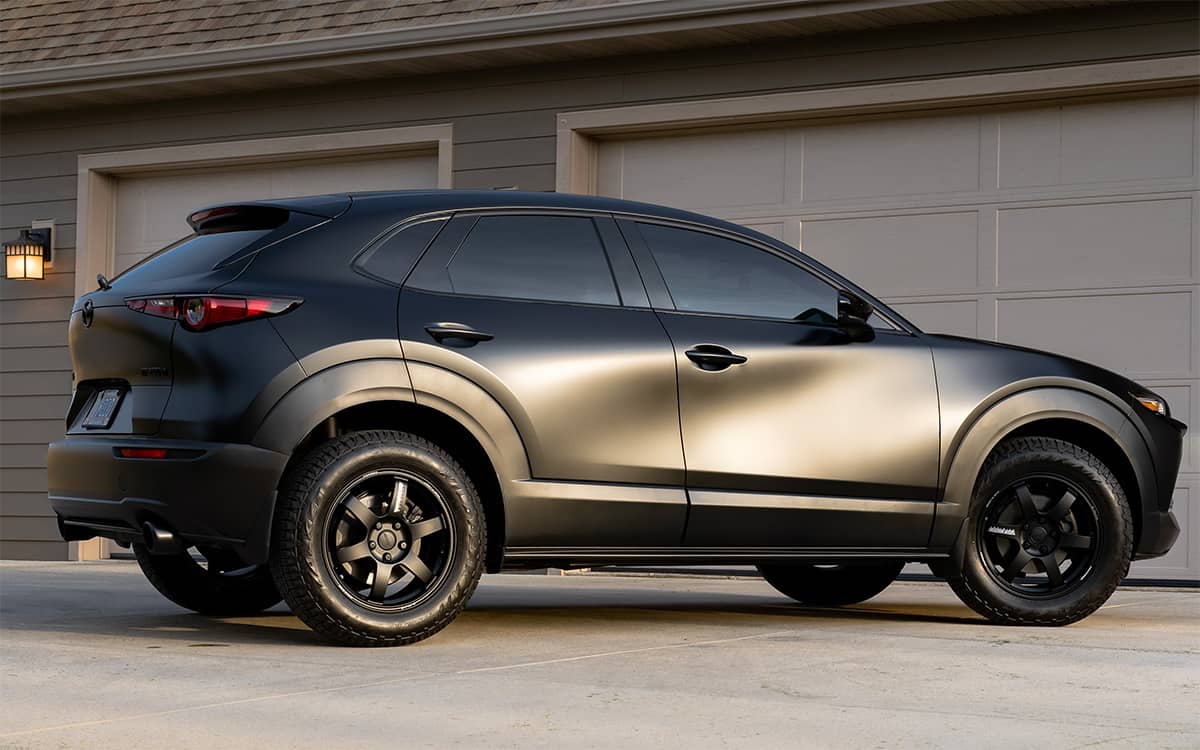 When taking a closer look at this vehicle, you can't help but admire how the three principles of the Japanese KODO design have been embodied in this Mazda CX30. Reflecting the concept of "Yohaku – The beauty of empty space", the subtle custom exterior modifications exude a sense of zen-like tranquility. The chrome and roof rail delete, coupled with the badge removal, create a refined and clean look that soothes the eyes, yet teases the imagination. The matte black coating enhances the feeling of "Utsoroi – The play of light and shadow", creating a mesmerizing play of contrasts. And the crowning touch? "Sori" – or "Curves with poise and balance", manifests in the amalgamation of edgy body lines and the beefy, yet not too aggressive wheel setup.
"When taking a closer look at this vehicle, you can't help but admire how the three principles of the Japanese KODO design have been embodied in this Mazda CX30".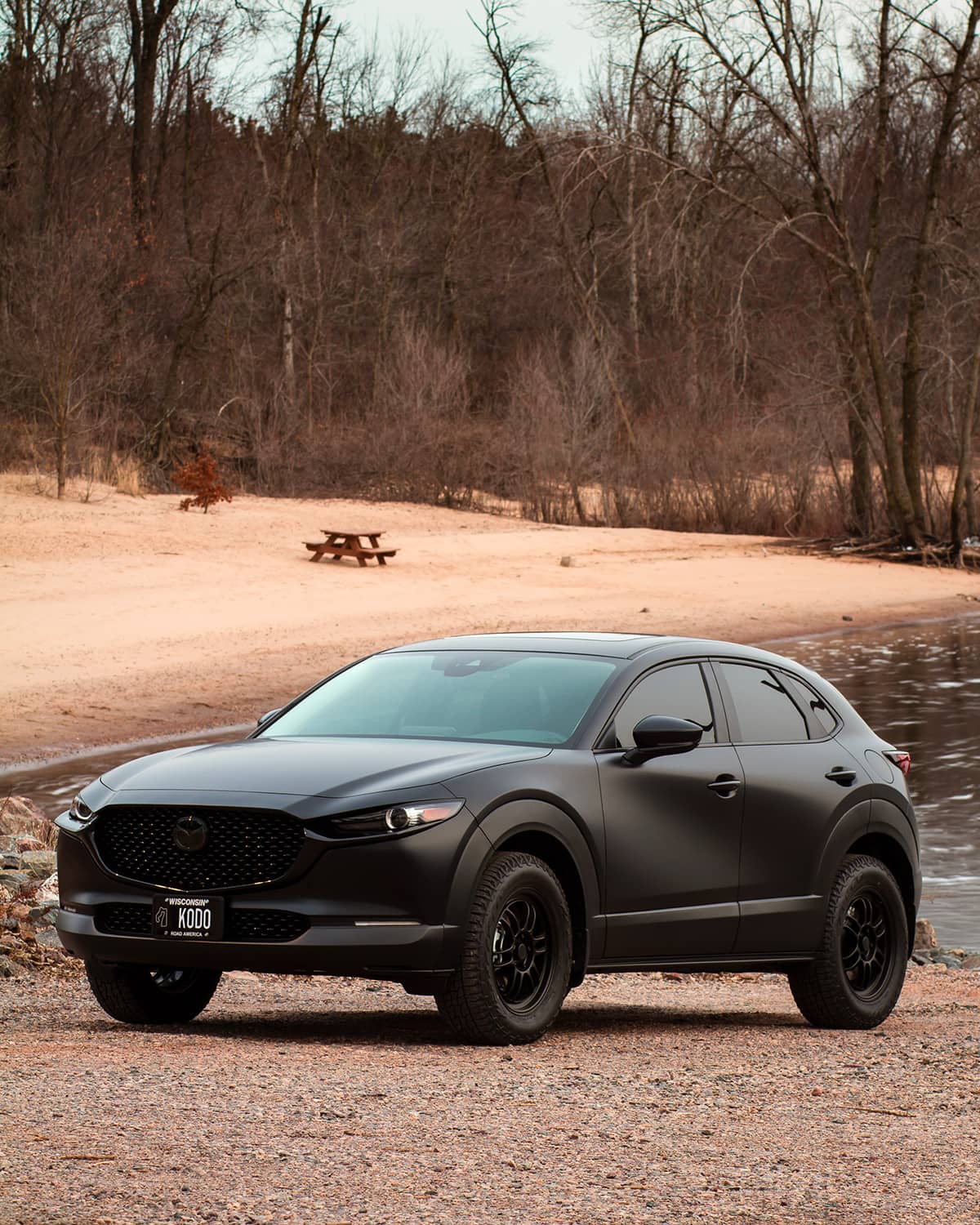 A closer inspection reveals the thoughtful modifications that blend in so effortlessly with the Mazda's inherent design. Every modification seems calculated, never overshadowing the KODO design but rather augmenting it. The XPEL Stealth Paint Protection Film (PPF) melds with the Jet Black Mica color, creating a stealthy, sleek look while protecting the paintwork.
"A closer inspection reveals the thoughtful modifications that blend in so effortlessly with the Mazda's inherent design".
The application of the same clear PPF on the headlights keeps them clear and scratch-free, maintaining the car's dashing good looks (seriously, everyone fan of the off-roading should consider it). Furthermore, the lower grill mesh inserts add a touch of aggressive design, and the meticulously painted brake calipers add a dash of color, all the while keeping the aesthetics high.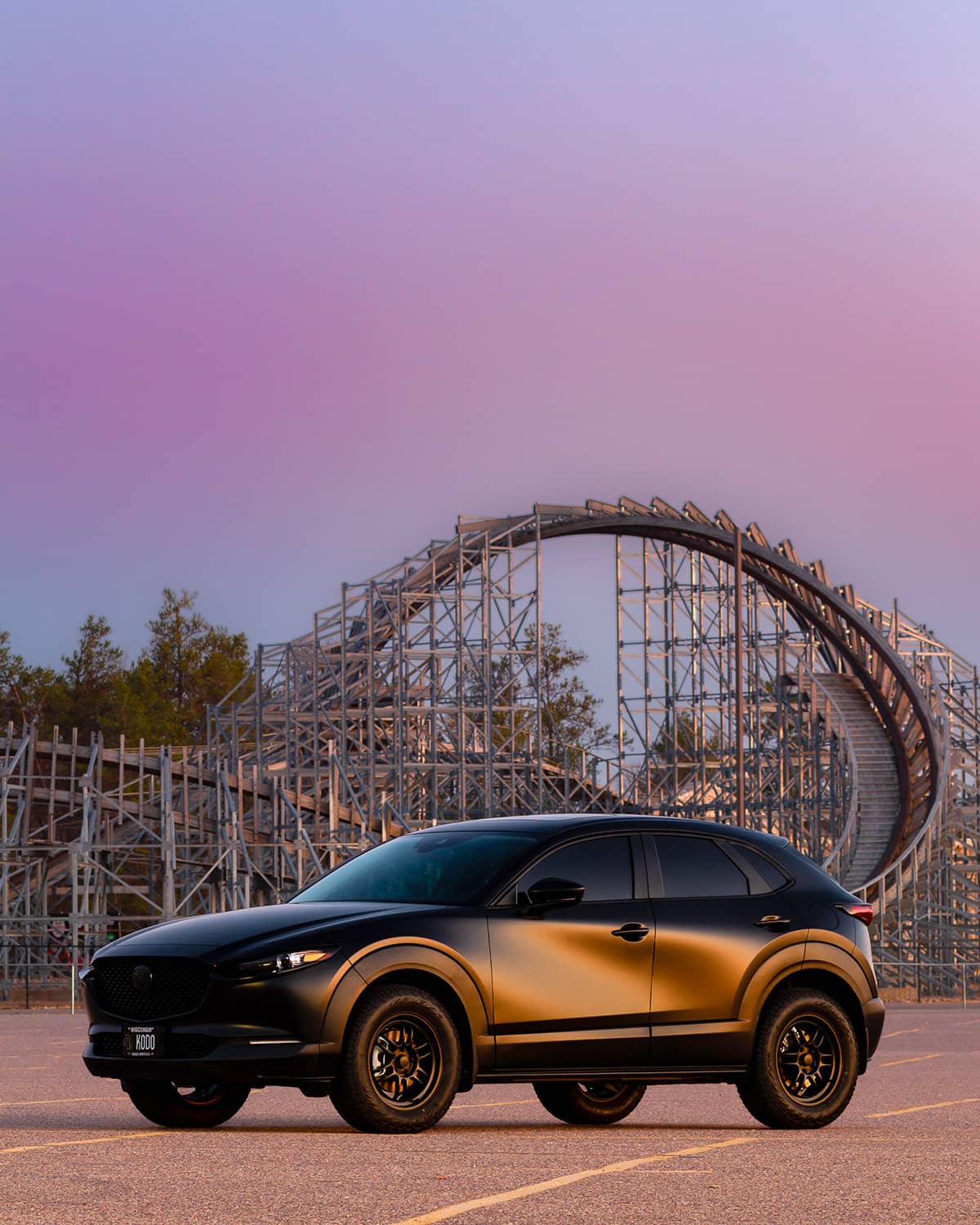 These aren't just aesthetic upgrades. The Falken Wildpeaks, known for their excellent off-road traction, make this Mazda CX30 capable of handling the rough stuff. Paired with the custom axle-back exhaust and its Dual Street Flow single-chamber mufflers, this CX30 isn't just ready to explore new terrains; it's ready to announce its arrival with a growl.
Questions & Answers
Why did you choose a CX30 for your project?
– FWIW, I have no ties or sponsors to any brand so there is no bias in my responses…Not entirely interesting but my background with vehicles that I have owned have been mostly compacts through the years… Plymouth Sundance, Dodge Shadow, Dodge Daytona Turbo and Dodge Neon R/T. I had a fascination with smaller cars that were faster than they appeared, even though I never really owned one, but the spirit was still there. Most recently I owned a '13 Jeep Wrangler Unlimited Sahara and fell in love with it's capabilities to go reasonably anywhere. My nephew was turning 16 and also loved it so that ended up going to him and me looking for something new.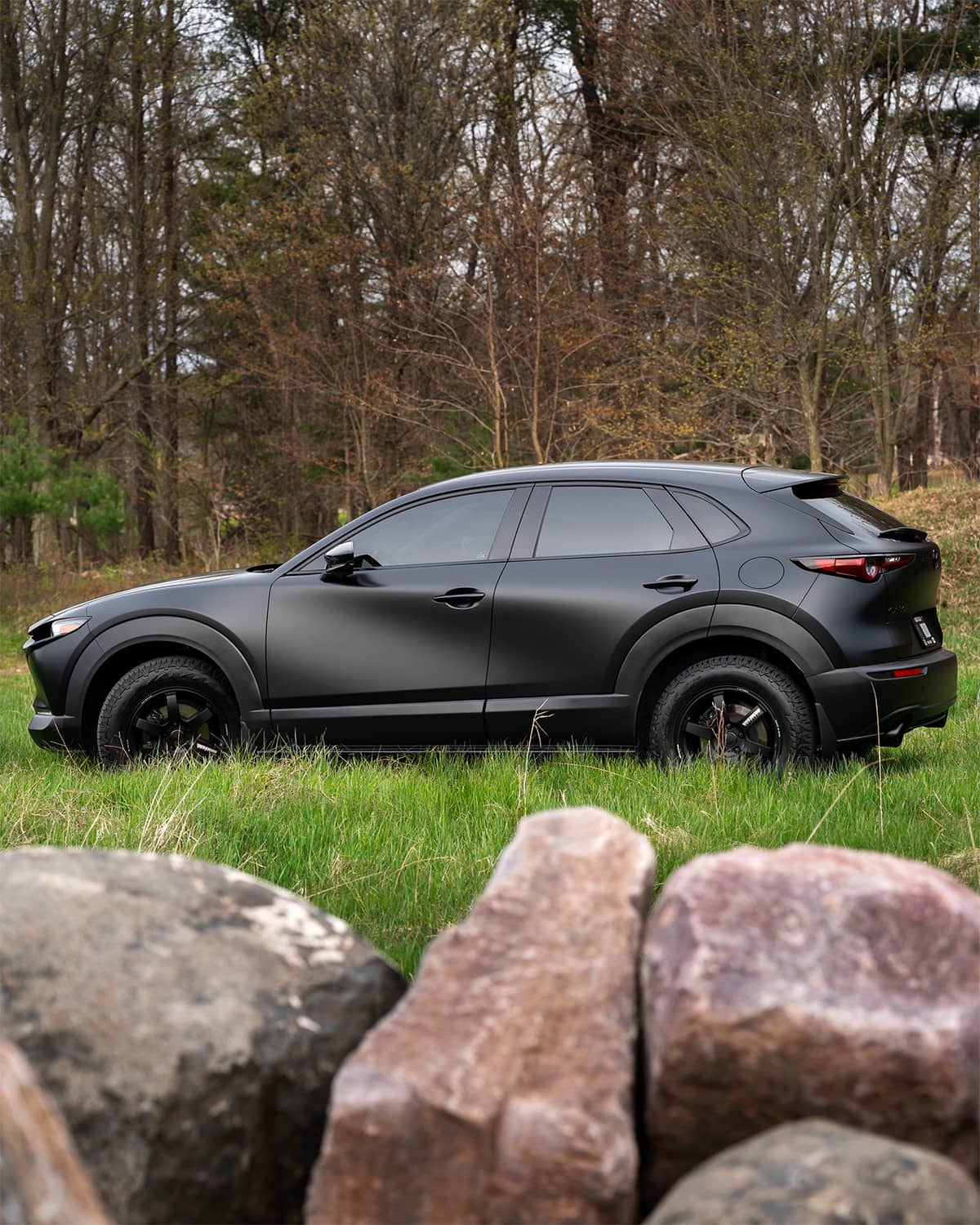 With my affinity for sport compacts and wanting to hold onto some aspects of the Wrangler, the search was on. I was initially looking at the Jeep Compass and Renegade but wasn't overly enthused about the lack of power, reviews, aesthetics or reliability record, so I scratched them off my list. I also had the Ford Bronco, Toyota Rav4, Honda CR-V, Mazda CX-30 and Hyundai Kona left on my list.
I then stumbled upon a Mazda CX-5 in a parking lot and was really mesmerized by the Soul Red Metallic paint, it was really hard to take my eyes off of it. This pushed me towards Mazda. The CX-30 was already at the top of my list, but diving more into the brand, the reliability, the styling and the design, it really stood out as an easy choice. The body style is sharp and reminiscent of a sport compact while also having a decent amount of ground clearance for a subcompact crossover. The interior was upscale from the competition and the power under the hood with the turbo was the highest in class. Done deal, almost.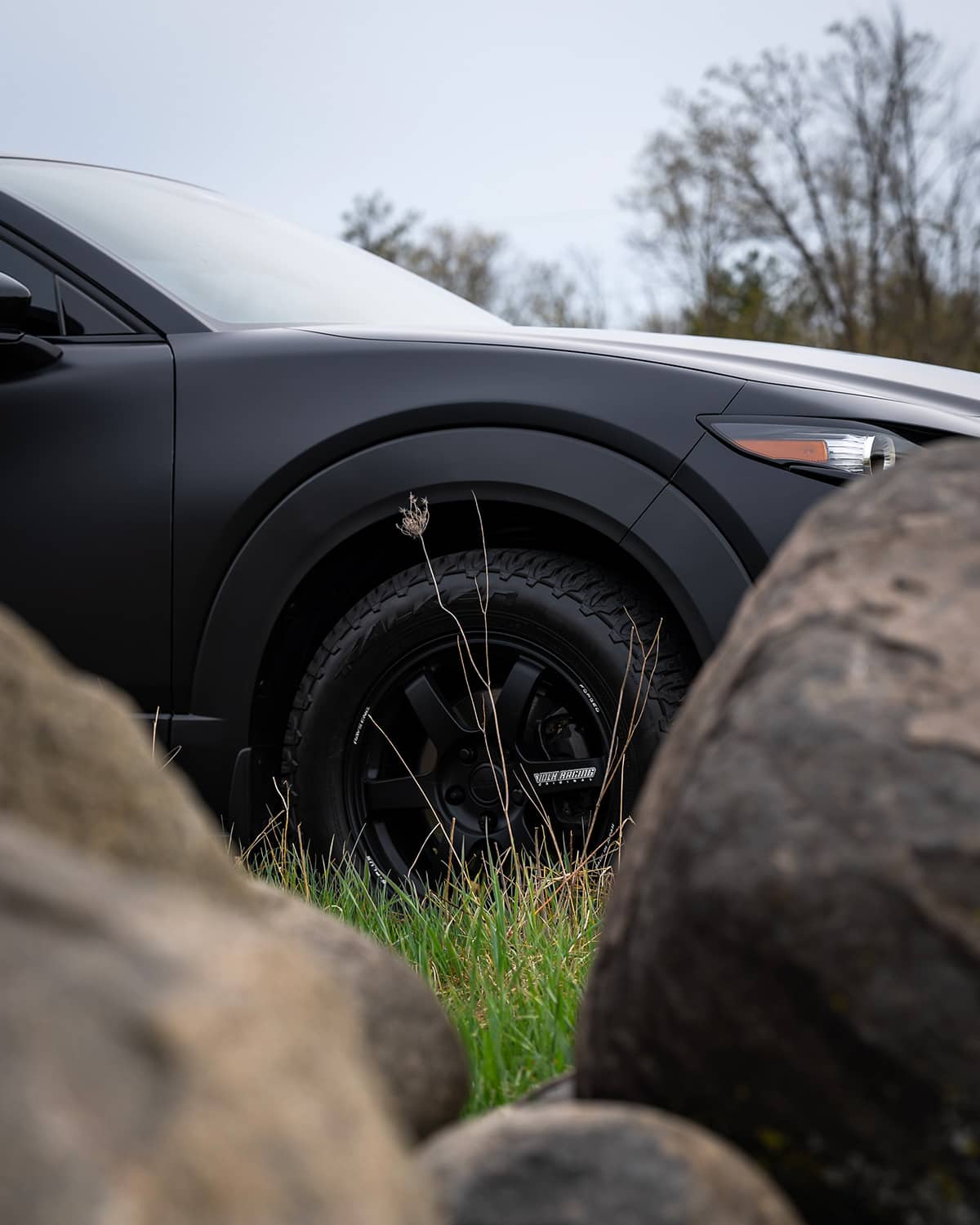 What difficulties have you faced while choosing parts for it?
– The CX-30 platform is fairly new but shares many of the same components to the Gen 4 Mazda3. However, the platform as a whole doesn't have the amount of support from the aftermarket community compared to other brands where there are several options. Corksport is the go to brand for performance upgrades for Mazdas and they offer some good options for the CX-30.
Since I live in Wisconsin and we experience all 4 seasons, I've got a current obsession with different setups of wheels and tires for winter, summer, and spring/fall. A difficult aspect in upgrading the wheels is the lack of wheel well depth which limits options.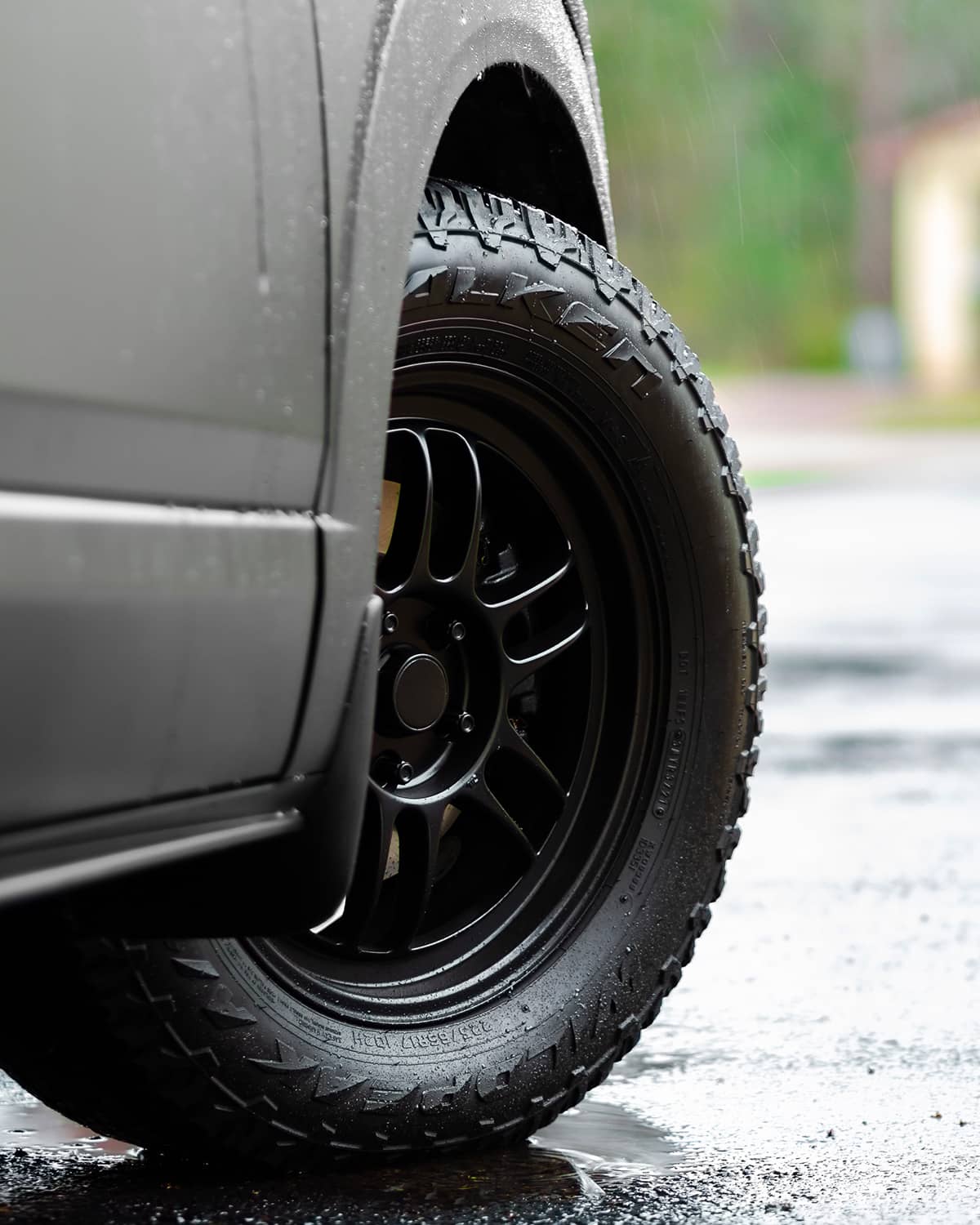 What do you love the most about your CUV?
– It's hard to narrow down what I love of the most about the CX-30 as it checks all of the boxes that I personally wanted in a subcompact crossover. The exterior Kodo design is sharp, the quiet upscale interior, the 8.6" of ground clearance (with plus size tires), the 250 HP and 310 lb-ft of torque and driving it is simply fun, it handles really well. Most people find the bold cladding to be an eyesore and at first, I did too. My plan out of the gate was to add the XPEL Stealth paint protection film on top of the jet black mica paint. This really helped blend that matte cladding with the rest of the body and protect the thinner paint that car makers are using these days.
Have you tried it on unpaved roads (maybe light off-roading)? How was it and what would you change/add?
– I haven't taken any long trips on dedicated soft roads unless you count trekking through 8-12" of snow during the Wisconsin winters or venturing into some untraveled and uneven fields where it performed confidently, without issue.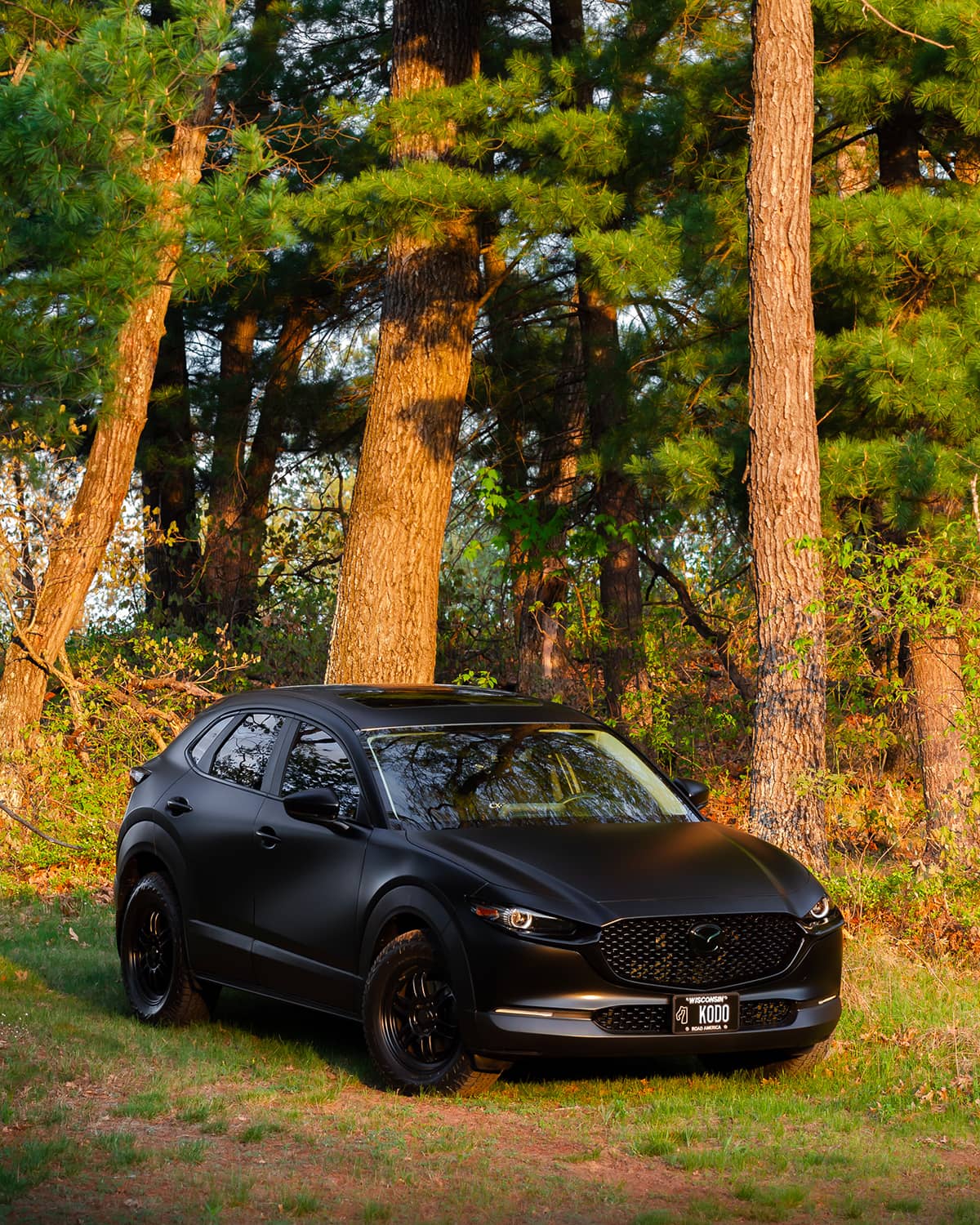 What are your future plans for this project?
– My future plans include a front big brake kit from Corksport and I'm hoping they release the BBK for the rear as well. More wheel and tire setups are on the way. I also have plans to replace the rear subwoofer with something that would free up weight and space. Other than that, the build is close to complete. This style may not appeal to most as the aesthetic I envisioned is a little unique. It falls somewhere between a soft roader and a sport compact car, a small lifted sports car if you will, and that's exactly what I wanted.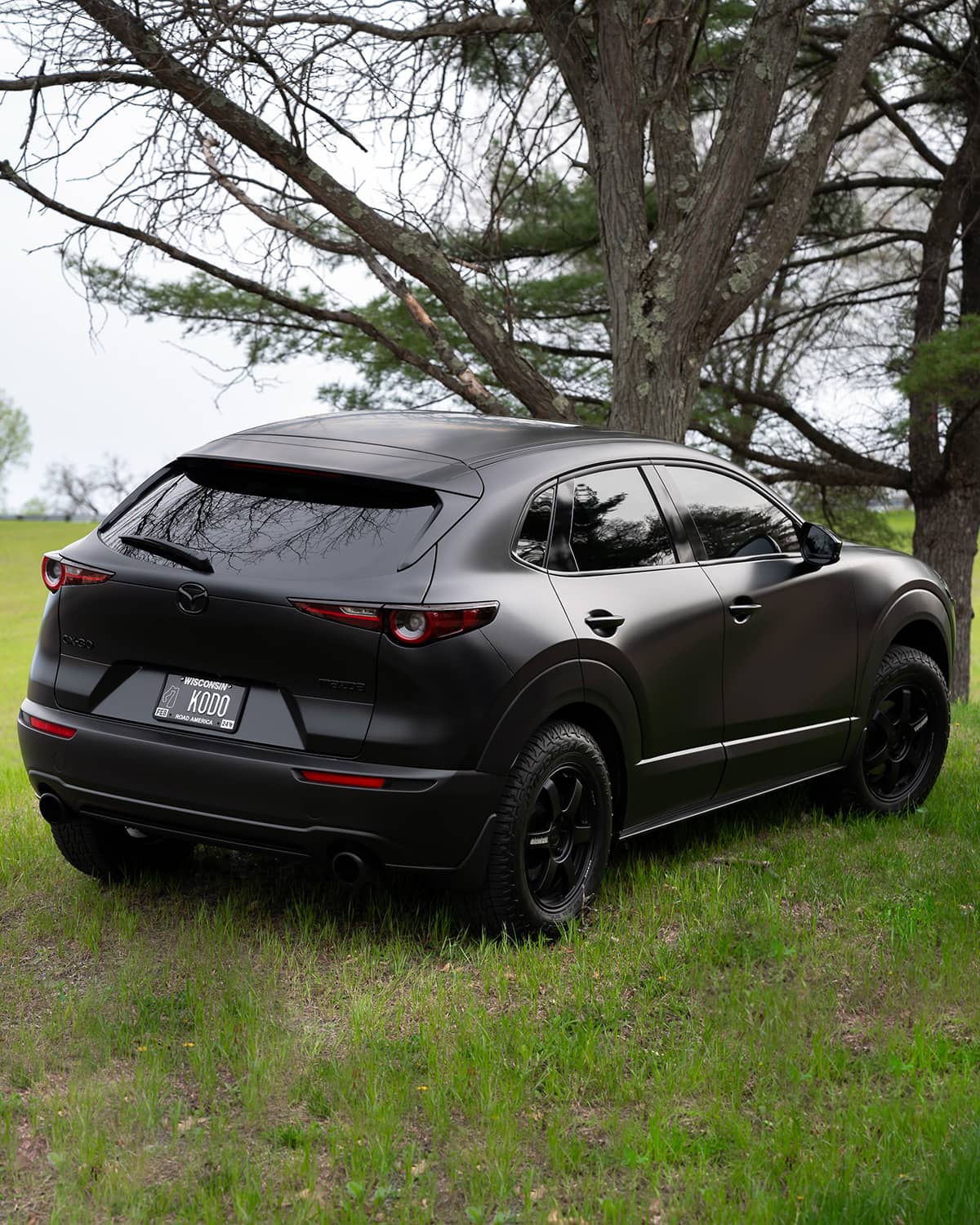 Specs & Mods:
2022 Mazda CX30
Engine
Color
Jet Black Mica covered in XPEL Stealth PPF
Drivetain
Wheels
Volk TE-37 17×7.5 Rims
Falken Wildpeak A/T Trail 225/65r17
Exhaust
Custom Axle-Back Exhaust with Dual Street Flow single-chamber mufflers with 2.5″ inlet and outlet (SF424111); 4.5″ double wall slash cut satin powdered coated tips
Exterior
XPEL Stealth PPF
XPEL clear PPF on headlights
Lower grill mesh inserts
Roof rail delete
Badge delete: Turbo, Skyactive, AWD
Chrome delete: Rear flying M and CX-30 badges, window accents, front grille accents
MAZDA badge added in rear in place of Skyactive badge
Painted brake calipers
Elkhart Lake's Road America personalized special plates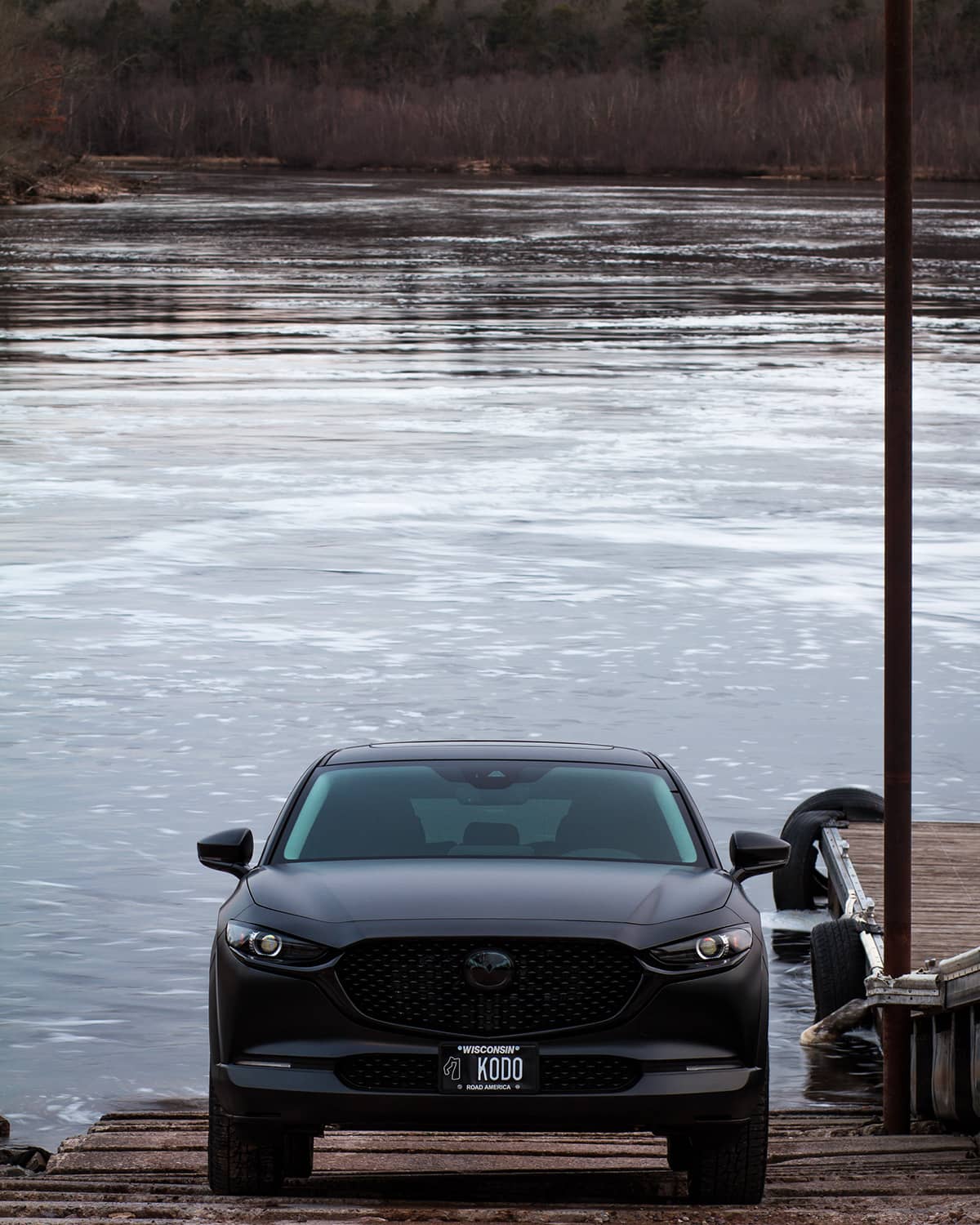 Audio
M11 Plus LTD – Digital Audio Player (DAP)
Fischer Conductor – one-touch remote control
Fischer Helix V Eight DSP MK2 – amplifier/dsp
Fischer M One X (x 2) – amplifiers
Signature Multix TSM 25 S45 – 1″ tweeter
Signature Multix MS3 – 3″ wideband midrange
Signature Multix WS6 – 6.5″ woofer
Illusion Audio C12 – 12″ front subwoofer
JL Audio HO108R-W7AE – 8″ rear subwoofer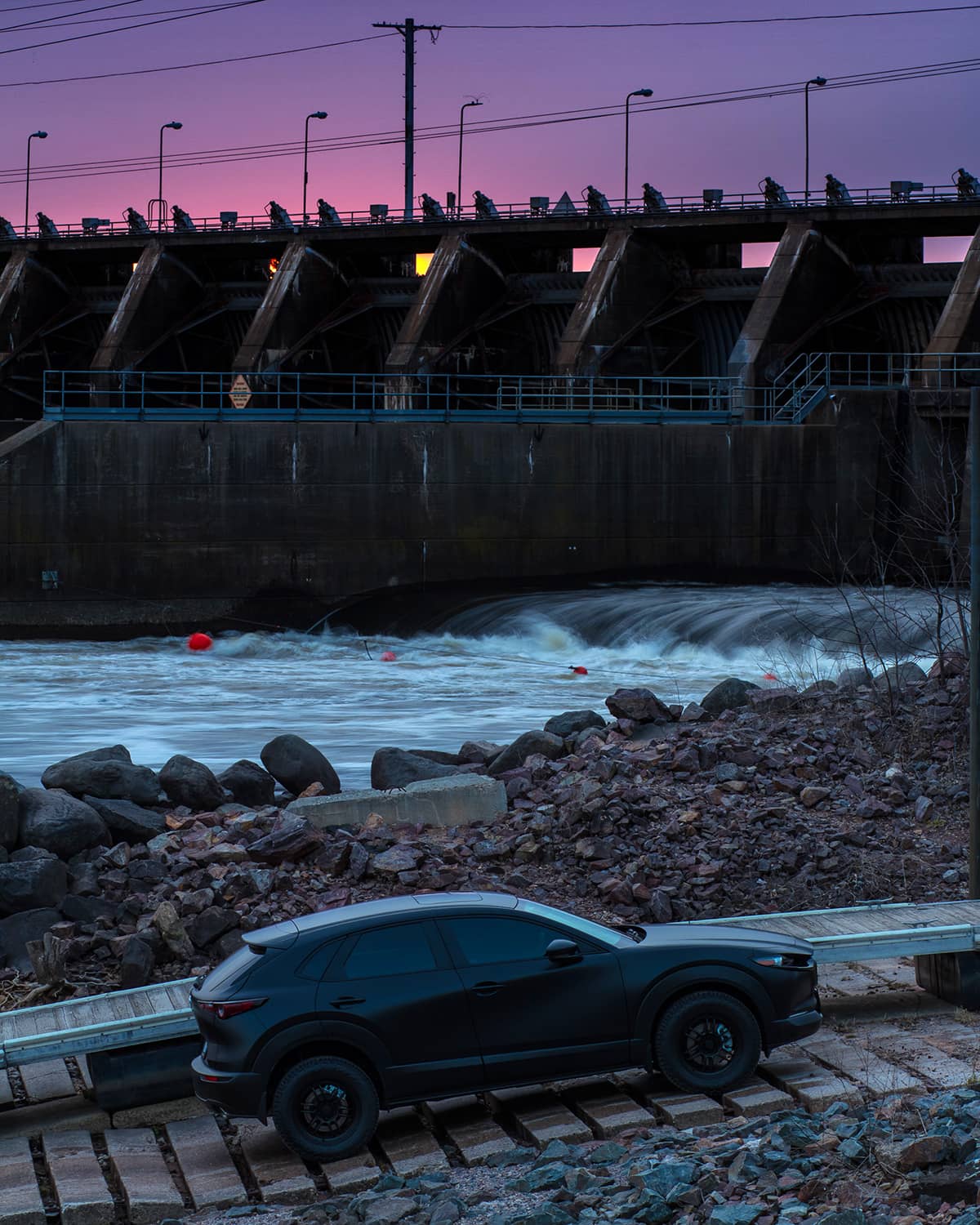 Watch the progress and find out more about this Mazda CX30 project by visiting the Instagram profile of the owner: @kurocx30!
Stay tuned for more project reviews on Offroadium.com – Follow us on social media, and share this write-up if you enjoyed reading it!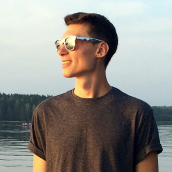 Matt Grabli
Automotive journalist and technical writer at Offroadium.com with more than 10 years of experience in the sphere of aftermarket parts and 4×4 vehicle modifications. Passionate about off-roading, outdoor adventures, and an active lifestyle.