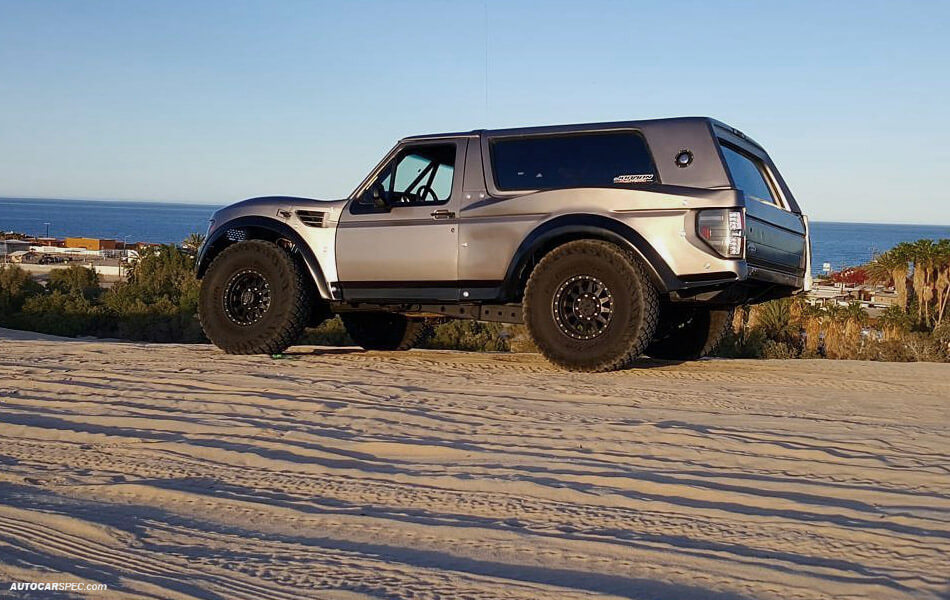 Today's story is dedicated to one of the most famous Ford Bronco Prerunners that literally blew out the internet and all social media platforms. The project name Braptor is simple as it can be and literally tells that you are about to witness the insane combination of the most badass trucks from Ford's History – a 90's Bronco and a modern Raptor.
We all know the fact that big American station wagons formerly widespread all over the country started to die out as a class in the late eighties, but who could think that the same history would happen with the nation's favorite sport utility vehicles like Ramcharger, Blazer, and Bronco. Apparently, the consumer interest to 5-door SUV's and Crew cab trucks has killed the sales of the full-size 3-door SUVs, which is why Ford decided to discontinue the Bronco. It used to have an awesome design, powerful engine, insane off-road capabilities, but nothing could bring the sales back. Perhaps this is why Ford didn't even try to reenter the market with a new generation of the Bronco model for the last 20 years, however, the feeling of nostalgia for these legendary vehicles still lives in the hearts of the die-hard off-road enthusiasts, and seems to be even stronger today. Perhaps this is exactly how Braptor was born.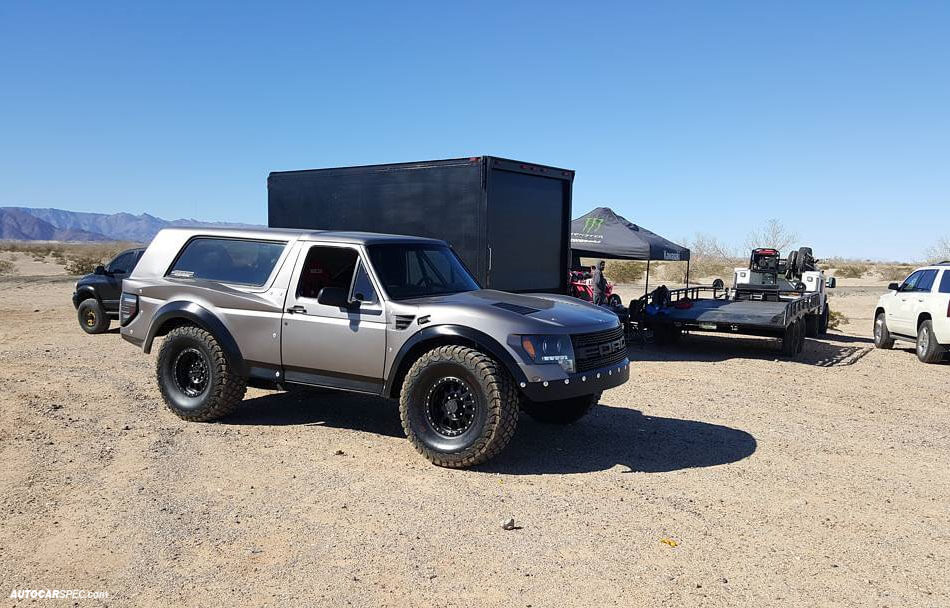 The recipe is simple, take design elements of a modern F150 truck and combine them with the silhouette of the good old Bronco. In the end, you will get an idea of what would modern Bronco look like if Ford was about to relaunch it today. Nothing complicated, you can say, any Ford guy has visualized this image in his head for a million times, but there's only a few that were crazy and wealthy enough to take the challenge of building it in metal.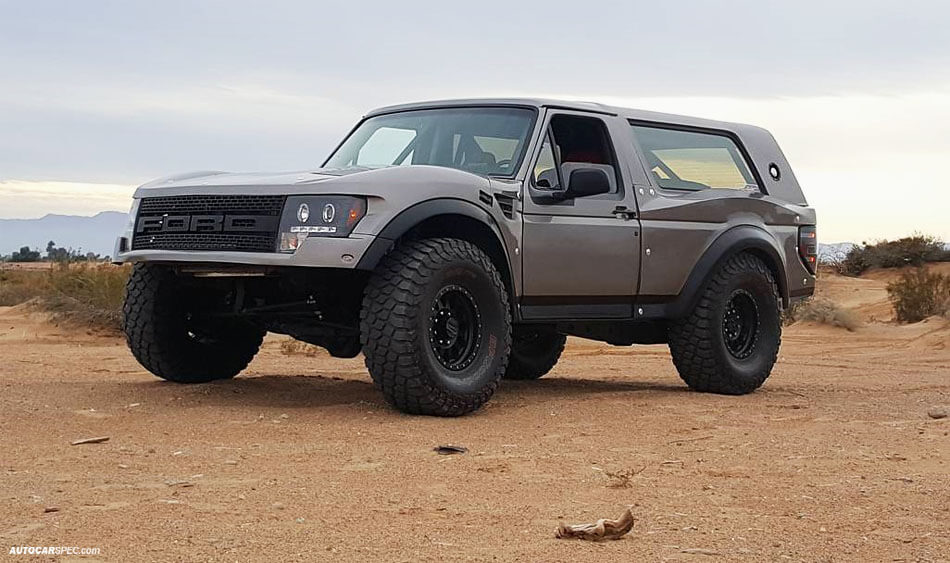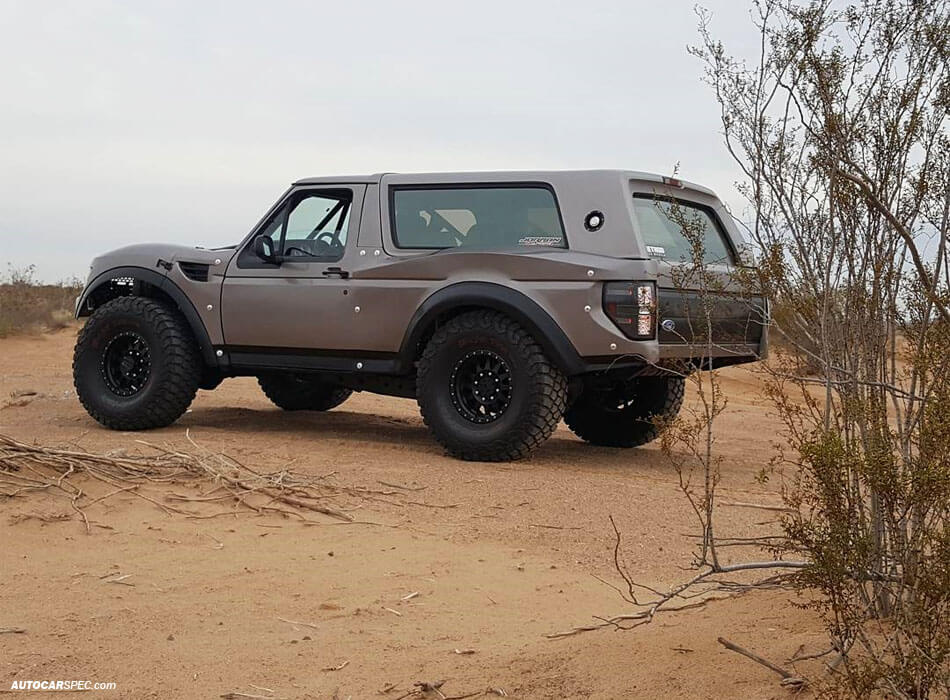 This Ford Bronco Prerunner was built by the guys from Jorman Raceworks and the modifications were not limited to regular prerunner suspension conversions. It appeared that the chassis of an OBS Bronco was not long enough to handle the high-speed chases on the rough desert terrain, so it was decided to stretch it. One foot longer wheelbase required the extension of all other components such as the driveshaft, chassis, and body panels. The rear portion was extended a little bit to fit nicely with extended quarter panels. This extension made it look especially well balanced, which rarely happens with custom projects and conversions of this kind. The front end was fitted with the first generation Ford Raptor elements such as the grille, headlights, hood, and bulge prerunner fenders. The rear wide fenders were perfectly matched with the Raptor tail lights, that look just at home on a completely re-engineered Bronco rear end.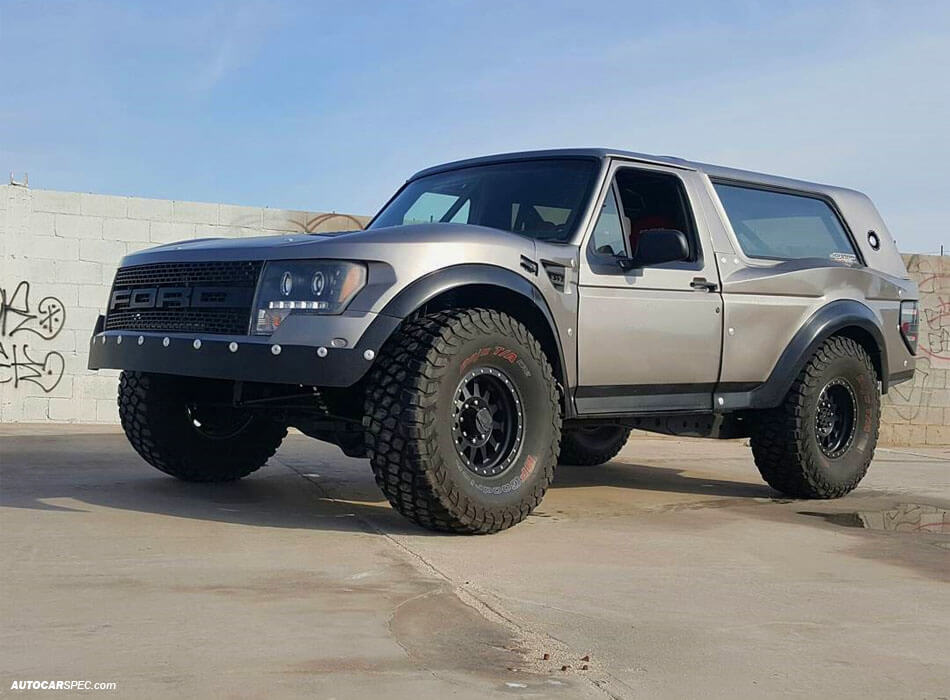 Custom long travel tnt front and 4 link rear suspension has given the Braptor a proper off-road articulation and up to 30" of wheel travel. 7.5L big block V8 gives just enough power to make it as fast as a Mustang on a concrete track.
This Ford Bronco prerunner truck is certainly one of the coolest off-road projects that I've seen in a while and if it happens that you dig it completely as we do, you have a chance to acquire it for just about $50,000. The vehicle resides in So Cal, to get in touch with the seller – find him on instagram by the username trophy_truckin or use a hashtag #braptor.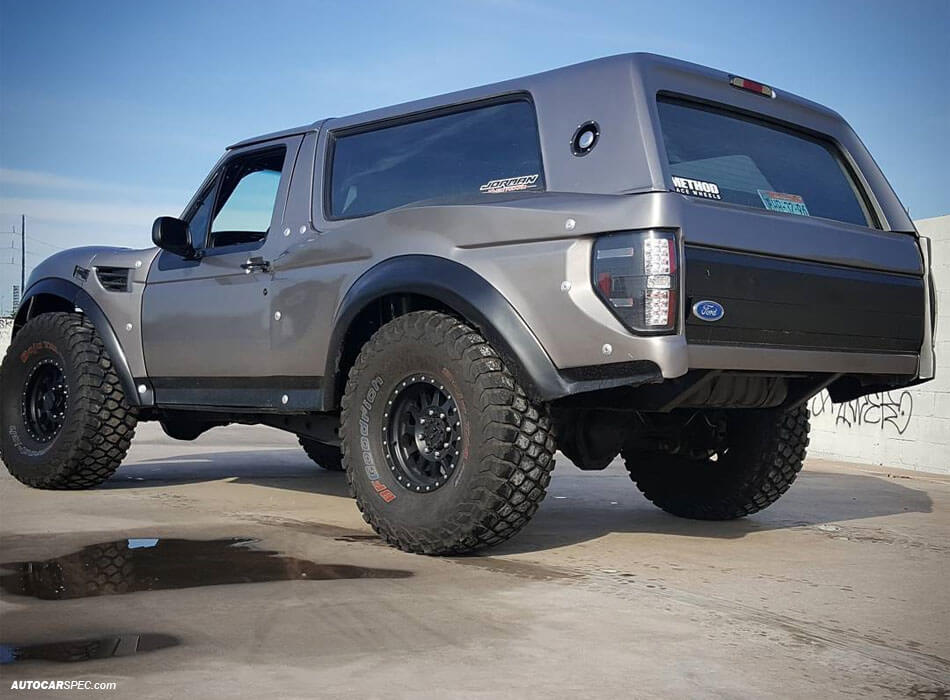 Below is the full list of modifications on this insane Ford Bronco Prerunner:
Ttb front suspension 24″ of travel
King 2.5 coilovers
King 2.5 3 tube bypass shox
King 2.0 bumpstops
4 link rear suspension 31″ of travel
King 2.5 coilovers
King 3.0 bypass shocks
King 2.0 bumpstops2″
2″ chromoly cage
1 ft longer wheelbase
7.5 big block motor
Freshly build c6 tranny
10.5 chrysler full floater rearend
4:56 gears
5 bfgoodrich kr2 39×13.50r17 tires
5 method wheels
Fiberwerx Bronco to Raptor front clip grill and headlights
Custom fiberwerx stretch bronco to raptor bedsides and taillights
Fiberwerx dashboardAutometer gauges7″hd lowrance gps
Momo steering wheel
3 sparco evo seats
Sparco harness
Optima battery
Modified frame rails to be able to lower ride height
CnC brake pedals and master cylinder
BONUS IMAGES